Our Conclusion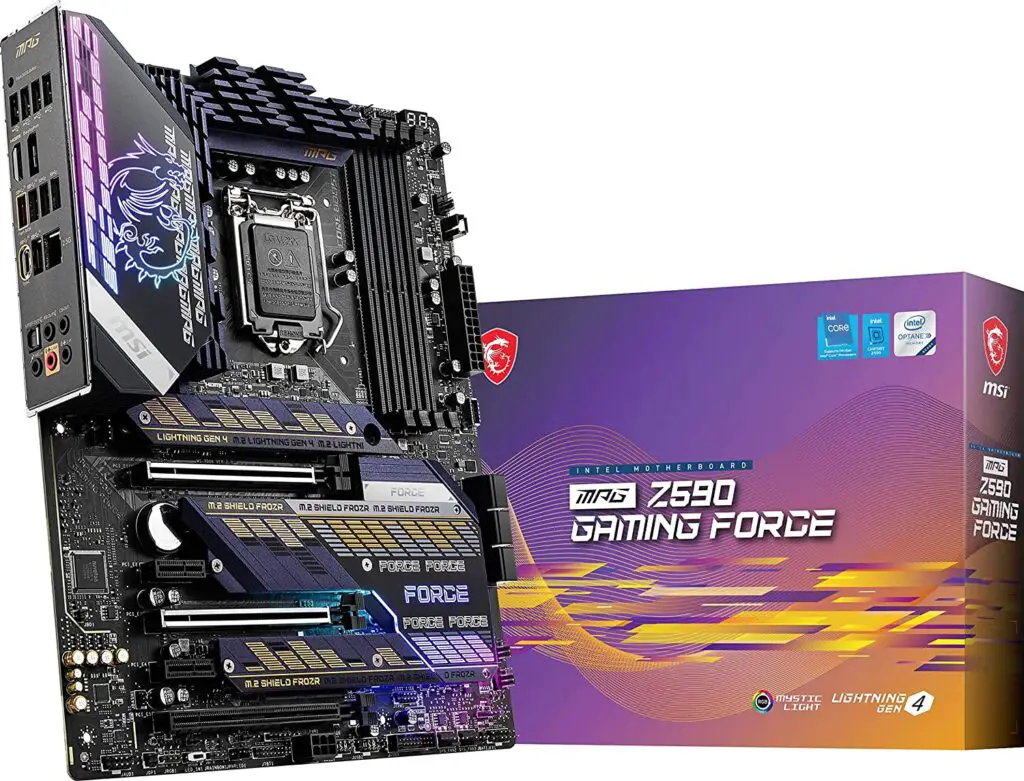 Due to its current prices and features, the MSI MPG Z590 Gaming Force is pretty much of a niche option. This board is dedicated to those of you who actually need extreme power and safety for hard overclocking CPUs. Indeed its 16+1+1 phases will deliver you enough, regardless of your CPU TDP.
Pros
✓ 16+1+1 VRM phases
✓ Full shielded M.2 slots
✓ Z590 chipset
✓ 2x PCIe x16 with steel shield
Cons
✘ RAM slots witouth protection
✘ Steep prices
This month in Reatbyte, we've decided to focus on high-end monitors and motherboards for those who need a high-performance product and don't mind spending a lot of money on it. 
We already have the GIGABYTE Z590 UD AC, the ASUS Prime Z590-A, and the GIGABYTE Z590 AORUS Elite among the motherboards we've reviewed. 
Continuing our month of high-end reviews, today we have the MSI MPG Z590 Gaming Force, a brand new release from MSI. Check out the MSI MPG Z590 Gaming Force review below to see if this is the best motherboard for you nowadays.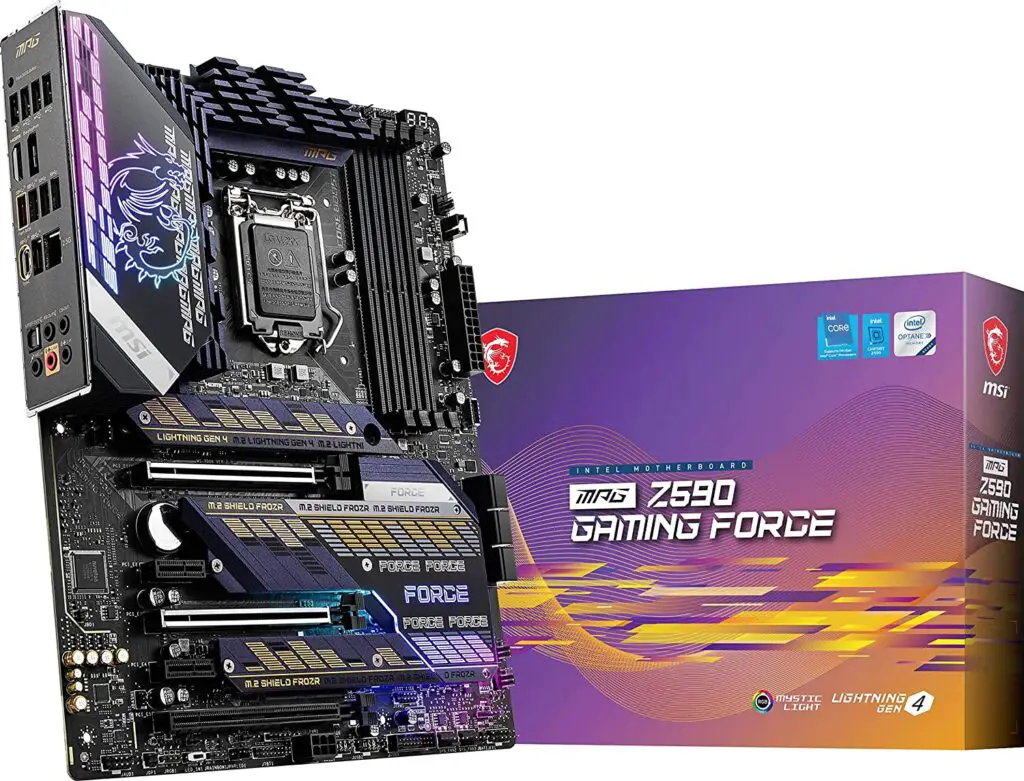 Design
As soon as we open the package, we find that this is an unusually designed MSI motherboard. This gradient purple turning orange at the bottom left of the box is one of my favorites box designs by far. And instead of using the same box pattern over and over, I really hope MSI keeps occasionally changing the box patterns. 
Furthermore, when you take the board out of the box, you'll notice that the purple box style is inspired by the board's design. The Z590 Gaming Force highlights purple patterns on the M.2 shields as also on both heatsink fairing. 
Besides, it features RGB LEDs with Mystic light extension under the chipset and on the heatsink shield, which supports up to 16.8 million colors / 29 effects controlled in one click via software. Concerning dimensions, this is an ATX board with 12 x 9.6 x 2.5 inches and 3.90 lbs. 
Overall, we may conclude that this board is a great example of a gaming motherboard, with a lot of vibrant colors and RGB LEDs. Other options, such as GIGABYTE Z590 UD AC, are recommended if you prefer a more solid and unflashy style.
Socket and Chipset
As previously said, this is a high-end motherboard, so the final prices will be influenced by a plethora of excellent features. And of course, there are several niche features that won't be availed by all. This board comes with the Z590 chipset, which offers high overclocking edges and native PCIe 4.0 support. If you don't need an overclocking motherboard, on the other hand, you'll waste money on features you won't use.
Other mid-range chipset options, such as the Z490 and H470, should be appropriate in this case. Also, this board features the LGA 1200 socket, which supports Comet lake and Rocket lake intel processors (10th and 11th gen), so be aware of that when choosing a CPU for this one.
Memory
Moreover, the MSI MPG Z590 Gaming Force includes 4x DIMM SLOTS, each supporting up to 32GB, for a total of 128GB. Besides that, the slots lack stell security, which is typically used to increase durability. These slots also provide dual-channel support and the XMP feature, which helps to overclock. As previously mentioned, the Z590 chipset increases the overlooking thresholds, allowing this board to support up to 5333MHz when powered by a Rocket Lake processor.
Overclock and Recommended Processors
Recommended CPUs
Fortunately, with its current features and power, this board can easily handle any processor you want. However, since the Rocket Lake processors have not yet been launched, you do not have a wide range of options. If I had to make a recommendation, I'd go with an i9-10900K for a strong gaming option and the I7 10700KF for a balanced option.
Overclock
Because of the numerous VRM phases on this board, you should have no problems with overheating if you use a good water cooler and keep an eye on the temperatures, regardless of the CPU you choose.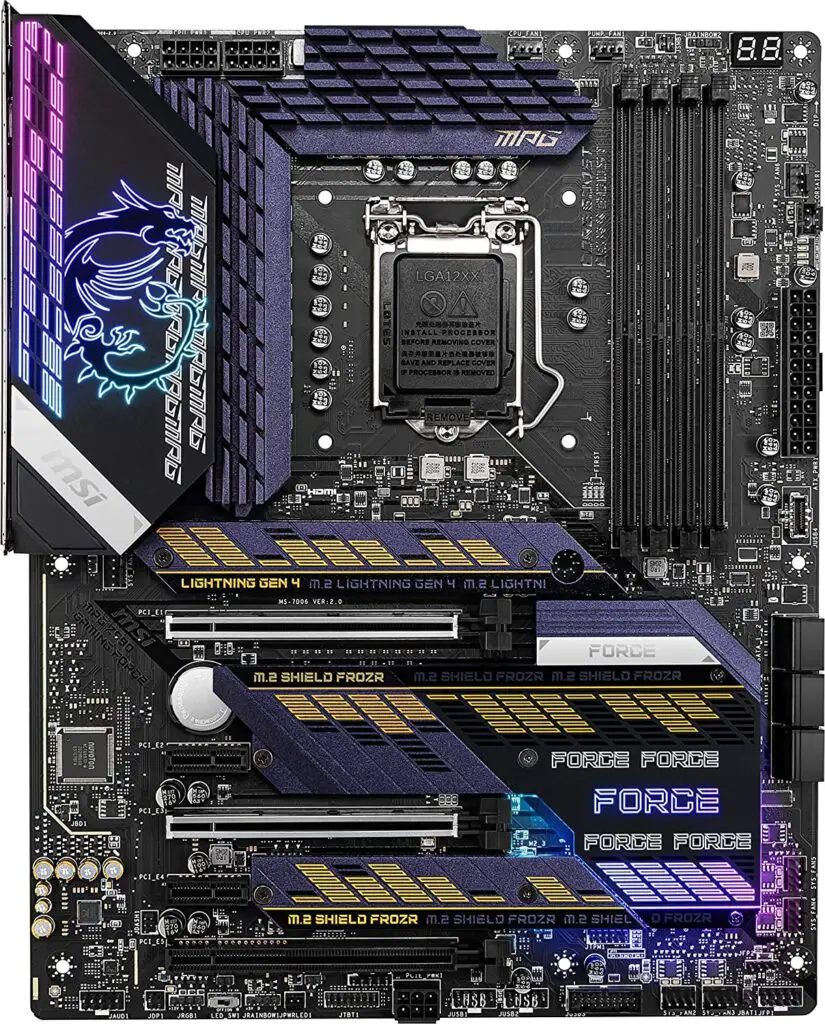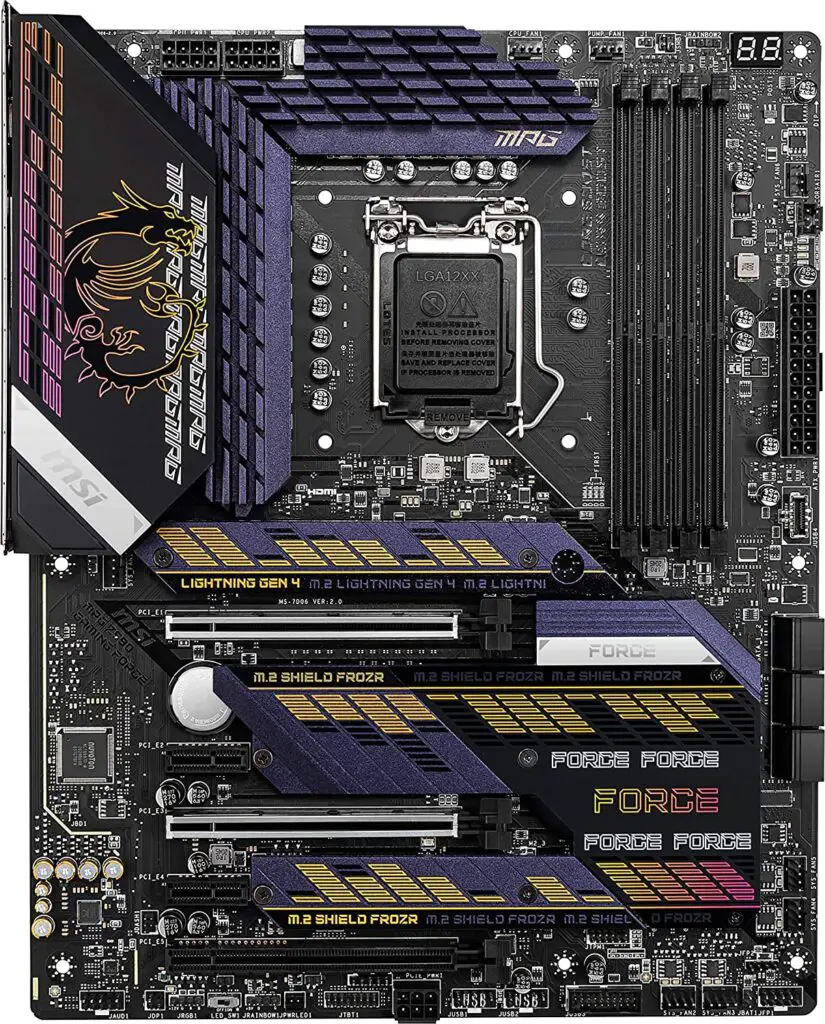 VRM and Connectors
This board has 16+1+1 VRM phases to keep your CPU cool and provide enough power. 16+1+1 is an astronomically large number, by far the most of any board reviewed on Reatbyte. On the other hand, this board is also the most expensive of the ones we looked at.
Connectors
Power connectors and SSD
In order to give enough power for your motherboard to start working, you will need a 1x 24-pin ATX main power connector together with 2x 8-pin ATX 12V power connectors.
Besides that, this board features 3x M.2 slots (Key M) being the first one with direct connection to CPU with support to PCIe 4.0 and the last 2x powered by the chipset supporting SATA 6Gb/s. Each slot has armored protection to maintain your SSDs at lower temperatures.
Fan, RGB, SATA
Also, this board includes the following connectors: 1x 4-pin CPU fan connector, 1x 4-pin water-pump fan connector, 6x 4-pin system fan connectors, 1x Front panel audio connector, 2x System panel connectors, 1x Chassis Intrusion connector, 1x Clear CMOS jumper, 1x TPM module connector, 1x TBT connector (supports RTD3), 1x Tuning Controller connector.
Further, the MSI MPG Z590 Gaming Force features 6x SATA 6Gb/s connectors.
PCI connectors
Lastly, this board has 3x PCIe x16 slots being the two first ones connected with the CPU with a steel shield to enhance durability and the last one without any protection. Also, you have 2x PCIe 3.0 x1 slots from the chipset.
Back panel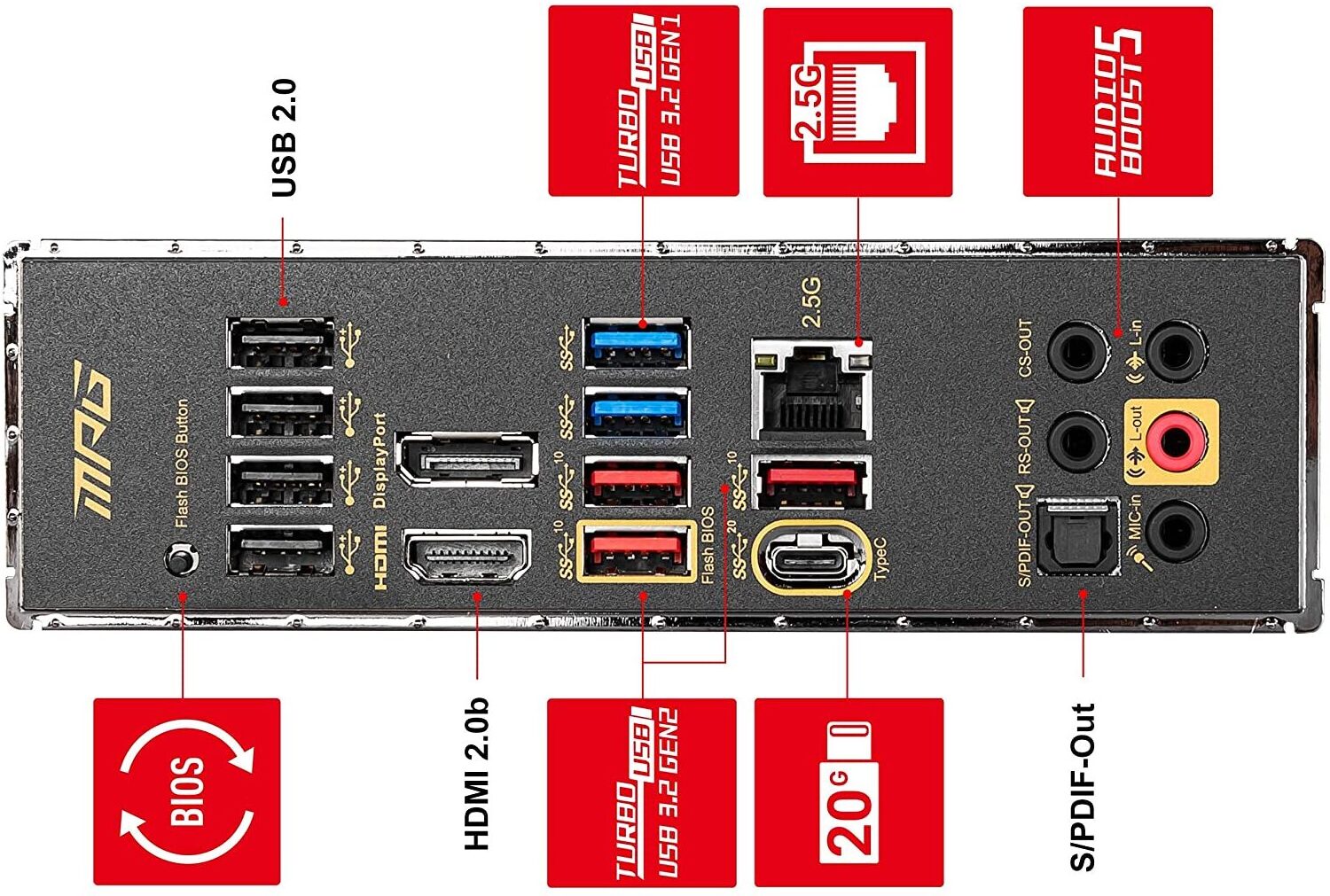 This board has the common amongst high-end boards pre installed I/O shield, making your installation way easier. Also, looking at the back panel, we see: 
USB 2.0
DisplayPort
USB 3.2 Gen 1 5Gbps Type-A
2.5G LAN
Audio Connectors
Flash BIOS Button
HDMI
USB 3.2 Gen 2 10Gbps Type-A
USB 3.2 Gen 2×2 20Gbps Type-C
Optical S/PDIF Out
Final thoughts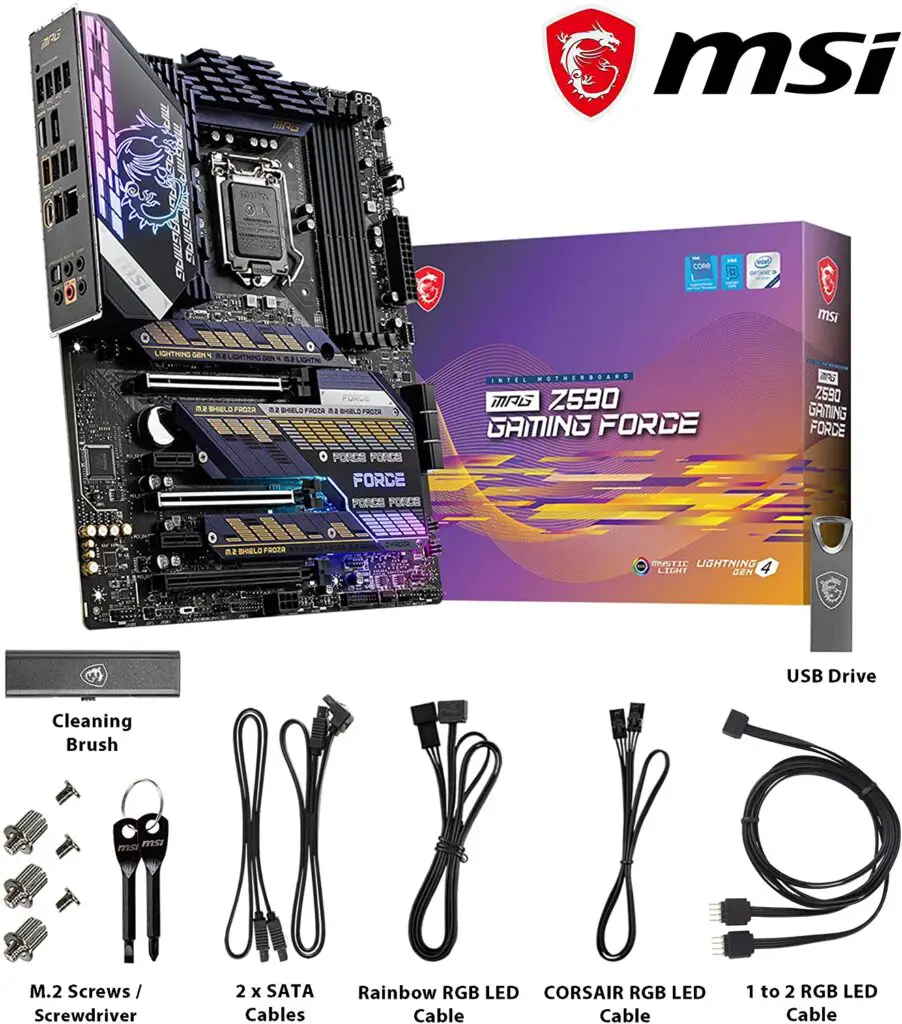 When to buy it
If you need a powerful board in order to overclock your CPUs and do not care much about if the board will handle it, the MSI MPG Z590 Gaming Force with its 16+1+1 phases is for sure one of your best options.
When not to
However, if you don't need that much power and a more cheap model is the ideal for you, you can check out some other intel motherboard options like the Gigabyte H470 AORUS PRO AX or the Gigabyte B460M DS3H.
You may like