Our Conclusion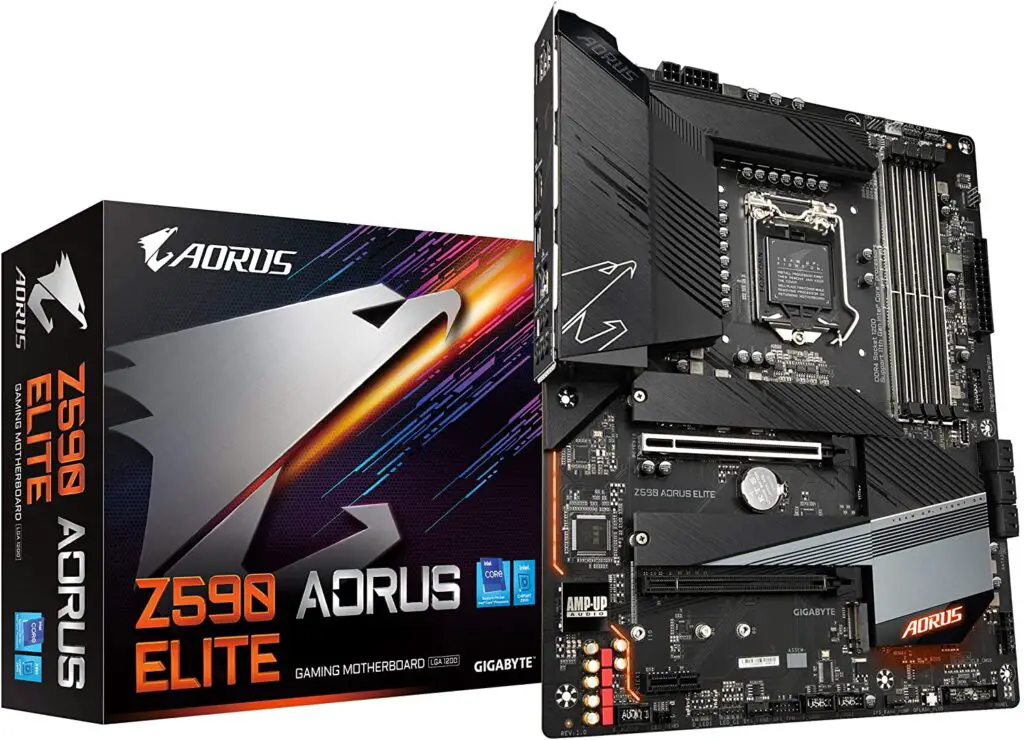 With all of the features of the Gigabyte Z590 Aorus Elite board, we can conclude that it is one of the cheapest high-end options with a Z590 chipset, so if you are looking for a low-cost but future-proof option, you won't go wrong with this one. If you don't require the extra features that the Z590 provides, you can look into other options such as the Gigabyte H470 AORUS PRO and the Aorus B460 Pro AC.
Pros
✓ Z590 chipset
✓ Affordable high-end board
✓ 3x M.2 slots
✓ Enlarged heatsink
Cons
✘ Lack of more RGB LEDs
✘ Only 2x M.2 with shield protection
On 2021/01/12, Gigabyte announced the new Z590 AORUS Motherboards line coming onto the market. Within this line, we found an interesting option that, at first glance, seems to be one of the best Z590 boards by far due to its current price concerning all of its features.
So, in this review, we'll take the GIGABYTE Z590 AORUS Elite board in analysis in order to see if this one is really a worth it acquisition for those who need a good overclocking motherboard that's also a low-cost option. Continue reading the GIGABYTE Z590 AORUS Elite review below.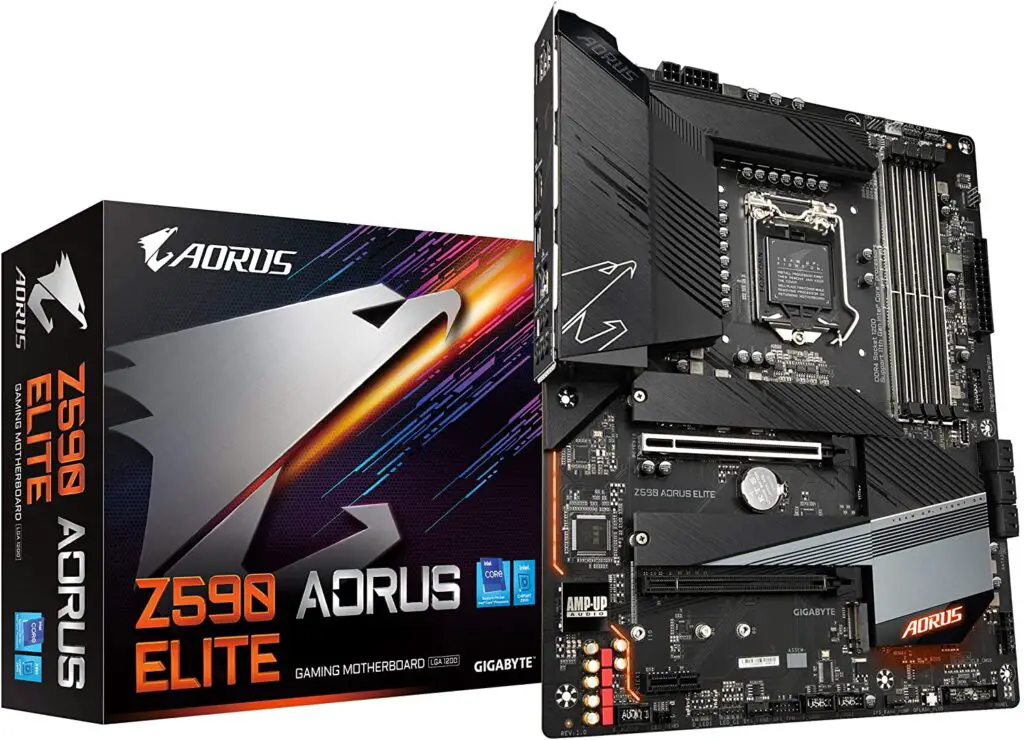 Design
At first glance, you already can notice that this board is not designed like the super high-end models with the entirely shielded design, but it is still quite well-built, with some thermal protections where matters the most, such as on the M.2 slots and the chipset.
Also, this board, unlike the other Z590 models, does not have plenty of RGB LEDs, being just one on the chipset and none on the Heatsink fairing. Speaking of which, this beefy heatsink draws completely the attention, which is already a good sign for overclocking.
However, it is important to note that the lack of design implements directly impacts the motherboard's final price, so you will have a low-cost version with good features but no flashy design.
Overall, the GIGABYTE Z590 AORUS Elite design is appropriate for a low-end Z590 model, as it includes the necessary components for a z590 motherboard.
Socket and chipset
The GIGABYTE Z590 AORUS Elite also includes one of the best chipsets on the motherboard market currently, the Z590. The Z590 Chipset will deliver you a native PCIe 4.0 support when using a Rocket Lake processor, as well as memory overclocking memory higher margins and double DMI link speed between chipset and processor.
Together with that, this board also comes with the LGA 1200 socket that supports Comet Lake and Rocket lake intel processors (10th and 11th generation). We'll talk further about recommended processors in the Recommended CPUs section.
Memory
Furthermore, this board has 4 x DDR4 DIMM sockets that can support up to 128 GB, with a maximum of 32 GB per slot. It also has a Dual-channel architecture and the XMP feature to assist you in overclocking your memories.
By the way, a Comet lake processor can reach DDR4 2933MHz of memory speed, whereas a Rocket lake processor can reach out to incredible DDR4 5400 MHz of memory speed when overclocked thanks to the Z590 chipset.
In addition, each slot has steel protection to help with durability. On the Gigabyte website, you can check further about compatible memory.
Overclock and Recommended Processors
Recommended CPUs
As mentioned, this board socket (LGA 1200) has support to the Comet lake intel processors and the Rocket lake as well, as soon as it releases. With that, we have the base to start choosing the best CPUs for this board.
So, assuming that if you're buying a motherboard like this one, you're likely to afford a high-end CPU as well, and the best part is that, with this board, you won't have any limitations, so you can choose which one is the best for you, just remember to pick a 10th or 11th gen one, and you'll be fine.
As for a recommendation, if you want a gaming processor, a good budget one would be the I7 10700K and the i9-10900F as a powerful option. In contrast, if you need a rendering CPU, you have the Intel Core i7-10700KF again, as a good option.
The other possible scenario is in case you need a cheap gaming CPU and do not have plans to hard overclocking it, then this board isn't the best for you. In this case, you can check out some other options like the Aorus B460 Pro AC or the GIGABYTE B365M DS3H.
Overclock
As this board has a pretty nice refrigeration system, as well as an enlarged heatsink and a good number of VRM phases, again, you'll have no limitations at all. Just be aware of the CPU temperature, and you won't have additional issues.
VRM and Connectors
The GIGABYTE Z590 AORUS Elite board includes Direct 12+1 Phase Digital Power to ensure that your CPU receives enough and filtered energy. Furthermore, both heatsink fairings are significantly enlarged, transmitting a high level of safety when it comes to heating issues.
Connectors
Power connectors and SSD
In order to give enough power to your motherboard, you'll have to use an 8-pin ATX 12V power connector and a 4-pin ATX 12V power connector together with a 24-pin ATX main power connector. Also, this board features 3x SSD M.2 connectors, being the two first ones covered with a shield to protect and maintain your SSD at cooler temperatures.
Fan, RGB, SATA
In addition, this board features 1 x CPU fan header, 1 x water cooling CPU fan header, 3 x system fan headers, 1 x system fan/water cooling pump header, 2 x addressable LED strip headers, 2 x RGB LED strip headers, 6 x SATA 6Gb/s connectors.
PCI connectors
Last, due to the Z590 chipset, this board supports the PCIe 3.0 connectors running at x8. In addition, this board has 1 x PCI Express x16 slot, running at x16, which is the recommended slot for your graphics card to performance improvements, 1 x PCI Express x16 slot, running at x4, and 1 x PCI Express x1 slot.
Back panel

This board, as almost every high-end one, features the pre-installed I/O plate, to make your installation as quickly as possible as well as improving the overall design. Looking at the back panel, we see:
1 x USB Type-C® port, with USB 3.2 Gen 2×2 support
2 x USB 3.2 Gen 2 Type-A ports (red)
3 x USB 3.2 Gen 1 ports
4 x USB 2.0/1.1 ports
1 x DisplayPort
1 x RJ-45 port
1 x optical S/PDIF Out connector
5 x audio jacks
Remembering that this board also has the Q-flash plus button, letting you install new bios for this board with just a flash drive. Check further information about how to do it here.
Final thoughts
When to buy it
If you need a good, high-end, affordable intel board option, the Z590 Aorus Elite is indeed one of your best options. Also, its current price is one of the best for a motherboard like this one.
When not to
However, if you don't need the plus features of the Z590 said above, you should check out some more affordable board options like these H470 AORUS PRO, Aorus B460 Pro AC.
You may like