The B550 chipset typically ends up being a much-chosen mid to high-end alternative. One of the reasons for this is that boards with this chipset usually have a high price-performance stat. You can clearly see this in the recently reviewed Gigabyte B550 AORUS Elite V2, which is by itself one of the best AM4 budget motherboards in the market.
Thinking in that, we decided to review another B550 option, this time a Steel legend alternative, precisely the ASRock B550M Steel Legend. So, check out today the Asrock b550m steel legend review with all its pros and cons. Let's head to it.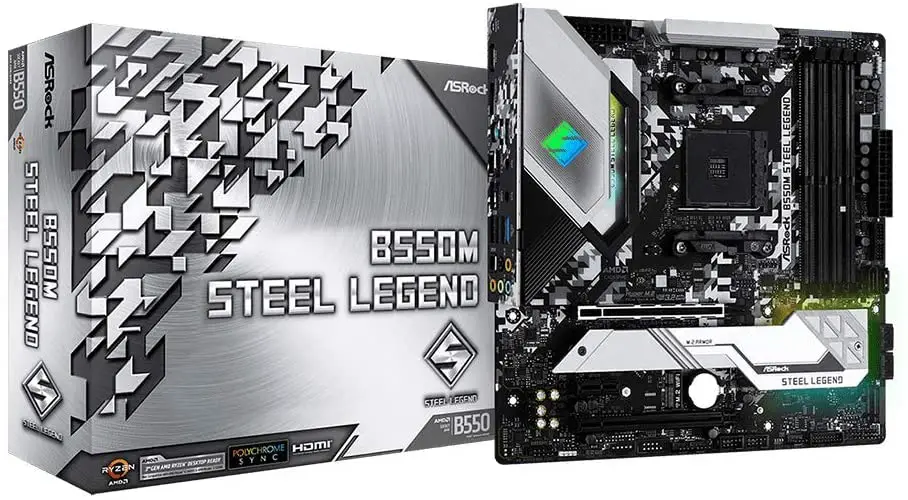 ASRock B550M Steel Legend

Deals
Socket and Chipset
As has been said, the Asrock B550m steel legend has the B550 chipset, a mid to high-end one, with almost the same performance as the X570.
Besides, with the AM4 socket, you'll be able to use it with the 3rd and 4th gen of Ryzen processors. Advancing that this board is capable of handling the Ryzen 5000 line easily. And we'll check this further in the Recommended CPUs section.
Design
Measuring 9.6-inch x 9.6-inch, 24.4 cm x 24.4 cm, the B550M steel legend is considered a Micro ATX motherboard. Also, at first glance, you can see the gray, white, and black drawing pattern on the board, which is seen in a large number of Steel legend motherboards.
Besides, as another Steel legend label, there are plenty of RGB LEDs on this board. However, it is nothing exaggerated, being one on top of the heatsink fairing and another on the chipset.
Also, when taking this board out of the box, what initially draws your attention to, is the SSD M.2 aluminum armor that passes across the board, reaching the chipset. Personally, I liked it a lot, but there are controversial opinions about it. Overall, this is a good-looking motherboard, sturdy and well-designed. Undoubtedly, this is one of the most beautiful boards shown here at the reatbyte.
Design downsides
When you turn off your computer, the RGB LEDs on the board continue turned on, so it might be awkward to always turn off the pc through the power supply button or unplugging it in order to have a completely dark room. However, luckily, you can turn this feature off through the motherboard bios.
Memory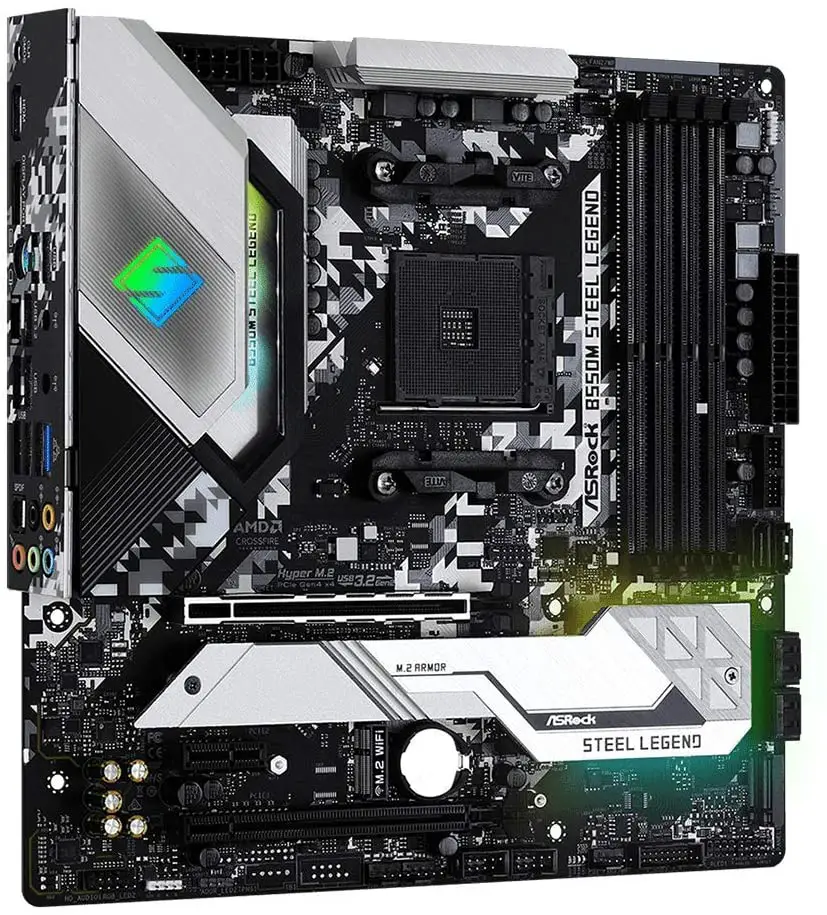 This board features 4x DIMM slots with 15μ Gold Contact, which can be placed up to 128 GB running at a maximum clock speed of 4600MHz+(OC), depending on which CPU you are using. You can check further about compatible memory for respective CPUs on the Asrock site.
In addition, this board supports the Extreme Memory Profile (XMP), which makes it easy to overclock your RAM modules. Luckily, this board also has dual-channel support, which some say is necessary to increase the FPS rate if you want to play with integrated graphics. Speaking of which, we're going to see which processors it is advisable to use on this board.
Overclock and Recommended processors
First looking at this board, we can clearly notice the enlarged heatsink it has. With that, we can suppose that this board will be able to handle hard overclocking without overheating the VRM circuit. Unfortunately, I have not a Ryzen 5000 CPU yet to test here to see how the overclock will perform with it.
A good combination for this board would be the Ryzen 5 5600X or the Ryzen 7 5800X if you want a powerful choice. Moreover, you can check every supported CPU for this board on the Asrock site.
The Asrock B550m steel legend is a nearly dedicated board to the Ryzen 5000 line. Surely, this is the best budget choice if you want a motherboard for the 4th gen Ryzen processors.
However, bear in mind that if you will overclock a 5000 processor with high TDP, you'll have to keep an eye on the VRM temperature. But you probably won't have overheating issues since the cooling system of this board left nothing to be desired.
VRM and Connectors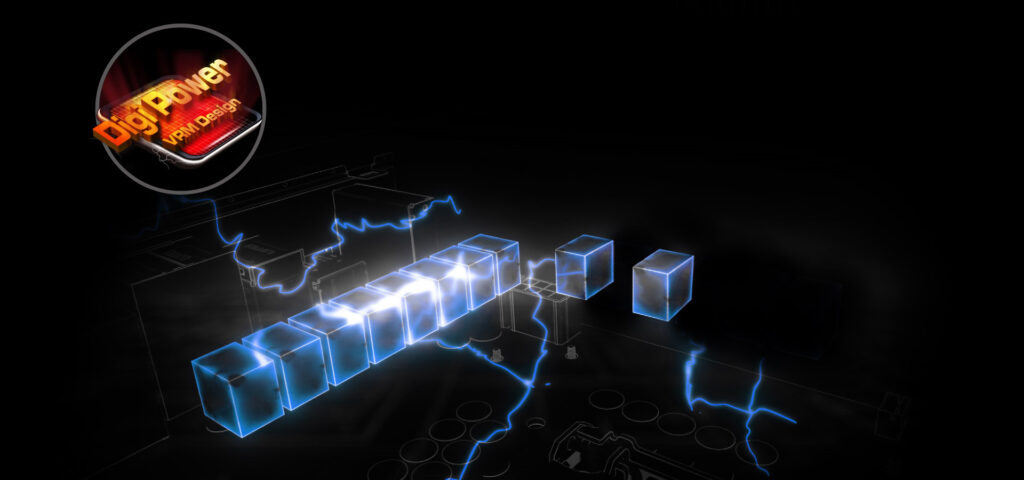 By the way, the Asrock b550m steel legend has in the final sum 10 phases on the VRM circuit with 50 amperes DR.MOS and an enlarged heatsink fairing to maintain the VRM circuit in cooler temperatures. It also has Nichicon 12K black capacitors with lifespans of at least 12000 hours. Note that every capacitor in this board is steeled blinded except for the audio ones.
Power connectors
This board also has an 8+4 and 24 pin ATX hi-density power connector, 2x M.2 connectors being one of them armored to reduce the temperature a bit.
PCI conectors
Further, about PCIe, this board presents x3, being the first one running at x16 4.0 armored with 15μ Gold Contact, which we always recommend to use your main graphics card, with support to AMD Quad CrossFireX™ and CrossFireX™, and last a PCIe x1.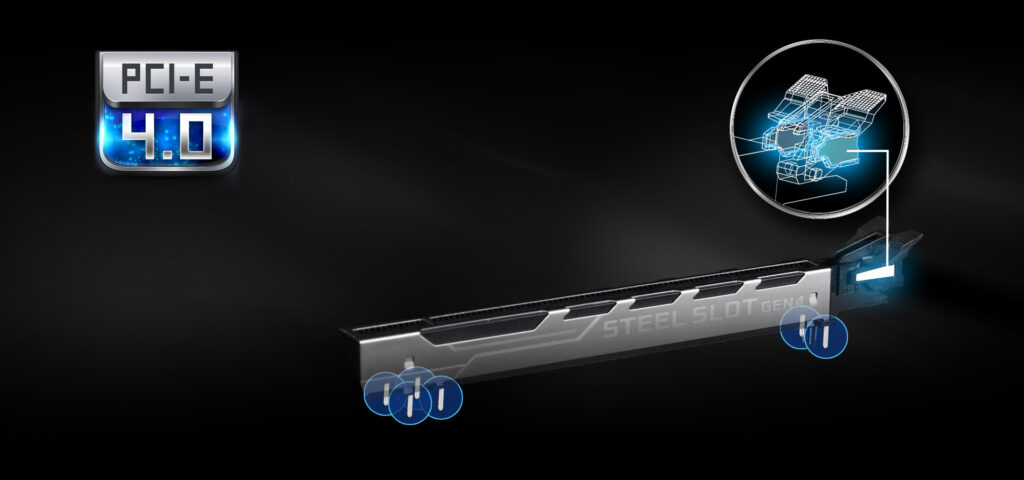 Fan, RGB, SATA
Last, about Fan, RGB, and SATA connectors, this board features: 2 x RGB LED Headers, 1 x Power LED and Speaker Header, 2 x Addressable LED Headers, 4 x Chassis/Water Pump Fan Connectors (4-pin), 1 x CPU/Water Pump Fan Connector (4-pin), 1 x CPU Fan Connector (4-pin). It also features 6 x SATA3 6.0 Gb/s Connectors with RAID support.
Back panel

We have, on this board, the Pre-installed IO shield, making your pc building agiler. Besides, looking at the back panel, we see:
4 x USB 3.2 Gen1 Ports
1 x USB 3.2 Gen2 Type-C Port (10 Gb/s)
1 x USB 3.2 Gen2 Type-A Port (10 Gb/s)
2 x USB 2.0 Ports
2 x Antenna Mounting Points
1 x PS/2 Mouse/Keyboard Port
1 x HDMI Port
1 x DisplayPort 1.4, 1 x Optical SPDIF Out Port
1 x RJ-45 LAN Port with LED
1 x Clear CMOS Button
HD audio jacks.
Conclusion
Summarizing stuff, the Asrock B550m Steel Legend is one of the best affordable motherboard choices for the 4th Ryzen Gen processor. It's currently even $5 cheaper than the Gigabyte B550 AORUS Elite V2, but this one has a +1 graphics card slot and more VRM phases (you can check its review here). I suggest you choose the steel legend version instead of the AORUS version if you want more RGB LEDs on the board.
You may like