Conclusion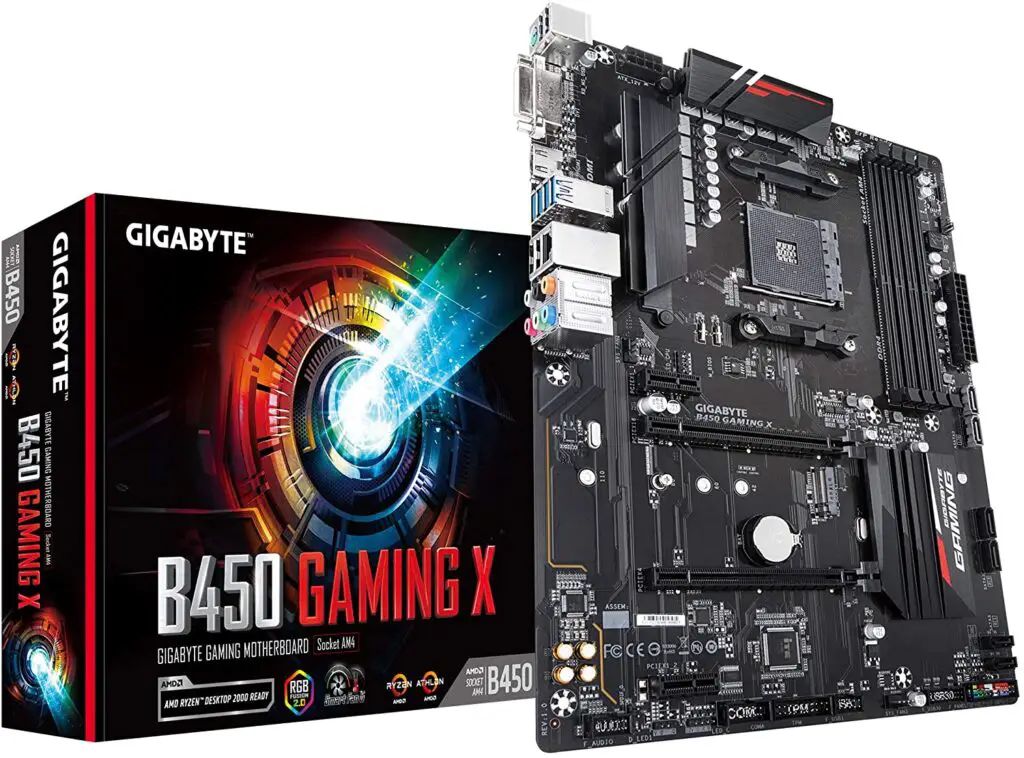 With all of the features on this board, we may conclude that it is the best mid-end B450 option on the $100 budget. However, keep in mind that this one lacks RGB LEDs, so if you want a more vibrant board, look into one of the ASrock options, such as the ASRock B450 Steel Legend.
Pros
✓ 2x graphics card slots
✓ AM4
✓ Affordable
✓ Good amount of VRM phases
Cons
✘ No Pre-instalated IO shield
✘ Few RGB LEDs
Gigabyte's Gaming X line of motherboards offers features that are more suited to gamers. When it comes to gamer specifications, we expect this board to have plenty of RGB LEDs, a large number of RAM slots, and a sturdy heatsink, but the one for today's review defied expectations.
Because of this oddity, we decided to review the GIGABYTE B450 Gaming X to see whether it really suits the gaming trend or whether it is simply a bad gaming board.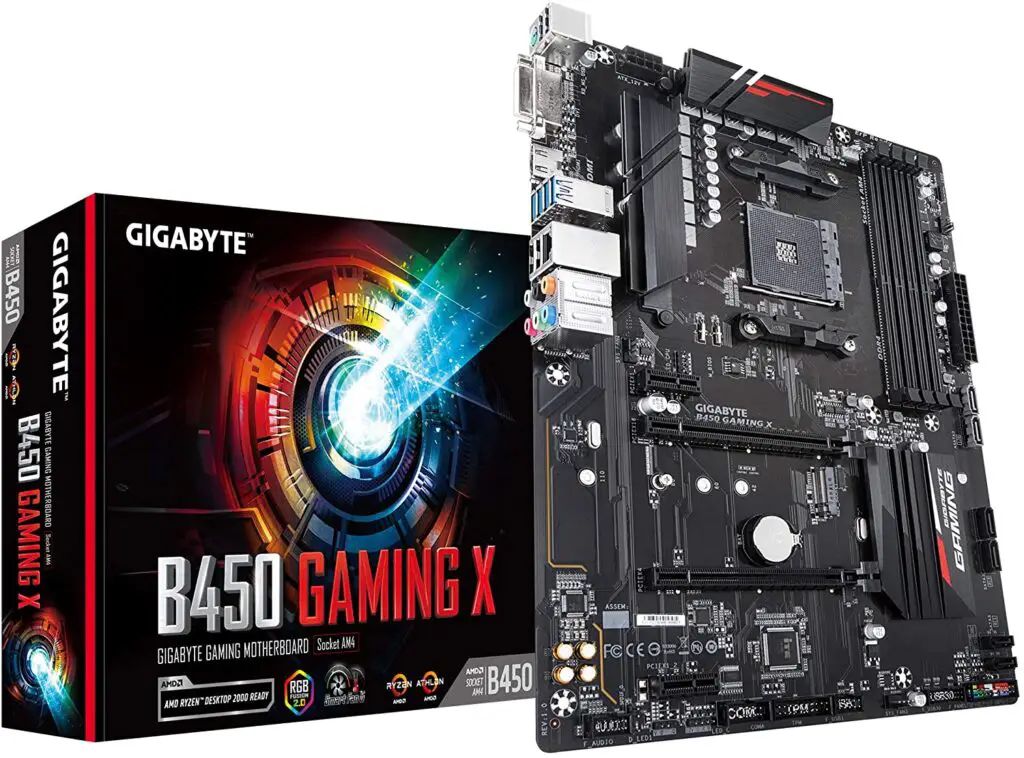 GIGABYTE B450 Gaming X is a Gigabyte Gaming X line mid-range motherboard. This board, which was released in March 2019, has yet to be a full hit, but for some reason, it is now becoming more well-known. The chipset on this board, combined with the low prices, is most likely one of the reasons for that.
Socket and Chipset
This board is equipped with the B450 mid-range chipset and the AM4 socket, which supports both the latest Ryzen 5000 line and the 3rd generation Ryzen processors.
The B450 is an excellent choice for those looking for a low-cost board that supports new Ryzen processors, but it does sacrifice some high-end features.
Design
This board does not appear to be a gaming motherboard at first glance, at least in terms of design. Unfortunately, this board lacks the sturdy heatsink, as well as the pre-installed I/O shield and a plethora of RGB LEDs.
However, the lack of a gaming design has a direct impact on the final price of this board, making it significantly less expensive than it would be if it had all of the above-mentioned gaming features.
Overall, it features a simple yet solid design with red stripes on the top of the chipset and the top VRM circuit heatsink. With dimensions of 12.79 x 10.23 x 2.75 inches and a weight of 2.70 pounds, this is an ATX motherboard.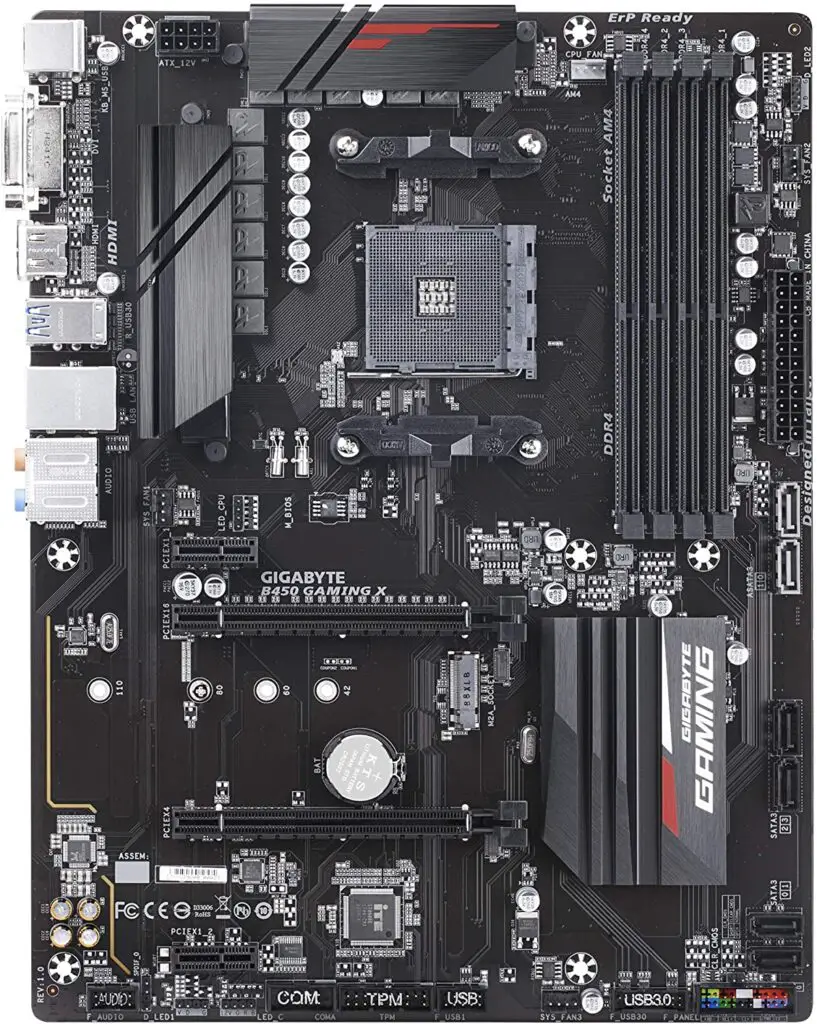 Design downsides
The lack of a pre-installed I/O shield, which simplifies installation while still making your board stunning, is a minor disadvantage.
Memory
This board also has four DDR4 DIMM sockets that can support up to 128 GB of device memory. With dual-channel support and XMP, you can increase your memory speed up to DDR4 3600 Mhz.
Unfortunately, unlike some AORUS models such as the Gigabyte H470 AORUS PRO AX, this board lacks any motherboard socket protection, such as a steel shield. On the Gigabyte website, you can check out further about the memory support list.
Overclock and Recommended Processors
Recommended CPUs
Starting with our suggestions for the best CPU options for the GIGABYTE B450 Gaming X. First and foremost, the AM4 socket supports the majority of Ryzen processors, including the RyzenTM 5000 series, 3rd Gen RyzenTM, 2nd Gen RyzenTM, and 1st Gen RyzenTM.
With that in mind, we can begin selecting the most highly recommended choices. First of all, the best choice for you is the one that best meets your needs. Furthermore, since you're purchasing a B450 board, we must presume that you need a balanced CPU choice for both gaming and everyday tasks.
The Ryzen 5 3600 is currently one of your best-balanced affordable choices for gaming and multitasking, such as live streaming. If you just need a gaming processor and have some spare cash, the Ryzen 5 5600X is a good choice.
Finally, if you're looking for a low-cost option that will only be dedicated only to daily tasks like accessing the internet or playing casual games, the Ryzen 5 2600 is a good choice.
Overclock
Considering that this is a mid-range motherboard, it performed admirably when overclocked. This is most likely due to the fact that this is a gaming motherboard model.
However, due to the restricted heatsink fairing on this board, depending on which CPU you're using, if you hard overclock it, you can experience overheating issues.
Take a look at the ASRock B550M Steel Legend Review if you need a more recommended hard overclocking motherboard.
Back panel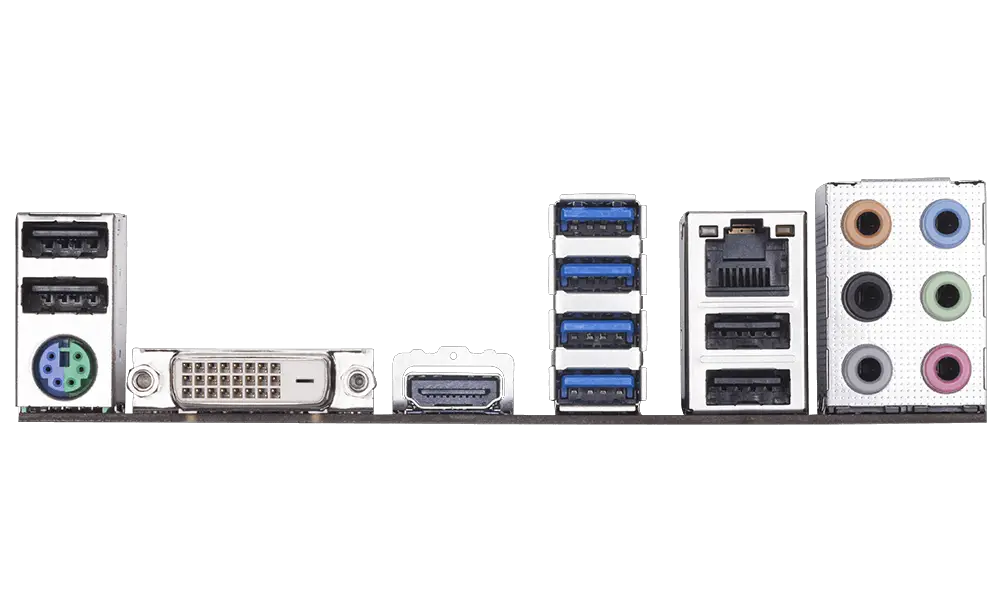 As mentioned, this board does not have the pre-installed IO shield to make agiler your building. Also, looking at the back panel we see:
1 x PS/2 keyboard/mouse port
1 x DVI-D port
1 x HDMI port
4 x USB 3.1 Gen 1 ports
4 x USB 2.0/1.1 ports
1 x RJ-45 port
6 x audio jacks
Final thoughts
When to buy it
The GIGABYTE B450 Gaming X is one of your best choices if you're looking for a good combination of performance and price. Due to the B450 chipset, this is also a good futureproof mid-end option.
When not to
If you just need a board for everyday use and have no plans to play games with it, this isn't one of your best alternatives. In this scenario, the GIGABYTE B365M DS3H is a good choice.
You may like