Conclusion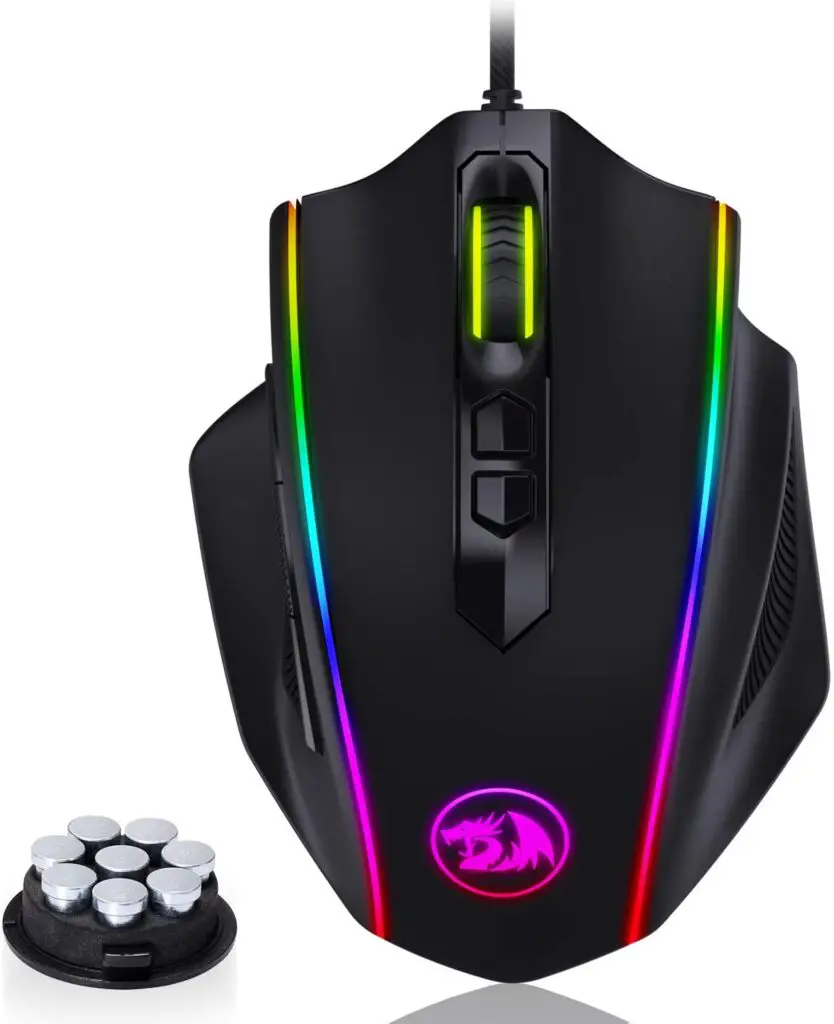 We can conclude that the Redragon M720 Vampire is one of the best gaming mouse options for those with a palm grip and big hand sizes. Besides, this one is not recommended if you have the fingertip grip due to its robust design, and unfortunately, it is not left-handed friendly as well.
Pros
✓ 10000 DPI
✓ 8 customizable buttons
✓ Affordable
✓ Stunning RGB LEDs design
Cons
✘ Not left-handed friendly
✘ Not recommended for tiny hands
Fortunately, some brands tell you with their mouse prices that even if you need a good gaming mouse, you don't have to spend too much. The Redragon is easily one example of this. You can notice in some mice provided by them, like the Redragon M711 and the Redragon M602, that presents a surprising relation between price and performance.
And for today's review, we decided to choose one of its gaming mice with the best prices you can find on the market, the Redragon M720 Vampire.
Follow below the Redragon M720 Vampire Review in order to know whether this is the best option for you or not.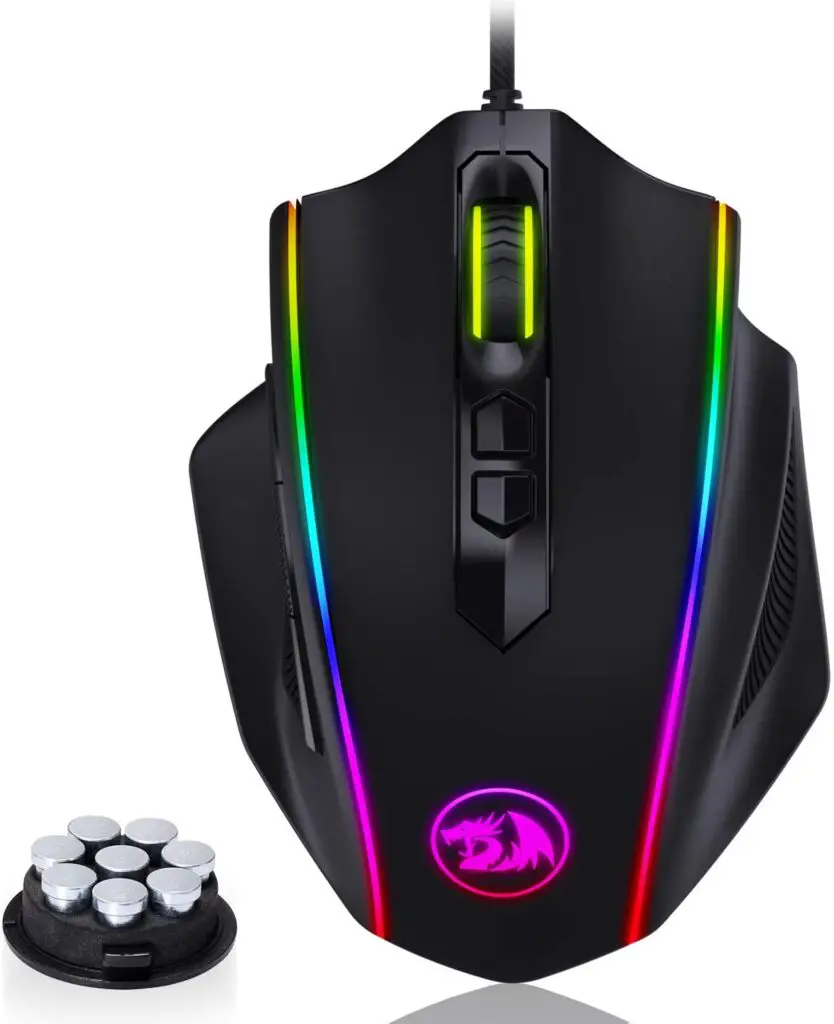 Design
When taking this out of the box, at first glance, what first draws your attention, is that this is a really sturdy mouse measuring 1.97 x 5.91 x 7.87 inches. Also, Redragon did a good job with the RGB lights of this mouse, being two parallel RGB lines across the mouse as also on the Redragon Logo and on the scroll.
These RGB lines fit perfectly the robust design of this mouse, creating a good perspective. Overall, as a Redragon label, this mouse is entirely in black. It features 8 programmable via software buttons as also an 8-piece weight tuning set for you to decide the mouse weight that better suits your gaming needs.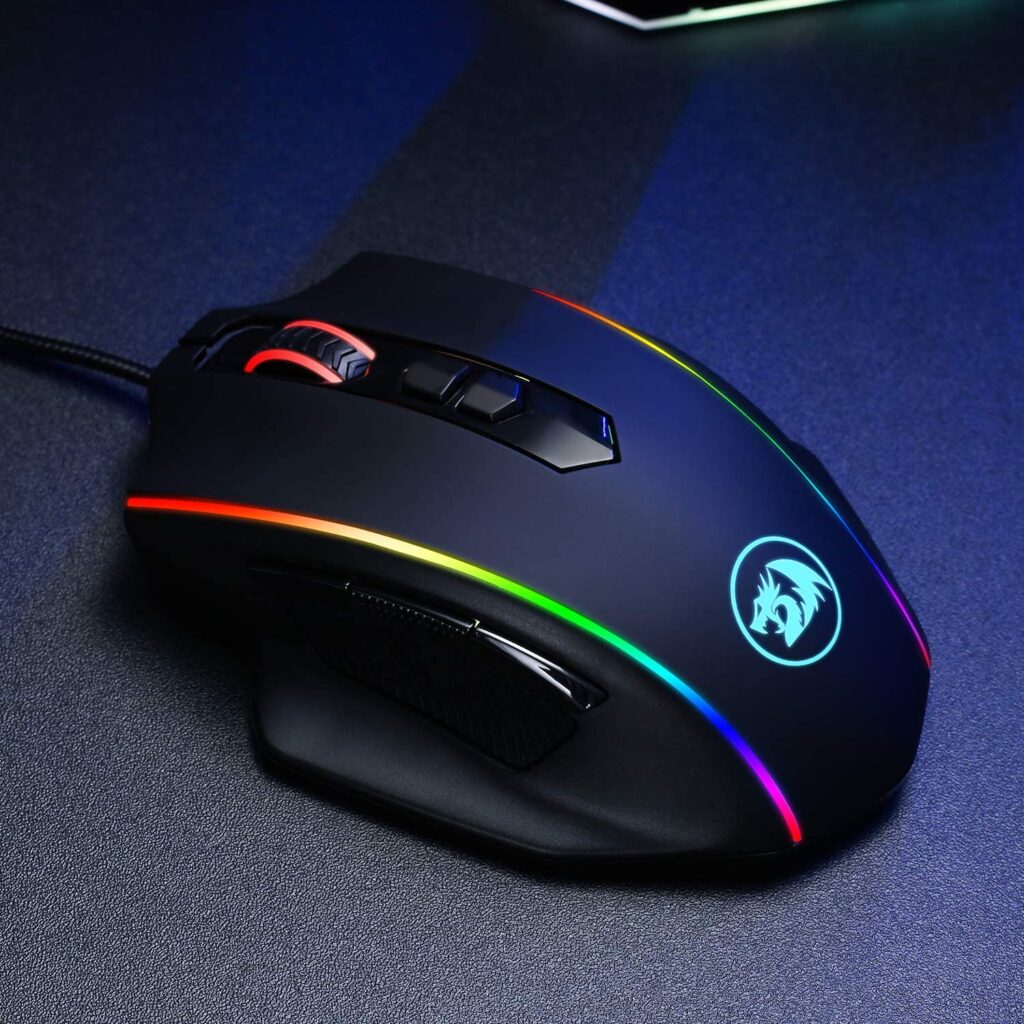 Design downsides
The only downside here would be for tiny hand people since this mouse is really big, meaning that it may feel uncomfortable using this if you have small hands.
Recommended hand sizes and grip
Speaking of which, if you have a median to big hand size, this mouse will surely be the one for you. However, you'll have better chances of liking it if you have the palm grip.
You can use it also with the claw grip since, again, depending on your hand size, the thumb rester won't get in the way, letting you hold the mouse firmly. But you can check out some options more dedicated to folks with the claw grip.
Besides, this mouse is not the one recommended for those of you with the fingertip grip; if you have this grip, stay away from this mouse.
Features
Buttons
As mentioned, this mouse has 8 programmable buttons, being the two below the scroll used as a pattern for DPI changes. Each DPI number has its own RGB color. Indeed, eight buttons is a good amount, however, if you need much, like an MMO mouse, you can check out other Redragon options, like the Redragon M901 with its only 18 programmable buttons.
RGB
The Redragon M720 Vampire has plenty of RGB LEDs being all of it customizable via software. Also, as mentioned, each DPI number has its own pattern RGB color. You also have 5 memory profiles.
DPI and Wire
By the way, this mouse features up to 10000 DPI adjustable via software and the two buttons below the mouse wheel, as well as 1000 Hz polling rate and 20G of acceleration. Also, luckily, the wire of this mouse is pretty flexible, which ends up delivering an easier gliding across the mousepad.
Sensor
Unfortunately, the Redragon website didn't show the specific model of the sensor of this mouse. I have to say that when I first saw that the sensor name wasn't provided, I was scared of this being a bad sensor with little to no quality; however, it did surprise me when I tried it for the first time.
It went pretty smooth during tests, with no oscillation or and no bad responsiveness. However, you can actually notice that it loses performance compared to a high-end one like the PMW 3389 on the Razer Deathadder Elite. Overall it performed better than some other Redragon models like the Redragon M711.
Final thoughts
When to buy it
If you need a cheap affordable gaming mouse option and have the palm grip as well as big hand size, the Redragon M720 Vampire mouse can't be less perfect for you. Also, if you have a median hand size and a claw grip, this one may also meet your needs.
When not to
If you have a fingertip grip, this mouse is not the best for you. Further, if you are left-handed, unfortunately, you won't be able to use this one.
You may like