Conclusion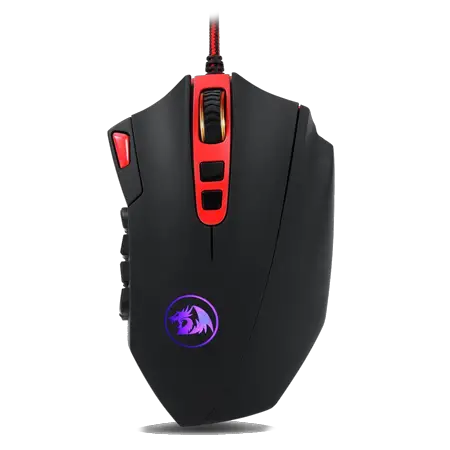 Summing things up, we can conclude that the Redragon M901 is an MMO, RPG gaming mouse dedicated due to the huge number of left buttons. It is one of the best choices for this scenario around this price range. If you want a cheaper option from Redragon, you should check out the Redragon m711 cobra review or the Redragon M602 review.
Pros
✓ OMRON switches
✓ 16400 DPI
✓ Affordable
✓ 12 Left button
Cons
✘ Laser sensor
✘ PMW 3327
The Redragon brand usually has this label of producing price-performance balance peripherals. The Redragon m711 cobra and the Redragon M602 are some straight-up examples. Even building a gaming mouse, the Redragon wants to keep it as cheap as possible, without losing performance, like the one for today's review.
Today's article mouse is going to be one dedicated to games such as Fortnite and League of legends due to an odd but nice feature presented in this. So without further ado, let's go to the Redragon M901 review. Follow below.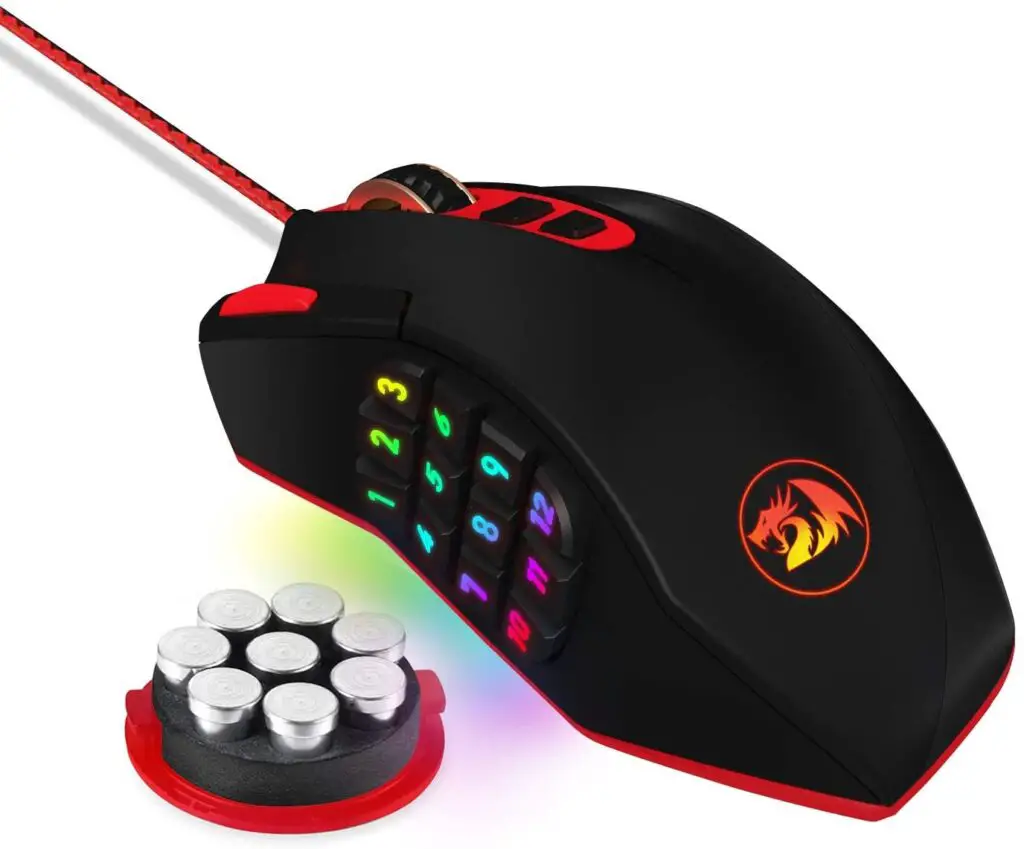 Design
Well, there is a lot to say about the design of this mouse. Starting with our first impressions, at first glance, we noticed that it is not a tiny mouse as we thought it would be. It has a dimension of 4.65 x 2.95 x 1.54 inches. Also, when removing the adjustable weights (8-piece weight tuning set 2.4g x 4), you can make it pretty light, thus adjusting it to the weight that better suits you.
But what really draws your attention is the number of buttons on the left side of the mouse that we're going to talk about in the Buttons section.
It has these red patterns all over the mouse, mainly on the bottom, and some RGB LEDs on the scroll and the Redragon logo and also on each of the 12 buttons.
Design downsides
Personally, I didn't like too much the red color of the multiple clicks button. I would prefer that this button has the black color as the two others behind the scroll.
Recommended hand sizes
The Redragon M901 fitted perfectly in my hand, which has a big size and the palm grip. However, this mouse isn't that much humpy, so at least with the palm grip, any hand size might fit well. Also, as you may have guessed, this is not a left-hand friendly mouse. Last, about grip advice, as said, this mouse went well with the palm grip.
If you have the claw grip, you may have issues keeping this mouse firm on hand since you'll press the left buttons trying to hold it firm. As well as the fingertip grip probably will have problems reaching all the thumb buttons. That said, we're heading now to the Features of this mouse.
Features
Buttons
The buttons are the masterpiece of this mouse for most people. With 18 programmable buttons, the Redragon M901 has left little to be desired at this point.
In addition, this mouse's unique red button comes as a pattern of three clicks per press. Also, the two top buttons can be used to adjust the mouse DPI. Any DPI number will have its own mouse wheel color.
Talking more about the 12 left buttons, I don't have any issues with it. I've heard others say this feels awkward, but it can vary from person to person. This number of buttons turns out to be exceptionally good for MMOs, as this kind of game normally needs you to click a lot of buttons at the same time.
Sensor
This mouse features the PMW 3327 sensor, which is one model above the other Redragon budget mouse, the Redragon chroma cobra. During tests, the Regragon M901 went pretty smoothly. The TEFLON pads really make the gliding across the mousepad almost perfect. Although being a laser sensor, it has excellent accuracy for this price range.
Obviously, there are more options better than the PMW 3327 in the market. However, you'll need to spend more, and above this one, they're most FPS games dedicated sensors.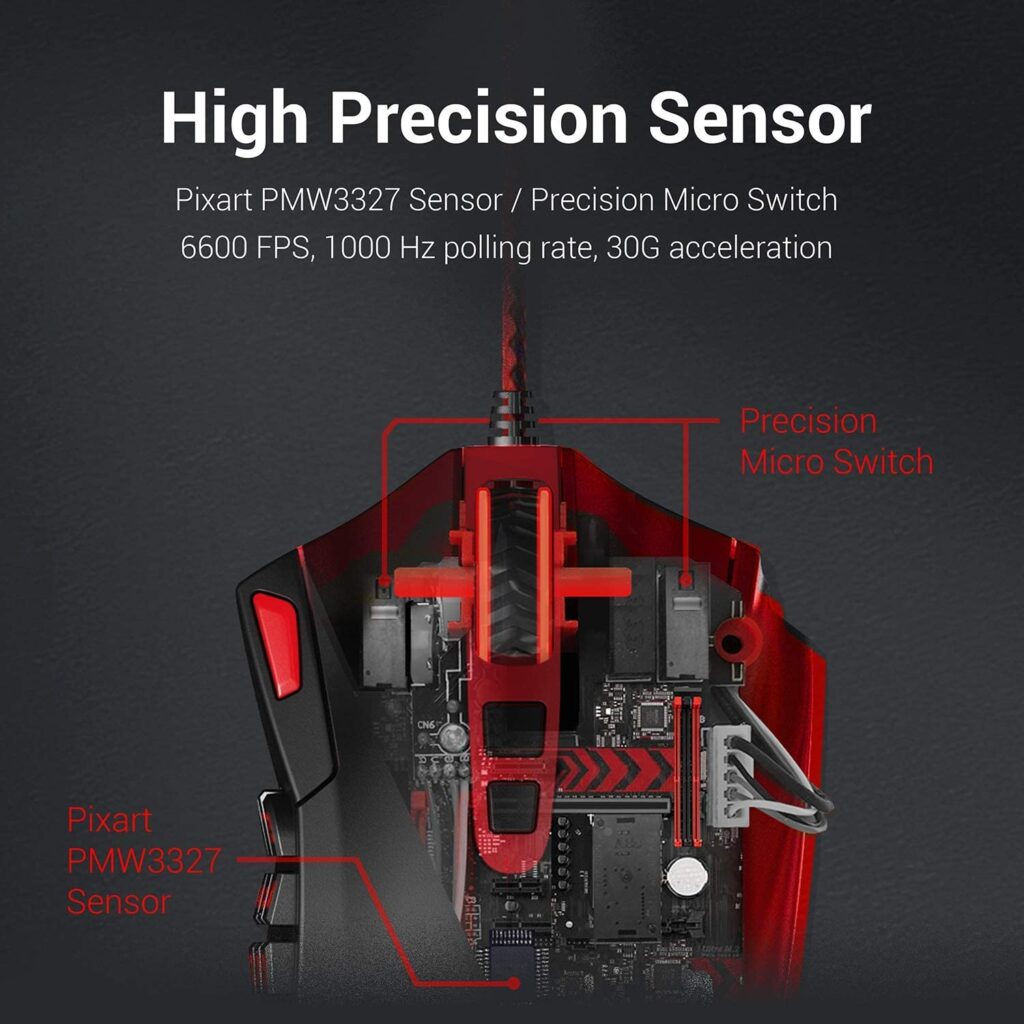 RGB
Furthermore, the Redragon M901, like almost every other gamer mouse, has plenty of RGB LEDs. You can switch between RGB combinations with RGB chroma lightning and breathing effects through software. If you want a more discreet mouse in this price range, I recommend you to check out the Razer Basilisk Essential Review.
DPI and Wire
In addition, using this mouse, you will be able to reach 16400 DPI, with 1,000hz of polling rate and 30G of acceleration. It's a really nice DPI margin that can normally be found in high-end mice. But you probably won't use it too much, just to try it out for the first time.
Also, Fortunately, this mouse does not have this unflexible wire issue commonly found in wired mice. The Redragon M901 wire measures 6 feet, braided in fiber.
Switches
Featured with OMRON switches that promise over 50M clicks, you can rely on this mouse for years until it starts to fail the clicks.
Final thoughts
| | |
| --- | --- |
| Sensor | PMW 3327 |
| DPI | 16400 |
| Polling rate | 1000 Hz  |
| Acceleration | 30G |
| Buttons | 18 |
| Switches | OMRON |
When to buy it
If you want a mouse dedicated to MMO games around this price range, or if you need a lot of buttons on a mouse, this is surely a great choice.
When not to
The Redragon M901 is not too advisable in case you want an FPS mouse because there are better sensor choices in the same price range, such as the Razer Basilisk Essential and the HyperX Pulsefire FPS Pro.
Also, you're not supposed to go for this one if you want a more discreet mouse, nothing too showy.
You may like