As they say, what lasts is the first impression. I decided to get my first HyperX mouse and review it for the first time here on reatbyte. So, I was searching for an affordable gaming mouse, and I found this $30 HyperX one up to 16000DPI and with the PMW 3389 sensor. The HyperX Pulsefire FPS Pro, to be more specific. And I'm going to share my thoughts on this mouse with you today, whether or not I'm happy with it? Check it out in the HyperX pulsefire FPS Pro Review below.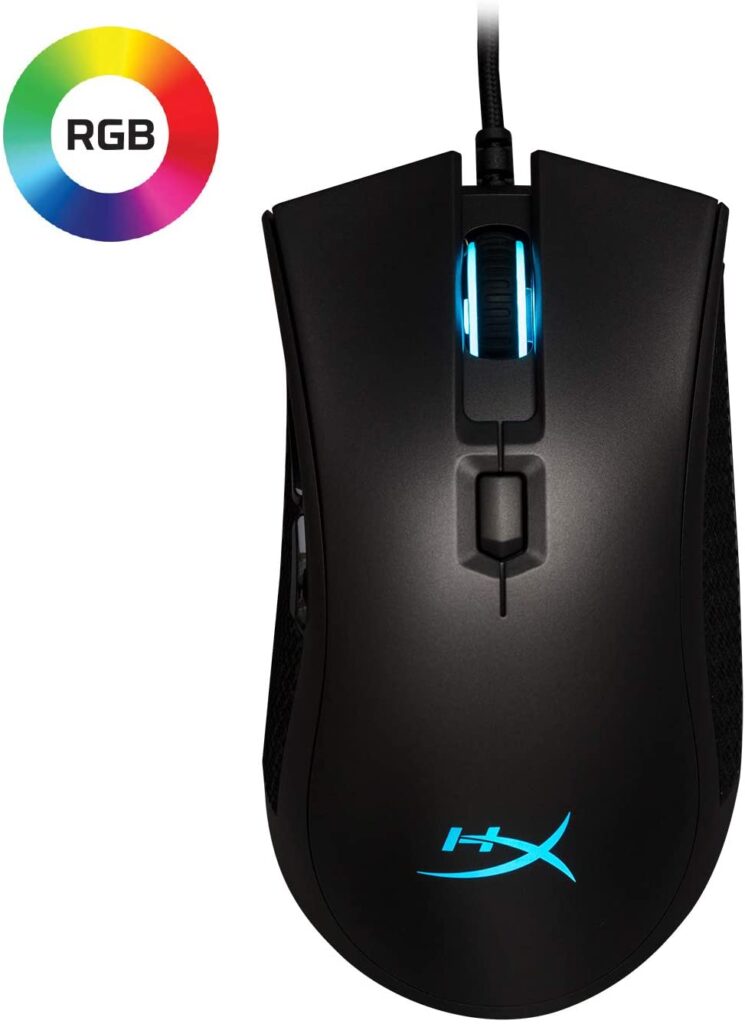 Design
When I took it out of the box, the first thing I noticed was that it was built in a sort of dark gray color, not black at all, as the photos indicate. For this price range, the rubber texturized parts on the sides of this are also pretty good.
It really helps a lot with accuracy when playing FPS games. These grips are probably one of the best I presented here on Reatbyte, even in high priced mice. Also, these rubber grips give this mouse a remarkably high degree of comfort and feeling.
Design Downsides
However, if your hands sweat easily, you may have issues with this mouse polished surface. I myself, in truth, have no problems with it. Another slight downside here is that it feels incredibly light.
Some people do not like to use lighter mice like this, and unfortunately, this one has no weight adjustment. But this is a plus point for the competitive area, since the lighter the mouse, the quicker your response time can be.
Recommended hand sizes
This mouse aesthetically looks like the Razer Deathadder, only a little more humpy. Feature-wise it is pretty similar to the DeathAdder as well.
In terms of hand sizes, the pulsefire fps pro suits well for those with big hand sizes, since, as said, this mouse is a little bit humpier; therefore, it is also strongly recommended for those of you with the claw grip because your fingers will slide off the side due to the incline.
If you have a palm grip, you can use it perfectly, which means this mouse style can suit this hand grip very well.
However, because of the little hump in it, if you have tiny hands, using this mouse can be uncomfortable. Also, fingertip grip wouldn't be advisable, considering the left buttons are situated a little far forward.
Features
Sensor
The Pulsefire FPS Pro uses the premium Pixart 3389 sensor, which performed very well and smoothly during tests. Also, it has the same sensor as the Razer DeathAdder Elite, a $60 one.
However, the Deathadder does feel more comfortable and fast than the Pulsefire FPS Pro.
Besides, with this excellent sensor, the Pulsefire is currently $30, making it an extremely affordable choice. The Pixart 3389 is one of the best sensors for marketing all mice. During tests, it feels highly precise. If you want to play competitive FPS games, this is an awesome choice.
Buttons
There are six programmable buttons on the HyperX Pulsefire FPS Pro, but be conscious that you can not choose another button to be the DPI changer. This mouse has onboard memory, by the way, which means you can save your settings within the mouse to use it on another device later.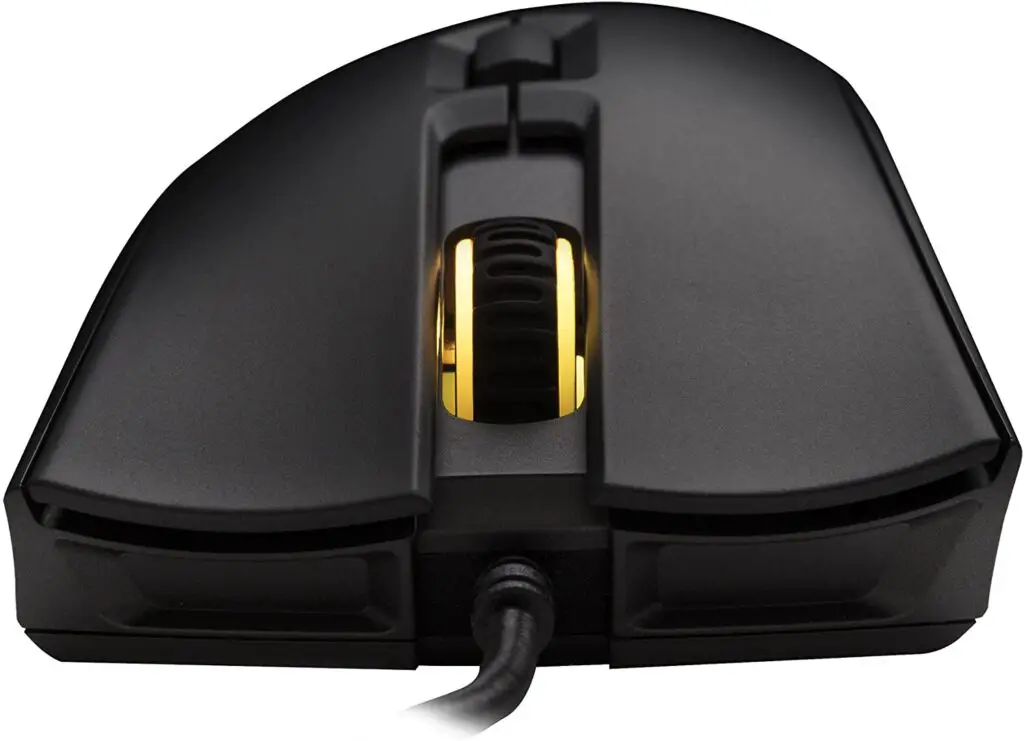 RGB
If you like a bright mouse, this one has no exaggerated RGB LEDs, be aware of that. The RGB has three patterns of colors (aka breathing, one color mode, or no lights).
DPI
With 450IPS and a polling rate of 1000Hz, this mouse can go up to 16000DPI through software. You will have to download the program if you choose to use 16000 DPI, as the mouse itself only features 800 / 1600 / 3200 DPI presets.
Software and materials
I've seen a bunch of reports about this mouse's software lately, but I haven't noticed any problems yet, and I hope it stays like this, though. Besides, I can not say anything about the durability of this mouse, but the materials seem to be of quality.
Wire
Also, during use, you can notice that this mouse wire is pretty flexible, which means it won't hinder you during use. I decided to mention that because a large proportion of wired mice reviewed here on reatbyte, does have this wire issue. Overall, it glides very well over the mousepad.
Switches
The scroll of this mouse turns out to be a little squeaky. Be mindful that you will wake up every sleeping soul with that if you use it in an unnoisy spot. Jokes aside, this is not the one for you if you want a quiet mouse.
However, the two main buttons feature OMROM switches with ultra-durable and unnoisy clicks. Even though the two main switches are quiet, I wouldn't buy this one if I was looking for a soundless mouse.
Conclusion
Summing things up, in some grips, the HyperX Pulsefire FPS Pro could be awkward. The sensor presented in this mouse is of great quality indeed, but, as said, if you have small hands, this mouse design is not advisable. Another thing to mention here is that this mouse is currently around $30 and has the same sensor as a $60 mouse.
If you want affordable gaming dedicated mouse and don't care about the minor issues I found above, you should certainly buy the HyperX Pulsefire FPS Pro. Also, if you want a little more low-budget mouse, you should check this one out: Redragon M602. And if you want a more accurate and comfortable one, you should check this one: Razer Deathadder.
You may like
HyperX Pulsefire FPS Pro Review | Cheaper gaming mouse?