Redragon M602 Review | The best $14 budget mouse?
Today we're going to review a $14 mouse by Redragon, the Redragon Griffin M602. To begin, I've seen a bunch of reviews almost praising this mouse, saying that it is a "gaming" mouse and suits well in all grips, with a nice sensor…
Therefore, in this review, I'm going to try to be totally impartial, and write to you everything that I've experienced since I bought this mouse and use it till the day I'm writing this post, in order to tell you when you should get it and when you shouldn't. Let's go then.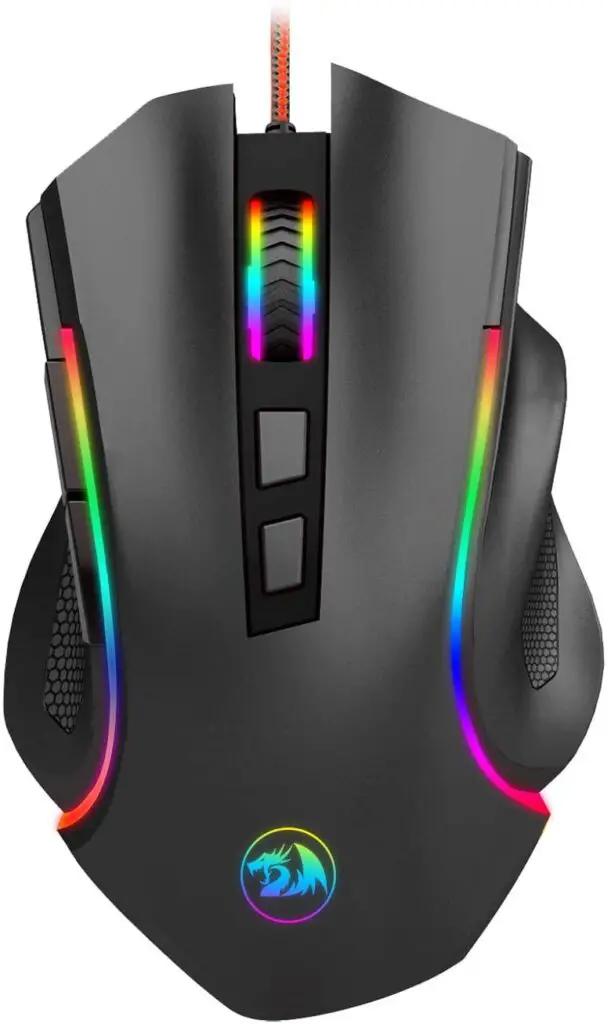 Design
First, let's start with the design. It has an entirely over matte black color made out of plastic and a reflective black on the right side. Left-side it features an anti-slip grip tape. It also has some programmable RGB lights that we've faced some issues with, we'll talk about it later.
Now, with the buttons, we've faced the first issue: personally, in my type of hand, I felt that the thumb buttons are placed too far forward; thus, it turns out to be an uncomfortable way to press it when you try at the same time to reach the bottoms behind the scroll, having some times to bend your fingers, then, all of a sudden when you realize, you hand are in some weird grip never seen before.
By the way, the recommended grip would be palm. It suits very well in big hands. Fingertip grip would be kind of uncomfortable due to the far thumbs buttons. About dimensions, the Redragon M602 features 124L x 74W x 39H with 3 grams of weight and a red cable over 1.8M.
The red color may not please some; it is undoubtedly an unusual color to use on the mouse wire. Last, it comes with TEFLON feet pads that help gliding the mouse across the mousepad.
Features
Now, we'll talk about the performance of the Redragon M602. The first thing that I've noticed when using this mouse was that I felt it was a little heavy, remembering that it does not come with adjustable weights. However, it glides very well over the mousepad due to the TEFLON pads.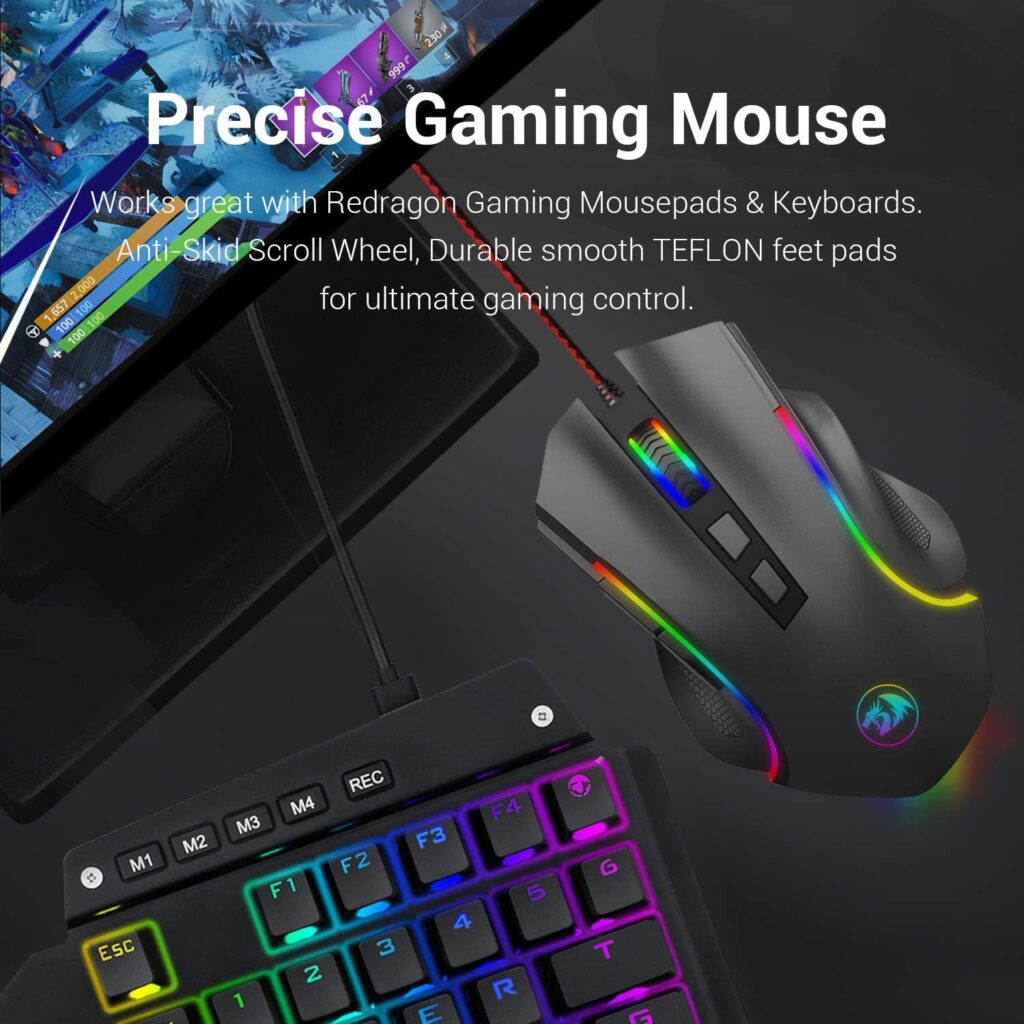 Besides, I've also noticed that it was a little delayed comparing it to the Logitech G502 I was using previously, but, again, we're talking about a $14 mouse vs a $35 one.
During a few hours of gameplay, I found the button issues I said above as well as a little bit unprecise sensor but considering its price it was doing well, though. Also, you can use up to 7200DPI with this mouse, adjustable via the top button. Besides, some users related to having faced problems with the buttons stop working after a long time of use.
Software
This mouse has quite complete software considering its price range. When I first downloaded it and installed it, I noticed that it has a pretty little amount of RGB colors in this mouse using the rainbow RGB mode.
However, when you switch it to a static color, you can select between fewer colors, about ~5. Also, you cannot disable the light change button and set it to another function. Besides, you can switch between polling rates, double click speed, scroll speed, and acceleration.
Conclusion
To finish, this mouse is recommended for those of you that want a low-end choice, and do not search for a gaming mouse. But if you do, you have to spend a little bit more and check some models like the: Logitech G403 Review and the: Logitech g502 Review.
However, if you still don't like the design of this one, you can check the: Redragon m711 Review that suits in fingertip grip as well as the claw. Costing around the same price range.
You may like