The Logitech company is known for its generally well-finished mice, accompanied by a lot of performance. Due to that, today we will see one especially recommended for gaming. That is, if you are looking for a cost-effective mouse to do better in the rankings of shooting games, continue here that we're going to review the Logitech g403 Prodigy, one of the best budgets currently.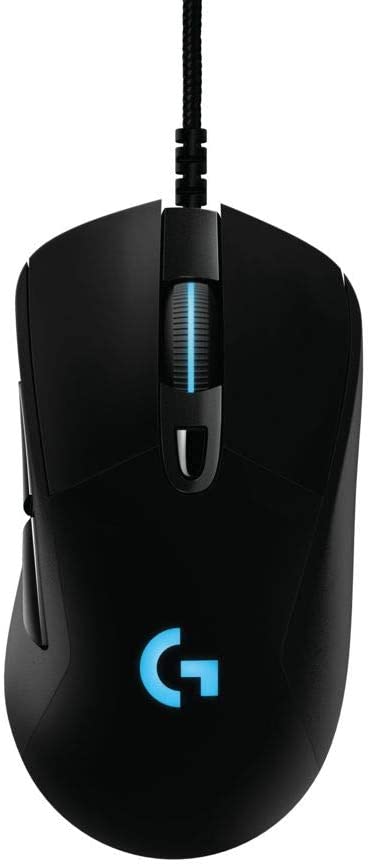 Technical specifications
Before we proceed with the design, let's take a look at the technical specifications:
| | |
| --- | --- |
| Height | 124 mm |
| Width | 68 mm |
| Depth | 43 mm |
| Weight | 87.3 g |
| Cable length | 2.10 m |
| Sensor | PMW3366 |
| Dpi | 200 – 12,000 |
Managed VPS Platform. Phone Support. Prices starting at $6.00 per month
Design
Design and color: It has a simple finish, with a smooth base throughout the mouse in matte black. It also has two rubberized parts on the sides to help in the firmness of the mouse during use. The only problem with this rub part is that depending on the quality, this material can be easily worn out and stained. But, as this mouse is produced with quality materials, this possibly won't be a problem. As can be seen, It presents a simple design but with great comfort.
Size and grip: The Logitech g403 is a medium-sized mouse; it is just a bit bigger than the Redragon m711 cobra, the $20 gaming mouse. If you have the palm grip, this mouse may not be highly recommended. Concerning other grips, you can rest assured that this mouse will serve you well. With that, the advisable grips would be fingertips and claw.
Buttons: It has six buttons, two large ones on the right, one below the scroll, and the other three standards. Consequently, for you who need a lot of buttons on a mouse, this would not be very recommendable. The RGB LEDs on this mouse are only on the logo and in the middle of the scroll. Under it has a slot for a weight that comes in the box, it is your choice to use the mouse with this weight or not; it will depend on how light you prefer a mouse.
Features
Sensor and Dpi: It has an exclusive sensor from Logitech, the PMW3366, a high-quality sensor found in high-end mice; its maximum speed can reach up to 400 IPS. With a DPI of 200 to 12000 via software, the Logitech g403 presents a lot of versatility for use.
RGB: This mouse does not have many areas with RGB; on the other hand, it has a pallet of colors of up to 16 million. Further, it has the Lightsync system, which can synchronize the colors of the program or game currently used with the colors of your mouse.
Tests: This mouse has extreme precision and speed, without acceleration, very comfortable during use. The only negative point that can hinder accuracy is the stifftnes of the cable, requiring the use of a mouse bungee. The tests achieved 1ms response time with a 1000 polling rate, which is impressively low for a middle-range mouse.
Pros
Cons
Acronis Backup for Windows PCs
---
Conclusion
Many mice said to be high-end deliver performance equal to this or even lower for the same price. Even so, this mouse is recommended for people who really need a little faster mouse than the usual. Check its price below.
If you intend to buy something more within budget, but of quality, I recommend checking out the review of the Redragon m711, currently costing up to $20: Redragon cobra m711.
You may like: