Conclusion

Summing things up, we can conclude that the Acer XF270H is clearly one of the best budget gaming monitors for the competitive scenario. Featuring 144hz and 1ms of response time, costing just around $150, this monitor gained our hearts easily. However, if you are not a big fan of the 1080p res, I suggest you take a look at the 27GL83A-B; this by itself features 1440p and 27″ as well.
Pros





✓

27 inches


✓

144hz


✓

Affordable


✓

1ms

Cons





✘

No VESA support


✘

1080p res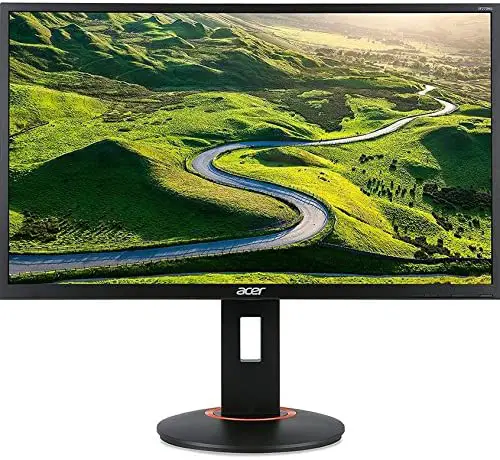 Recently, the gaming competitive scenario has been growing day after day. Games such as CS GO, Valorant, League of legends are some examples of competitive ones. In this kind of game, the players often want to be ahead of their adversaries.
For competitive gamers, a proper monitor is always one of the key aspects to care about when joining the competitive gaming scenario. When the display provides a decent refresh rate and response time, you're going to be milliseconds or even seconds ahead of your adversary, which often determines the entire match.
So, thinking on competitive players, we decided to review today the Acer XF270H. Totally competitive gaming dedicated affordable monitor for you who are planning to enter the competitive scenario and do it well. Without further ado, let's get to this monitor review. Follow below.
Design
Beginning with the design, this monitor has nothing too special here, probably to reduce the final price, they decided to not focus too much on the monitor form.
Unfortunately, it has not borderless bezels design, which is found in the recent monitor models. It is entirely covered in black, with a circular stand; also, you can lift up the display or turn it 90°, in order to suit your view angle needs.
Being able to adjust the monitor height is extremely important when a monitor has a TN panel since this, by itself, does not feature good view angle support. Ahead, we'll talk further about this.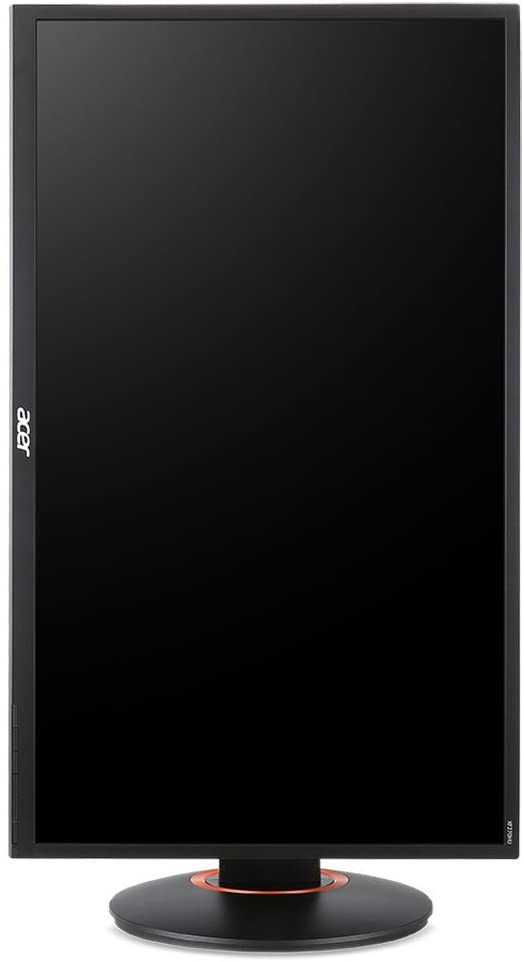 Also, sadly, if you want to wall mount, you actually can, but you'll have to buy accessories for it since this monitor has no VESA support.
Dimensions and connectors
Last, about dimensions and connectors, this monitors measures 640 mm x 558 mm x 245 mm and weighs 8.02 kg with and 5.52 kg without stand. A quite heavy monitor, but this doesn't matter at all since it has no VESA support.
About connectors, this monitor has 2x HDMI®-in, 1x DisplayPort, 1x USB 3.0 Upstream, 4x USB 3.0 Downstream.
Features
Panel Type
As said, this monitor features the TN panel (Twisted Nematic Film), which is one of the reasons it is gaming dedicated. Indeed it has not the color accuracy as an IPS; however, if you want a cheap monitor option to play competitive games, this is your best choice since it is cheaper than the other panels (VA, IPS).
Besides, with this panel, your viewing angle will be affected (170° Horizontal, 160° Vertical), meaning that depending on your point of view, you will see the image darker than usual.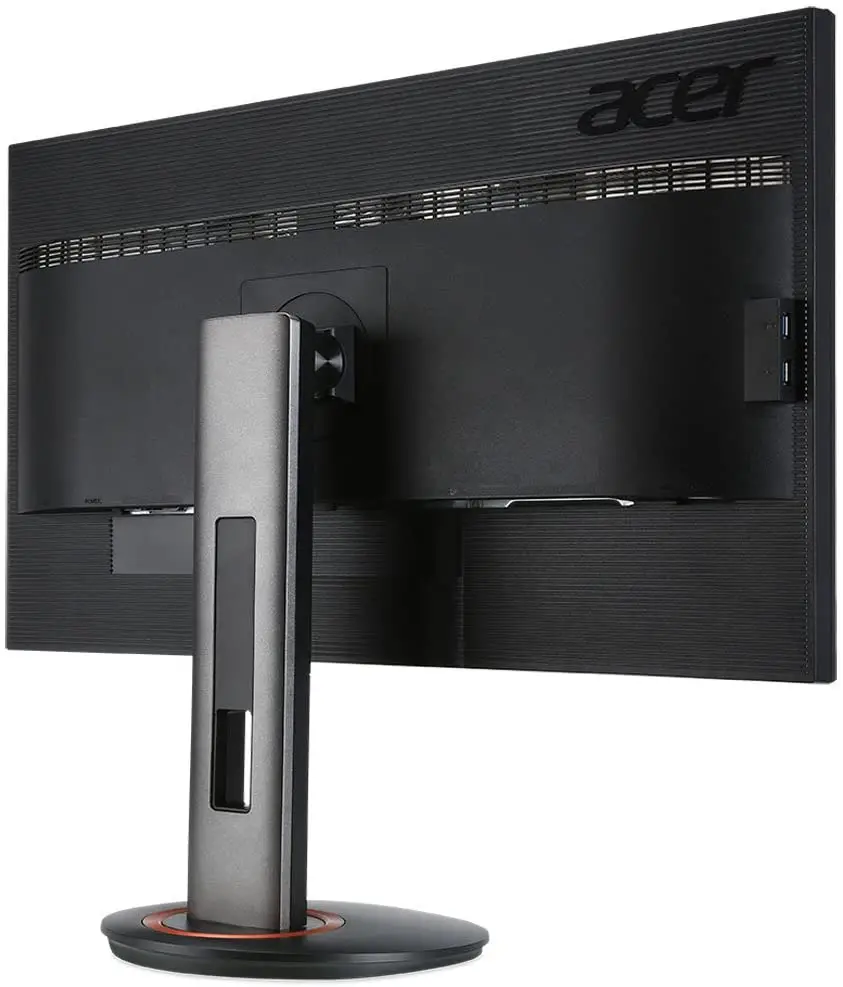 Color accuracy
Usually, you cannot expect too much for the TN panels concerning color accuracy. And it isn't different in this monitor as well. Featuring 16.7 Million of color depth, the Acer XF270H reaches the TN panel pattern, getting way too far from the 1.00B of IPS panels.
Brightness
The Acer XF270H has a very nice maximum brightness. Having a reference point, the recently reviewed LG Ultragear 24GL600f-B can reach 300cd, and it was already a nice brightness strength.
But the Acer XF270H is able to surpass this, going up to 400cd. Remembering that the brightness is even more relevant in TN panels since it has low viewing angles.
Refresh rate
144Hz of refresh rate or more is essential for the competitive scenario. It's said that when you first try it out, surely you won't want to come back to a 60hz monitor. Indeed, the smoothness provided by higher refresh rates makes you realize that you played laggy your whole life. Luckily, this display presents 144hz.
Response time
The response time is another gaming feature that determines how fast your command, whether by mouse or keyboard, will be reproduced on the screen. The lower the response time, the faster you will receive the monitor's response. The Acer XF270H has 1ms, which is one of the quickest response times all over the monitor market.
Image quality

This is a 27″ 1080p monitor. There are several divisive thoughts about the 1080p resolution. Some claim it is outdated, and some say it is the best for the gaming scenario.
When selecting the best resolution for your build, you have to bear in mind that, depending on your graphics card power, you won't be able to reach higher frame rates the higher the resolution is.
For example, if you select a 1440p monitor to play PUBG and have a GTX 1660, you will definitely not hit the frame rate you like. In this case, the better alternative will be to use a 1080p display instead of a 1440p or upgrade your graphics card.
Now, if you have a tough graphics card and want a 1440p gaming monitor, you should check out this review: LG 27GL83A-B monitor Review, but it is more expensive. Indeed, another plus point to 1080p is that it is currently much more affordable than a 1440p one.
In addition, featuring 27 inches, this monitor has an almost perfect size, making it easier for you to see your adversaries during your gameplay.
Conclusion
When to buy it
If you want a cheap monitor to play competitively, this is one of the best choices for you, however, it is often out of stock because of its price-performance. If you find it out of stock, you can check this one out LG 27GL83A-B Review, with the same features as the Acer XF270H but this time with 24″.
When not to
If you are searching for a monitor to work with image or video edition, this one isn't the most indicated. In this case, you should check this one out: LG 27QN600-B Review | Ips, 27″, 1440p $200 monitor.
You may like