Our Conclusion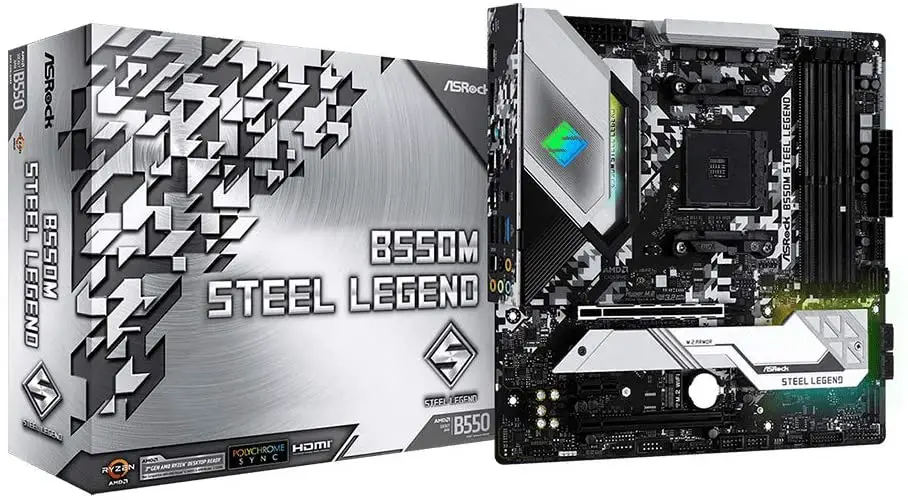 The ASRock B550M Steel Legend is currently one of the cheapest B550 boards, and it is also one of the best for the ryzen 5000 CPUs, if you want to have a great motherboard for gaming and don't need to do any enthusiastic tasks, this is your go-to choice. Otherwise, if you need a bigger board, the Gigabyte B550 AORUS Elite V2 could also be a great choice to consider. Either way, the ASRock B550M Steel Legend still stands tall in 2023 as one of the best cost-benefit motherboards.
Pros
✓ Affordable
✓ Cool design
✓ PCIe 4.0 x16 slot
✓ Pre-installed I/O shield
Cons
✘ Could have more VRM phases
✘ Lack of more RGB and FAN headers

The B550 chipset is often a popular choice for those looking for a mid-to-high-end option. One of the main reasons behind this popularity is the strong price-performance ratio offered by motherboards with this chipset. A prime example of this can be seen in the recently reviewed Gigabyte B550 AORUS Elite V2, which is widely regarded as one of the best budget motherboards available for the AM4 platform.
Taking this into consideration, we decided to delve into another B550 option for our review, specifically the ASRock B550M Steel Legend. In today's article, we will thoroughly examine the pros and cons of the ASRock B550M Steel Legend, providing you with a comprehensive review. So, without further ado, let's dive right into it.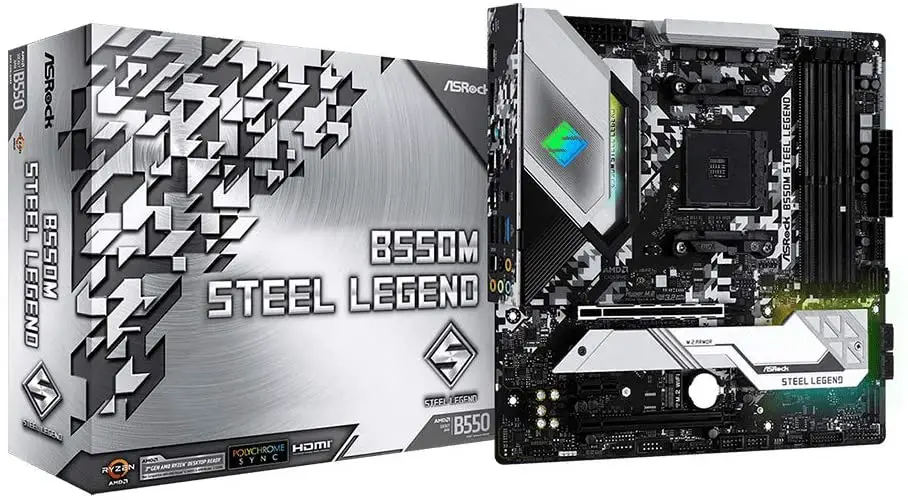 Socket and Chipset
As mentioned earlier, the ASRock B550M Steel Legend features the B550 chipset, which falls into the mid-to-high-end range and offers comparable performance to the X570 chipset. It strikes a balance between the higher-end options and more budget-friendly alternatives, making it an excellent choice for those who want solid performance without breaking the bank. Additionally, it supports PCIe 4.0 and provides a generous number of USB and SATA ports, enhancing its value even further.
Moreover, the ASRock B550M Steel Legend is equipped with the AM4 socket, allowing compatibility with both Zen 2 and Zen 3 Ryzen processors. This means you can easily pair it with CPUs from the Ryzen 5000 series, including the top-tier models with high thermal design power (TDP). In the upcoming Recommended CPUs section, we will delve deeper into the board's capability to handle various Ryzen processors, including those with higher power requirements.
Design.
The B550M steel legend is a Micro ATX motherboard, measuring 9.6 inches by 9.6 inches (24.4 cm by 24.4 cm). It features a distinctive design with a gray, white, and black drawing pattern, which is commonly seen across various Steel Legend motherboards.
Furthermore, as is customary for Steel Legend models, this board boasts plenty of RGB LEDs. However, the lighting is not overly extravagant, with one LED on top of the heatsink fairing and another on the chipset.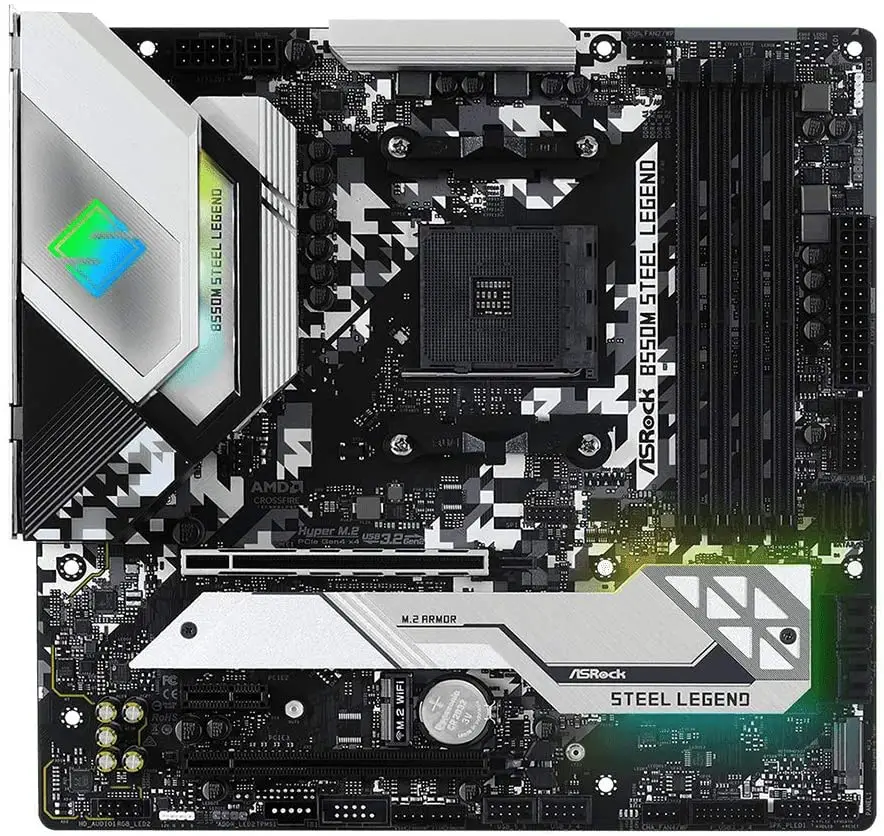 Another standout feature when unboxing the board is the SSD M.2 aluminum armor that runs across the board and extends to the chipset. Personally, I found this design element quite appealing, although opinions on it may vary. Overall, the ASRock B550M Steel Legend is an aesthetically pleasing, robust, and well-designed motherboard. It undeniably stands out as one of the most visually striking boards featured here at reatbyte.
Design downsides
One thing to keep in mind with the ASRock B550M Steel Legend is that the RGB LEDs on the board stay illuminated even when you power off your computer. This can potentially create an awkward situation if you prefer a completely dark room when your PC is not in use. However, the good news is that you have the ability to disable this feature through the motherboard's BIOS.
By accessing the BIOS settings, you can conveniently turn off the RGB LED lighting, allowing you to achieve the desired darkness in your room without the need to resort to powering off the PC through the power supply button or unplugging it.
Memory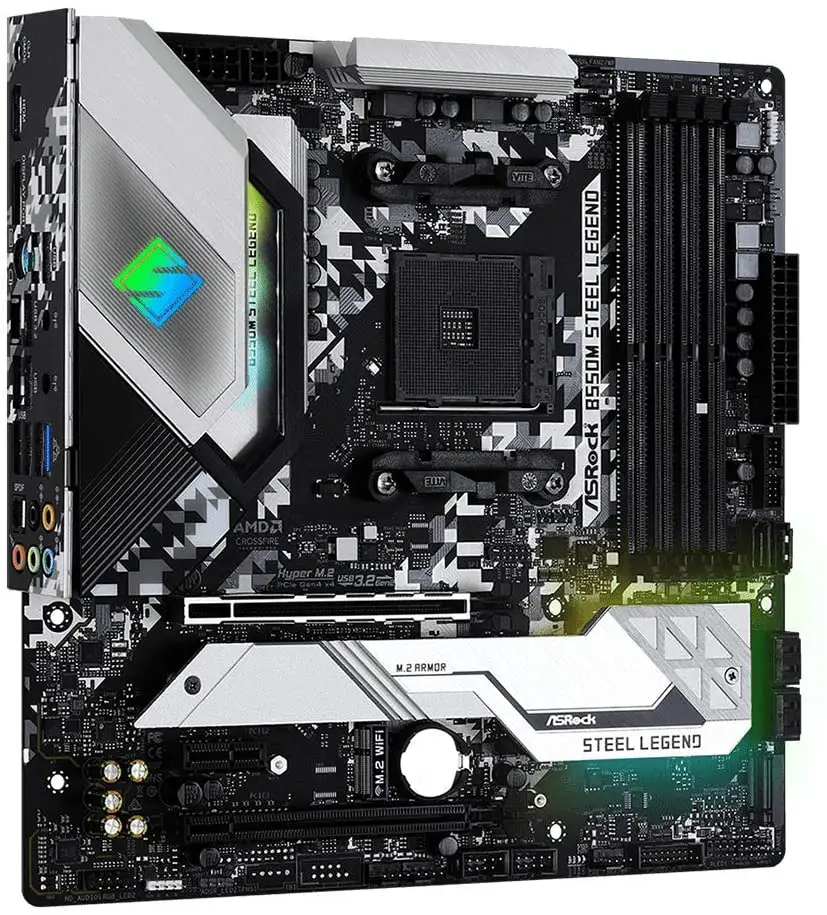 The ASRock B550M Steel Legend motherboard offers 4 DIMM slots with 15μ Gold Contact, allowing for a maximum memory capacity of up to 128 GB. The actual clock speed support depends on the specific CPU you are using, with a maximum of 4600MHz+ (OC) achievable. For detailed information about compatible memory for different CPUs, it is advisable to refer to the Asrock website for specific guidelines and recommendations.
Furthermore, this motherboard supports the Extreme Memory Profile (XMP), a feature that simplifies the process of overclocking your RAM modules. Additionally, the ASRock B550M Steel Legend features dual-channel support, which is often considered essential for improving FPS rates, particularly if you intend to utilize integrated graphics for gaming purposes.
In the next section, we will explore the recommended processors that are best suited for use with this motherboard, ensuring optimal performance and compatibility.
Overclock and Recommended processors
When we examine this board, two notable features stand out: the enlarged heatsink and the high VRM phase count. This combination suggests that the board is well-equipped to handle demanding overclocking tasks without overheating the VRM circuit. However, in our tests with the Ryzen 7 5800X, one of the hottest CPUs in the 5000 series, we observed that the VRM circuit came close to reaching its maximum recommended temperature. This is a cause for concern, indicating that this board may not be the perfect choice for enthusiasts, even though the CPU running at stock settings didn't pose significant challenges for the circuit.
For optimal performance, a good pairing with this board would be the Ryzen 5 5600X or the Ryzen 7 5800X3D, providing a powerful and possibly the best option in the 5000 series for gaming and multitasking. You can find a comprehensive list of supported CPUs for this board on the Asrock website.
The Asrock B550m steel legend is specifically designed for the Ryzen 5000 line, making it an excellent budget choice for those seeking a motherboard for the 4th-generation Ryzen processors.
It's important to keep in mind that if you decide to overclock a 5000 processor with high TDP, you should monitor the VRM temperature closely. However, it's unlikely that you'll encounter overheating issues, as the cooling system of this board is well-designed and capable.
VRM and Connectors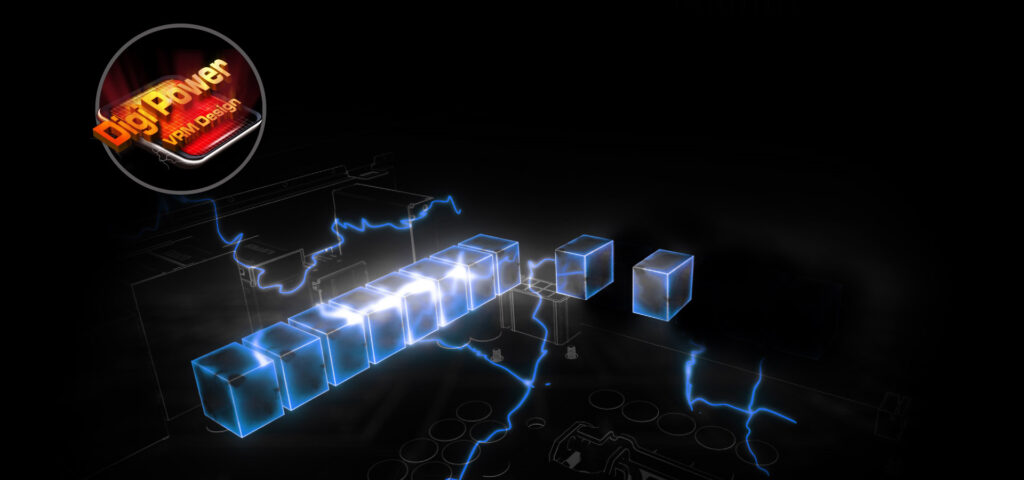 In addition, the Asrock B550m Steel Legend boasts a robust VRM circuit with a total of 10 phases, each equipped with 50 amperes DR.MOS power stages. The enlarged heatsink further contributes to efficient heat dissipation, ensuring the VRM circuit remains cool even under demanding conditions. Furthermore, the board features Nichicon 12K black capacitors known for their longevity, with a minimum lifespan of 12,000 hours. It's worth noting that all capacitors on this board are reinforced except for the audio capacitors, highlighting the attention to detail in its construction.
Power connectors
Additionally, the board offers convenient connectivity options with an 8+4-pin and 24-pin ATX hi-density power connector, ensuring stable power delivery. It also features two M.2 connectors, one of which is equipped with an armor design to help dissipate heat and maintain optimal performance.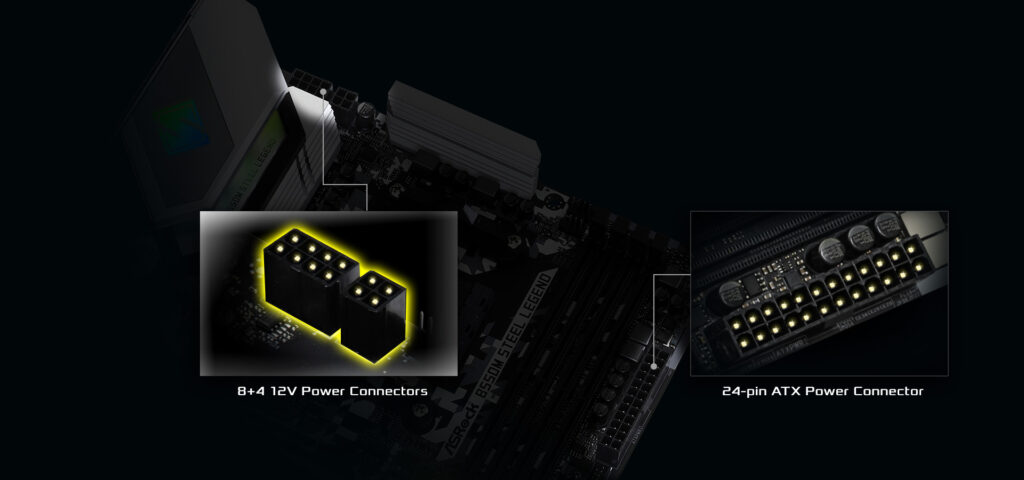 PCI conectors
Furthermore, in terms of PCIe slots, this board offers three. The first slot operates at x16 Pcie 4.0 and is armored with 15μ Gold Contact. We highly recommend using this slot for your main graphics card, as it supports AMD Quad CrossFireX™ and CrossFireX™. The board also includes a PCIe x1 slot for additional expansion options.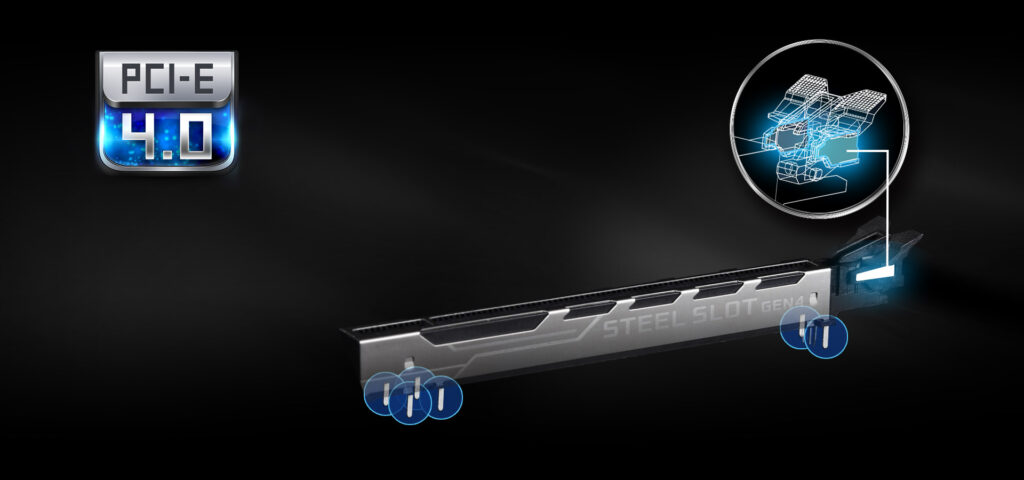 Fan, RGB, SATA
Lastly, this board features: 2 x RGB LED Headers, 1 x Power LED and Speaker Header, 2 x Addressable LED Headers, 4 x Chassis/Water Pump Fan Connectors (4-pin), 1 x CPU/Water Pump Fan Connector (4-pin), 1 x CPU Fan Connector (4-pin). It also features 6 x SATA3 6.0 Gb/s connectors with RAID support.
Back panel

The board comes with a Pre-installed IO shield, which streamlines the PC building process. Additionally, let's take a look at the back panel, where we can find:
4 x USB 3.2 Gen1 Ports
1 x USB 3.2 Gen2 Type-C Port (10 Gb/s)
1 x USB 3.2 Gen2 Type-A Port (10 Gb/s)
2 x USB 2.0 Ports
2 x Antenna Mounting Points
1 x PS/2 Mouse/Keyboard Port
1 x HDMI Port
1 x DisplayPort 1.4, 1 x Optical SPDIF Out Port
1 x RJ-45 LAN Port with LED
1 x Clear CMOS Button
HD audio jacks.
Conclusion
In summary, the Asrock B550m Steel Legend is an excellent and affordable motherboard option for the 4th generation Ryzen processors. It offers great value for its price, being even cheaper than the Gigabyte B550 AORUS Elite V2. While the AORUS version has an additional graphics card slot and more VRM phases, the Steel Legend version is recommended if you prefer a motherboard with more RGB LEDs. Overall, both options have their strengths, so it depends on your specific needs and preferences.
You may like