Our Conclusion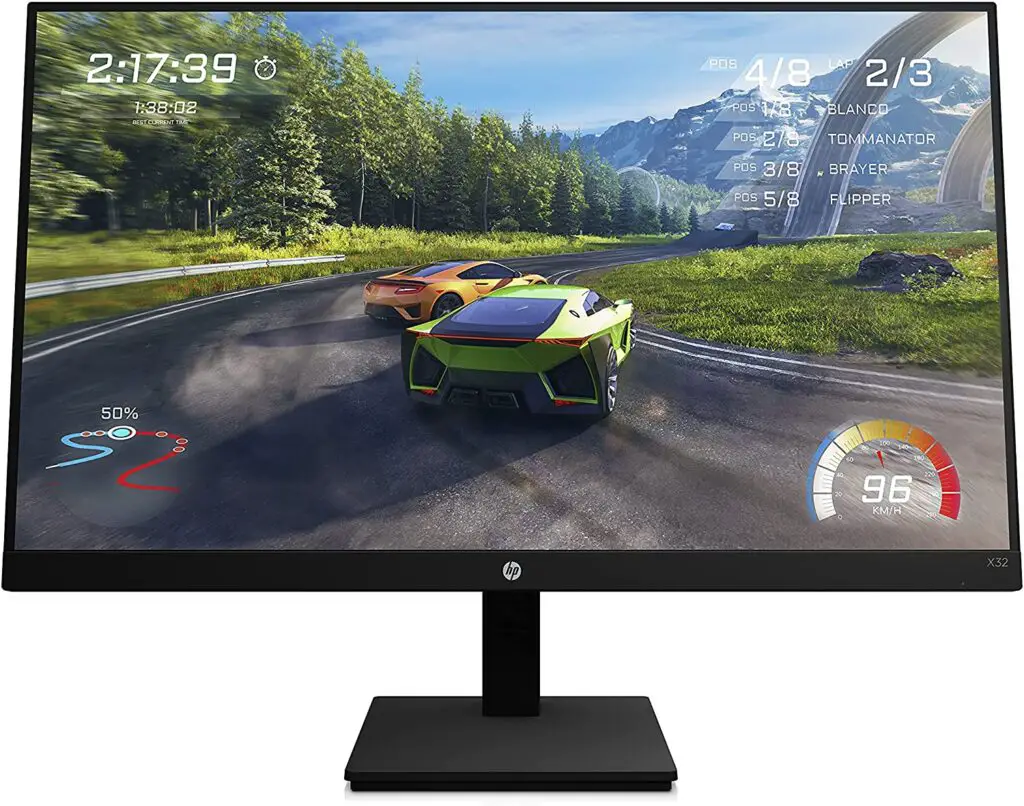 The HP X32 is one of the most affordable 32-inch gaming monitors on the market right now, with excellent image quality, a high brightness ratio, and high smoothness. If you're looking for a 32-inch gaming screen at a low price, this one should be at the top of your list. If this monitor is still too large for your requirements, you might look at the Asus XG27AQM or the ASUS VG27AQ1A which has similar capabilities but is smaller.
Pros
✓ 165Hz, 1ms
✓ It is more affordable than the average
✓  Vivid colors
✓ Awesome brightness
Cons
✘ Lack of pivot and swivel stand adjustments
✘ Limited connectors
If you didn't find a good deal on a monitor during Black Friday last year and decided to save your money for a better sale, you can rest assured that we'll be reviewing this new line of HP monitors this week – which had its first screens available just a few months ago and already has the best price-performance HP monitors in it.
Today, we'll start with the non-curved 32-inch model, which we believe is one of the best in the lineup. So, without further ado, let's have a look at the HP X32 review to see whether it's the right display for you. (At the end of the post we'll explain why we didn't include the curved version of this monitor in our list of future reviews.)
July 7, 2023 Update: We added a table, corrected typos, added some new information, and compared this screen to some of the others in the same price bracket.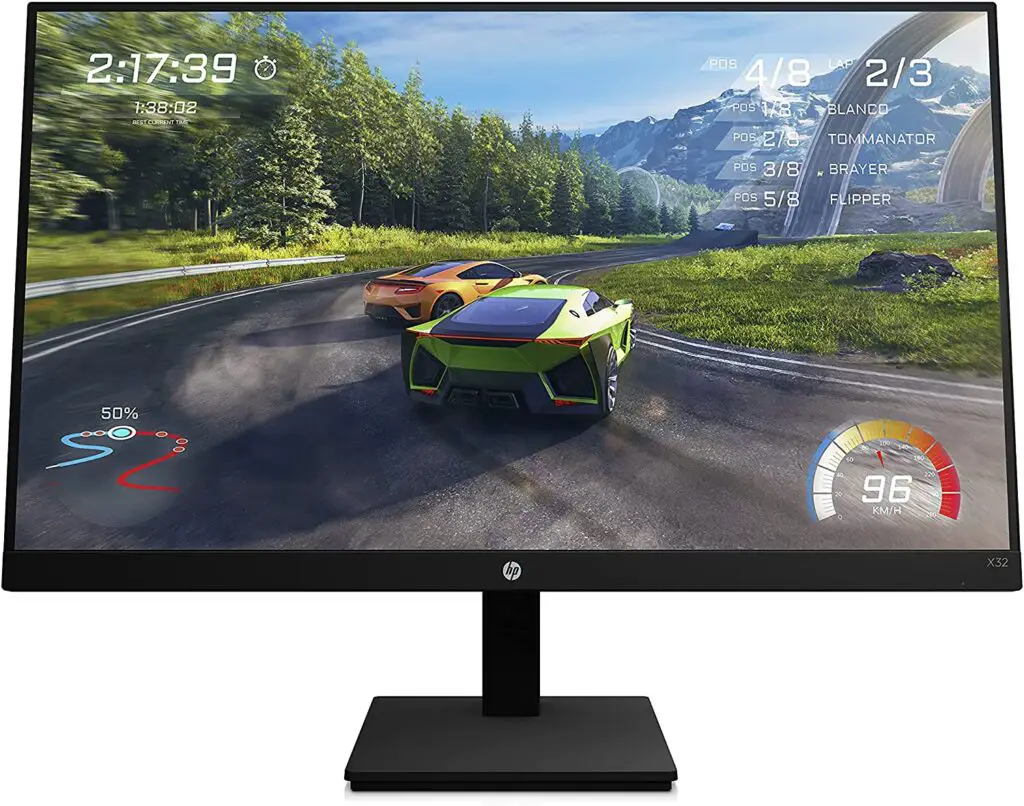 Design
This monitor has the X line's traditional design, with sturdy features and little to no eye-catching accents. It is a rather large monitor, so be sure you have enough desk space to accommodate it. 
It measures 29.1 x 9.25 x 21.58 inches and weighs 17.40 lbs which is relatively light for its size but still makes it a pretty heavy monitor. In fact, the sturdiness of this model can surely make up for its heavy weight, featuring top-tier quality materials. 
However, because this monitor lacks swivel and pivot adjustments, it is not a good choice if you want to use it as a secondary display to make live streaming (which is improbable for a huge monitor like this). Instead, you should check smaller and more affordable options like the DELL P2222H. 
The HP X32, speaking of which, features a square-shaped stand with a traditional design. It also boasts a narrow bottom bezel, which isn't the smallest in the HP lineup but is within the norm. 
Looking at the rear of the display, we can see that they chose to use the old-fashioned buttons instead of the joystick, which might be inconvenient for those who are already used to it. However, for people who have previously used a display with buttons, this will most likely not be a major hindrance.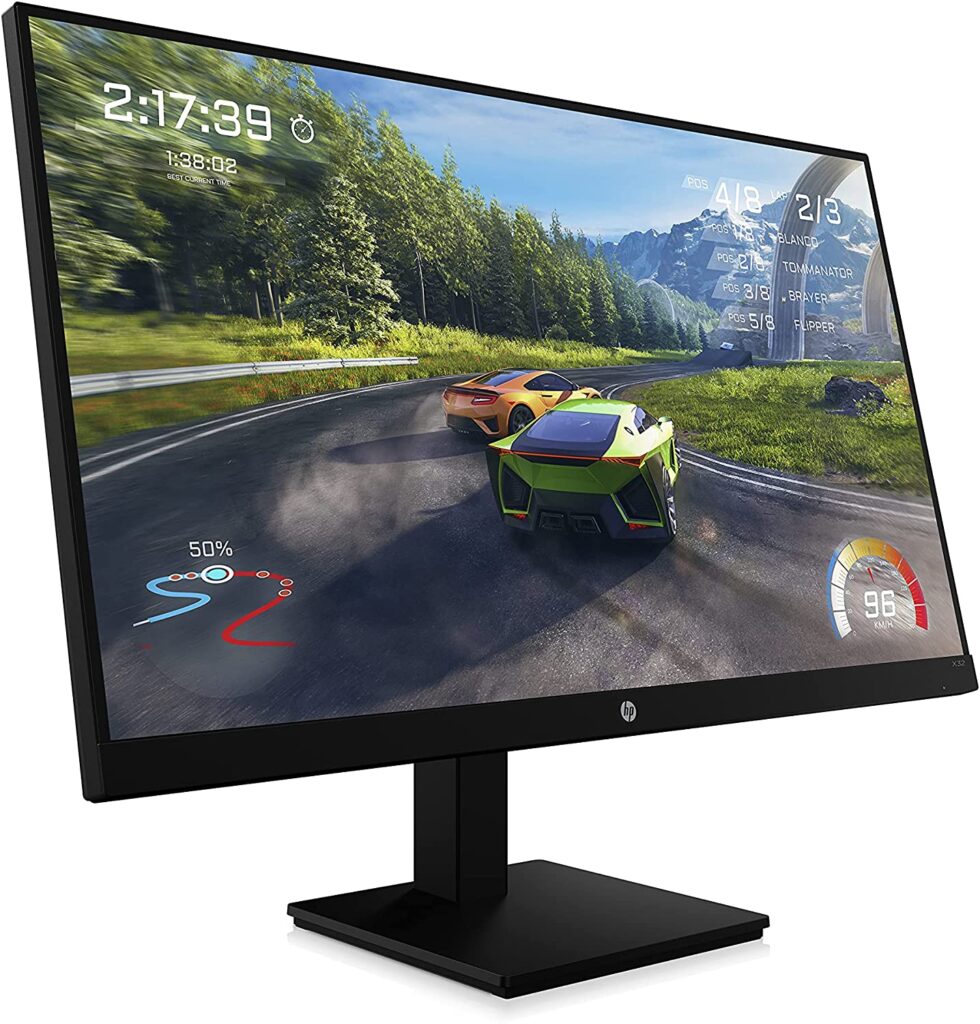 To conclude, we can say that they plainly opted not to cater to gaming styles when designing the screen's aesthetics. If you need anything more eye-catching, they already have it with the HP X27I. 
So, in general, there are no obvious flaws in the design of this monitor. They were able to keep it sturdy and use quality materials while meeting the price range's requirements.
Connectors
Unfortunately, they decided to skimp a little bit on the connectors' side, maintaining only: 1x HDMI and 1x Display Port, which is pretty much necessary for video inputs, but the lack of USB and USB-C ports can really be a downside for some.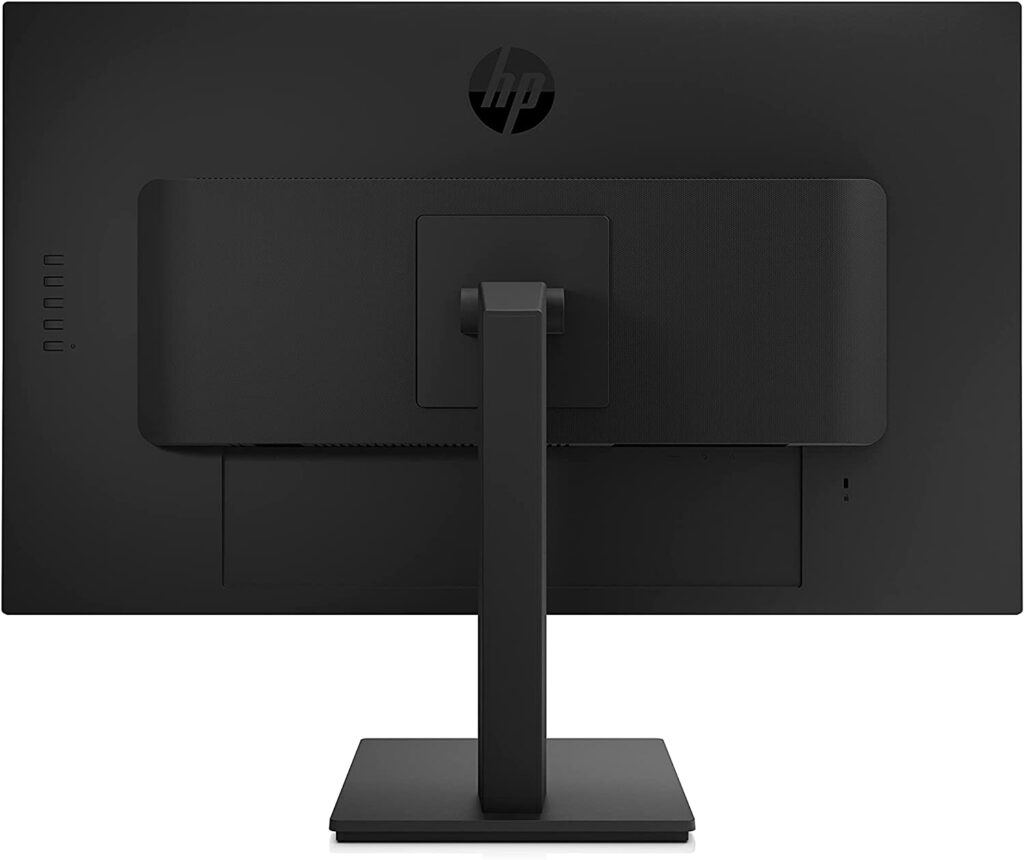 Features
Panel type
Fortunately, the color fidelity of this screen surprised us in a positive way. It features vibrant colors and bright images, which are the result of an excellent panel and a high brightness ratio.
Let's discuss the IPS panel of this monitor before we go into the brightness section.
The IPS panel has become the go-to choice for mid to high-end displays. Its popularity stems from its ability to deliver excellent image quality and its versatility, as it is found in displays across a wide price range, from budget-friendly options to high-end models.
Of course, the presence of this panel does not guarantee that the monitor will be color accurate to a professional standard.
While other factors like color gamut and coverage are important, the panel's building quality – which directly affects pricing – has an even greater influence on the IPS' quality differences.
As a result, because this monitor is a bit more expensive than the norm, they had the room to increase the panel quality a little bit. And so they did, leaving the IPS glowing subtly and greatly enhancing the accuracy, allowing this monitor to shine with its rich colors.
Brightness
Returning to the screen's brightness ratio, the manufacturer thankfully chose not to skimp on this critical aspect. They increased the potential buyers of this monitor even more by adding 400 nits to the screen, which is now one of the best brightness ratios for displays. 
This ratio enables the screen to offer exact images even when exposed to direct sunlight, which is a significant benefit for individuals who will be using the monitor in a bright area during the day.
Aside from that, this ratio appears to be a decent option for competitive gamers who want a larger advantage in FPS games during the specific situation when they're in a very dark room, and they need to see their opponent better; so, increasing the brightness appears to be a good option. 
During our tests, we didn't even need to set the monitor's brightness to its maximum to get bright images. We realized that 75 percent was the best ratio for visuals while also being the least harmful to our eyes, so make sure to try this ratio for your screen as well and adapt it to the best for your needs.
Refresh rate and Response time
So, while the HP X32 is more expensive than the norm and features a great panel combined with a high brightness ratio, its prices are still outside of the hybrid monitor's price range, and as a result, we may expect a non-gamer-friendly refresh rate and response time. 
That is, after all, the most tangible thing to think, right? Not for this monitor, which, shockingly, sports a 165hz refresh rate. It can also reach a response time of 1 ms (with overdrive). 
Both characteristics are surely not what I expected to find on a monitor with such good image quality at such a budget price. To top it off, they've integrated AMD FreeSync Premium technology, which decreases screen tearing during games with an even better FPS range than the normal Freesync.
With all of this in mind, we can only assume that they opted to place a strong emphasis on the gaming features of this screen. However, keep in mind that it has a fair amount of motion blur, so you won't find here a top-of-the-line gaming monitor. 
I'd say this is the sort of monitor for individuals looking for a large screen with a fast refresh rate to casually play games on, but who don't want the most advanced gaming capabilities.
Image Overall Quality
Another advantage (depending on some factors) is the monitor's 1440p resolution. This resolution is right now one of the most coveted for casual gaming, as it holds a solid balance between sharpness and prices. Although 1440p offers a high level of clarity, it requires a lot more power from the graphics card than a 1080p resolution, which is why those who only play competitive games utilize it to gain higher FPS. 
At the same time, 1440p is the bare minimum for a 32-inch screen. If the PPI had to be lower than 92, it'd result in blurry pictures and big pixels. If you truly want a 32-inch gaming display, you'll have to settle with 1440p, which means you'll need a powerful graphics card to run the demanding games on this monitor. 
Although the HP X32 has a fair level of sharpness, it is nothing out of the ordinary. In comparison, it has the same PPI as a 1080p 24-inch monitor, so we can say it's decent but not exceptional. If you choose clarity over gaming features, 32-inch 4k displays in the same price range are your best bet. 
In comparison to other cheap IPS panels like this one, the color accuracy of this screen is on par with other budget IPS panels. As a result, if you need a monitor to work with media editing software or something similar, this is certainly not the one to go with; instead, check out the: ASUS VP32AQ, which will undoubtedly fit your demands better. 
We can confidently state that this is neither a casual nor a professional display, but rather a gaming monitor, which is unexpected given the model's simplistic appearance. Still, in the end, what really matters are the good features and prices, and this monitor can combine both pretty well. 
Final thoughts
| | |
| --- | --- |
| Resolution | QHD (2560×1440) |
| Size | 32″ |
| Panel | IPS |
| Refresh rate | 165hz |
| Response time | 1ms GTG |
| Contrast ratio | 1000:1 |
| Color gamut | sRGB 99%, 16.7 M |
| Brightness | 400 cd/m² |
| Ports | 1x HDMI, 1x DP |
When to buy it
They did an excellent job balancing the pricing and functionality of the HP X32, something they should also do with the curved version, which costs far more, has fewer features, and certain unnecessary elements for gaming that drive up prices even more.
The contrast between these two is fantastic. While the HP X32 has some of the greatest features for the price, the other one is significantly more expensive and has inferior features. Now if you liked this one but feel you need something smaller be sure to check out the 27-inch version of this monitor and see how it compares to this one.
You may like