Our Conclusion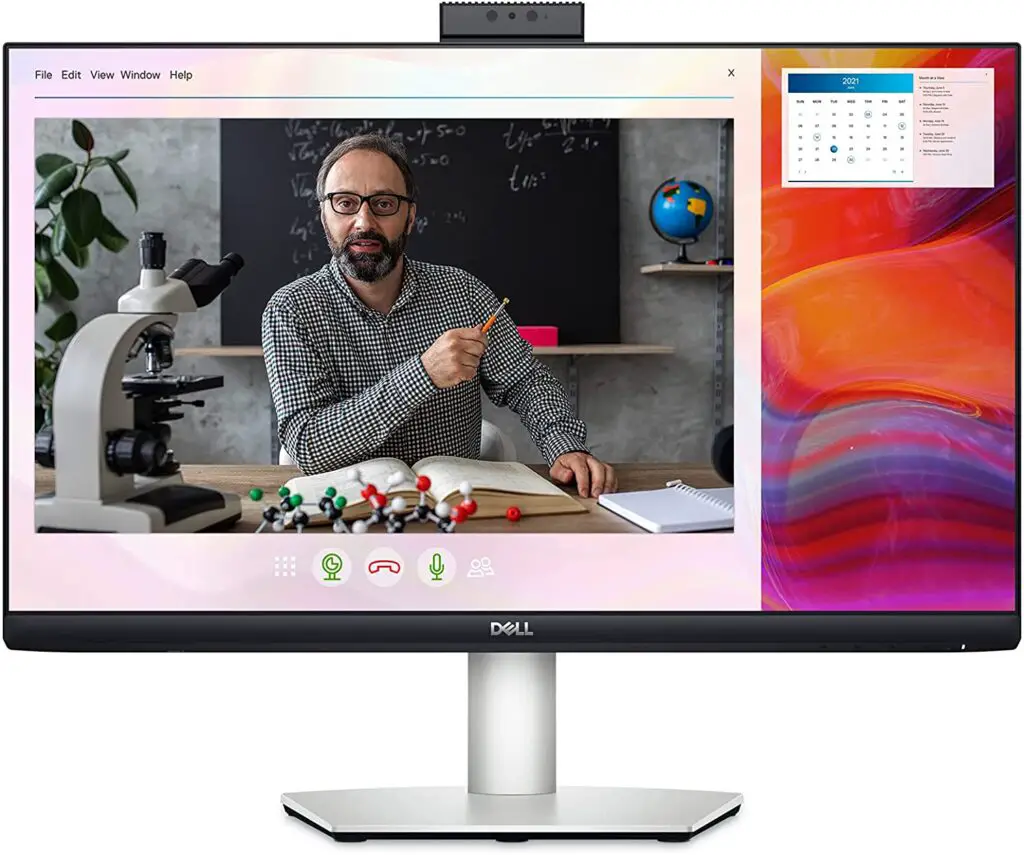 The Dell S2422HZ is a huge competitor for the best budget video conference screens thanks to its excellent out speakers, built-in webcam, and even great colors right out of the box. So far, out of all the Dell displays we've tested in this category, this is the best in terms of colors, as well as the best in price-performance ratings.
Pros
✓ Great 5W out speakers
✓ Built-in webcam
✓ USB-C and USB 3.2 ports
✓ Affordable
✓ Ergonomic stand
Cons
✘ Mediocre cam quality
Dell has been releasing monitors with built-in video conference cameras for a while now. However, to the monitor itself, the webcam can be a double-edged sword.
Regardless of the camera's quality, implementing one for a monitor is more expensive than not using it at all. As a result of that, final prices will rise, and fewer people will want the screen. And so, this type of screen only appeals to a select group of people.
This can go on indefinitely, or will their recent release finally burst the bubble? In today's Dell S2422HZ Review, we'll learn more about that. So, without further ado, let's see if this monitor meets the criteria for being yours.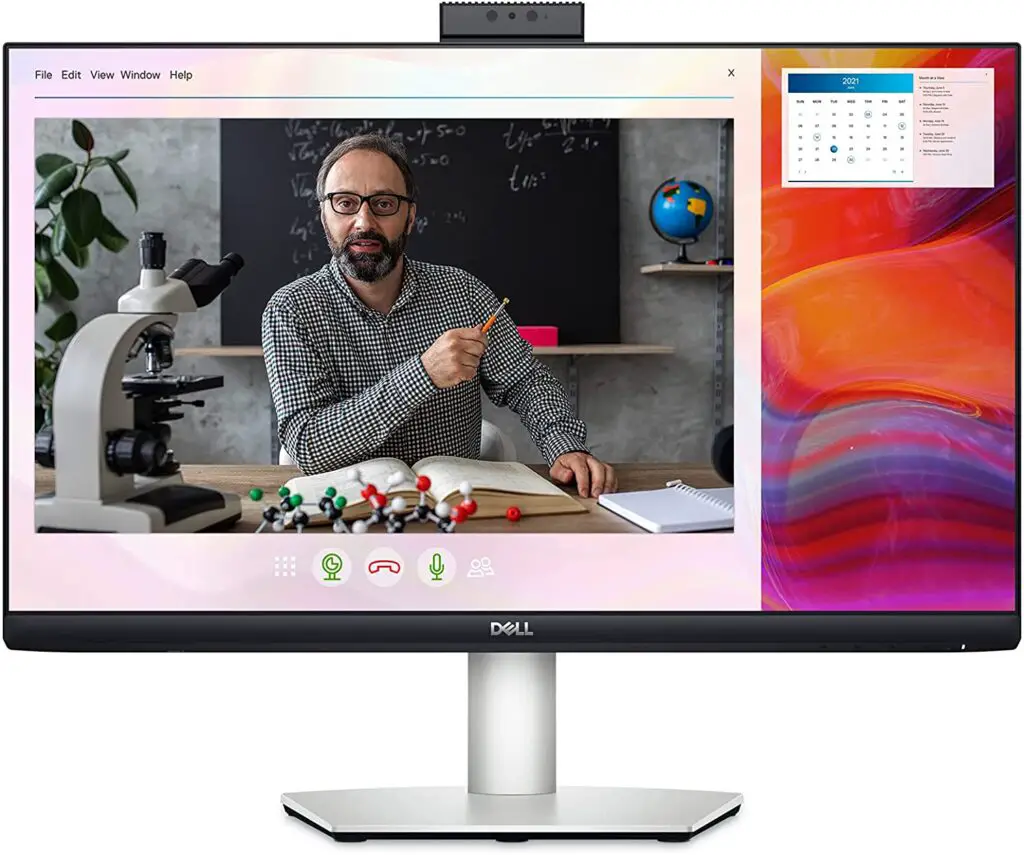 The camera
This is a 5MP webcam with a huge advantage over other models: it can be hidden when not in use and popped out when you need it for video conferencing. And you can do it by simply pressing a button rather than unplugging it and fiddling with cables. 
Good picture quality?
The Dell S2422HZ is a 240-dollar 24-inch monitor (on sale prices), which is already in the middle of the price range for casual displays without the webcam. So, don't expect this webcam to provide exceptional quality, or you'll be disappointed.
Of course, it'll suffice for your conferences or selfies, but when it comes to taking pictures on its own, your smartphone is probably a better option.
Overall, we can say that this camera does its job in terms of quality, though it isn't particularly impressive, that is to be expected given all of the other features this monitor has – which we'll go over shortly – and its price range.
Design
This monitor's design isn't anything we haven't seen before on Dell monitors. The back is white, the stand is gray, and the bezels are black.
By the way, those bezels aren't the thinnest we've ever seen around here, but they're still decent and acceptable. Those do a lot to improve the monitor's overall modern look. 
While the three-sided bezels aren't particularly impressive, the bottom one makes up for it by being one of Dell's thinnest that we recently reviewed. 
The material quality of this screen also impressed us when compared to other recently reviewed screens. They can give the impression of being sturdy and are certainly better than the average, despite not being one of Dell's top-tier materials.
We can see its excellent 5W 2x out speakers if we go all the way down to the bottom of the screen. For the price range of this model, they performed surprisingly well. 
They have a good volume and a balanced treble and bass, with no overtones on one frequency in particular. So far, those are the screen's most appealing features. 
Finally, we can see the VESA support on the screen's back, which you'll need if you want to use a better stand or mount it on the wall. 
If you decide to use the included stand, you'll likely find it to be very useful, as it offers a wide range of adjustments, including tilt, swivel, pivot, and height. It's worth noting that this stand has a hole in the middle, which allows you to run cables through it and improve cable management even more. 
This display is not particularly thin, but it is within the acceptable weight range for a 24-inch display of this size. It has 21.17 x 2.23 x 12.74 inches and 11.82 lbs, which grants less concern while fitting the display on the desk. 
Overall, we can say for sure that this screen has a niched audience, due to its improved speakers and webcam, but that audience is certainly well served, as it is currently with awesome prices for its features. 
Connectors
Surprisingly, even keeping the prices little, they were able to implement some great connectors to this screen, it'll have most likely everything you need including 1x HDMI, 1x Display Port, 1x Headphone out, 1x USB-C, 2x USB 3.2.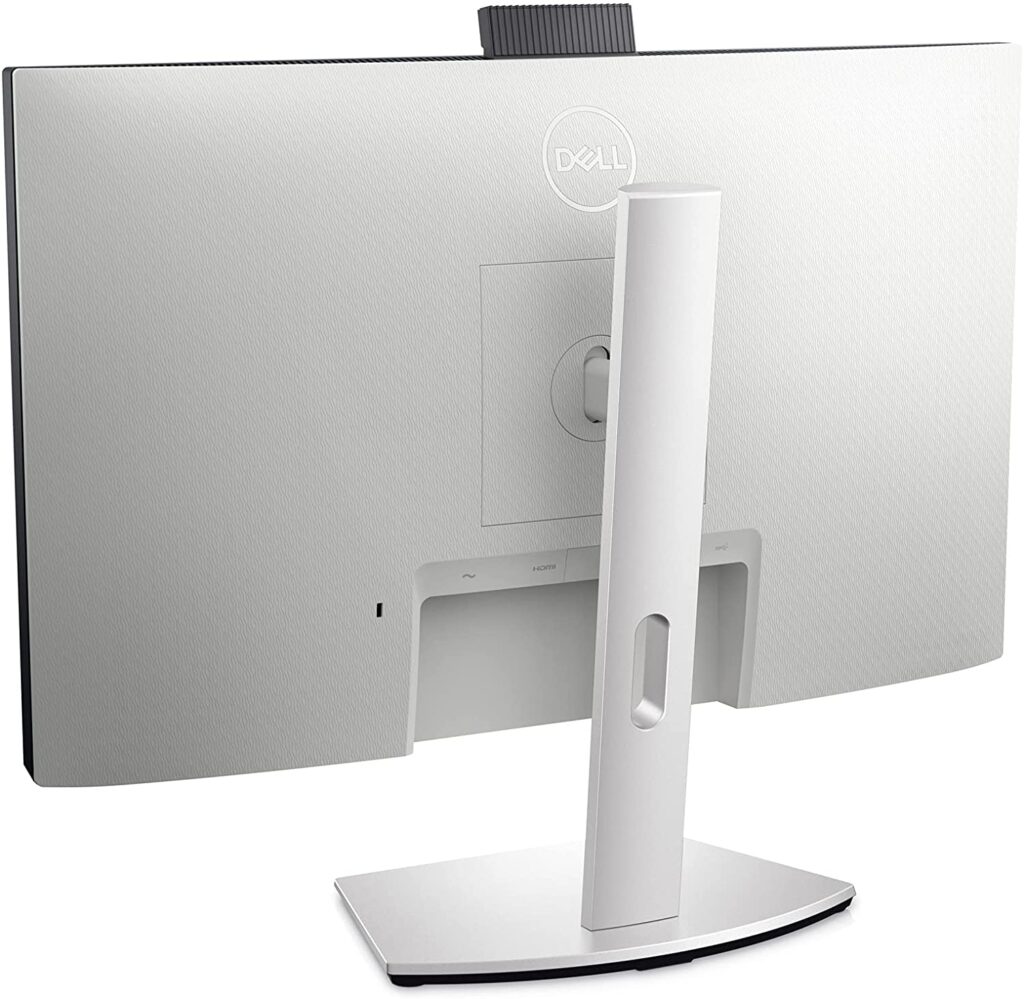 Features
Panel type
Moving on to the display's features, we can say that they are far from typical of a budget monitor with a webcam.
This type of screen didn't usually have good features a few years ago, because the same standard features that are now so much cheaper to implement were so much more expensive back then.
When designing a budget display, manufacturers had to focus on only one thing: the display's main features, let lacking a little bit on the rest.
Well, it's great to see that, as time has passed and things have changed, even this type of screen can now have the great colors and viewing angles that the IPS panel can provide.
The best thing about this panel is that it will provide you with better colors than the VA and TN regardless of whether it is built into a professional monitor or a budget monitor.
Of course, a professional IPS screen has better color accuracy than a budget one, but the differences aren't always noticeable or useful to the average user.
The Dell S2422HZ is in the budget category; it has great colors right out of the box, but it lacks the accuracy of professional screens. The IPS glow is present, but it isn't distracting during normal use.
Brightness
You can always sacrifice some brightness ratio in exchange for lower IPS glowing if you're using the display in a dark room with consistent black images and feel you need a little fewer IPS glowing. 
By the way, this monitor's viewing angles are excellent, as one would expect from an IPS display, but don't expect it to have the best reflection-handling panel. 
I don't recommend placing this monitor in front of a window that allows light to enter the room because it will be difficult to see the images clearly. Of course, you can always increase the brightness ratio in such a situation, which will help. 
Because of its peak of 250 nits, the only balance acceptable during our tests with the sun hitting the screen was 100 percent brightness. To be honest, this figure isn't great, but it's typical of casual screens with a single focus like this one. 
Don't get me wrong: this isn't a great feature, but for 99 percent of buyers of this type of screen, it's more than enough. Even so, it would perform better in the tests if it had more nits, allowing you to use it safely during the day.
Refresh rate and Response time
Given that this display's features all follow the standard pattern for casual monitors, it's easy to predict what we'll see in terms of gaming capabilities. 
You won't have the best gaming experience with the Dell S2422HZ, but that doesn't mean you won't be able to play with it. Due to its 75hz refresh rate and 4ms motion blur, it does not have the best smoothness or motion blur (when overdriving). 
The worse thing is, if you want this level of response time, be prepared to sacrifice some image quality and brightness (which is why a higher brightness would be preferable). 
On the plus side, this screen can certainly suffice for those who primarily play casual games, delivering at least better softness than the dated 60hz. This screen also has the Freesync feature, which has a shorter range due to the monitor's low refresh rate, but it still does its job, reducing screen tearing and increasing the smoothness. 
With all of this in mind, we can conclude that if you are a competitive player, this monitor is not the best option for you, and you should opt for a monitor with higher smoothness, such as the MSI Optix G24C6 and the MSI Optix MAG274R2.
If you don't plan on playing competitive games on this screen or just want to use it as a secondary screen, on the other hand, this is a great option to consider. 
The thing is, the audience for this type of screen wants to get the most bang for their buck, and they're well aware of what they'll be losing and winning in the process.

Image Overall Quality
The Dell S2422HZ has 92 PPI, which is the recommended figure for 24-inch displays, and has a resolution of 1080p and a screen size of 24 inches. 
While image sharpness is consistent, the contrast ratio remains standard for an IPS panel, at 1000:1, while the highest ever seen for this price range is 1200:1. 
Darks will be consistent, but this is dependent on whether you're using the monitor at high brightness, which causes IPS glow and extended black uniformity. 
The colors are great; they aren't the best right out of the box, but with calibration, they become better than average while remaining within budget constraints.
With this screen, you won't get professional-level color reproduction, but that won't be an issue in everyday use as it would for work with content creation. 
This monitor has an 8-bit / 99 percent sRGB color gamut with 16 million supported colors, which is standard. Of course, due to those features, this monitor isn't ideal for creating media, but it'll suffice for watching content.
So, if you need a monitor for work and need precise colors, you'll need to spend a little more money and get a professional screen like the Dell U2722D.
Finally, the colors of this monitor outperformed those of the previously tested Dell budget displays, so if you're looking for a budget display with a webcam and vibrant images, this is the one to go for on the Dell portfolio.
Final thoughts
When to buy it
The Dell S2422HZ is only recommended if you require a combination of a good budget monitor with good colors, speakers, an ergonomic stand, and a basic webcam. 
If you don't need the webcam or the mentioned features, you can get a better monitor for the same money, such as the LG 24GN600-B, or even a cheaper display with the same features, such as the MSI OPTIX G241V.
You may like