Our Conclusion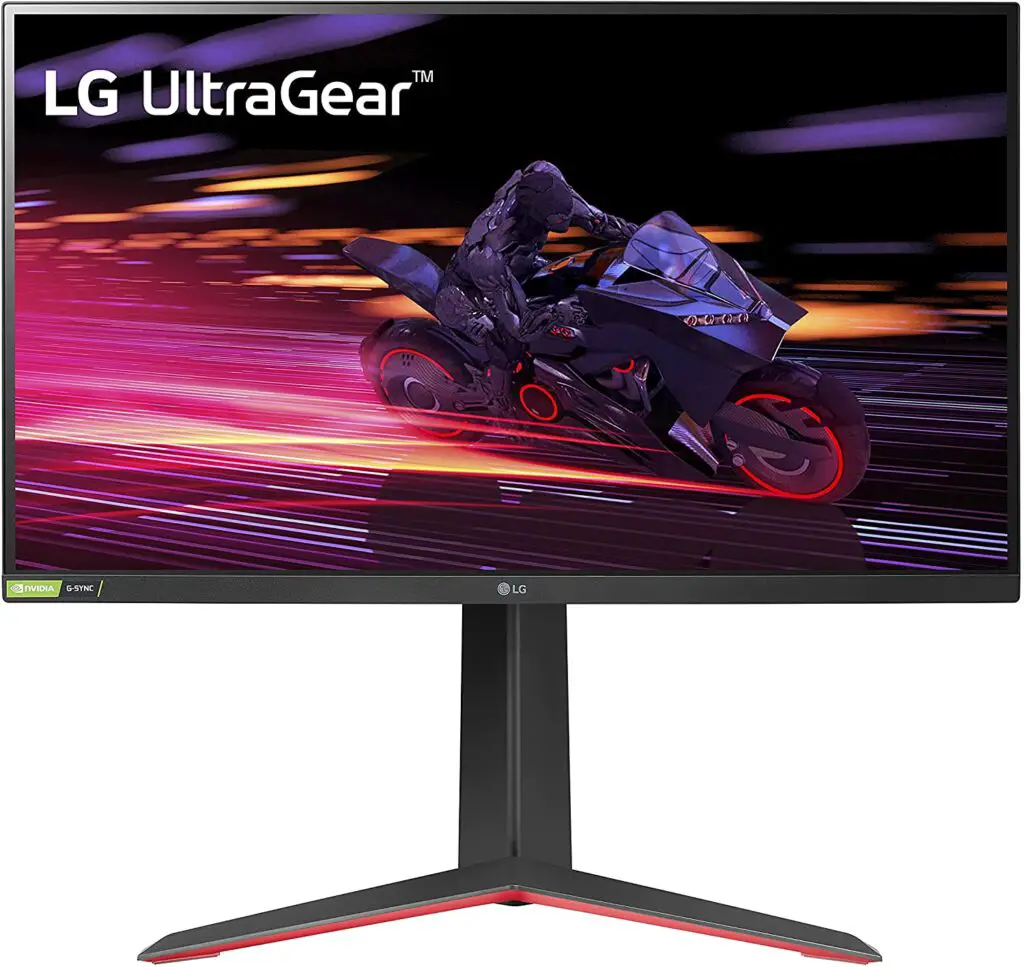 If we ignore the LG 27GP750-B's low PPI and a large degree of IPS glowing, it's a terrific pick. It boasts a high contrast ratio, vivid and calibrated colors, and the smoothness of a high refresh rate. If you think you can cope with the disadvantages outlined, this may be a wonderful deal. If you want something better and are willing to spend a bit extra money, I suggest the HP X27Q.
Pros
✓ High smoothness
✓ IPS panel
✓ Ergonomic stand
✓ Budget prices
Cons
✘ Low PPI
✘ High IPS glowing
Even though we're all nitpicky about LG monitors' design around here, there's no denying that they know how to design something that will appeal specifically to the target audience for each category of its monitors.
The Ultragear series of LG monitors boast the most dazzling appearance, and unlike the casual-focused line, this one is unquestionably at the top of the list for its own category.
With that in mind, we've got a current Ultragear monitor for today's review, which arrived kicking and screaming with its reasonably priced labeling, which could result in a possible solid price-to-performance ratio. So without further ado, let's check out the LG 27GP750-B Review to see whether this is the right display for you.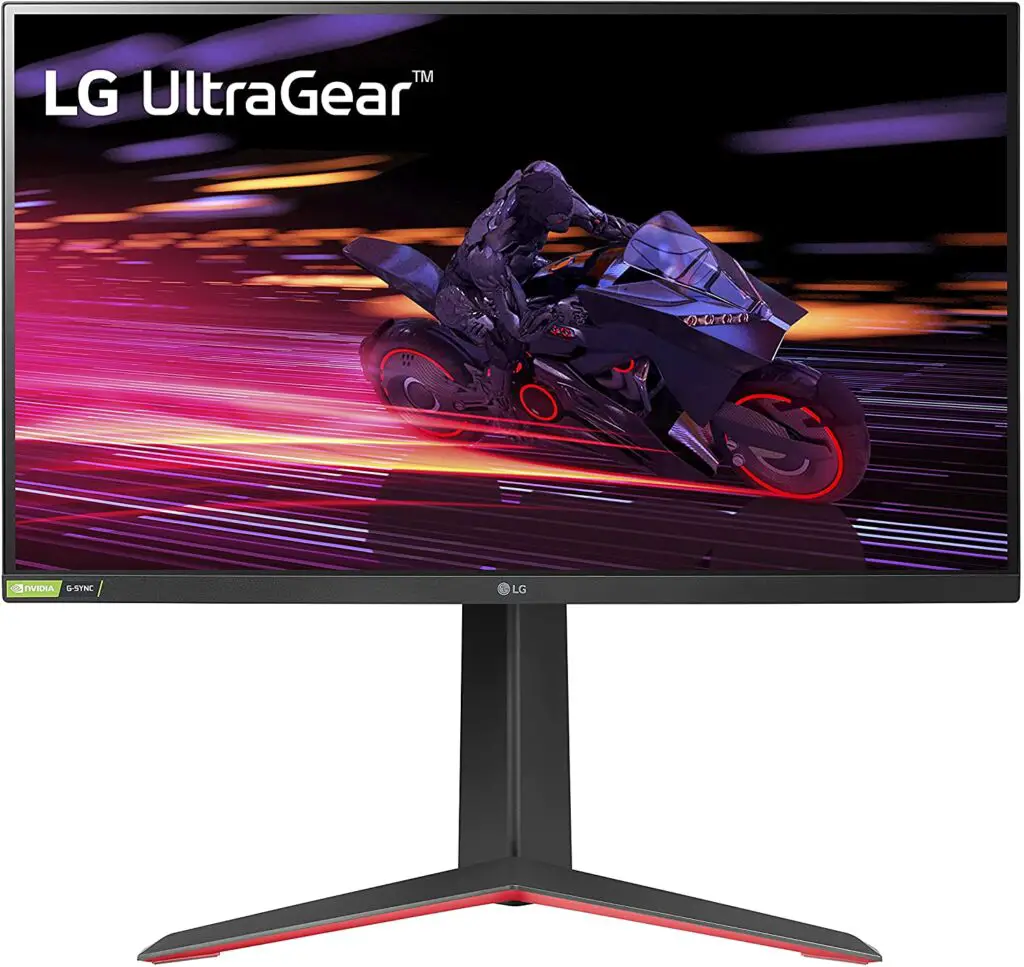 Design
It's almost as if it's a blessing in disguise. After spending the last month evaluating a slew of LG's divisive casual screens, it's finally time to get to the fun stuff. Of course, when compared to other gaming lines from other manufacturers, the LG UltraGear range isn't exactly the most flashy. 
The robust stand, which will undoubtedly annoy those who like a simple overall setup, is the one and most divisive aspect of this line's display. Of course, if you decide to hang the display on the wall, this will not be an issue. 
Fortunately, if the aesthetic of this stand does not appeal to you, you can use the VESA support to mount the monitor on the wall, which will better fulfill your requirements.
The adjustability of this stand is not restricted. You can change the height, tilt, and swivel it. Unfortunately, it has a v-shaped design, which is inconvenient for people with limited desk space because it takes up a wide amount of it, especially since this is not a small screen when it comes to its overall size.
This is a 27-inch monitor, measuring 24.2 x 11.3 x 11.3 inches and weighing 13.20 lbs – a very sturdy model, so make sure you have the necessary desk space before purchasing. It isn't particularly thin, which may be a drawback for some, so keep that in mind as well. 
By the way, despite its sturdiness, it isn't one of the heaviest models that made it through. In truth, its materials aren't geared toward the most high-end items, but they're still superior to the low-end displays we've previously tested.
Going all the way to the display's back, we can see the UltraGear logo and label, as well as the newly incorporated little change in the button locations. Overall, the design of this screen is rather good – not the best we've seen in terms of materials and finish, but certainly not the worst.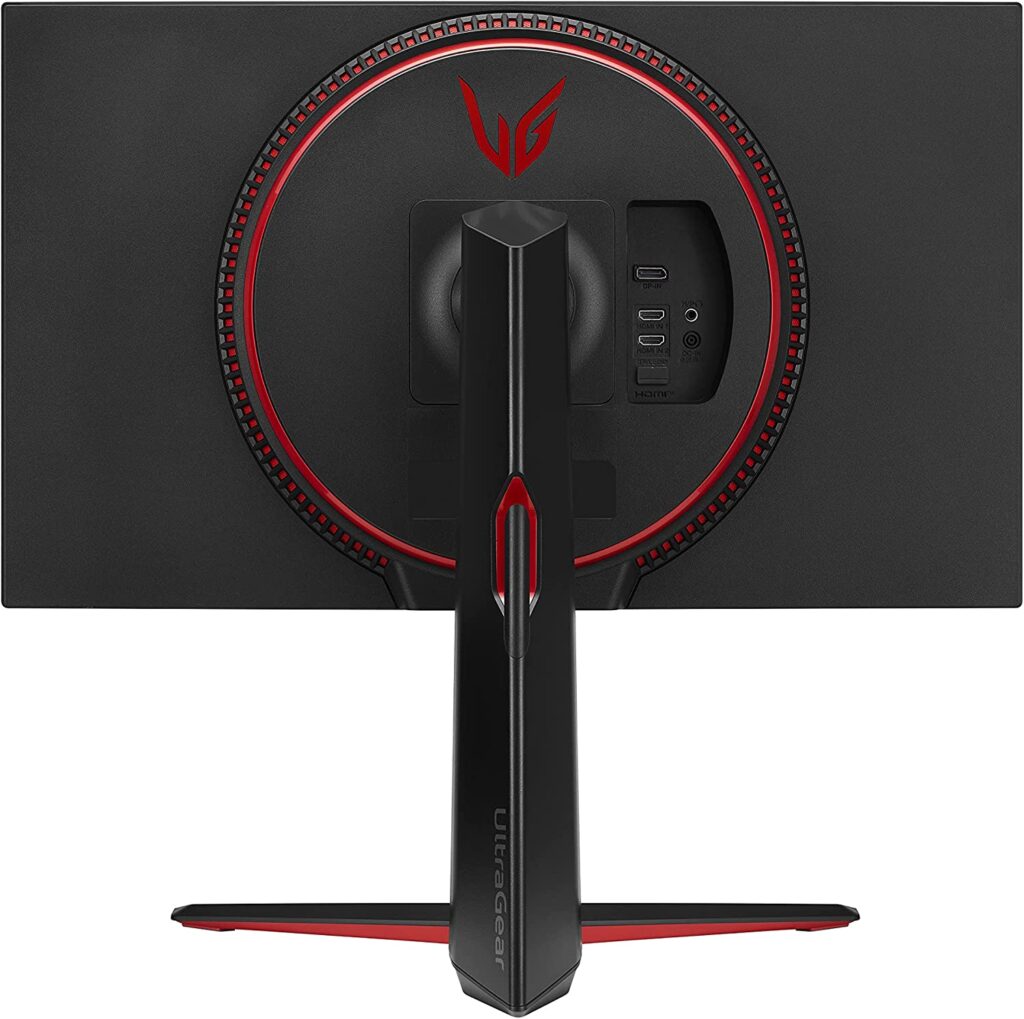 Connectors
To keep prices stably low, they had to let lacking a little bit on the connectors part, implementing only the considered necessary: 2x HDMI, 1x Display port, 1x Headphone out.
Features
Panel type
The IPS panel is currently one of the most popular in all monitor categories – and for good reason. The IPS can provide the screen with vibrant colors and great viewing angles, and the greatest thing is that it isn't too expensive. 
However, because not everything is perfect, this panel contains some flaws. When it comes to response time ratios, the IPS still lags behind the competition, but not as much as it used to. 
In the worst-case scenario, you'd be foregoing the IPS panel's vibrant and clear visuals in order to get more speed with the VA or TN. 
Fortunately, you may have the best of all worlds if you save a little – or a lot – and invest in a Fast IPS panel, which has faster response times and maintains the required realistic colors. 
Currently, if you want something affordable, you'll have to settle for regular IPS for inexpensive gaming IPS panels like this one. The IPS glowing is one area where LG did not do a fantastic job on this display.
It has a lot of IPS glowing, especially on the bottom right side of the screen, which is bothersome. It's not like we haven't seen anything similar before; we have, but generally for less expensive panels. 
That will undoubtedly be a significant drawback to consider before deciding whether or not this screen is worth your money. Aside from that, you'll have the usual and mentioned accurate colors, but we'll speak more about accuracy in the image quality section.
Brightness
The LG 27GP750-B features a 400-nit max brightness. Using this display at maximum brightness can be beneficial in some situations (for example, during the day when there is a lot of light in the room), but it can also be detrimental in others. 
If you utilize this ratio at its highest point in a dark room, the massive quantity of IPS shining will be plainly visible, detracting from your entire experience rather than enhancing it. 
So, if you're going to use it at night, I recommend setting the brightness to a maximum of 60%. On the other hand, if we overlook the IPS glow and focus just on the peak brightness, this is an excellent feature to have on a display and one of the monitors' most promising advantages. 
If we do a fast search for monitors with a brightness ratio of 400 nits, we will undoubtedly find it difficult to get a $300 display with such a high brightness ratio.
400 nits can also be useful for gamers who wish to get an advantage in the game by seeing the adversary more clearly, even in low-light situations.
Refresh rate and Response time
When it comes to gaming, this monitor performs unquestionably impressive. It offers one of the highest refresh rates available in today's displays, which, when paired with FreeSync premium technology, results in very smooth and fluid visuals. 
Aside from that, it has a 1ms response time, which is great for competitive gaming, but it has a gray to gray base (GTG). A framerate-dependent feature, such as MPRT, would undoubtedly be an excellent match for this monitor's 240hz refresh rate. 
Still, we shouldn't get ahead of ourselves while this feature has a significant influence on the screen's ultimate price. So, in terms of price-performance scenarios, I believe the GTG is still a wonderful pick that may benefit a large number of gamers on a budget. 
As you can expect, this monitor won't have a high level of motion blur reduction due to the aforementioned features. Still,  If you really want the best, I recommend spending a little money and getting a display with fast IPS and a 1ms MPRT ratio. 
Putting that aside, the 240hz combination with the IPS screen will provide buttery smooth graphics with vibrant colors, especially if your prior monitor had a 60hz refresh rate or a panel that was worse than IPS.
Image Quality
Speaking of colors and accuracy, the LG 27GP750-B has a fair degree of post-calibration from the manufacturer, and while you can still improve it, it won't be essential for the public purpose of this screen, which doesn't require the mathematically precise and low delta value. 
Despite the fact that this monitor has a decent image reproduction thanks to the IPS screen, it still has an acceptable color gamut and coverage.
This monitor, like many IPS monitors in this price range, only has an 8-bit color pattern with sRGB 99 percent and 16 million colors supported, which is a nice mix for the average user but not ideal for professionals. 
So, if you need a monitor for work and want something hybrid to play in your free time, this isn't the monitor for you, and I recommend checking out the: Asus XG27AQM, which will most likely fulfill your needs better. 
The display only has a 1080p resolution, which is one of its disadvantages. This resolution isn't horrible in and of itself, but it'll look far worse on a 27-inch display. This combination results in a low PPI ratio, leading to fuzzy images and readily distinguishable pixels on the screen. 
You shouldn't anticipate crystal, clear graphics from this screen, or you'll be disappointed. In the end, while this monitor has great features like the high brightness ratio; 240hz together with the IPS panel, you should be able to spare crisp images and be ready to endure some IPS glowing if you still want to afford it due to its attractive prices. 
Final thoughts
When to buy it
The LG 27GP750-B is presently priced at about $300. If you solely evaluate its pricing in relation to the things it offers, it is an easy option to choose. However, you must weigh its disadvantages, which include the high IPS glowing and poor pixel per inch. 
If visual sharpness is important to you and you want to have a high-quality gaming experience, I recommend saving extra money and purchasing a 1440p display. 
If you simply care about the great smoothness that 240hz provides and the beautiful colors that the IPS panel provides for a reasonable price, this monitor will not disappoint.
You may like