Our Conclusion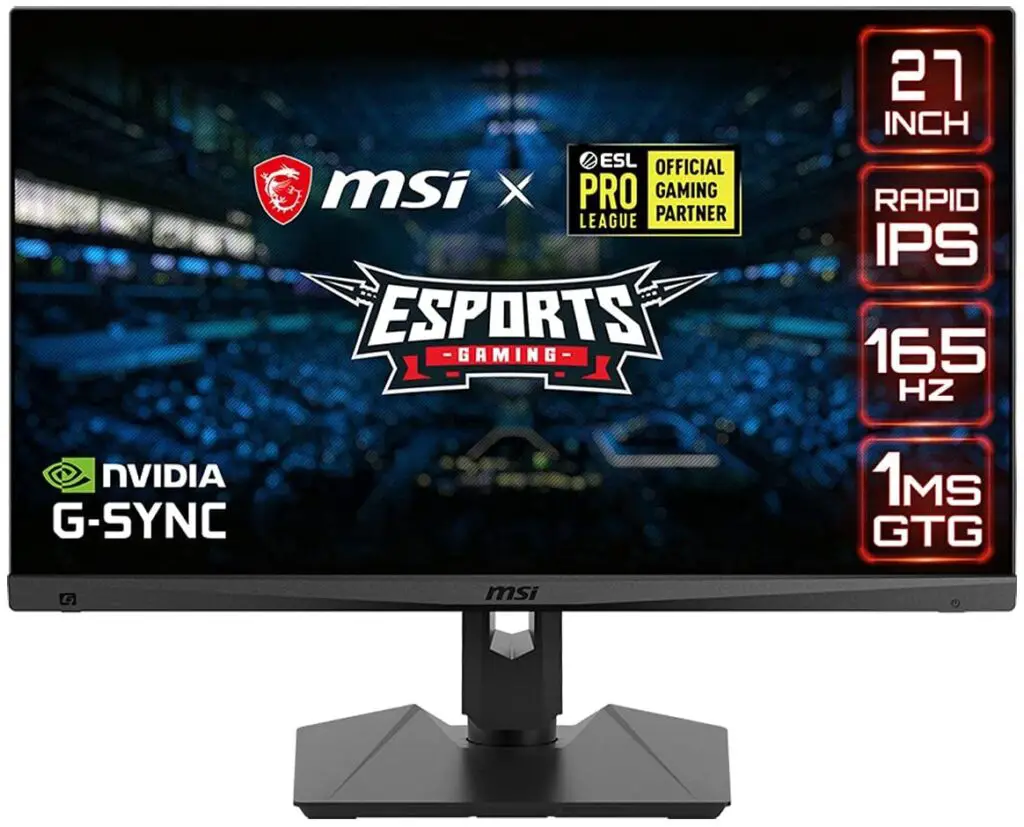 The MSI Optix MAG274R2 is one of the most affordable gaming monitors on the market, with excellent color accuracy and vibrant visuals. It boasts one of the finest prices for what it delivers, making it a strong candidate for the year's top price-performance release. This is the monitor for you if you require a low-cost 27-inch gaming monitor with better color accuracy than the average.
Pros
✓ 165hz, 1ms
✓ IPS panel
✓ Great color accuracy
✓ Affordable gaming display
✓ USB-C port
Cons
✘ Low PPI number
✘ Lacks out speakers
We've been reviewing a variety of casual and professional 27-inch displays this week, so now it's time to compare costs on a gaming monitor with such size.
The last MSI display we evaluated was labeled as a gaming display by some, but it turned out to be nothing more than a casual display with gaming aesthetics.
However, for today's post, we have a genuine MSI gaming monitor from last month, complete with authentic gaming features for those who want to play competitive games or simply want more smoothness.
So, without further ado, let's take a look at the MSI Optix MAG274R2 review to see if it's a good fit for your needs.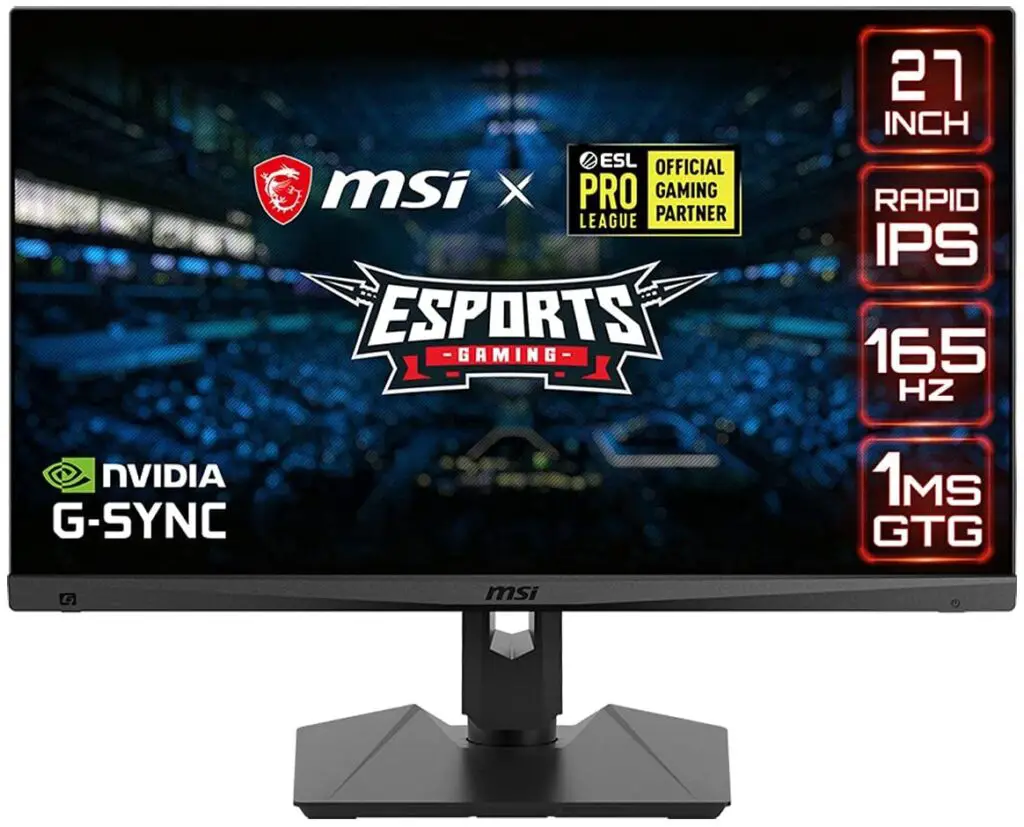 Design
In my opinion, one of the most important factors that helped MSI grow into such a large and well-known brand is that they are constantly attempting to break out of their comfort zone by adopting diverse styles for each release, regardless of whether it is a gaming or a casual one.
The entire monitor is finished in a dark gray/matt black pattern. It has 3-sided borderless bezels, which gives it a modern feel and is a common feature in monitors from the year 2021.
It also features a very small bottom bezel, which perfectly fits the MSI logo. This is a 27-inch monitor with dimensions of 24.29 x 21 x 7.18 inches, making it extremely slim for a monitor of this size. 
The stand of this display has a sort of sharpened squared aesthetics and a little similarity to the one of the Dell S2522HG, including a wide range of adjustments: Tilt, pivot, swivel, and height. 
Personally, I prefer half-triangular or circular-finished stands, so the squared one didn't appeal to me that much. 
Looking at the display's rear, this is my favorite back style of all the monitors we've reviewed on reatbyte. Unlike the MSI OPTIX G241V, the rear of this monitor features merely a brushed/texturized portion with the MSI logo. 
It also has crisp embellishments on it to match the stand and give it a gaming feel. They also decided to use RGB LEDs to enhance the gaming-like pattern, which may be a bonus for some or even a disadvantage for those who prefer a straightforward setup. 
It's worth noting that it includes VESA support, allowing you to mount it on the wall without further issues. This display, on the other hand, is devoid of external speakers, so if those are a must-have for you, you're already aware.
In summary, if it weren't for the display's squared stand, it would undoubtedly be the, or at least one of, my favorite monitor designs of the year.
Connectors
As for connectors, they decided to not compromise a lot of the display's final prices, including only the necessary: 1x HDMI, 1x Display port, as well as some USB ports, being: 2x USB 2.0 Type-A, 1x USB 2.0 Type B, and 1x USB-C. Note that it also has a Headphone-out input.  
Features
Panel type
Surprisingly, even for a low-cost gaming monitor like this one, they were able to squeeze in an IPS panel without raising the price. Because of its improved color accuracy, this panel is a popular choice among media professionals. 
As previously stated, it is more expensive than other panels and has a longer response time. It also improves viewing angles, making it an excellent match for VESA support if you plan to mount it on the wall.
If you want colors with more contrast, opt for a VA panel display, as they typically display ratios of 3000:1, whereas this one only offers a 1000:1 average.
Brightness
They opted to go against the grain and use 300 nits of total brightness for the MSI Optix MAG274R2, which is positive for individuals who use the monitor during the day.
This ratio, which is average for this price range, is more than enough for the majority of customers. Even if sunlight hits the screen, you'll be able to see the visuals and distinguish the colors adequately with 300 nits or a comparable amount. 
If you still require more, you may look at other displays such as the LG 27UP850-W and the Acer Nitro VG272, but you will have to be willing to spend a bit more. 
As a result, you may rest assured that even if you play during the day, you'll be able to see your opponent without difficulty.
Refresh rate and Response time
Speaking of which, let's take a look at this display's gaming capabilities. We have high expectations because it is a gaming one, so I hope they don't let us down. 
To begin, this monitor has a refresh rate of 165Hz, which is slightly higher than the required 144hz for gamers. With this figure, you'll be able to enjoy smooth images during gameplay, which will aid you in your FPS game. 
However, you do not have to be a competitive gamer to benefit from a high refresh rate, as it provides a good experience even for casual gaming and daily use, making everything look as smooth as butter. 
As a result, I'm currently recommending a high refresh ratio even for casual users, as I believe everyone should take advantage of this awesome feature at least once in their lives.
The response time, on the other hand, is more of a gaming feature, as it does not show significant differences in casual use. This monitor has a response time of 1ms, which is again within the average for competitive gaming, reducing command to screen speed to barely perceptible levels.
So far, the MSI Optix MAG274R2 has demonstrated excellent features such as IPS and 165hz. But now it's time to explain how they have so much leeway in implementing such great features without affecting prices.
Image Overall Quality
The resolution of the display is one of the most important aspects in determining the ultimate pricing of such. When it comes to gaming monitors, 1080p is still the best option for a mid-range model. 
The reason behind this is that not everyone, for example, has a powerful graphics card capable of running a 1440p game at a 144hz refresh rate.
Furthermore, by selecting a 1080p resolution, the manufacturer has more room to improve the display's other features without affecting the price. As a result, the MSI Optix MAG274R2 monitor boasts a lot of fantastic features for the price. 
When used in a large display, such as a 27-inch, however, 1080p becomes disadvantageous because the PPI value is decreased below warning levels. 
When compared to a 24-inch 1080p display, this panel's PPI (Pixel Per Inch) is just beyond the limit for blurred images, making it slightly easier to detect a pixel on the screen, resulting in slightly washed graphics. 
This display's 0.31125 x 0.31125mm pixel pitch also helps with this problem. 
When it comes to color fidelity, on the other hand, this display delivers on its promise. As previously said, it features an IPS panel, which improves color accuracy on its own. However, it also features a wide color gamut and a large number of supported colors.
It has 1.07 billion supported colors, which is common in high-end professional displays and greatly improves color precision. It also features 94 percent DCI-P3, a high-end feature that reproduces vibrant and contrasting colors.
In general, the display's excellent color accuracy compensates for its low PPI in terms of overall image quality.
Final thoughts
When to buy it
If you need a gaming monitor but at the same time want to avail of high color accuracy and image quality, the MSI Optix MAG274R2 is currently one of your cheapest and best choices for 2021. 
Bear in mind that you may notice that it has a few blurred images comparing it to a 24-inch display due to its low PPI.
So if this is a downside to you, my advice is to afford a 24-inch one such as the VIOTEK GFV24CB or a 1440p 27-inch one with gaming features such as the HP X27I.
You may like