Our Conclusion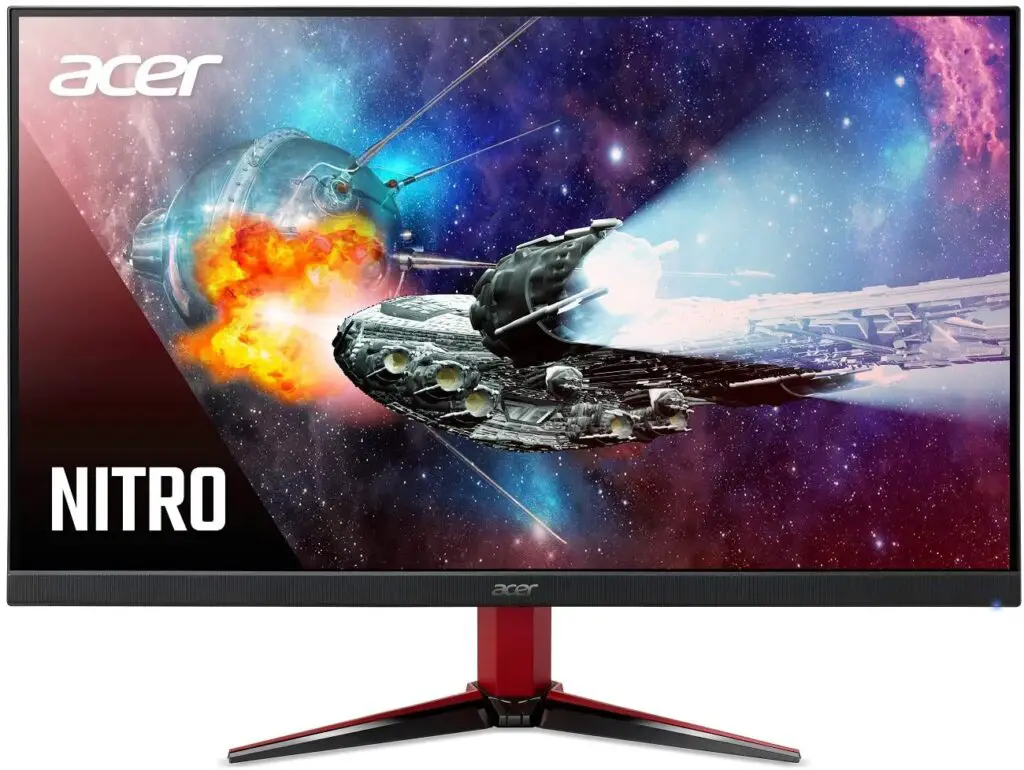 The Acer Nitro VG272 is one of the most well-balanced gaming Acer monitors; it sits in the middle of image quality and gaming features, with a slight leaning toward gaming capabilities. If you want a competitive gaming-focused display with high image quality and low costs, this is the one to choose.
Pros
✓ IPS panel
✓ 1ms of Response time
✓ 240hz
✓ VESA support and Out Speakers
Cons
✘ Lack of USB connectors
✘ Relatively low PPI
This year, the Nitro line of Acer monitors is more popular than ever. The reason for this is because they're introducing some fantastic value-for-money models like the Acer Nitro XZ270 and Acer Nitro KG252Q, which are the greatest Acer launches of the year so far.
Even so, the 2021 nitro models aren't the only ones that stand out. Some versions like the Acer Nitro VG270 and the one we chose for today's review have attractive features and costs despite being older. 
So, without further ado, let's have a look at the Acer Nitro VG272 Review to see if it's still a viable option for people looking for an excellent and affordable gaming monitor.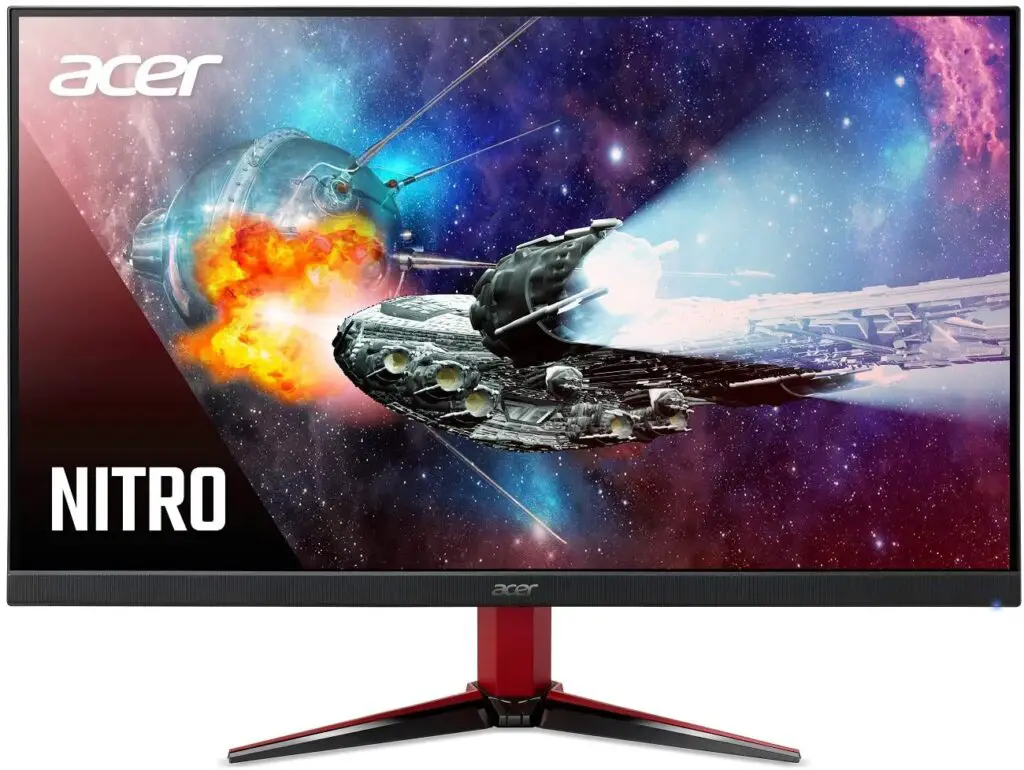 Design
With the half triangular stand, this monitor follows the same aesthetics pattern as the other Nitro models. It has the standard borderless bezels, as well as some red accents on the stand's rear and support. 
Speaking of which, the stand of this display has limited adjustments, allowing only Tilt (-5°~20°). Furthermore, this is not a particularly thin model, yet it is not among the thickest either
Looking at the back of the monitor, it doesn't appear to have a fresh design, sticking to the norm of previous models and their gaming-like appearance. Aside from that, it has VESA support, which, when combined with the 2x 2W out speakers, allows you to utilize it as a TV by mounting it on the wall. 
Keep in mind, however, that they are not the highest-quality speakers available, though they are still above average for this price category. Overall, we can state that this display, not just this one, but all of the others like it, has a true gaming-like design.
Connectors
On the rear, we can observe that this monitor has a limited number of connectors, with only one Display Port and two HDMI 2.0 ports. After that, it's time to look at what matters most on a monitor: its features.
Features
Panel type
Things have been quite standard thus far, but suddenly this monitor begins to shine brighter than comparable gaming-focused screens in this price range.
When it comes to a budget gaming monitor, we can already expect it to include a TN panel, which will assist to keep prices down. But then Acer launches this model, which, despite its low price, includes an IPS panel.
This panel will deliver excellent color accuracy and viewing angles. Although this panel is geared for professionals, it doesn't mean you can't improve the visual quality of your gameplays.
The pricing, which is likely to be more than the other panels, and the IPS glow are also disadvantages. The IPS glow refers to the glowing lights that appear on the corners of every IPS panel, regardless of manufacturer or price.
This glow, however, might be diminished depending on the construct quality. Fortunately, Acer did not cut corners on this model, and the IPS glow was nearly totally removed.
Apart from that, as predicted, this panel boasts 16.7 million color support, which is the first and most likely the only feature of this panel in its price category. 
Another feature that combines well with the IPS panel is the overall brightness. Independent of the panel, if you can barely see the color nuances due to dim brightness, it will be useless.
Brightness
Fortunately, Acer chose to use full brightness of 400 cd/m2 nits for this display. For some, 400 cd/m2 is the preferable option, but if you are prone to eye strain, it may be the worst.
As a result, the maximum brightness of this display should only be utilized if sunlight is shining directly on the screen and you are unable to see the displayed visuals well.
After finishing the monitor's key image quality elements, it's time to move on to the gaming functions, which are the display's major focus.
Refresh rate and Response time
Now is the time for this monitor to prove why it was brought in the first place. To begin, this monitor has a response time of 1 ms, which may be overclocked to an astounding 0.1 ms, which is close to 0 delayed commands.
You'll also be able to get a refresh rate of 240hz with this monitor. You can use one of the greatest smoothnesses on the screen, and most likely the most that human eyes can perceive, with this number.
The 240hz provides more smoothness when gaming, giving you a distinct advantage over your opponent owing to the subtle visual motions. In addition, it is also seen and valued throughout tasks, making things go more smoothly and efficiently.
Overall, we can say that this display will provide you with one of the greatest gaming experiences possible and that this is the one you should go to if you want to participate in competitive gaming and do your best. This is all in addition to some excellent image quality features.
Image Overall Quality
The Acer Nitro VG272 is a 27-inch monitor with a resolution of 1080p, thus it doesn't have a very high PPI. When it comes to gaming monitors, however, 1080p is still the best resolution to choose for price performance.
This is because the 1440p resolution may be too much for the graphics card to achieve the 240hz the monitor can provide, depending on the power of your graphics card and the games you want to play.
They tried to compensate for the low PPI with a decent Pixel pitch number for this model, which helped to reduce the blurred images significantly.
Furthermore, they opted to use HDR 10 for this monitor, which is not the finest HDR available, but it is enough for the price range. The HDR will assist to darken the images and boost the contrast.
Lastly, this display has Adaptive-Sync technology, which allows you to use the tearing elimination function independent of your graphics card.
Final thoughts
When to buy it
If you need a good gaming-focused display, that provides at the same time affordable prices and nice image quality due to the IPS panel, you certainly won't go wrong with the Acer Nitro VG272. However, if you don't care much about the image quality and need a cheaper monitor, you should check out some other options like the Acer Nitro VG270.
You may like