Our Conclusion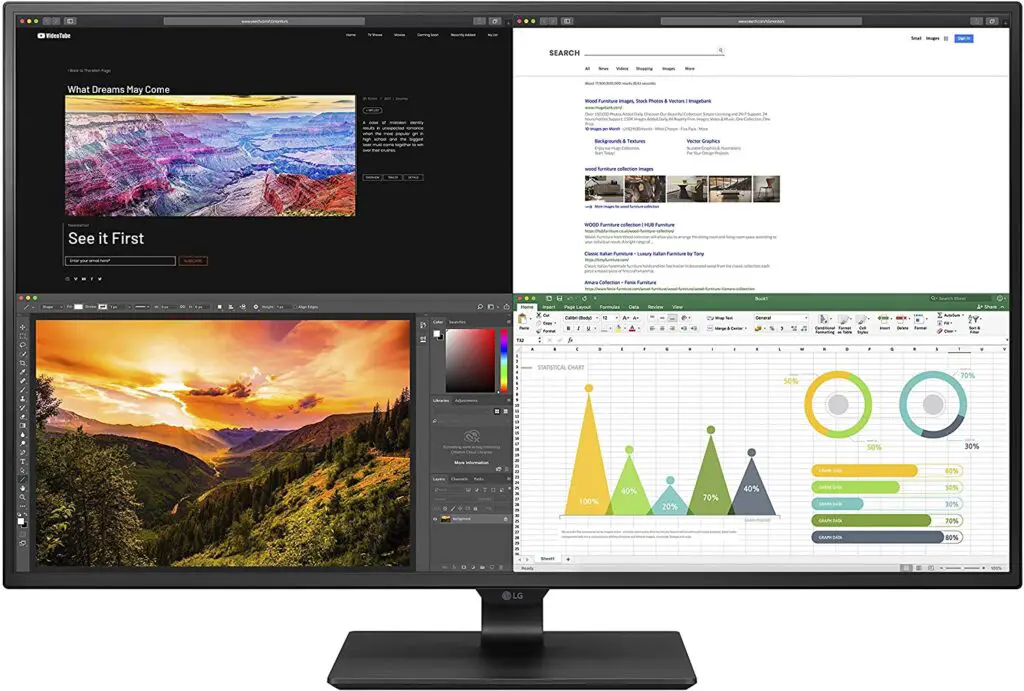 LG decided to focus on image quality in a big screen suited to professionals that need accurate and sharp images for media editions and multi-tasking with the LG 43UN700-B. However, depending on the available desk space, it may be too large for some users. So If you can't afford a 43-inch monitor, settle for a 32-inch model like the LG 32UL750-W.
Pros
✓ 2x 10W Speakers with nice bass
✓ Awesome color accuracy
✓ 4K resolution
✓ Great variety of ports
Cons
✘ 60hz
✘ 8ms of Response time
The demand for large displays has risen in tandem with the demand for homeworkers. These monitors are ideal for people who want a large amount of screen area to work on many activities at the same time, hence enhancing productivity.
The disadvantage is the typically high cost for those sorts of displays, which are frequently significantly more than other models. However, some manufacturers consider the budget of their customers and provide budget options for consideration, such as this one.
So, without further ado, let's have a look at the LG 43UN700-B Review to see if this monitor is worth the money.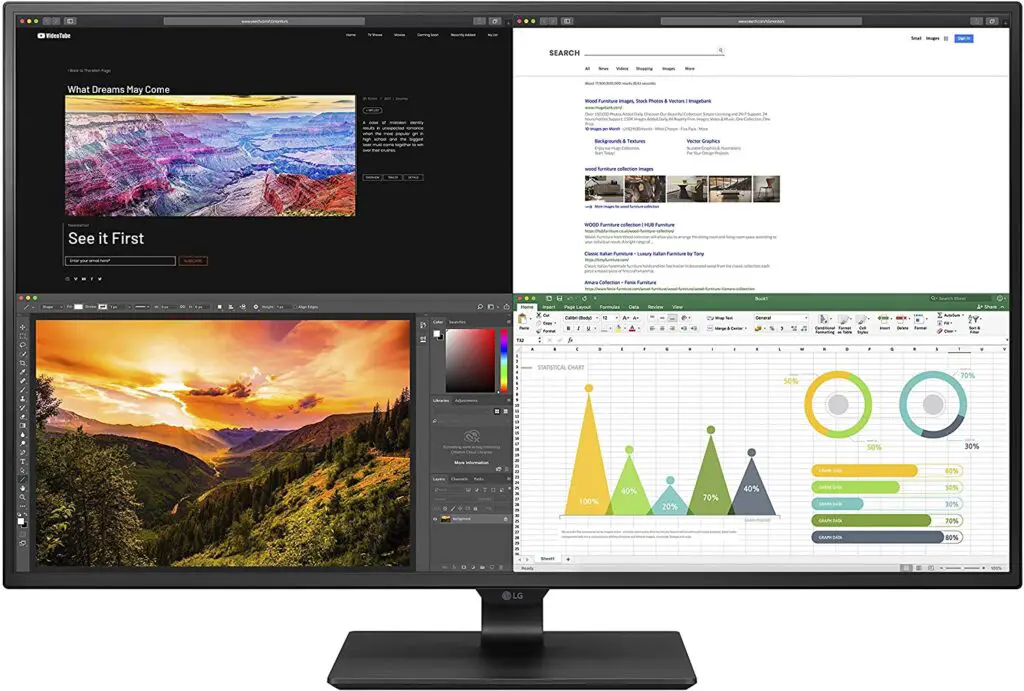 Design
The first thing we should highlight is that this is a really large monitor, with a screen size of 42,2 inches. If you plan on using this monitor on a regular basis, keep in mind that you will be quite near to the display depending on your desk, which may cause eye strain after some time. 
Aside from that, this display has very thin bezels, with the bottom one being about the same size as the others, which is what makes this model stand out concerning design. However, in order to maintain the bottom bezel as narrow as the others, the LG LOGO was placed on a protruding portion, which is surprisingly unobtrusive. 
Besides that, they chose a squared stand to support this large display, which conveys reliability while being somewhat smaller than comparable 42-inch monitors.
It's also worth noting that this model's stand only allows for tilt adjustment, so it falls short on this concern; at the very least, there could be a height adjustment, but there is not. 
The VESA support with a dimension of 200 x 200 mm can already be seen on the back of the display. They also included 2x 10W speakers for this display, which is one of this monitor's biggest selling features owing to its high quality for the price range, delivering a powerful bass.
Connectors
Fortunately, they didn't skimp on adding a lot of connectors for this model. It includes 4x HDMI ports, 2x USB Down-stream, 1x DisplayPort, 1x USB Type-C, and 1x Headphone Out. As a result, this is another plus point to this monitor.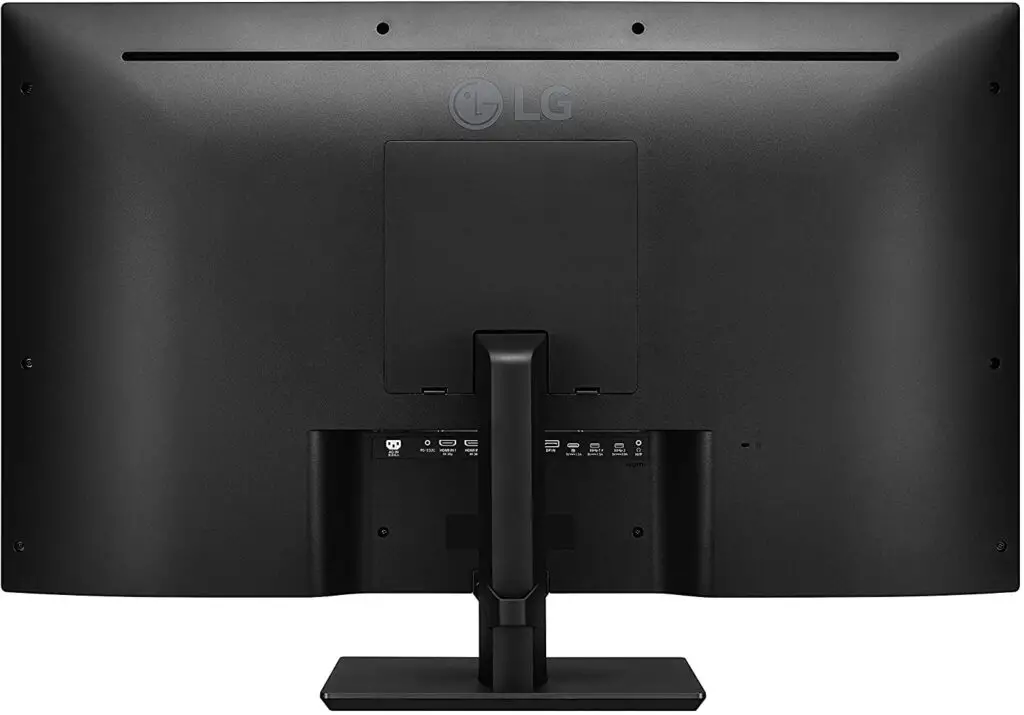 Features
Panel type
Now let's look at one of the most crucial factors to consider when selecting a monitor: its features. Given that this is a professional monitor, an IPS panel is expected.
The color fidelity supplied by this display's panel, on the other hand, will be the differentiator. As you may know, when it comes to image quality and color accuracy, the IPS panel is the best. However, not every panel is of the same quality.
It all relies on the monitor's build quality, which drives up the ultimate price. As a result, we had great hopes for this performance, and, thankfully, it did not fail us in this regard.
They were able to almost fully eliminate the IPS glowing on this model, as well as increase color support to 1.07B, which is basically a high-end number among color support ratios. 
The color gamut, on the other hand, could be better, since they stuck to the usual NTSC 72 percent (CIE1931). Even so, it's a tad better than the sRGB 99 percent. Aside from that, this panel also provides you wide viewing angles number of 178˚(R/L), 178˚(U/D).
The sole disadvantage of this panel is its typical low contrast ratio, which is typically equal to 1000:1 (Typ.) at maximum, and this display is no exception. So if you need a monitor with high contrast ratio, consider affording one with the VA panel, such as the AOC Q32V3.
Brightness
Fortunately, they kept with the good impressions here at the brightness as well. For the LG 43UN700-B, they opted to boost 400 nits of overall brightness. Despite the fact that this number is predicted given the price range, it is still regarded as the best average to pick for a display.
To minimize eye strain, consider reducing the brightness depending on how close you are to the monitor. The refresh rate of the display is another element to consider if you want to avoid eye problems.
Refresh rate and Response time
Unfortunately, they chose to stick to the basics of the gameplay aspects, which is understandable at times. Professional displays in 2018-2019 tended to run at 60Hz of maximum Refresh rate. After then, around 2020, they were able to enhance this ratio, and now practically every professional display uses 75hz.
The reason for this is that, though not ideal for smoothness, this number enhances the softness of the visuals to a significant degree when compared to a 60hz screen. All of this without significantly raising the final pricing. Because this monitor was produced in 2019, it's understandable that it only offers a 60hz refresh rate. 
Aside from that, as is typical for large displays at this time, it has a slow response time. 8ms isn't ideal for gaming displays, but it's acceptable for professional displays because it doesn't interfere too much with day-to-day use.
With that stated, this monitor does exceed expectations in terms of features, but will it do so in terms of overall image quality?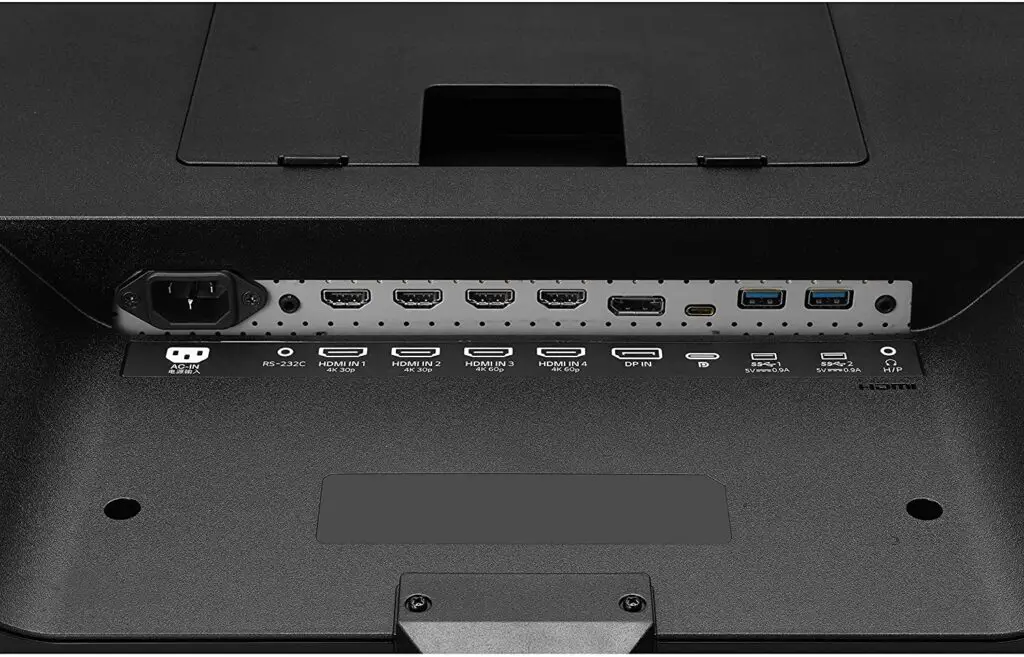 Image Overall Quality
Because the LG 43UN700-B is practically a TV with 42.5 inches of screen, they didn't employ a resolution lower than 4k for this panel, which would have resulted in a low PPI.
They also managed to keep the pixel pitch modest, with only 0.2451 x 0.2451, which helped to increase resolution. This display provides us with extremely clear and crisp images as a result of all of this. However, there is one element that has disappointed us, and that is the HDR 10 support.
Don't get me wrong: I'm not complaining about the HDR support; rather, it's the HDR version that might be better, especially considering that at this price point, they could simply add HDR 600 support for this display. 
Despite being an entry-level HDR, the HDR 10 will increase the contrast ratio and darken the shadows.
Overall, we can state that the wide color gamut, paired with the IPS panel and the high PPI, will provide clear, precise, and sharp images in a large display, making it a good choice for professionals.
Final thoughts
When to buy it
The LG 43UN700-B has extreme color accuracy due to the IPS panel with the 1.06B of color support. It also has an extremely large screen size. All of that turns this monitor more advisable for media professionals.
However, it may be quite big for some, and if this is your case, I suggest you affording 32 inches ones, such as the LG 32UL750-W, which has even better quality than this one, at lower prices featuring HDR 600.
You may like