Our Conclusion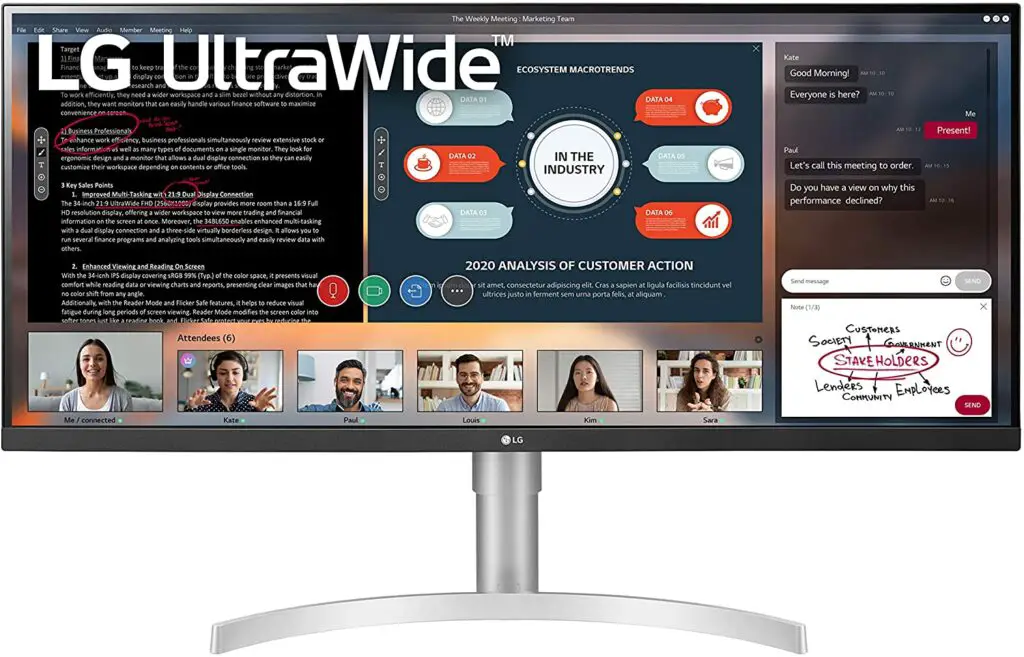 They tried and succeeded in designing a mid/high-end ultrawide display for the LG 34WN650-W, dedicated to those with casual purposes, such as playing casual games and those who want more screen space. If you do decide to invest in a professional ultrawide monitor, keep in mind that it only has a 1080p resolution, resulting in a low PPI. In such case, I recommend the LG 35WN65C-B as a 1440p ultrawide option.
Pros
✓ High-quality 7W Speakers
✓ IPS panel
✓ VESA support
✓ Affordable for an ultrawide model
Cons
✘ Low overall PPI
✘ Lack of USB ports
Ultrawide monitors are frequently more expensive, especially when the screen size is greater than 34 inches. We've already reviewed a couple of LG ultrawide models as part of our LG monitor review month. The LG 35WN65C-B was the one that particularly attracted our attention due to its combination of superb features and cheap costs.
And now, we discovered an older model with the same dimensions as the LG 35WN65C-B, but at a lower price. As a result, in today's review, we'll have a look at it. So, without further ado, let's get into the LG 34WN650-W Review and see if it's a viable alternative for those looking for a low-cost ultrawide display.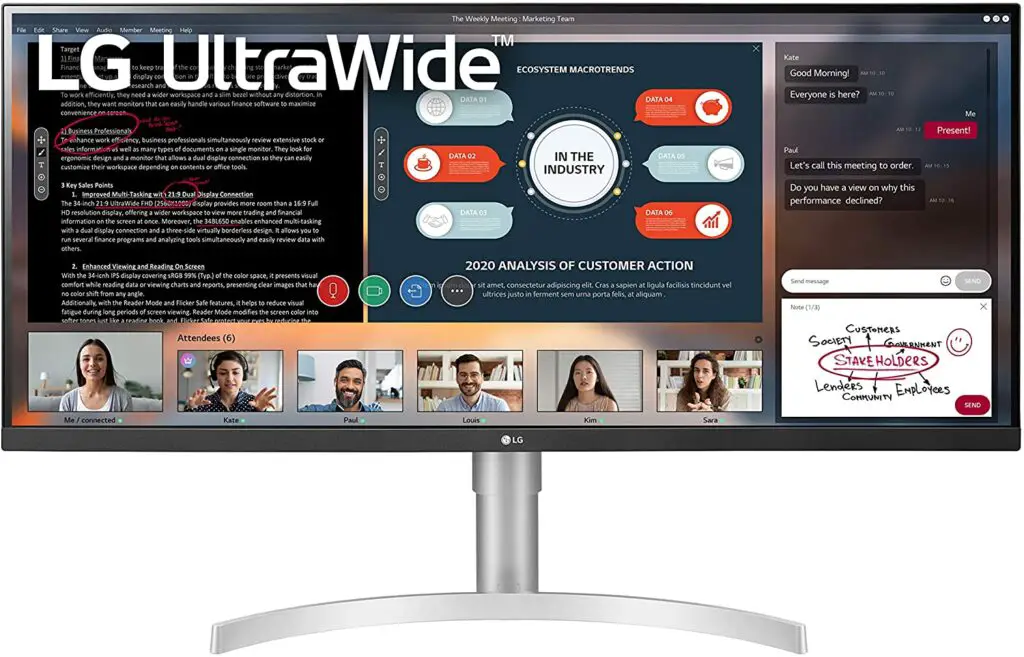 Design
At first glance, we can see that this monitor has the same design pattern as the LG 27UL650-W, which is an awesome 4k display. Aside from that, it sports a three-color design with black bezels, a gray stand and stand support, and an all-white back.
Indeed, this color variation is polarizing, as it differs significantly from the majority of displays' single color pattern. The LG 34WN650-W's stand, by the way, can be adjusted in some useful ways, including tilt and height. 
Because you're unlikely to find an ultrawide model with swivel support, these are the average stand adjustments for an ultrawide monitor.
Aside from that, like the LG 27UL650-W, this monitor sports a 34-inch 21:9 panel with borderless bezels, following the trend, and a half-circular stand. 
Looking at the rear of the monitor, we can see that it has VESA support, allowing it to be mounted on the wall. Besides that, it has two 7W out speakers, each of which is of excellent quality, which is unusual for a monitor in this price range. 
Without a doubt, regardless of the display's other characteristics, the display's out speakers will be its true masterpiece. It boasts a high volume threshold and a sound that is nicely balanced between bass and treble. LG also made the odd decision to exclude certain crucial ports off this panel.
Connectors
This monitor lacks certain important inputs, such as a USB-C port and extra USB ports, while having 2x HDMI, 1x Display Port, and Headphone Out. They always have the excuse of attempting to cut the final cost for a budget monitor like this one, so we can try and overlook it.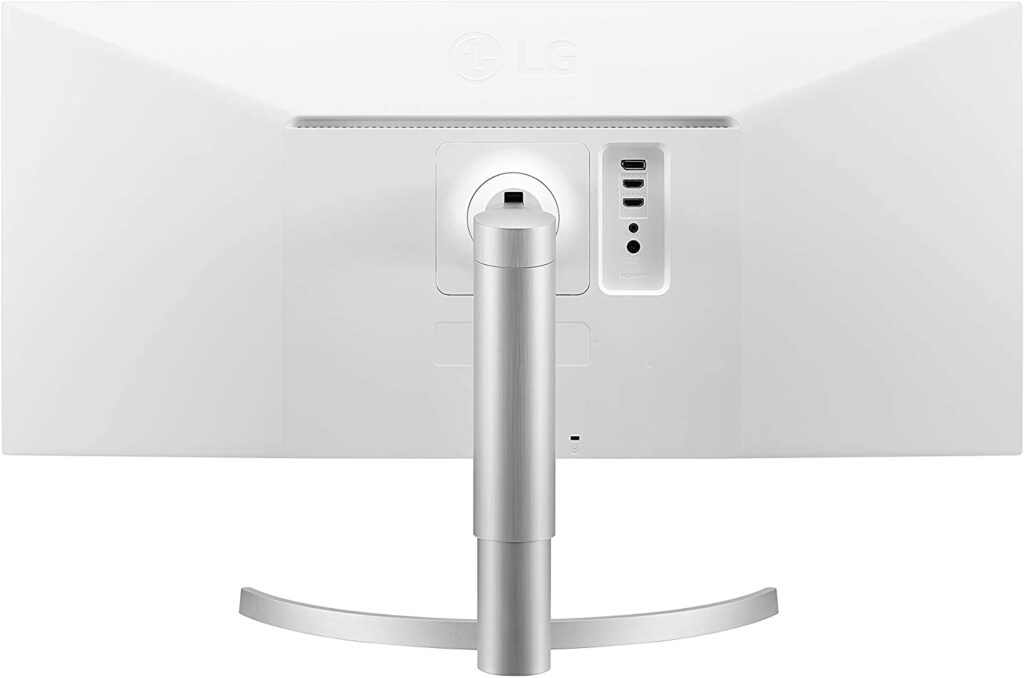 Features
Panel type
On the other hand, they didn't cut edges here on the panel type, fortunately. The IPS panel is another rare characteristic to see in low-cost ultrawide displays. It appears like they are attempting to compensate for some flaws, but we have yet to confirm this through this review.
Despite being an odd choice for this display, the IPS panel is still the finest in terms of color accuracy and image quality. Because of the accuracy improvements, this panel is the clear choice for those who work with media, such as video editing.
In contrast, this panel is often pricey and lacks a strong contrast ratio. That is, if you are looking for contrast, you should definitely opt for a VA panel monitor like the LG 35WN65C-B. 
The LG 34WN650-W has 16.7M color support and sRGB 99% (CIE1931) color gamut, which is not the finest number you can get for an IPS panel, but it is still suitable for this price range.
Brightness
And they're still impressing us with the monitor's features, which just adds to the suspicion that they're attempting to make up for something.
They were able to enhance the public range of this monitor by adding 400cd/m2 (Typ.) nits of full brightness, which is the best number for some.
On the other hand, for people with sensitive eyes who are prone to eye strain, this is a too-high total number, which ends up being not advisable to use this display at full brightness.
The combination of high brightness and an IPS panel does, in fact, contribute to boosting viewing angles and color nuances.
Refresh rate and Response time
Now, let's look at the gaming features and finally find out who the display's target consumers are. 
Starting with the refresh rate, we can already determine that this is not a gaming-focused display because its maximum refresh rate is 75hz, which is considerably below the necessary 144hz for competitive games.
75hz, on the other hand, is still a really excellent number for those who want enhanced smoothness for daily work. Aside from that, it deducts a significant amount of money from the final price of the monitor, making it more affordable.
Finally, as you might expect, they stuck with the non-competitive number for response time.
In fact, if you're not planning on playing competitive games, a 1ms response time is completely unnecessary, so thankfully they didn't make the mistake of adding 1ms for this display, which would raise prices despite the fact that it's not a gaming monitor.
So they cleverly added 5ms for this display, which stands again below the recommended for competitive gaming. 
That all said, while this monitor is clearly targeted at media professionals, the visual quality must be at least decent, right?.
Image Overall Quality
However, here we can explain why the LG 34WN650-W offers some unusual characteristics for this price range. When it comes to large displays, the resolution is one of the most important factors that determine the display's overall image quality. 
Due to the PPI variation number, if we have a 32-inch screen, for example, with a 1080p resolution, the image will be much more blurry than if we have a smaller screen with the same resolution.
Because of the ultrawide aesthetics, the LG 34WN650-W has a higher horizontal resolution (2560) than the 1080p pattern, but it is still a 1080p monitor with 34-Inch, so you can anticipate it to have a low PPI ratio.
And so it does have, delivering slightly blurred images compared to smaller screens.
In contrast, this monitor has some good features that can compensate for the low resolution, such as decent brightness and an IPS screen, and believe me when I say that finding a 1440p display with those features at an inexpensive price would be difficult enough currently.
That so, you must ultimately determine whether you want the sharper visuals of a higher PPI display and if you are prepared to pay a few extra dollars for it.
I would recommend the LG 35WN65C-B, a 1440p ultrawide monitor with a VA screen for roughly $100 more than this one.
Aside from that, this display also provides the HDR 400 feature, which will help deepen the dark of the displayed images and improving the contrast ratio. However, this is considered the most basic HDR brightness overall nits, which is to be expected for this price range.
Final thoughts
When to buy it
The LG 34WN650-W is an ultrawide monitor with some awesome features for its price range that will suit well for those in need of a low-cost ultrawide choice. However, bear in mind that it has only a 1080p of the total resolution leading to a low PPI number and blurred images. So, if you need a 1440p ultrawide monitor, you should check out the ASUS VP348QGL.
You may like