Our Conclusion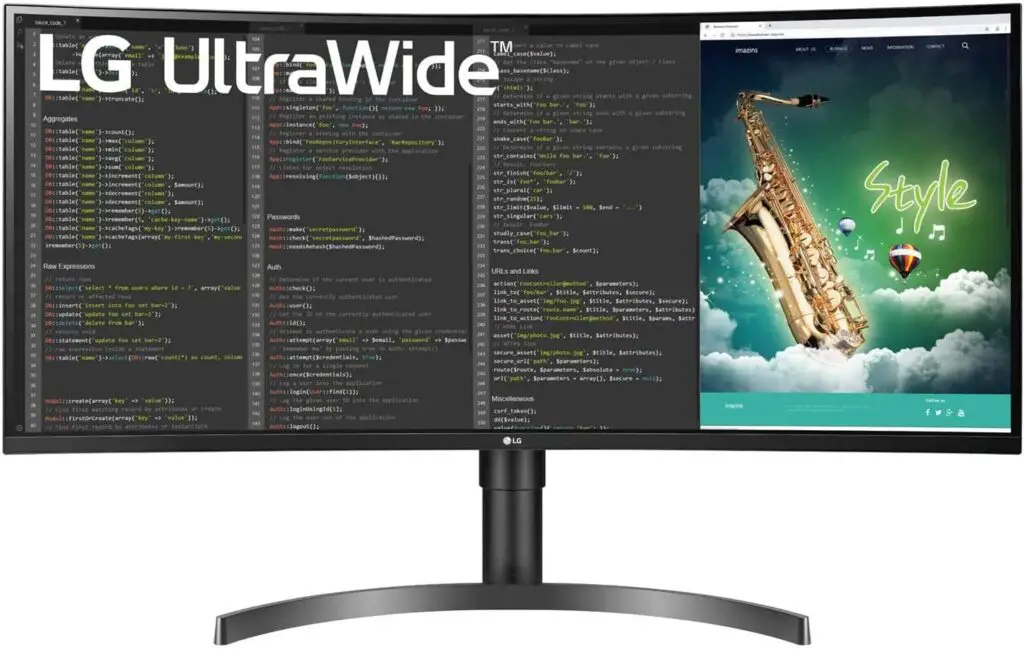 After considering all of the features of this display, we can say that the LG 35WN65C-B is an excellently balanced curved ultrawide monitor that is ideal for both work and gaming due to its high refresh rate. However, because of the VA panel, this isn't the best option if you need picture quality and color accuracy for your work. In this case, the LG 24QP500-B is a good alternative.
Pros
✓ 100hz of Refresh rate
✓ 3440 x 1440
✓ HDR 10 support
✓ USB type-C port
Cons
✘ VA panel
✘ 5ms of response time
The ultrawide monitor has grown in popularity as the homeworking has become more prevalent in these quarantine seasons. Those who need a large display size for multitasking without fear of running out of screen space will benefit from an ultrawide monitor.
In light of these considerations, we've decided to review a curved ultrawide monitor from LG that appears to be of decent build quality for today's post. So, without further ado, read on for our LG 35WN65C-B review to see if this is the right choice for you.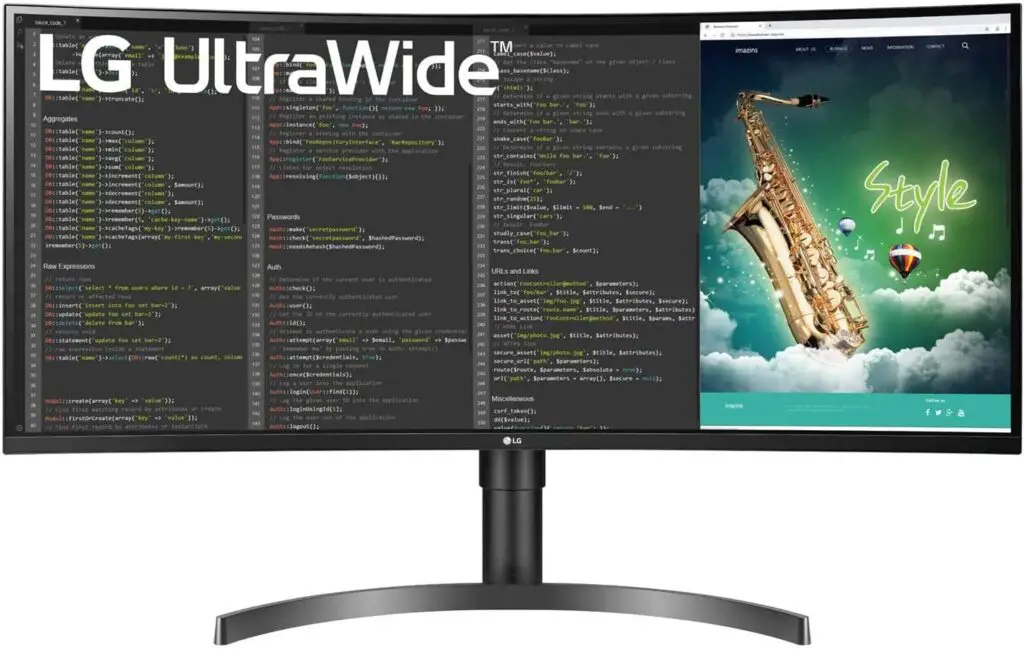 Design
At first glance, this display appears to be a standard LG ultrawide monitor, with its stand support allowing tilt and height adjustment and an all-black design with no other color differences.
When it comes to LG ultrawide displays, the only major design variations are between the Ultragear versions, which have a half triangular stand while the others, including this one, holds a half-circular stand.
Also, when it comes to an ultrawide monitor, you won't have a pretty thin display as well. The LG 35WN65C-B is a relatively big monitor with 35 ", precisely 14.67 x 32.74 x 3.7 inches, 8.3 kg with stand and 6.6 without. Besides, this monitor features high-quality speakers with better than average audio (7W Stereo Speakers with MaxxAudio).
Connectors
Further, we have 1x DisplayPort, 2x HDMI, 2x USB 3.0, and 1x headphone out. It also has VESA support, which will help you if you want to place it on the walls.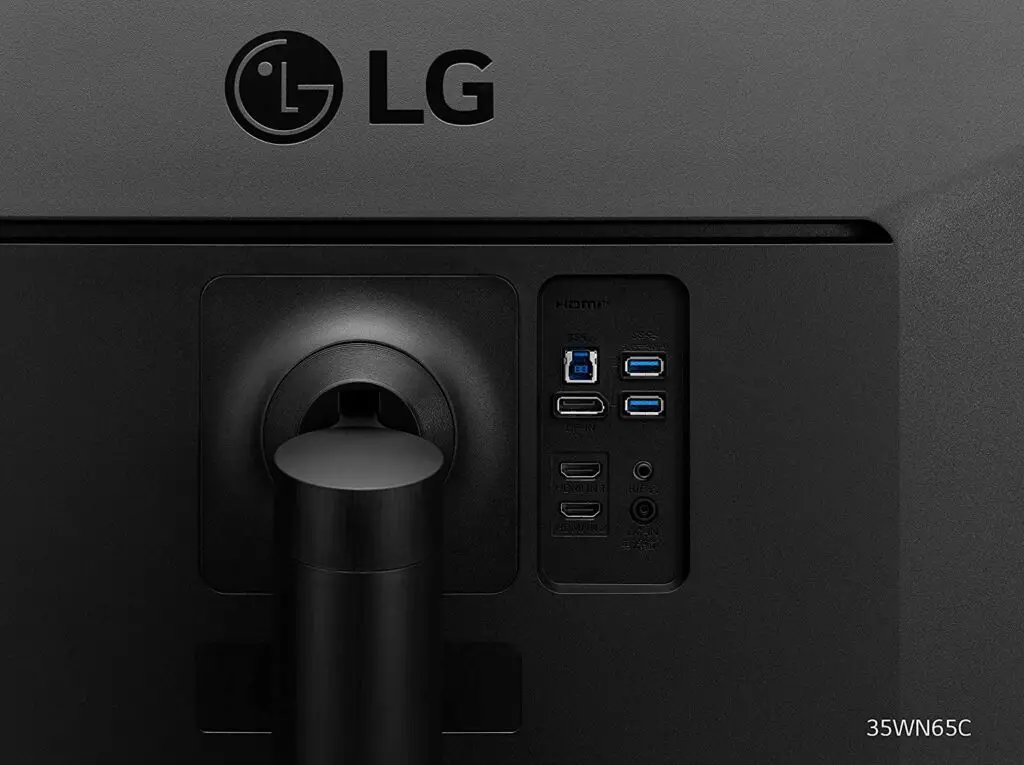 Design downsides
The only significant disadvantage is one that practically every ultrawide display shows. Due to the monitor's size, you'll need a lot of room on your desktop to fit it in.
So before buying it, consider measuring your allocated space for your monitor according to your choice.
Features
Panel type
Unfortunately, this display does not have the best monitor panel currently available. The VA panel strikes a balance between the IPS's wide viewing angle, high image quality, and the TN's low cost. 
While you won't get the same level of accuracy with this panel as you would with an IPS, the VA of this one is comparable to some low-end IPS.
Even so, if your job necessitates the highest level of color accuracy, this panel is not for you. Other alternatives, such as the Dell P2421D or the AOC U2790VQ, should be considered throughout this situation.
Color gamut and Color accuracy
Even featuring the VA panel, this monitor can still manage to hold a high number of color gamut. sRGB 99% (CIE1931) is the same total as a majority of IPS monitors on the market. Also, this monitor supports up to 16.7M colors, which is again not far behind the IPS one.
Brightness
Besides, this monitor has 300 cd/m², which in my opinion could be 350 concerning the price this monitor is sold nowadays. However, above 250 cd/m2, a huge number of users won't even use it at maximum brightness. 300 or 350 is only necessary if you use it daily in front of a window with sunlight pointing straight on your display.
Refresh rate
Starting with the refresh rate, we'll look at the gaming features of this monitor. LG has made an unusual decision in this case. They chose 100hz for this monitor instead of 60 or 144, resulting in a balanced number.
While 100hz does not have the same level of smoothness as 144hz, it is still very smooth, so if you want an ultrawide monitor that can also play games, this should be on your list.
This was a wise decision, particularly considering the LG 35WN65C-B's resolution (3440 x 1440), which, depending on the game, may require a lot of graphics card power to pass the 100FPS mark.
Response time
Besides that, this monitor features 5ms of response time, which enforces once more the fact that this is not a competitive gaming monitor.
Image Overall Quality
On this monitor, LG seems to have attempted something bold and odd. Manufacturers of monitors usually concentrate on a specific target audience for each product.
Whether they try to create a gaming monitor with 144hz and 1ms but no image quality features or a focused image quality monitor with no gaming features.
LG, on the other hand, opted to switch it up with image quality features like HDR 10 support but a VA panel, as well as 100hz of refresh rate but 5ms of response time for this display.
With that, and the ultrawide design, we may conclude that this is more of a working monitor than a gaming monitor, but you still get the smoothness of 100hz to play your casual games.
So let's say this is a well-balanced ultrawide choice, suitable for both gaming and working. This monitor also features AMD FreeSync technology.
Final thoughts
When to buy it
If you need a good budget ultrawide curved display for work, featuring at the same time a good refresh rate number for you to play your games smoother during the free time, the LG 35WN65C-B surely won't disappoint you.
When not to
However, if you really need the high color accuracy possible, this one isn't the most advisable for you. In this case, you have some other options such as the Dell P2421D and the HP X27I.
You may like