Our Conclusion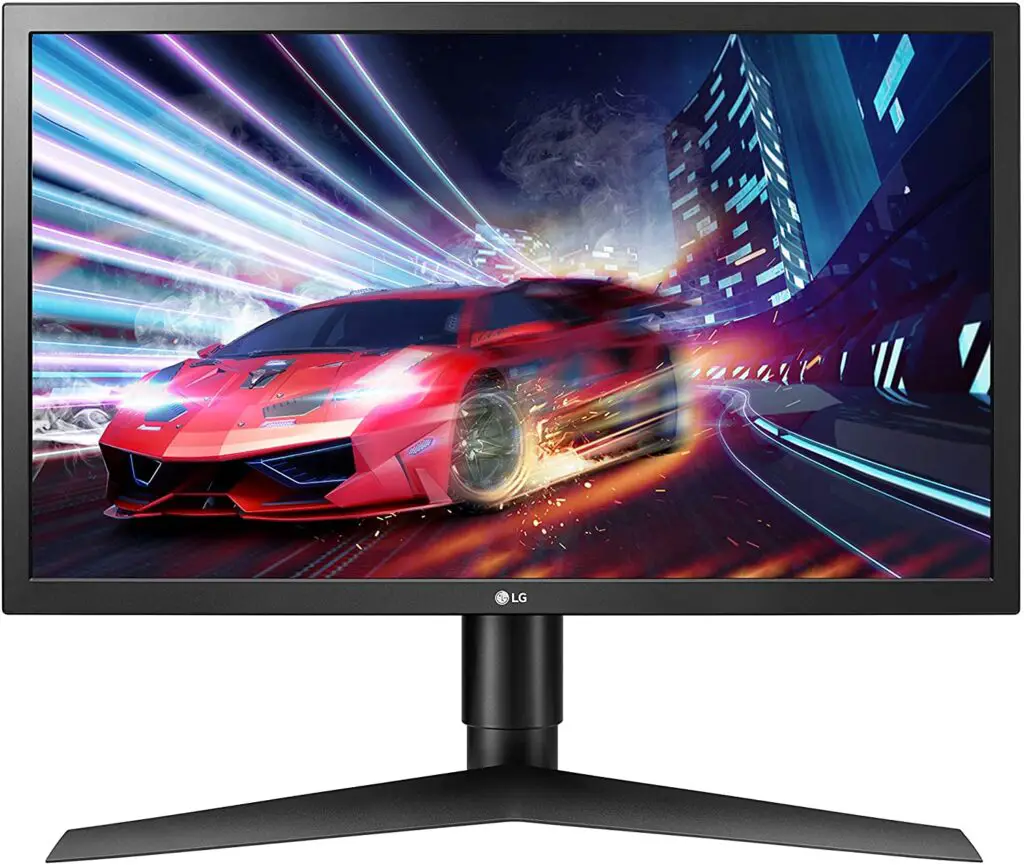 After reviewing this monitor, we can say that the LG UltraGear 24GL600F-B is still the best value for money gaming monitor on the market today. However, it is up to you to determine if the LG 24GL650-B's adjustable stand is worth the extra $10. It will mainly be dictated by your needs. If you want a cheap gaming monitor with an adjustable stand, go with the LG 24GL650-B, but if you don't, go with the LG UltraGear 24GL600F-B.
Pros
✓ VESA support
✓ 1ms
✓ 144Hz
✓ Adjustable stand
✓ Cheap gaming display

Cons
✘ TN panel
✘ Dated design
For those looking for an affordable gaming monitor, the LG UltraGear 24GL600F-B has been a total success so far. Its price, combined with all of its features, drew our attention, and we decided to give it a review a few weeks ago. Unfortunately, because of its low price, it lacks some design features.
And for today's post, we've decided to look at another alternative with a few extra features that cost $10 more than the previous edition. Check out the LG 24GL650-B Review to see if it's worth it to afford it instead of its predecessor.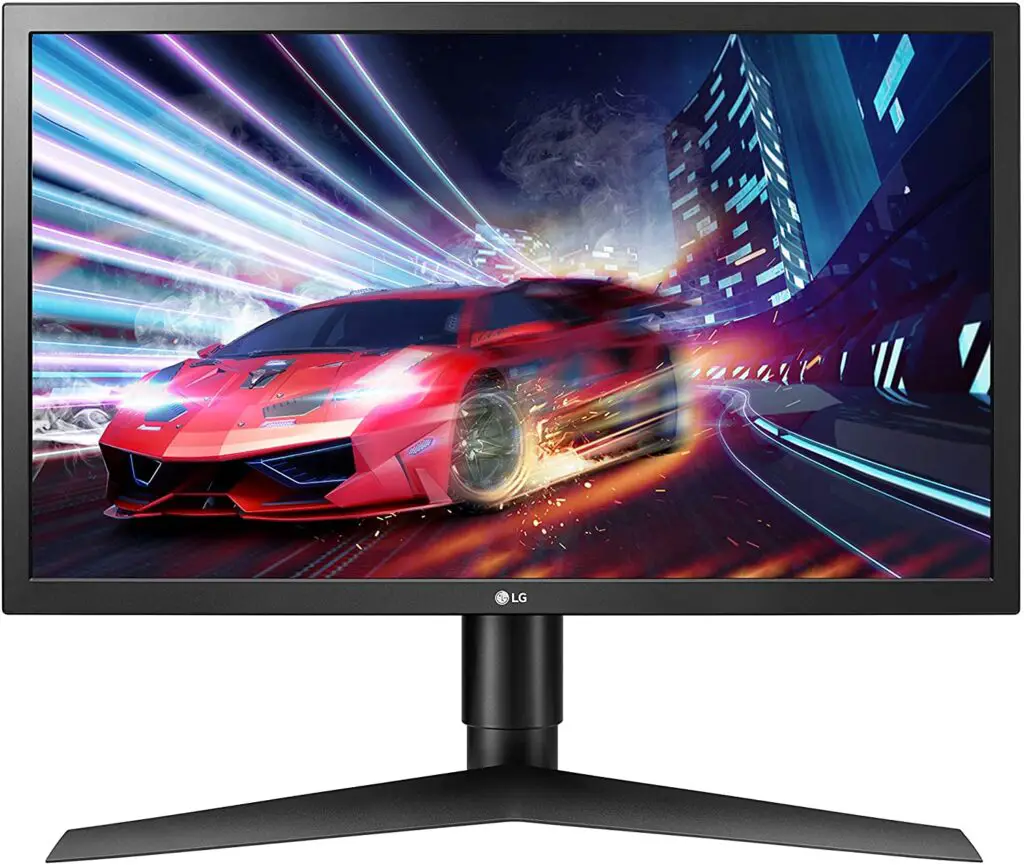 Design
Also, as you can see, this monitor has a design that is very similar to the previous one. In comparison to current monitor design trends, the LG 24GL650-B design is a little dated, much like its predecessor. It does not have borderless bezels and is not especially thin.
However, we can speculate that this is likely to lower final costs, as this display would undoubtedly cost much more if it had a current design. Furthermore, it is entirely black with red stripes and a half-triangular stand.
This circular red detail can also be seen on the back of other LG models such as the LG 27GL83A-B  and the LG 32QN600-B. And last, this one, unlike its predecessor, has adjustable stand support that allows you to pivot, tilt, and adjust the height. About dimensions, we have a 24″ display that measures 21.9 x 10.8 x 17.7 inches and weighs 10.80 lbs.
Connectors
Things stayed pretty much the same in terms of connectors, with 2x HDMI, 1x Display Port, a headphone out, and VESA support for mounting it on the wall.
Design downsides
The absence of speakers is the only design downside of this monitor. The out speakers feature, on the other hand, usually raises the price and is rarely used by those who only need a gaming display.
Features
Panel type
Getting into the features of the LG 24GL650-B, starting with the panel type, this monitor has the TN panel, which is one of the worse concerning image quality and viewing angle. However, even so, its image quality and color accuracy still impress everyone.
Also, if you need a good image of an IPS panel as well as the smoothness of the 144hz and 1ms, you'll have to spend way too much more than the amount you would spend on this one.
So, for those of you who search for a cheap gaming monitor option, this panel is almost inevitable. If you only need a good quality monitor without the gaming features, you can check out some options like this LG 27QN600-B or this Dell P2421D one.
Color gamut and Color accuracy
By the way, due to the TN screen, this display does not have very accurate colors. Depending on your needs with this screen, it may be a good idea to invest in a second monitor with good image quality and use the LG 24GL650-B as your gaming dedicated monitor. Number-wise, t his monitor has a color support number of 16.7M and a color gamut of NTSC 72%(CIE1931).
Brightness
It also has strong brightness, despite being a TN panel, which will help with viewing angles. With a brightness of 300cd, this display is brighter than even some high-end models. As a result, we may infer that if you want a brighter screen, this is a good option.
Refresh rate
Now we're getting into this monitor's masterpieces: the gaming features. Starting with the refresh rate, this display has 144hz, which makes your gaming and everyday tasks smooth as butter.
As a result, when it comes to a competitive gaming display, this is one of the most chosen Refresh rate numbers on a monitor.
Response time
It also has a 1ms response time, which increases the speed at which your command appears on the screen, which is another feature that helps competitive gamers.
Image Overall Quality
One of the most important advantages of a 1080p display is that, in terms of gaming monitors, the higher the refresh rate, the better. Your graphics card, on the other hand, must be able to achieve those desired framerates.
Like, imagine playing a graphics demanding competitive game on a 1440p screen with 144hz support, but your graphics card is incapable of maintaining more than 70 frames per second. With a 1080p resolution, you're only likely to run into this problem occasionally, depending on your graphics card.
In addition, 1440p monitors are significantly more costly than 1080p monitors. You do have some reasonably priced 1440p options, such as the Dell P2421D one and the Acer XF270H.
As previously mentioned, the LG 24GL650-B monitor does not have the best picture quality available, and it is still not recommended for use as an image or video editing monitor. It will, however, provide you the smoothness of 144hz combined with a 1ms response time.
If you need a monitor with outstanding picture quality and color accuracy, the Dell P2421D and the LG 32QN600-B are two choices to consider.
Final thoughts
When to buy it
The LG 24GL650-B is like a version of the LG UltraGear 24GL600F-B with an adjustable stand. So if you need an affordable gaming monitor, and really need the adjustable stand, then the LG 24GL650-B one is probably your cheap gaming choice currently.
When not to
However, it adds a plus of $10 to the final prices in order to have this adjustable stand. So if you don't need it at all, you can still go with the cheaper option LG UltraGear 24GL600F-B.
You may like