Our Conclusion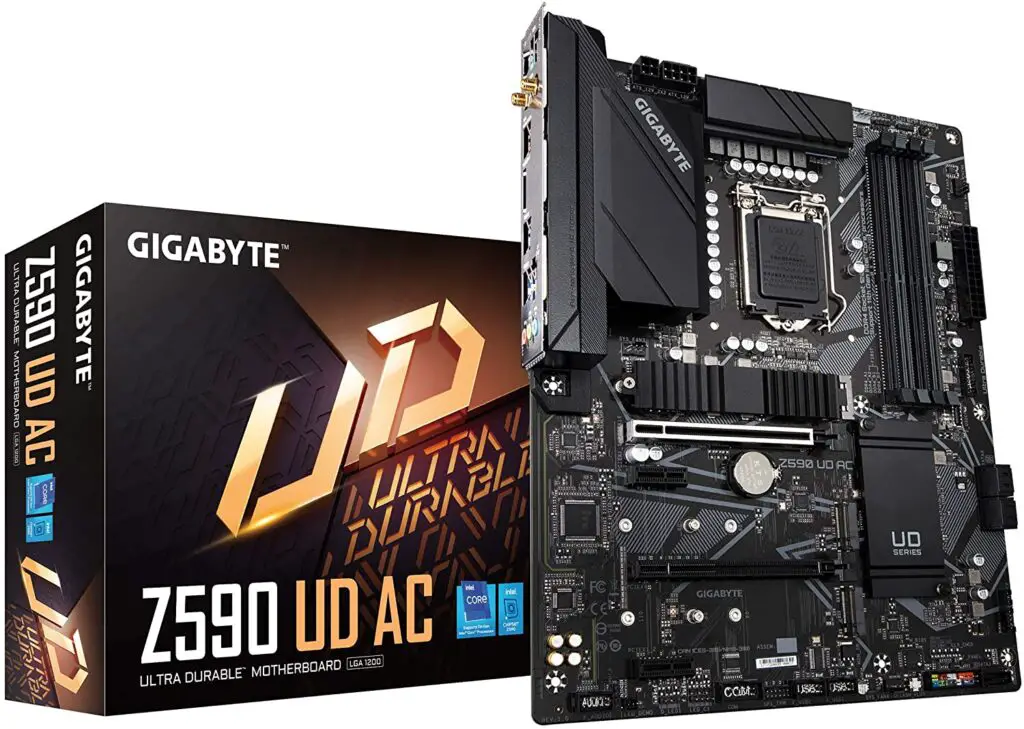 We can easily say that the GIGABYTE Z590 UD AC is currently one of the most affordable Z590 chipset board choices. However, the non-AC version of this model (GIGABYTE Z590 UD) is actually $20 cheaper than the AC version, with only 2 x SMA antenna connectors separating them. If you don't need it, the Z590 UD instead of the Z590 UD AC is a better option.
Pros
✓ Z590 chipset
✓ Affordable
✓ Enlarged heatsink
✓ 12+1 VRM phases
Cons
✘ No shield on Ram slots
✘ Only 1x M.2 slot shielded
We can notice that the UD (Ultra Durable) Gigabyte series is usually a little less expensive than the other, despite featuring the same chipset. The lack of a gaming design with plenty of RGB LEDs and a non fully shielded finish is one of the reasons for this cheapness. This line usually features a solid style pattern in black and gray colors.
And today, since we recently reviewed a UD Gigabyte model (Gigabyte UD X570), we decided to take a look at the GIGABYTE Z590 UD AC, a recently released Intel dedicated board model. Follow below the GIGABYTE Z590 UD AC Review to see if this is the right option for you or not.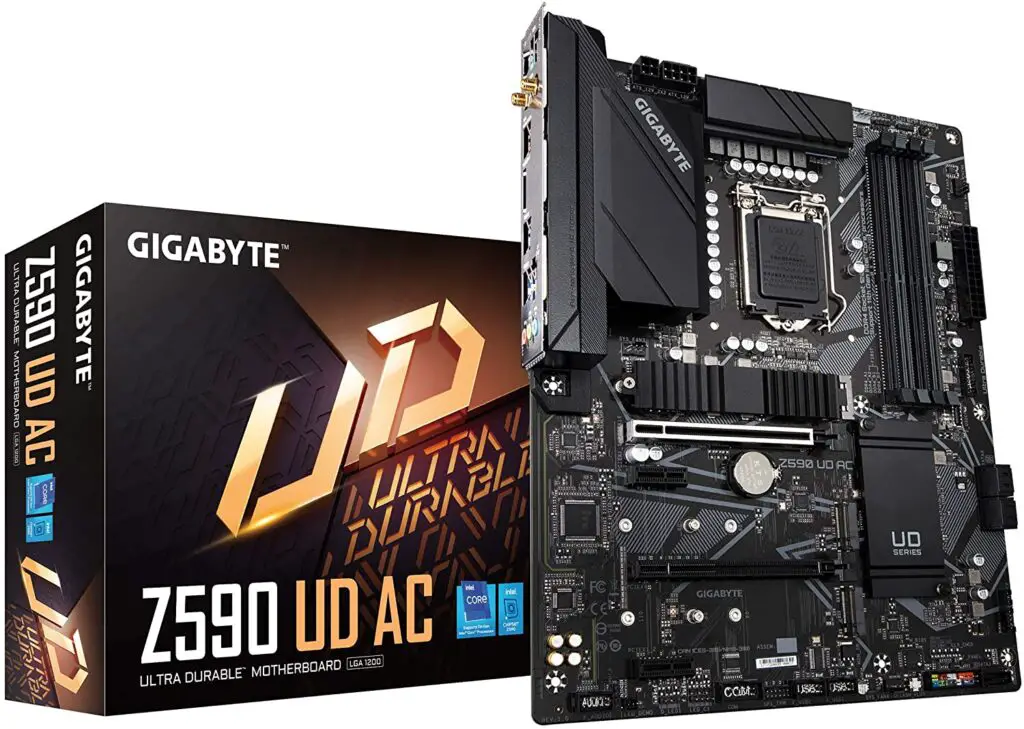 Design
As previously said, this board does not have a flashy or gaming design as it is not completely covered with RGB LEDs. With this solid black finish and some gray stripes, it still has its own charm, though.
Furthermore, this board has an ATX pattern measuring 13.18 x 10.62 x 3.14 inches. Overall, that's about all we have to tell about this motherboard's architecture, and we can conclude that it is not the best option if you need a lot of RGB LEDs.
In this case, you may want to look into other inexpensive Z590 options, such as the GIGABYTE Z590 AORUS Elite.
Socket and Chipset
Further, the GIGABYTE Z590 UD AC features one of the strongest chipsets on the motherboard markets currently, the Z590. When using the Rocket Lake processors (11th gen), this chipset provides wider overclocking edges as well as native PCIe 4.0 support, making it a reliable futureproof option.
Because of the higher overclocking margins, this chipset is often recommended for enthusiasts; however, if you don't need all of the features provided by the Z590 chipset, you can consider the Z490 or H470 chipsets.
This board also features the LGA 1200 socket, which supports Intel processors from the 10th to 11th generation (Comet lake, Rocket lake).
Memory
Besides, the GIGABYTE Z590 UD AC features 4x DIMM memory sockets with Dual Channel support Non-ECC Unbuffered DDR4. Due to the Z590 chipset, this board memory can reach out to DDR4 5333MHz when overclocking using a Rocket lake processor.
Unfortunately, the slots of this board do not have any steel protection in order to enhance durability. You can use a total of 128 GB, being 32 GB the total single DIMM capacity.
Overclock and Recommended Processors
Recommended CPUs
Despite the Z590 chipset, this board is only one of Gigabyte's entry-level versions. This board can have certain limitations depending on your needs due to the quite limited VRM circuit concerning other high-end models. Overall, the GIGABYTE Z590 UD AC will not disappoint you if all you want to do is play games or hard overclock your processors.
With this in mind, your only restriction when selecting a good CPU for this board will be to choose one from the 10th to 11th generation. Apart from that, you can choose the one that best suits your needs, regardless of TDP.
In terms of a recommendation, the I7 10700KF is one of the most well-balanced Comet Lake CPUs. If you need a gaming or rendering CPU, the I7 10700KF is capable of completing the task at hand. Furthermore, if you want a dedicated gaming CPU, the i9-10900K is a powerful choice, while the i9-10850K is a cost-effective option.
Overclock
This board's larger heatsinks make it easy to overclock your Processor without risking overheating. So, assuming you keep an eye on the temperatures from time to time, you have no limitations at all.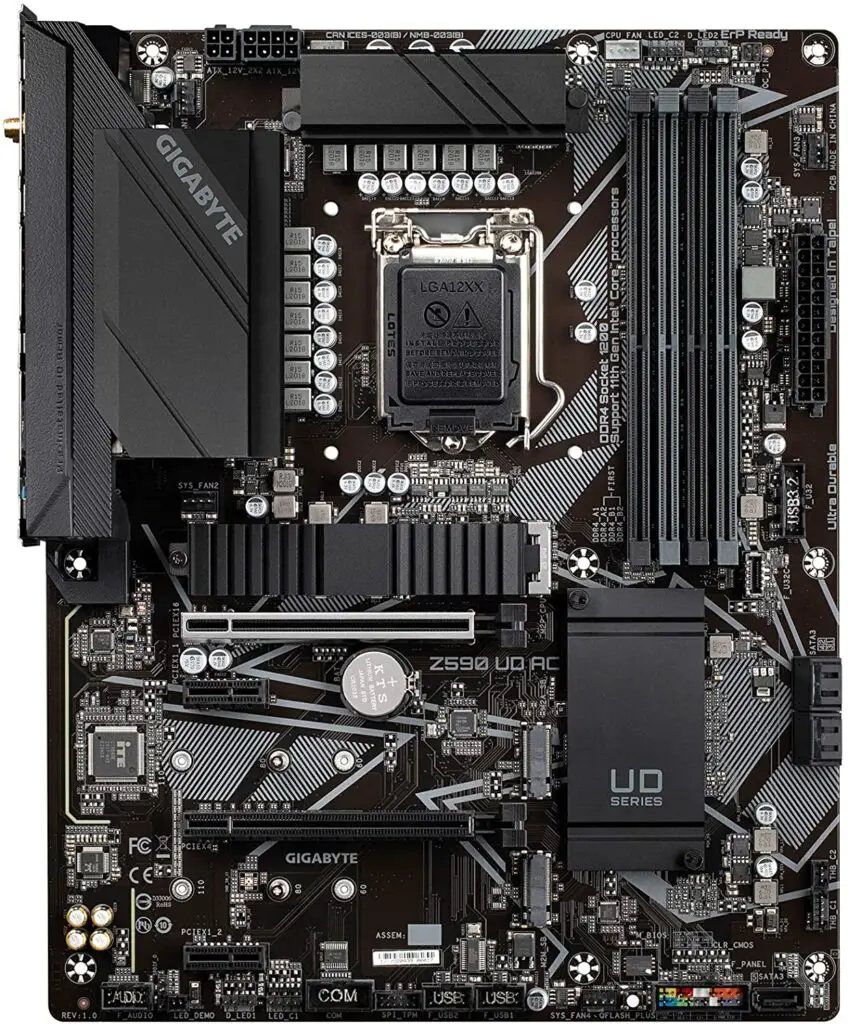 VRM and Connectors
The GIGABYTE Z590 UD AC, in order to deliver filtred and sufficient energy to your CPU, features Direct 12+1 Phases Digital VRM Solution with 50A DrMOS.
Connectors
Power connectors and SSD
Besides, this board needs a 1 x 24-pin ATX main power connector, a 1 x 8-pin ATX 12V power connector, and a 1 x 4-pin ATX 12V power connector to have sufficient energy.
Also, this board has 3 x M.2 Socket 3 connectors being the first one close to the graphics card with a shield, in order to avoid overheating due to the heat liberated from the card. This specific M.2 slot is the only one that supports the PCIe 4.0.
Fan, RGB, SATA
Further, the GIGABYTE Z590 UD AC features 1 x CPU fan header, 4 x system fan headers, 2 x addressable LED strip headers, 2 x RGB LED strip headers, 1 x front panel header, 1 x front panel audio header, 1 x S/PDIF Out header. Moreover, this board counts with 5 x SATA 6Gb/s connectors.
PCI connectors
Last, this board counts with 4x PCI Express connectors, being the first one running at x16 (PCIEX16), which is the recommended slot for installing your card, for enhancements in performance concerning the other 2.
The second one runs at x4 (PCIEX4), and the two last ones run at x1 (PCIEX1). Note that the only slot that supports the PCIe 4.0 is the first one with a steel shield.
Back panel
Here on the back panel, we have the only difference between the GIGABYTE Z590 UD AC and the GIGABYTE Z590 UD, which is the inclusion of 2x SMA antenna connectors (1T1R) on the AC model. Aside from that, both have:
1 x PS/2 keyboard/mouse port
1 x DisplayPort
2 x USB 3.2 Gen 2 Type-A ports (red)
4 x USB 3.2 Gen 1 ports
2 x USB 2.0/1.1 ports
1 x RJ-45 port
3 x audio jacks
Also, this board, fortunately, features the Q-flash plus button, which allows you to update your board bios with only a flash drive. Please refer to this post to see further details about how to do it.
Final thoughts
When to buy it
If you need a Z590 board with a 180-200 budget, the GIGABYTE Z590 UD AC is the perfect option for you. 
When not to
However, notice that the GIGABYTE Z590 UD does not have the 2 x SMA antenna connectors, but it is 20 bucks cheaper. Meaning that if you don't need these two specific connectors, you should definitely choose the GIGABYTE Z590 UD.
You may like