Conclusion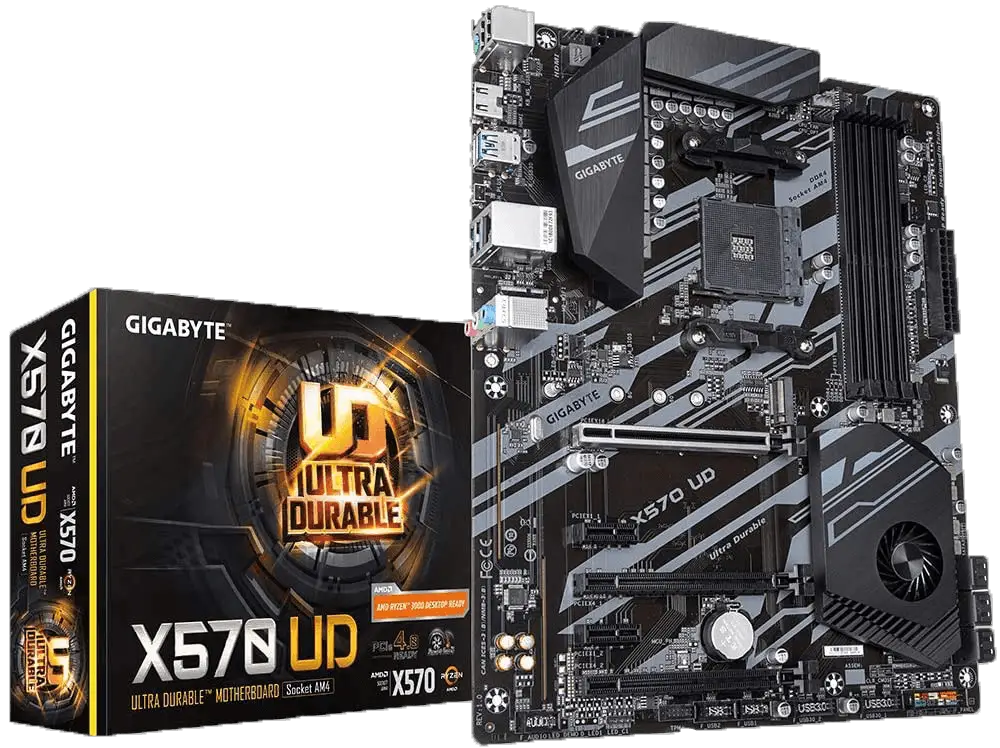 The Gigabyte X570 UD is, in fact, one of the best low-end X570 chipset choices. If you don't care about the NO-RGB design and want a budget motherboard with this chipset, you're not going to be wrong with this one.
Pros
✓ X570 Chipset
✓ fan on Chipset
✓ 3 graphics card slots
✓ AM4 socket
Cons
✘ NO Pre-installed IO shield
✘ Unsightly design
The Gigabyte is day by day being known for its extremely value-performance motherboard releases. Its boards commonly show solid design together with output.
In our recent B550 Aorus elite V2 review, we mentioned the X570 as a chipset that usually has models costing close to the B550 actual prices. So, it's only fair that we review another Gigabyte option, but now with a budget X570 chipset.
The model we've chosen for today's review has everything to be one of Gigabyte's most affordable and futureproof X570 choices. So, without further ado, let's go to the Gigabyte X570 UD review now.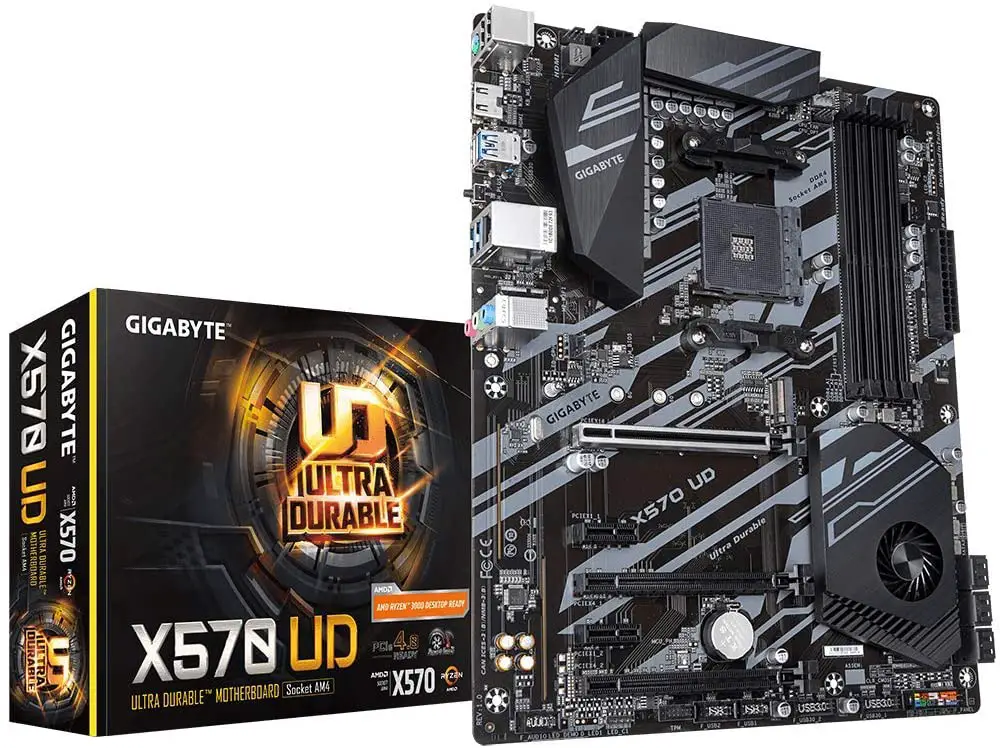 Socket and Chipset
With the best AMD chipset on the market by far, the X570, this board has left nothing to be desired in this concern. Also, in order to keep the chipset running at low temperatures, Gigabyte decided to add a fan to the chipset, which is an uncommon thing to see on boards with this price range.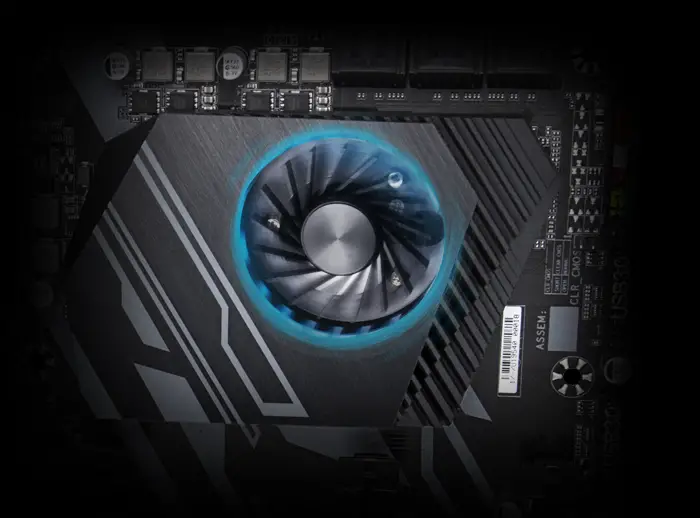 This fan can be controlled via the smart fan software, allowing you to switch between three different operating modes (Silent, Balanced, and Performance), providing you different fan speeds to choose from depending on your current needs.
Further, the Gigabyte X570 UD has the AM4 chipset, supporting the new Ryzen 5000 series.
Design
At first glance, you can notice that this is not a very well-designed motherboard. In my opinion, there was still room for enhancements on the design of this board. Personally, I didn't like too much these gray stripes draws across the board, as well as the heatsink fairing does not transmit good security and feels way too poorly designed.
They are, however, very enlarged, which outshines their style. Even with this price range for an X570 motherboard, there are still other well-designed choices with similar costs, such as the MSI MPG X570 GAMING PLUS and the Gigabyte X570 Gaming X. Also, please note that this board does not have any RGB LEDs.
That said, if you want a board with a lot of RGB LEDs, you can check out the ASRock B550M Steel Legend, which by itself has the B550 chipset but doesn't lose much performance to this one.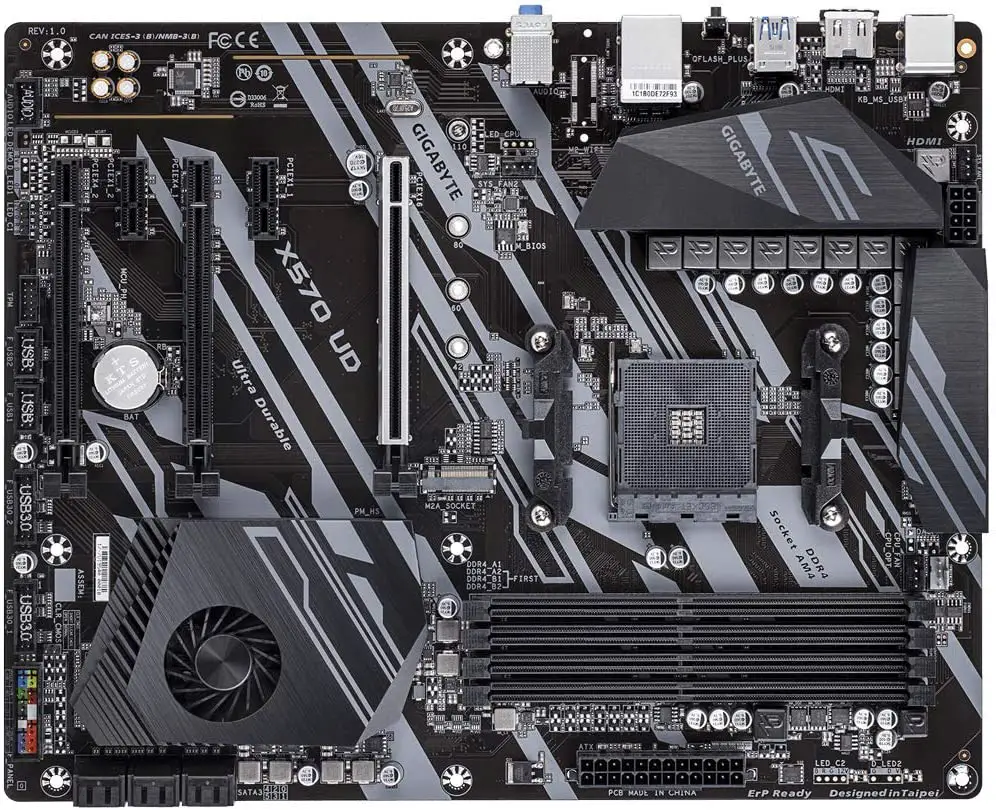 Dimensions
Concerning dimensions, this is an ATX form board, measuring: 13.18 x 10.62 x 3.14 inches and weighing 2.20 lbs, indeed a pretty light motherboard due to its overall design.
Design Downsides
Fortunately, there are no design issues that directly interfere with your motherboard's overall performance. Just visually-wise, if you want a stunning with a lot of RGB LEDs, this is not the board for you.
Memory
In addition, this board has 4 x DDR4 DIMM sockets supporting up to 128 GB, with dual-channel memory architecture being 32GB the maximum per slot. It also supports the XMP architecture for you to overclock your memory speed.
Speaking of which, with a 3rd Ryzen gen processor, you can reach up to DDR4 4733 MHz with Radeon Graphics processors. If you need further information, you can check it out on the memory support list on the gigabyte website.
Overclock and Recommended CPUs
Recommended processors
When choosing the ideal processor for this motherboard, you're going to have to consider a few things before. Do you want a futureproof option or you want a spare choice to upgrade later? Regardless of your choice, the main thing to remember here is that, with the X570 chipset, if you get a processor from the 2000 line below, you wouldn't be able to avail of the PCIe 4.0, which majority increases its performance and speed.
Due to that, I would recommend you choose a processor from the 3000 line above. However, let's suppose that you want a cheap processor with integrated graphics only to use the pc and later you'll upgrade it to a new one; in this case, I would recommend you to get the Ryzen 3 2200G, which you can re-sell at a good value later.
Note that there is nothing mentioning the Ryzen 5000 support to the PCIe 4.0. However, if it doesn't have yet, it surely will, so you can afford it without fear. As a recommendation, this board seems like a great combination for the Ryzen 5 5600X since both are low-end in their respective lines. Being the 5600X, the low end of the 5000 line, and the Gigabyte X570 UD, the low-end of the X570 chipset.
Overclock
When it comes to the X570 chipset, regardless of your board model, you'll be able to overclock without fear. This one also helps with the enlarged heatsinks and the chipset fan.
You can't exaggerate too much, though, as this is a low-end X570 model. In addition, the Smart Fan 5 app can help you control temperatures across the board.
VRM and Connectors
With 10*+2 phases, the Gigabyte X570 UD delivers filtered and enough energy to the CPU, minimizing waste drastically. It also has two heatsink fairings on the VRM circuit to keep it cool during difficult activities.
Power connectors and SSD
In order to provide adequate power to your motherboard, you will need a 24-pin ATX main power connector and an 8-pin ATX 12V power connector. Also, on this board, we only have 1 M.2 socket 3 connector with no armored protection whatsoever.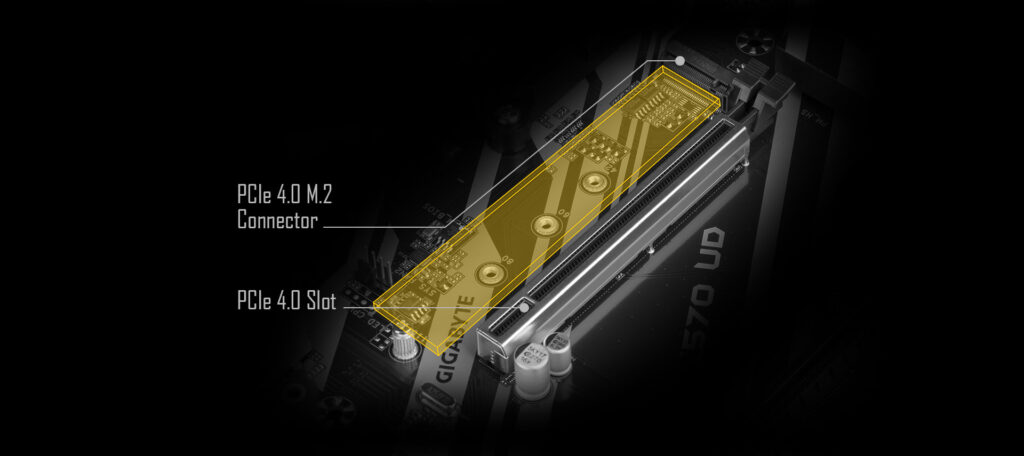 Fan, RGB, SATA
Further, this board has 6 x SATA 6Gb/s connectors, 1 x CPU fan header, 1 x water cooling CPU fan header, 2 x system fan headers, 1 x front panel header, 1 x front panel audio header, 2 x USB 3.2 Gen 1 headers, 2 x USB 2.0/1.1 headers.
PCI connectors
Last, about PCIe connectors, this board features 5x, being all of them with the 4.0 support (Depending on your CPU), and the first one, running at x16 has armored stainless protection in order to keep your graphics card firm and increase its lifespan.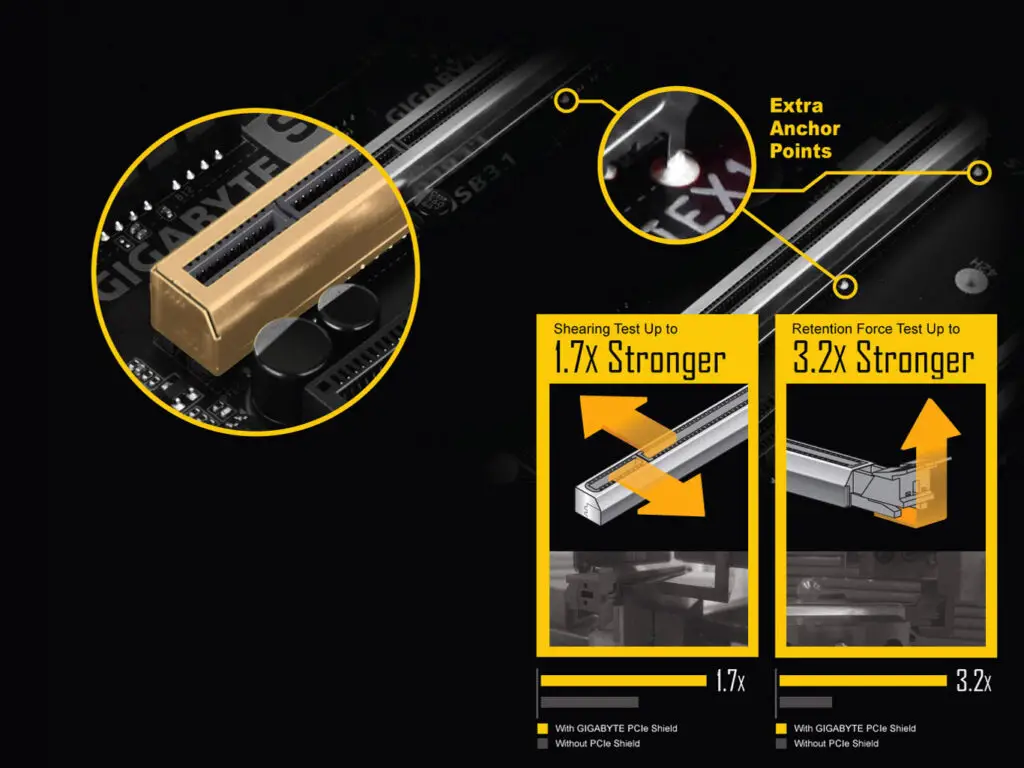 Back panel

Unfortunately, this board does not feature the Pre-installed IO shield that may end up making your pc building a little clunky. Also, looking at its connectors we see: 
4 x USB 3.2 Gen 1 ports
2 x USB 2.0/1.1 ports
1 x PS/2 keyboard/mouse port
1 x HDMI port
1 x Q-Flash Plus button
1 x RJ-45 port
3 x audio jacks
Q-flash plus
As a Gigabyte pattern, this board also has the Q-flash plus button, which you can use to update your bios without CPU andRAM only with a flash drive. You can check out in detail how to do it at the Gigabyte H470 AORUS PRO AX Review.
Final thoughts
When to buy it
In case that you need an affordable X570 choice, the Gigabyte X570 UD is one of the cheapest around the market. Besides, with this chipset, you won't need to upgrade your board sooner.
When not to
If you don't need much of the X570 plus features or you didn't like this board design, you can go with other options with the B550 chipset, like the: Gigabyte B550 Aorus Elite V2 or the B550M Steel legend.
You may like