Our Conclusion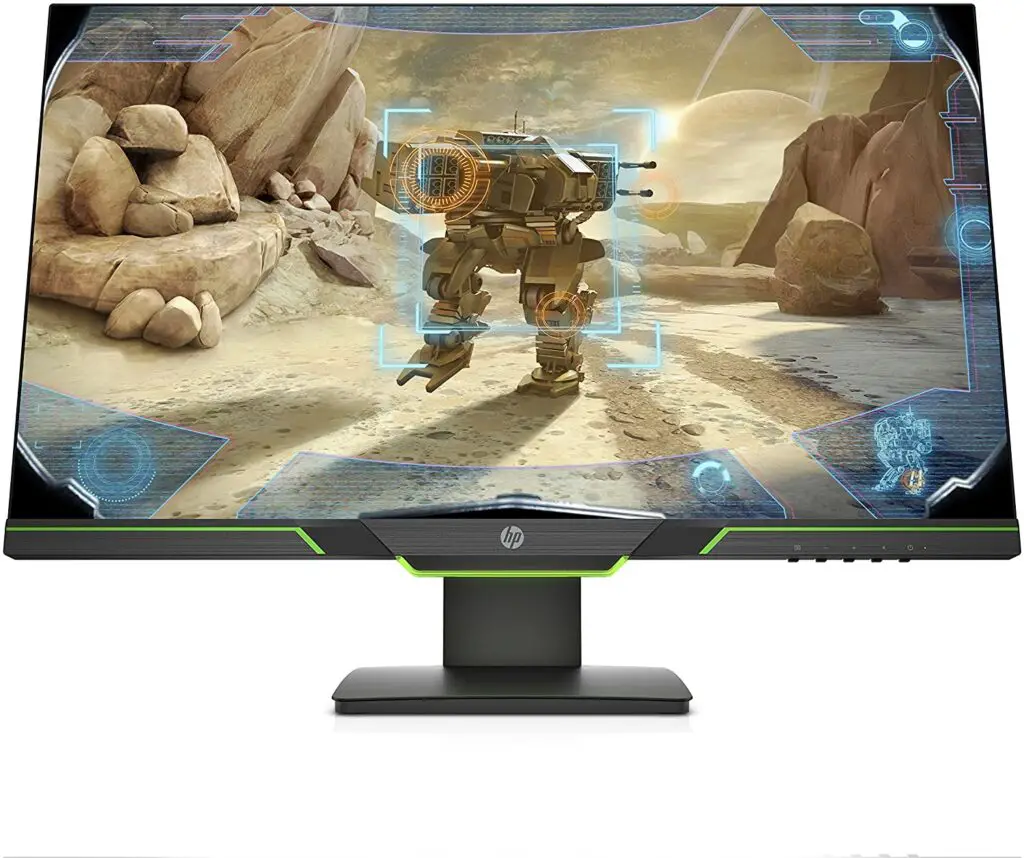 With all of the features of this monitor and its current prices, we can confidently say that it is the cheapest gaming 1440hz monitor on the market right now. You can't go wrong with the HP X27I if you have a GPU powerful enough to run your games at 144 frames per second, even at 1440p resolution.
Pros
✓ 1440p
✓ 144Hz
✓ IPS panel
✓ Budget option
Cons
✘ Can't change LED color
✘ 4ms of response time
A few years ago, the 1080p resolution was the most chosen between gamers because it was a less GPU-demanding choice. With the introduction of the latest and most powerful GPUs to the market, the 1440p resolution has become a more balanced option, offering both image quality and not being as demanding on the graphics card as the 4k resolution.
As a result, monitor manufacturers are increasingly releasing 1440p displays these days. And for today's review, we've chosen the HP X27I to see if it's really worth it, based on its current features and prices. Follow below.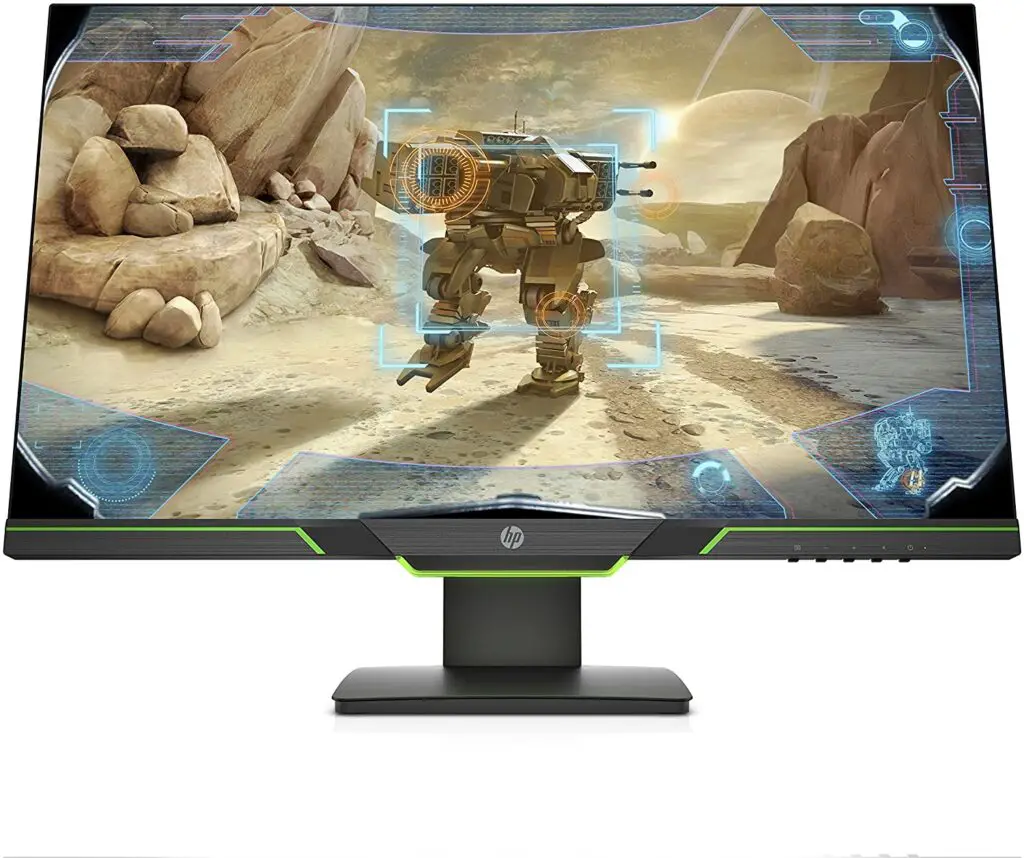 Design
Starting with the design, the green stripe that passes across the display's bottom bezel is the first thing that catches your eye. When you turn on this display, you'll notice a green LED stripe under the HP logo, which is in line with current gaming trends. On the other hand, you are able to turn this LED off, but still, you can't change its colors.
Furthermore, this monitor has borderless bezels and is not very thin, but neither is it particularly thick. The back is entirely black, with an adjustable stand that allows you to tilt, pivot, and adjust the height, as well as an HP logo on the top side of the stand support.
About dimensions, this monitor measures 24.06 x 2.29 x 14.94 without a stand and weighs 16.17 lb. Overall here we have a real example of a gaming monitor design with this RGB on it.
Connectors
Further, this monitor includes HDMI, DisplayPort, 2 USB 3.0 ports, and a 3.5mm headphone jack. This display also has out speakers, and it has VESA support if you want to place it on the walls.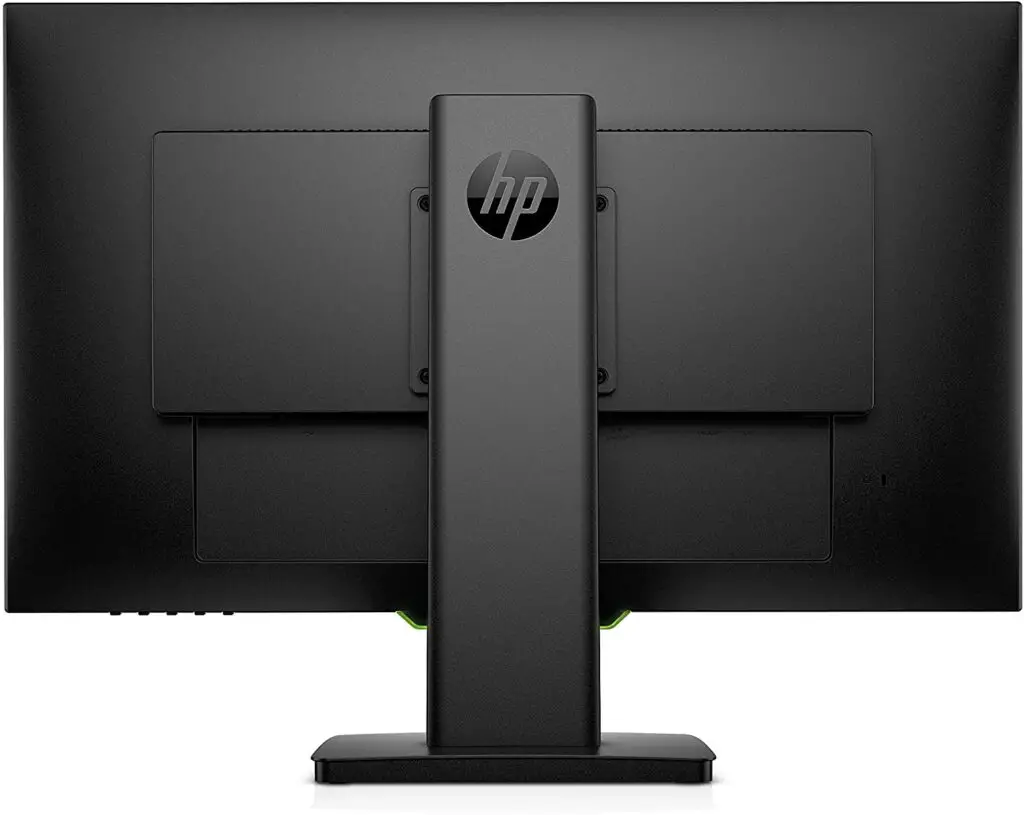 Design downsides
The unique downside concerning design is that it is not everyone that wants an RGB monitor, and you can't get rid of it unless you turn your monitor off.
Features
Panel type
The HP X27I, with its IPS screen, will provide you with one of the best image quality and viewing angles of any panel type currently on the market. Unfortunately, this panel is normally accompanied by a minor drawback, which is the IPS glowing. 
The IPS glowing refers to the showing of glowing lights on your computer, which are more visible on a black screen or in a dark area. The amount of IPS glowing varies depending on the monitor's construction quality. Unfortunately, the HP X27I has some IPS glowing on the bottom right of the display, but it is only visible when the screen is totally black.
Color gamut and Color accuracy
The IPS screen, on the other hand, will provide excellent color accuracy and gamut for your display. Unfortunately, the HP manufacturer does not share the exact number of color gamut and color accuracy for this monitor. When it comes to an IPS panel, however, we can't expect anything less than 99 percent accuracy.
Brightness
Another advantage of this display can be found here. With a brightness of 350 cd/m2, the HP X27I can provide you with enough brightness that you won't need to use it at maximum. While this is a standard number for high-end monitors on the market, some well-known brands do not use it to lower final costs.
Refresh rate
After the picture quality features, we'll move on to the monitor's real masterpieces: the gaming features. Starting with the refresh rate, this display has 144hz, which is uncommon for 1440p displays. This number, on the other hand, will provide you with smoothness in both your daily use and your gaming hours.
Response time
Together with 144hz of refresh rate, this monitor also features 4ms of response time, which is a relatively good number, but yet some say it is not the best for competitive gaming scenario. That said, if you really need a 144hz 1ms monitor, you can check out some other options like this one LG Ultragear 24GL600F-B, but bear in mind that you will spend way more if you need a 1440p with 1ms.
Image Overall Quality
Note that we're talking about a 1440p resolution on a 27″ panel, so the HP X27I display has a good PPI (Pixel Per Inch) of 0.233 mm Pixel pitch. Aside from that, another important consideration is the 1440p resolution. 
With all of the features of this display, we can safely assume that it is an HP gaming model. However, you must consider the power of your GPU here, as if your target is 144 FPS, the 1440p res can be on the way. If you have a powerful graphics card and are looking for a gaming monitor with decent picture quality, this is the one to get. 
But if you think your graphics card will not handle higher FPS in this resolution, consider choosing other gaming options but with a 1080p display like this one LG 24GL650-B.
Final thoughts
When to buy it
If you need a gaming monitor with great image quality, and your graphics card can handle your competitive games at 144 Hz with the 1440 FPS resolution, the HP X27I one is indeed your cheapest option.
When not to
However, if your graphics card doesn't have enough power to run your games at high framerates using the 2k resolution, I suggest you so check out some Full HD options like the Asus VP249QGR and the LG Ultragear 24GL600F-B. The other scenario would be if you don't need a gaming monitor at all and prefer image quality; in this case, you should see some options like the Dell P2421D and the LG 27QN600-B.
You may like