Our Conclusion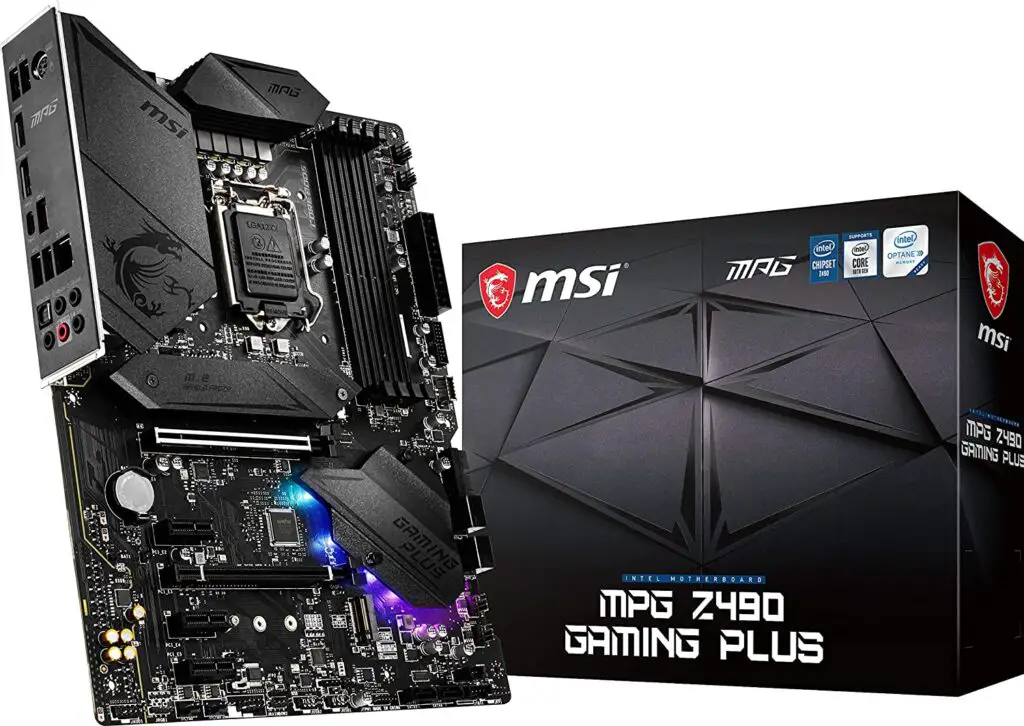 With all features on this board, we can conclude that the MSI MPG Z490 Gaming Plus is one of your cheapest high-end futureproof motherboard options with the Z490 chipset. This board also supports up to 5000Mhz of memory speed using the XMP, which is uncommon to see on this budget.
Pros
✓ Up to 5000Mhz Memory OC
✓ Good amount of VRM phases
✓ RGB LED on the chipset
✓ Affordable high-end board
Cons
✘ RAM slots witouth protection
✘ Only 1x M.2 with shield
Since we recently reviewed a Gigabyte Gaming model, the Gigabyte B450 Gaming X, we decided to review another Gaming model today, this time from MSI. The Gigabyte B450 Gaming X is a mid-range, dedicated to the Ryzen processor motherboard with RGB LEDs and a pre-installed IO shield, but it, unfortunately, lacks gaming design elements, including RGB LEDs and a pre-installed IO shield.
Unlike the B450 Gaming X, however, for today's review, this is a high-end variant for Intel processors that suits better in the Gaming trends. And today, we'll tell you if the MSI MPG Z490 Gaming Plus is worth the money in the MSI MPG Z490 Gaming Plus Review below.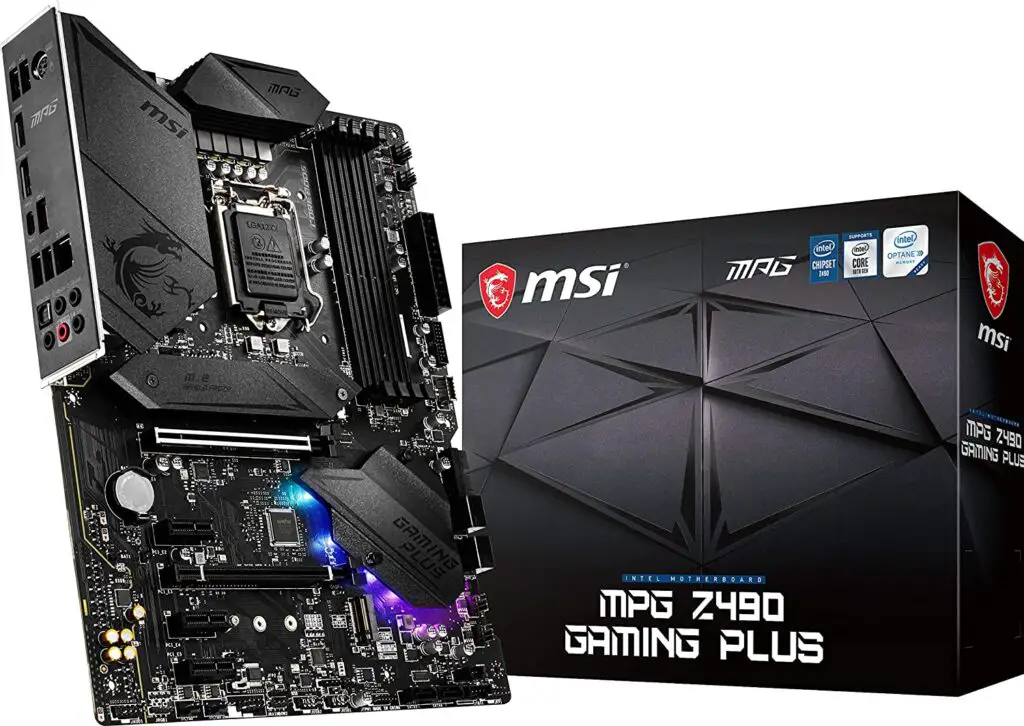 Socket and chipset
As mentioned, this board is dedicated to intel processors due to the LGA 1200 socket, which supports the 10th and 9th generation of Intel CPUs. This board also includes the most powerful chipset currently available on the motherboard market: the Z490, a future-proof high-end choice for those of you who don't intend on buying another motherboard any time soon.
As a high-end chipset, it will provide you with the most advanced optimization and support features available. Furthermore, this chipset is mainly useful to gamers, as it helps you to overclock both your memory and processor speeds. It's also worth mentioning that this chipset will support the Rocket Lake S (11th Gen Core Desktop Processors) as soon as it releases.
Design
With its enlarged heatsink and RGB LEDs on the chipset, you can immediately tell that the MSI MPG Z490 Gaming Plus is built for gaming. This board is slightly big, measuring 12 x 9.6 x 2 inches. 
It is entirely black, as is typical of MSI motherboards, but this one lacks the normal Red details, leaving just black on the surface.
This simple color design can be beneficial for those who want a desktop with balanced colors, but it can also be a disadvantage for those who require a vibrant desktop with a lot of RGB LEDs. Overall, this board has a balanced design that isn't too flashy but also not too boring.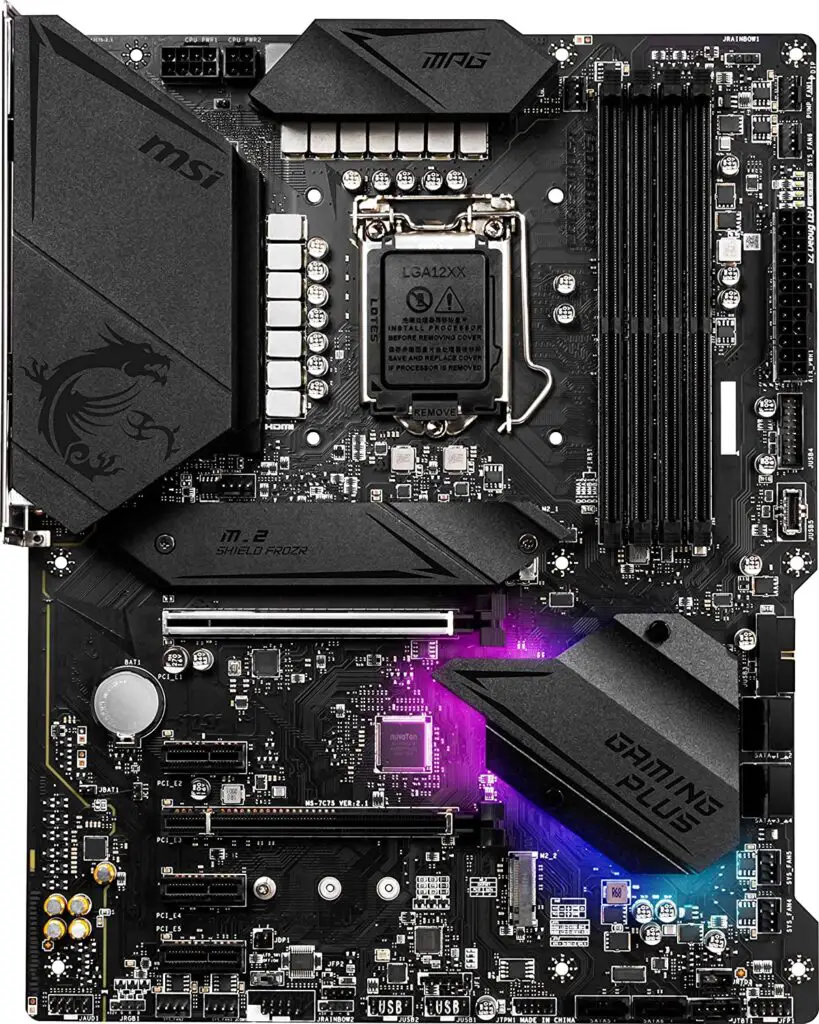 Memory
Further, the MSI MPG Z490 Gaming Plus board supports up to incredibly 5000(OC) MHz, with 4X DIMM SLOTS featuring dual-channel handling up to 128GB total. It also supports the Extreme Memory Profile (XMP) and the non-ECC, un-buffered memory.
So here we can see the powerful Z490 acting, providing up to 5000Mhz, which is uncommon to see in this price range motherboards. 
Last, unfortunately, this board does not have any protection on the memory slots such as a steel shield, unlike other cheaper board models like the: Gigabyte H470 AORUS PRO AX.
Overclock and Recommended Processors
Recommended CPUs
The LGA 1200 socket does not provide as many options as the AM4 socket, which supports almost all Ryzen processors. Instead, you can only use CPUs from the 10th generation to the 11th generation as soon as they are released. With that in mind, we will begin deciding on the best choice for you.
Fortunately, there are no limitations with this board, so you can use it with a high-end CPU without fear. In terms of a recommendation, if you need a balanced choice for gaming as well as multitasking, such as live streaming, I would recommend the Intel Core I5 10th 10400F.
However, if you need a most powerful choice, I would go with the Intel Core i7 10700KF since this one is one of your best options for a gaming/ rendering CPU around the 300$ budget.
Overclock
Independent of your choice, you will be able to overclock your CPU without fear due to the enlarged heatsink presented in this board, as well as its number of VRM phases, being a real masterpiece of this board. Just be aware of the temperatures and be sure to use a good water cooler, and you'll certainly not face any overheating issues.
Connectors
Power connectors and SSD
To power your motherboard, you'll need a 24-pin ATX main power connector, as well as an 8-pin ATX 12V power connector and a 4-pin ATX 12V power connector.
There are 2x M.2 connectors on this board as well. The first one has a shield to secure it and hold it at a lower temperature. Since it is located next to your graphics card, it can experience high temperatures over time as a result of the heat generated by your graphics card. And this shield is the key to keep your SSD cool.
Fan, RGB, SATA
In addition, the MSI MPG Z490 Gaming Plus board has, 6x SATA 6Gb/s ports, 6x 4-pin system fan connectors, 1x 4-pin RGB LED connector, 2x 3-pin RAINBOW LED connectors.
PCI connectors
Lastly, about PCI connectors, this board features a 1x PCIe 3.0 x16 slot, 1x PCIe 3.0 x16 slot, 3x PCIe x1 slots. Being the first slot with shield protection to keep your graphics card stable.
Back panel
Fortunately, this board has the pre-installed IO shield to enhance your building speed, as well as giving a charm to your motherboard. On the back panel, we have:
PS/2 Combo Port
USB 3.2 Gen 2 10Gbps (Type-A)
LAN Port
HD Audio Connectors
USB 2.0 Ports
HDMI Port
DisplayPort
USB 3.2 Gen 2 10Gbps (Type-C)
USB 3.2 Gen 1 5Gbps (Type-A)
Optical S/PDIF OUT
Final thoughts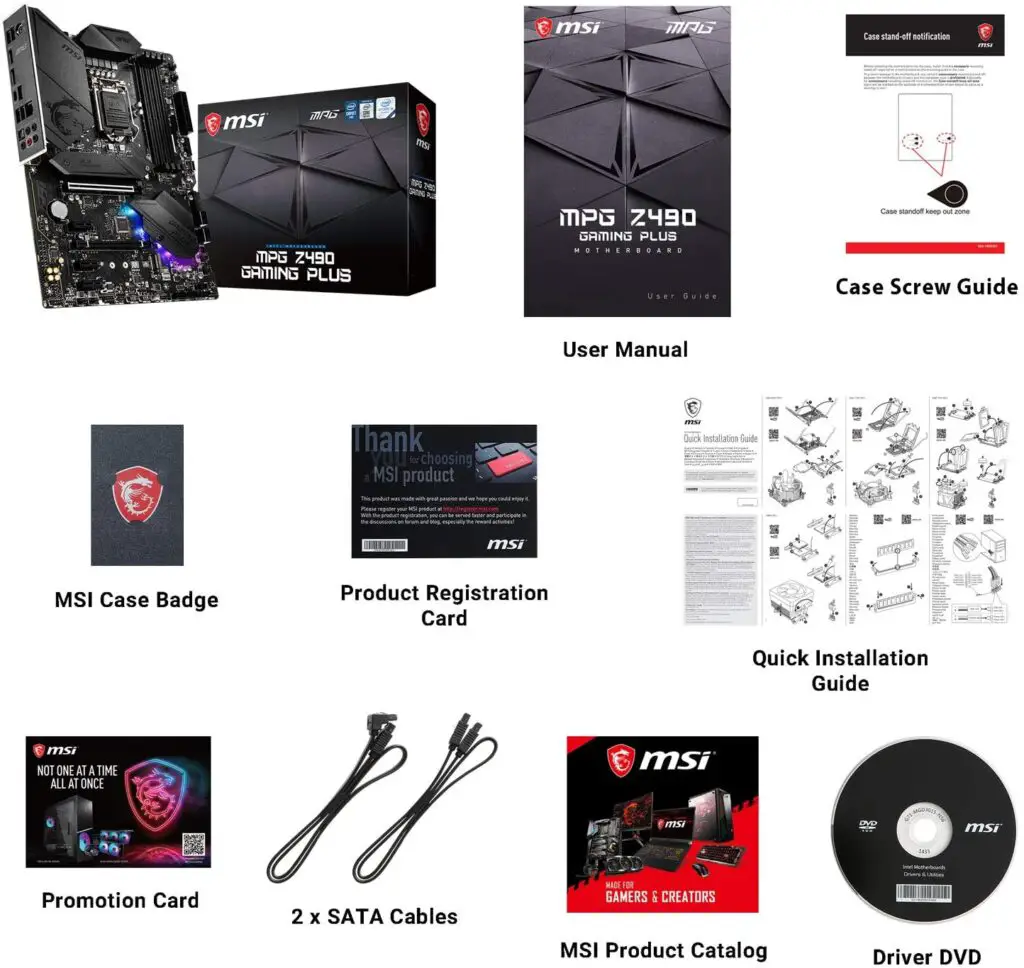 When to buy it
If you need a futureproof high-end motherboard with the Z490 chipset but don't want to spend much money, the MSI MPG Z490 Gaming Plus is certainly one of your best options. However, if you need a basic option, you can check out these motherboards reviews: Gigabyte B460M DS3H Review | Cheapest LGA 1200 board? , Best price-performance motherboard? | Aorus B460 Pro AC.
When not to
If you won't use every plus feature said above of this chipset, you should probably try cheap options like the: GIGABYTE B365M DS3H and the: Gigabyte B460M DS3H
You may like