Our Conclusion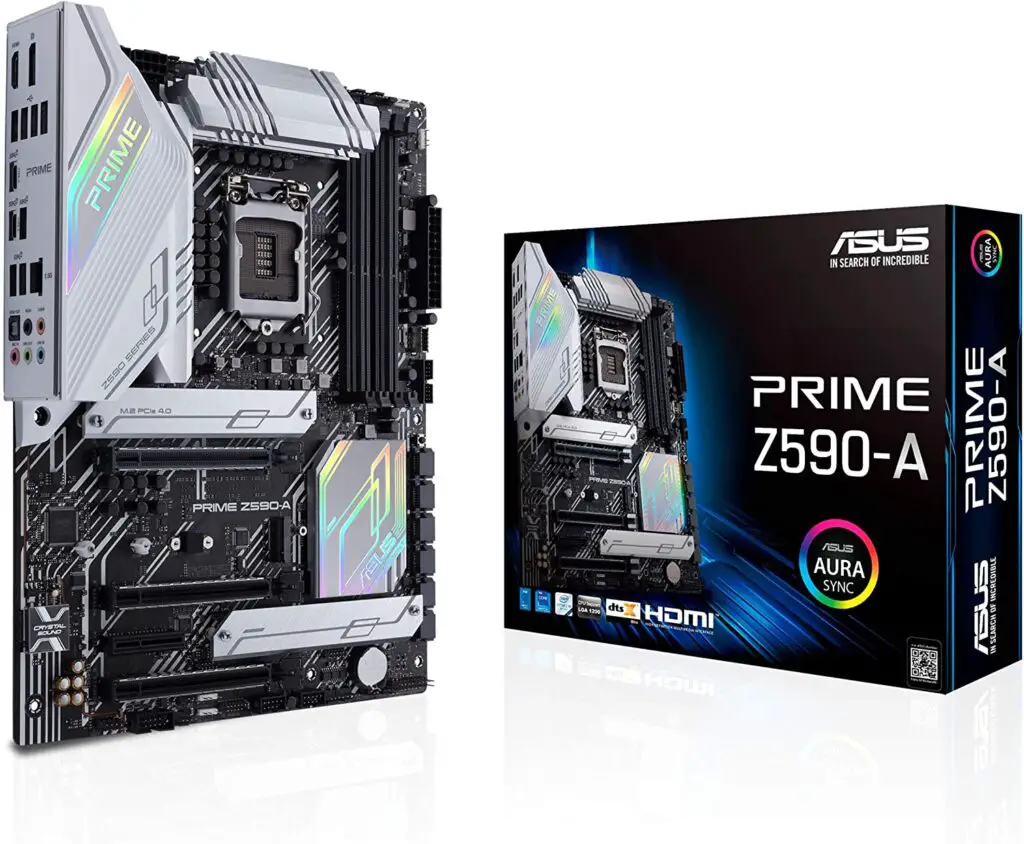 With all of this board's features, we can conclude that it is a slightly better option than the previously reviewed GIGABYTE Z590 AORUS Elite, with plus RGB LEDs and more VRM phases. So if you need more power than the AORUS one but are still on a budget, the ASUS Prime Z590-A is a sure bet. This is also an excellent option for those who require a completely white setup.
Pros
✓ Enlarged heatsinks
✓ 14+2 VRM phases
✓ Enough amount of RGB LEDs
✓ Budget Z590 option
Cons
✘ RAM slots without protection
✘ Only 2x M.2 with shield
This month, we began reviewing the best Z590 chipset motherboard choices for those looking for an affordable high-end model. After reading this article, you can compare it to this previous one: the GIGABYTE Z590 AORUS Elite board to see which one is a better board for you. And for today's review, we chose an ASUS budget board that will be put through its paces to see if it is really worth it. Check out the ASUS Prime Z590-A review below to find out if this is the best option for you or not.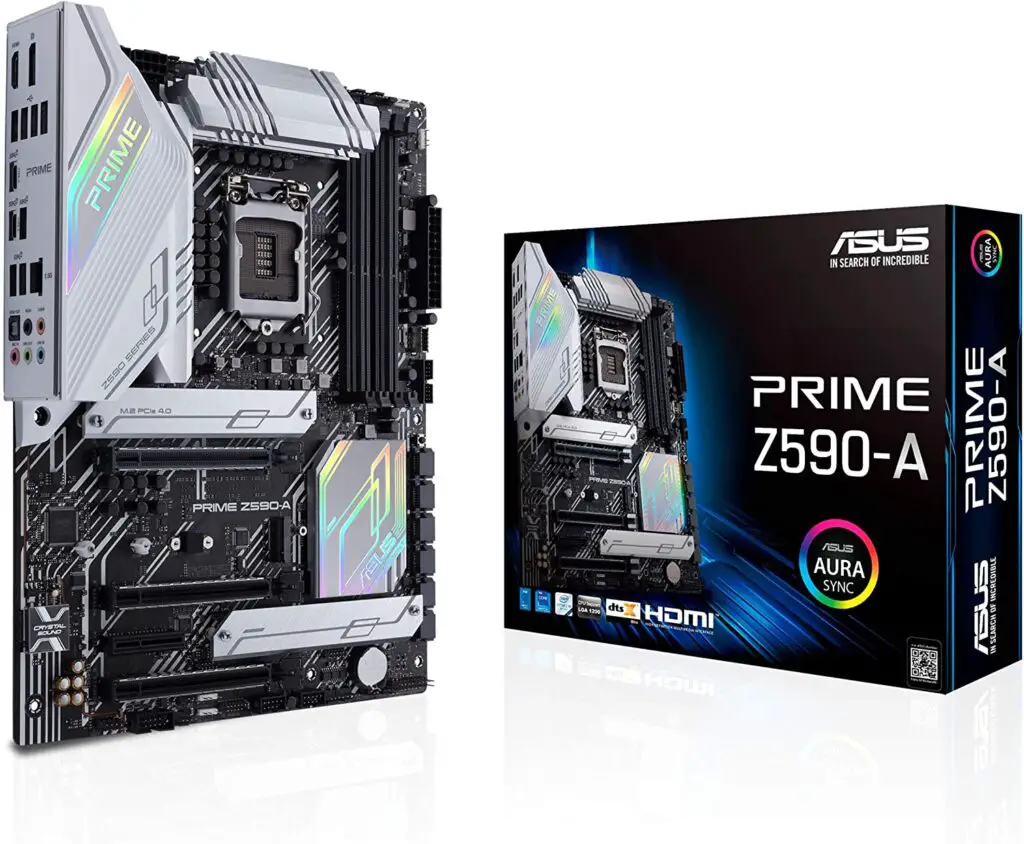 Design
Starting with the design of this board, we can see the white/gray color patterns all over it at first glance, indicating that this is definitely suggested for those building a fully white setup. Furthermore, this board has large heatsinks to keep the VRM circuit working at a lower temperature.
Both heatsinks have a brushed gray metallic finish. Besides, this board features RGB LEDs on the heatsink armor and under the chipset; the other colors, as seen in the picture below, are both iridescent metal. Speaking about dimensions, this is an ATX shaped board with dimensions of 14.44 x 14.44 x 11.81 inches.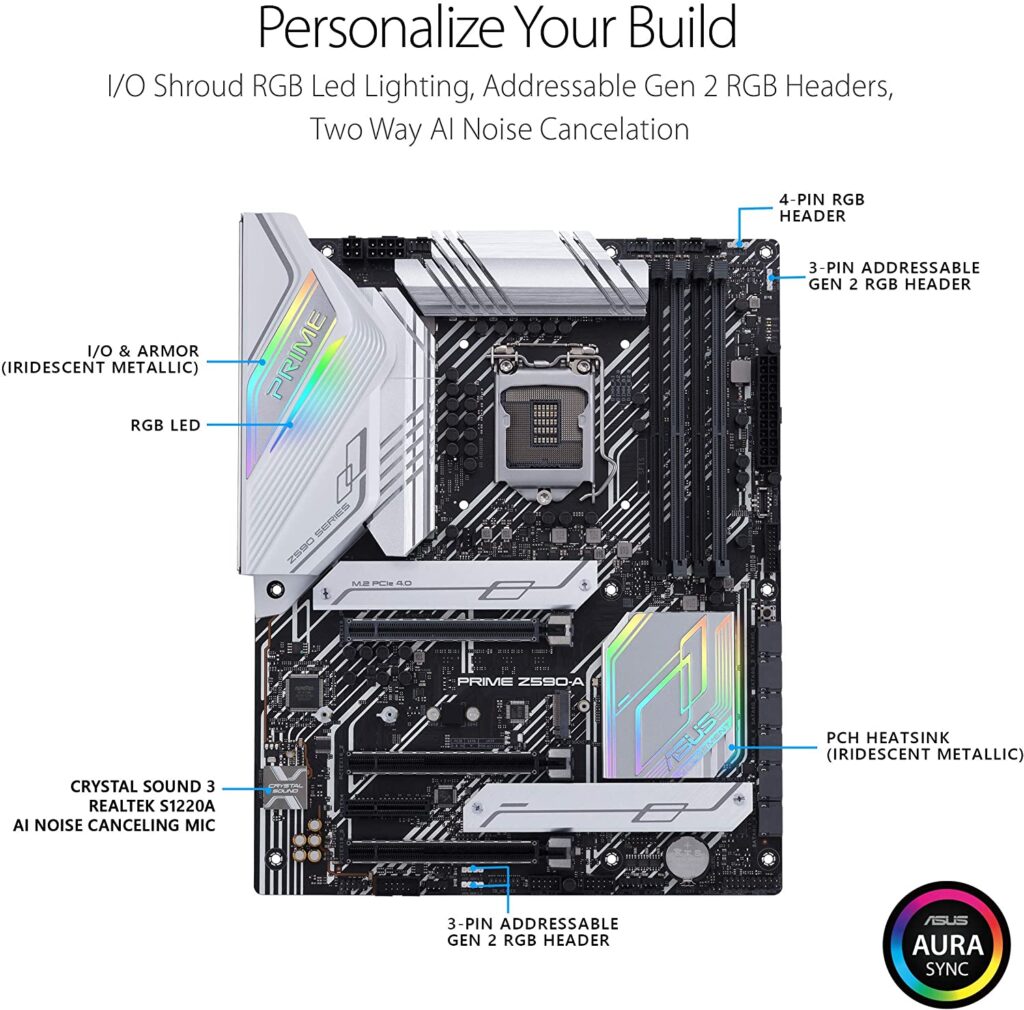 In general, we may conclude that this board has a good design for the price. While it lacks the fully shielded design seen on some other high-end models, its design is still quite solid and well-made. And, as previously said, if you're putting together a white setup, this should be on your list.
Socket and Chipset
Further, the ASUS Prime Z590-A features one of the strongest chipsets on the motherboard market by far, the Z590 chipset.
This chipset is likely to be the most chosen option by the enthusiasts due to the high overclocking margin viability together with the high number of memory overclocking edges.
Together with that, this board also comes with the LGA 1200 socket, which has support to the Comet lake (10th gen) as also Rocket lake (11th gen) intel processors, as soon as it launches.
Memory
It is important to note that by utilizing the Rocket Lake processor line, this board will be able to reach native speeds of 3200MHz and 5333MHz when overclocking your memory.
And, with a Comet Lake processor, your memory will be able to achieve native speeds of 2933MHz and overclocking speeds of 4266MHz.
Furthermore, this board has 4 x DDR4 DIMM slots with a maximum capacity of 128 GBs, as well as the Dual-channel feature and the XMP to aid in overclocking.
Lastly, unlike the previously reviewed Z590 AORUS ELITE, none of the memory slots have steel protection to ensure durability.
Overclock and Recommended Processors
Recommended CPUs
As previously stated, this board has the LGA 1200 socket, which supports Intel processors from the 10th to the 11th generation. So, for the time being, we can only choose one of the 10th gen CPUs for this board because the 11th gen line has yet to be released.
That being said, you now have a solid foundation from which to select the best CPU for this board. It all depends on your requirements; for example, if you require a multitasking CPU as well as a gaming CPU, you can consider the or the i7 10700KF. If you only need a gaming CPU, you can go with something like an i9-10850K or even the Core i9-10900K as a powerful option.
This is one of the best advantages of purchasing a high-end motherboard because you have a futureproof option as well as no power limitations at all when selecting the best CPU for you.
Overclock
Also, if you want to overclock your processors, this board has more VRM phases than the previously reviewed Z590 AORUS ELITE; just keep an eye on the CPU temperature, and you'll be fine. Indeed, this board is intended for those of you who need to hard overclock your CPUs, so if you do not want to overclock, you may want to look at some other cheap options, such as this one Aorus B460 Pro AC.
VRM and Connectors
Furthermore, the ASUS Prime Z590-A features 14+2 VRM phases to ensure that enough and filtered energy is delivered to your CPU, which is unquestionably one of the highest numbers available in this price range today.

Connectors
Power connectors and SSD
To give enough energy for this board, you'll need a 1 x 24-pin Main Power cable, 1 x 8-pin +12V Power cable, 1 x 4-pin +12V Power cable. As for SSD connectors, this board has 3 x M.2 slots (Key M), being 2 of them covered with steel protection.
Fan, RGB, SATA
Also, this board features a 1 x 4-pin CPU Fan header, 1 x 4-pin CPU OPT Fan header, 1 x 4-pin AIO Pump header, 3 x 4-pin Chassis Fan headers, 1x 4-pin VRM_HS Fan header, 1 x W_PUMP+ header.
As for RGB headers, it has 3 x AURA Addressable Gen 2 headers, 1 x AURA RGB headers, 1 x Clear CMOS header, 1 x COM Port header, 1 x Front Panel Audio header (AAFP), 1 x CPU Over Voltage jumper.
Last, about SATA connectors this board has 6 x SATA 6Gb/s ports.
PCI connectors
Lastly, due to the Z590 chipset, this board can run with the PCIe 4.0 IF you are using an 11th gen intel processor. It also features 3 x PCIe 4.0/3.0 x16 slots, each covered with stell protection. And 1 x PCIe 3.0 x4 slot.
Back panel
This board features the Pre-installed I/O shield to make easier your building. Looking at the back panel, we see:
1 x USB 3.2 Gen 2×2 port (1 x USB Type-C®)
4 x USB 3.2 Gen 2 ports (3 x Type-A, 1 x Type-C®)
4 x USB 2.0 ports (4 x Type-A)
1 x DisplayPort
1 x HDMI™ port
1 x Intel® I225-V 2.5Gb Ethernet port
5 x Audio jacks
1 x Optical S/PDIF out port
Final thoughts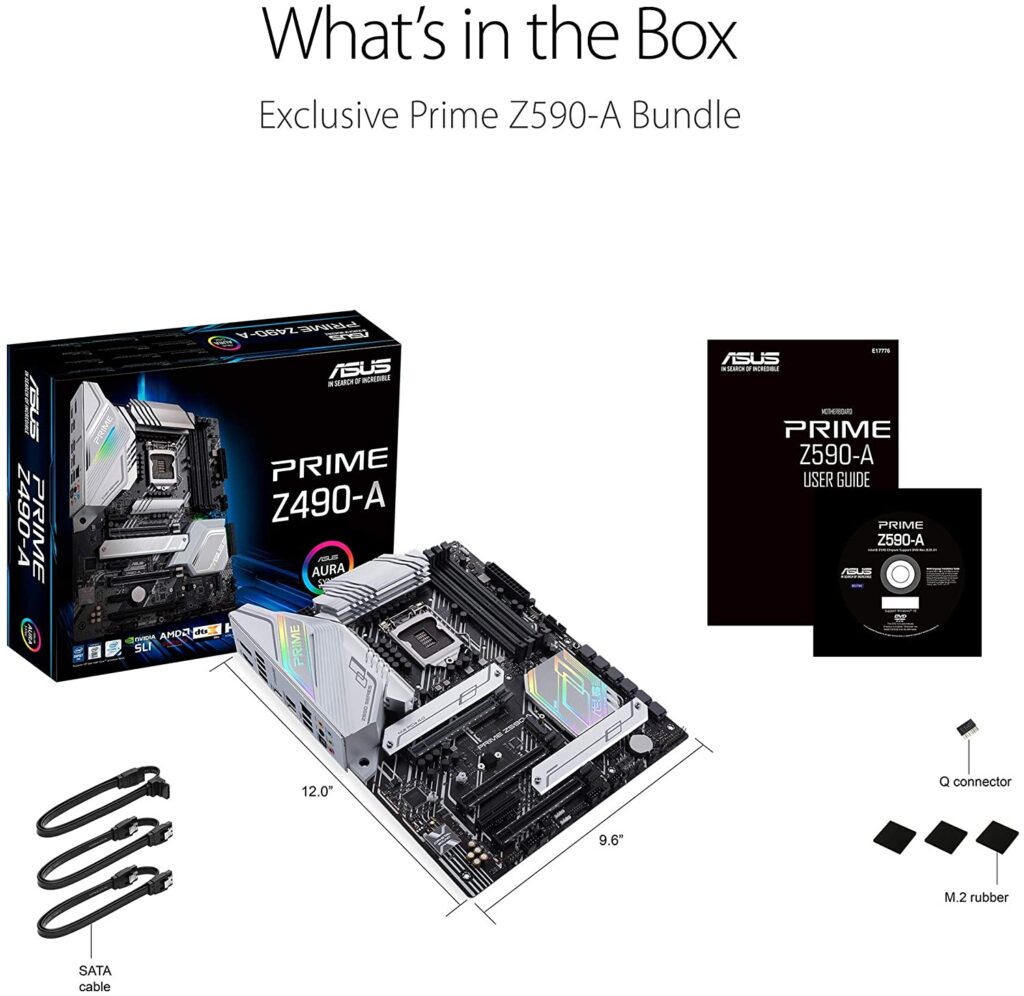 When to buy it
If you need a high-end Z590 white finished board, the ASUS PRIME Z590-A is without a doubt one of the most affordable options with this chipset. In terms of comparable boards, there is the previously reviewed Z590 AORUS Elite.
If you require more power than the Z590 AORUS Elite but do not want to spend much more money, this is an excellent choice.
When not to
If you do not want to overclock your CPU or even do not need all those features that the Z590 chipset can deliver to you, this is not a good option, in this case, you should check out some other similar option like the MSI MPG Z490 Gaming Plus or the Gigabyte H470 AORUS PRO AX.
You may like