Our Conclusion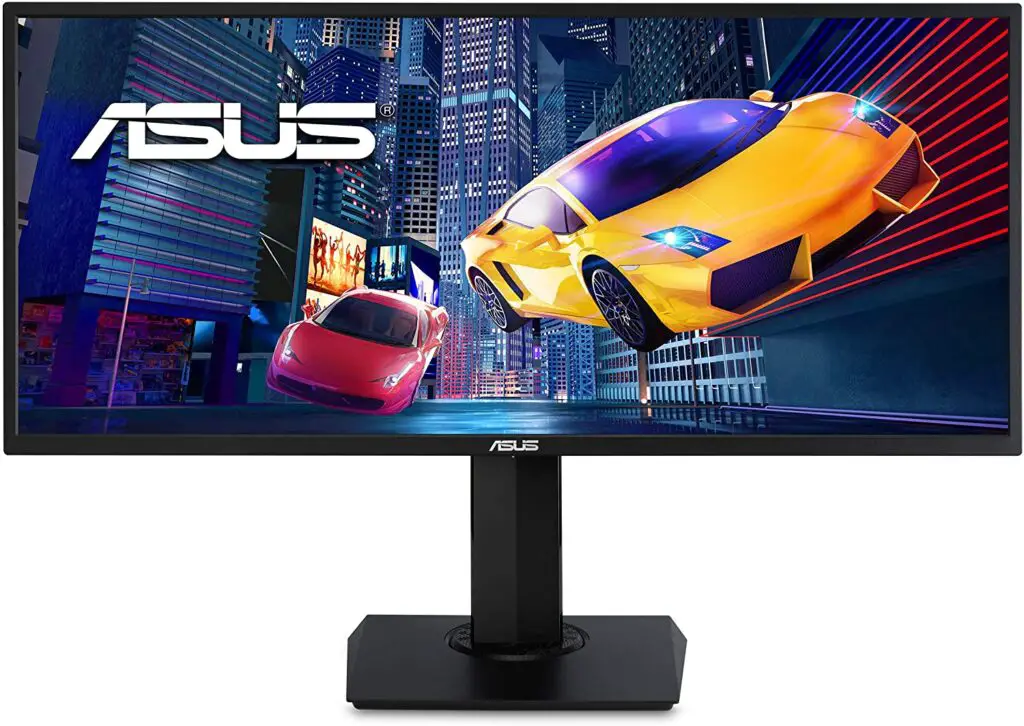 The ASUS VP348QGL is unquestionably one of the most cost-effective ultrawide displays available this year. It has some surprisingly good features for its current price range, such as HDR 10 support and a maximum brightness of 350cd/m2. All of these features combine to make this monitor a strong and affordable choice for homeworkers who also play casual games.
Pros
✓ HDR 10 support
✓ 2W Speakers and VESA support
✓ FreeSync support
✓ 75hz
✓ VA panel
Cons
✘ Lacks borderless bezels
✘ 4ms of response time
✘ No USB-C connector
Every year, the popularity of homeworking grows, and as a result, the popularity of ultrawide monitors rises as well.  Due to that,  some manufacturers are currently lowering prices in order to boost the sales trending around this monitor type. As you may know, ultrawide monitors usually are designed for those who need a huge space on the screen.
And so, when looking for the next reviewed display, we came across this Acer model, which had a high price last year but is now on sale for an unusually low price. So, without further ado, let's dive into the ASUS VP348QGL Review to see if it's worth the money.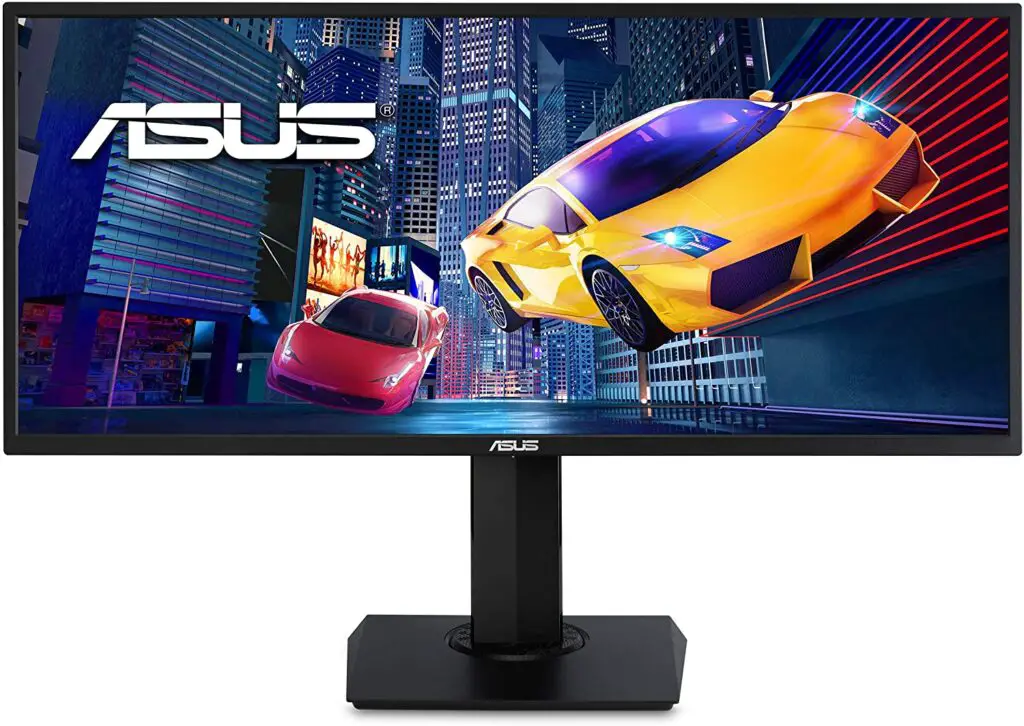 Design
Unfortunately, the ASUS VP348QGL lacks the borderless bezels that are popular in today's monitors. However, since this is a large display, it will not be in your sight way, so it is more of an aesthetic disadvantage. Furthermore, this squared stand reminds me of the ASUS VA27EHE, which is another good working monitor but not an ultrawide model.
In addition, the ASUS VP348QGL lacks a curved design, which may be a minor drawback for some. Besides, this is a 34-inch display, with precisely: 32.58 x 9.19 x 21.52 inches and 21 lbs with stand, that's right, 21 LBS, which means that besides measuring the space on your desk, you'll also have to confirm if it supports that much weight.
Indeed, its stand and stand support are one of the main reasons for this high weight. The ASUS VP348QGL's stand allows you to tilt, swivel and adjust the height.
Connectors
Furthermore, on the back, we have 2 out speakers of 2W each, VESA support, and 1x DisplayPort 1.4, 2 x HDMI(v2.0), 1x Earphone Jack.
Features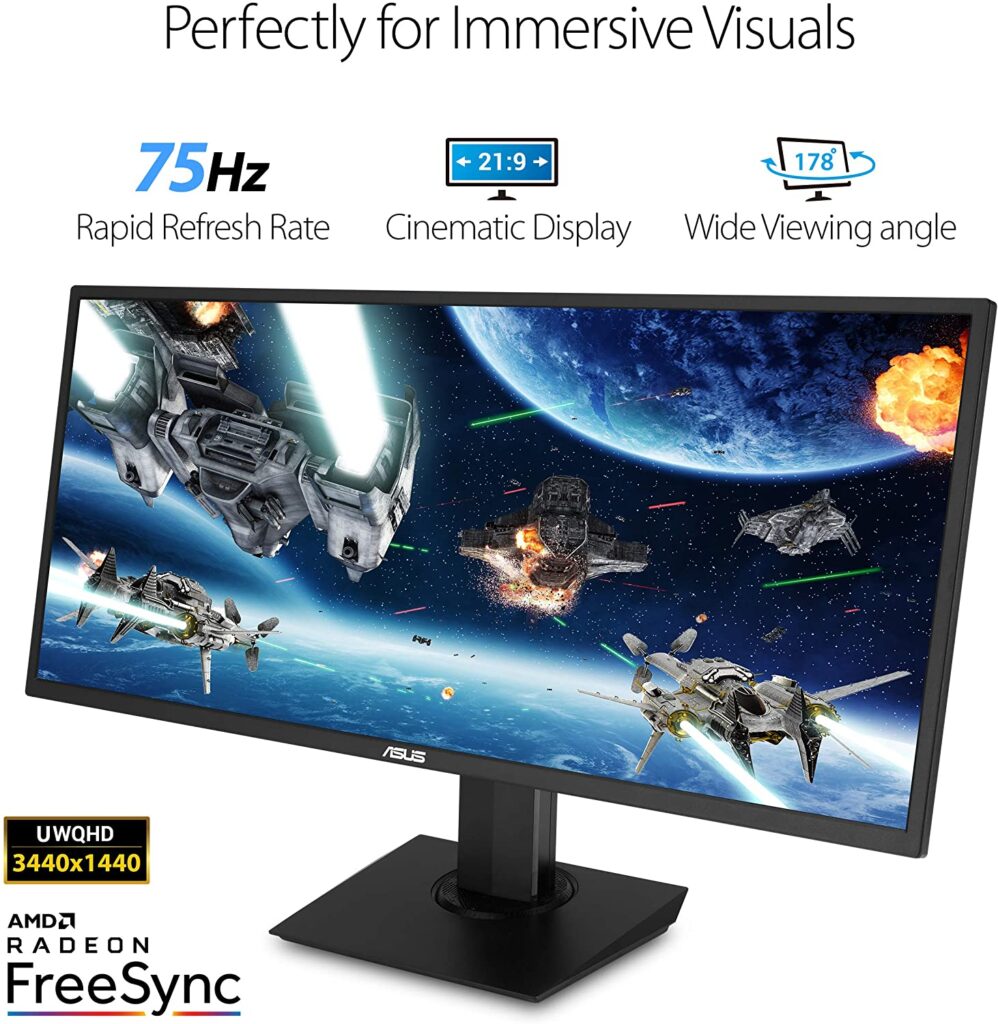 Panel type
Although the IPS panel has some advantages over the VA panel in terms of viewing angle and color accuracy, the VA, on the other hand, has a high contrast ratio margin. VA displays usually have a 3000:1 or 6000:1 contrast ratio, whereas IPS displays typically have a 1000:1.
When it comes to competitive gaming, though, this panel type is not the best to go with since its high latency combined with high refresh rates results in ghosting and motion blur. Also, some media professionals require a wide color gamut, and they usually prefer the IPS panel.
Overall, we can say that the VA panel is recommended for those who want a good contrast ratio and do not need the color gamut of the IPS and also prefer to avoid the IPS glowing.
Color gamut and Color accuracy
Besides, as mentioned, a VA display won't deliver you the higher color gamut. This one supports up to 1073.7M, which is a usual number around VA monitors. On the other hand, you have a 3000:1 contrast ratio.
Brightness
Also, this feature is one that really impressed me the first time I saw this number. It is really uncommon to see 350cd/㎡ in this price range monitor. Besides that, this total usually is found in high-end IPS panels. So we can say that this is another plus point to this monitor.
Refresh rate
Now, let's take a look at the listed gaming features. To begin with, this monitor has a refresh rate of 75Hz, which is not a gaming-friendly number but still a decent total for casual users.
Even so, if you need a monitor for work and play in your spare time, 144hz is not needed, contrary to popular belief. On the other hand, you have this balanced 100hz option: LG 35WN65C-B  but bear in mind that it's way expensive than the ASUS VP348QGL one.
Response time
Furthermore, this feature emphasizes the fact that this is not a gaming monitor. The ASUS VP348QGL does not meet the 1ms response time requirement for competitive gaming, with a response time of 4ms.
Image Overall Quality
The ASUS VP348QGL also features HDR 10 support, which will help to increase the image quality. Moreover, being a 35″ monitor with a 3440×1440 resolution, it ends up providing a good PPI number (0.2325mm) thus, leading to a sharp image with no visible pixels.
On the other hand, due to the VA panel, you have a higher contrast ratio and no IPS glowing found in IPS panels. With all that, this monitor is for sure advisable for professionals who need a wide space on the screen to work, but at the same time wants to play some casual games.
If you do require a good color gamut and image quality, you have some other options like the Dell P2421D. Either way, if you need a competitive gaming-focused monitor, you have the: LG Ultragear 24GL600F-B as an affordable option.
Final thoughts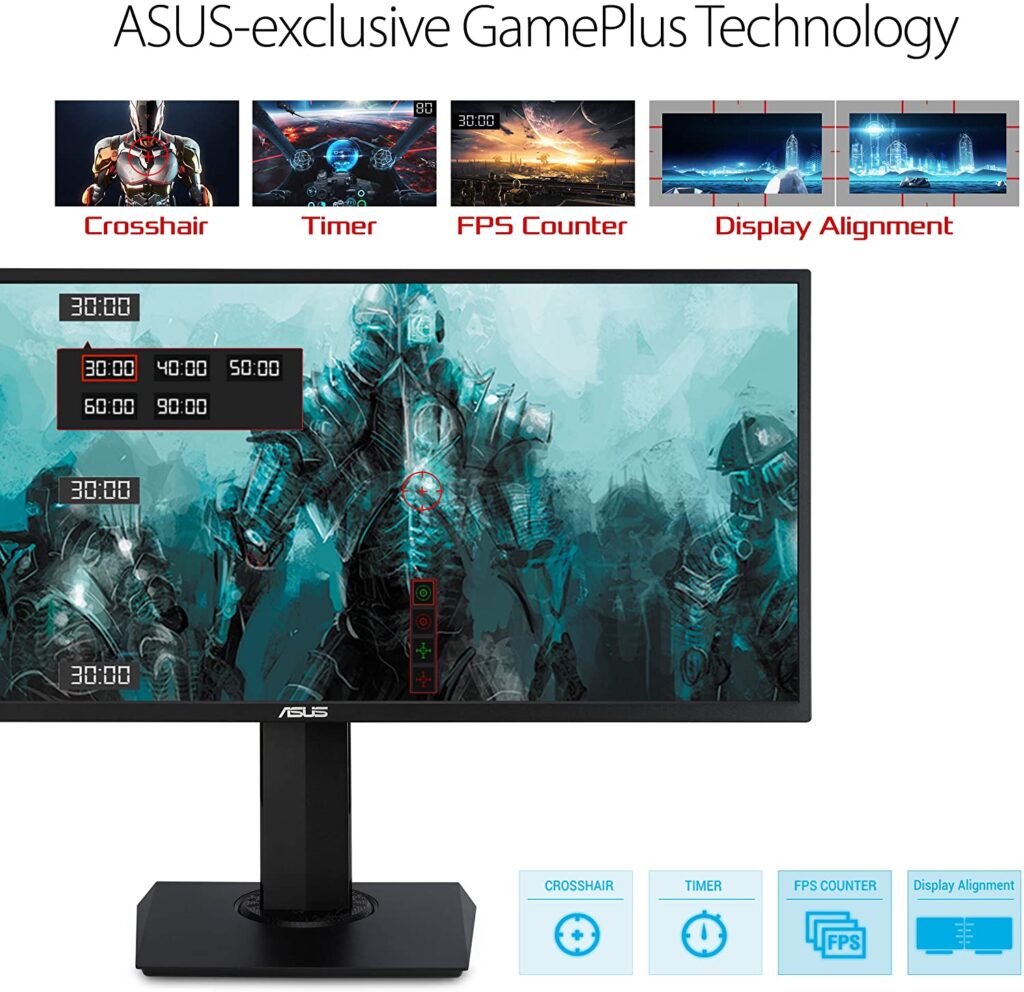 When to buy it
If you need a good and affordable monitor for working and playing casual games, the ASUS VP348QGL is indeed an ultrawide monitor that you may put on your list.
When not to
On the other hand, if you need the color accuracy that an IPS panel can provide you, you may check out some other options like the LG 24QP500-B or the LG 32QN600-B. Either way, if you need a competitive gaming monitor, you have the LG Ultragear 24GL600F-B or the LG 24GL650-B as good and cheap options. 
You may like