Our Conclusion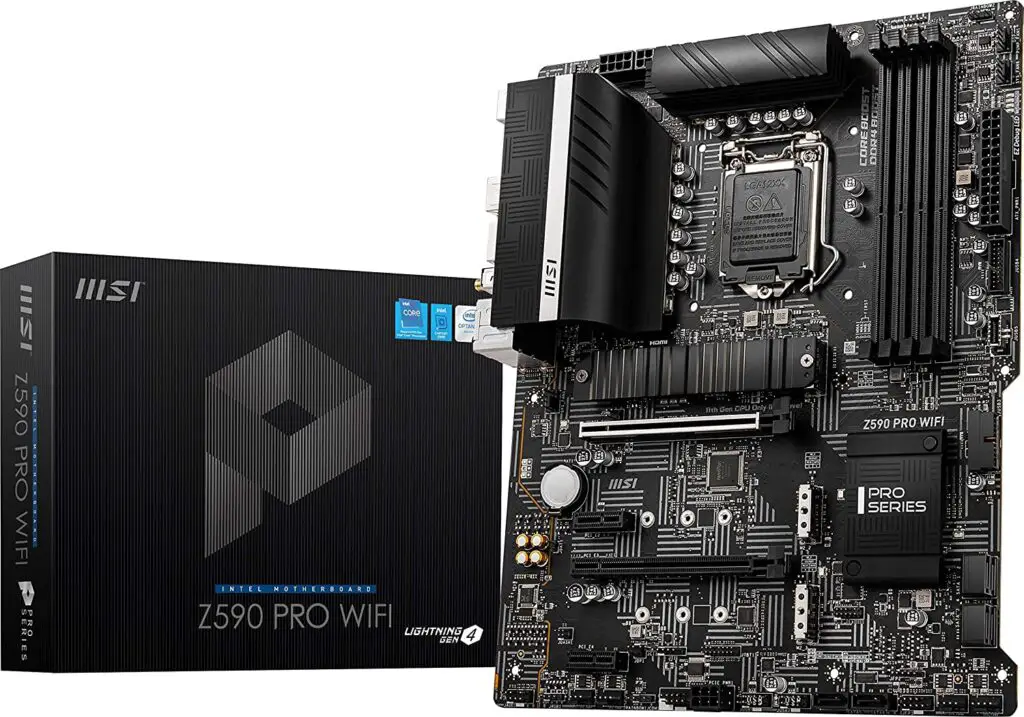 The MSI Z590 PRO WiFi is indeed one of the cheapest Z590 motherboards in 2021. However, in contrast, it lacks some features that might be important for some niche. Even so, you're going to have a futureproof motherboard, spending a relatively low price for a high-end model.
Pros
✓ Affordable
✓ 12-2-1 VRM phases
✓ Shielded PCIe x16 slot
✓ Shielded M.2 slot
✓ PCIe 4.0 support
Cons
✘ Require a 6-pin ATX PCIe to turn on
✘ Memory slots without steel shield
Nowadays, we're used to seeing high-end motherboards with an unmistakable design, like plenty of RGB LEDs and a fully shielded style. However, running from this pattern, the MSI PRO series usually has a simple layout but with good features in order to balance the prices, making it more affordable even for a high-end board.
And for today's post, we selected a 2021 release motherboard for you that is willing to spare a flashy design in exchange for good features and cheapness. Check out the MSI Z590 PRO WiFi Review below, and find out if this is a good option for you.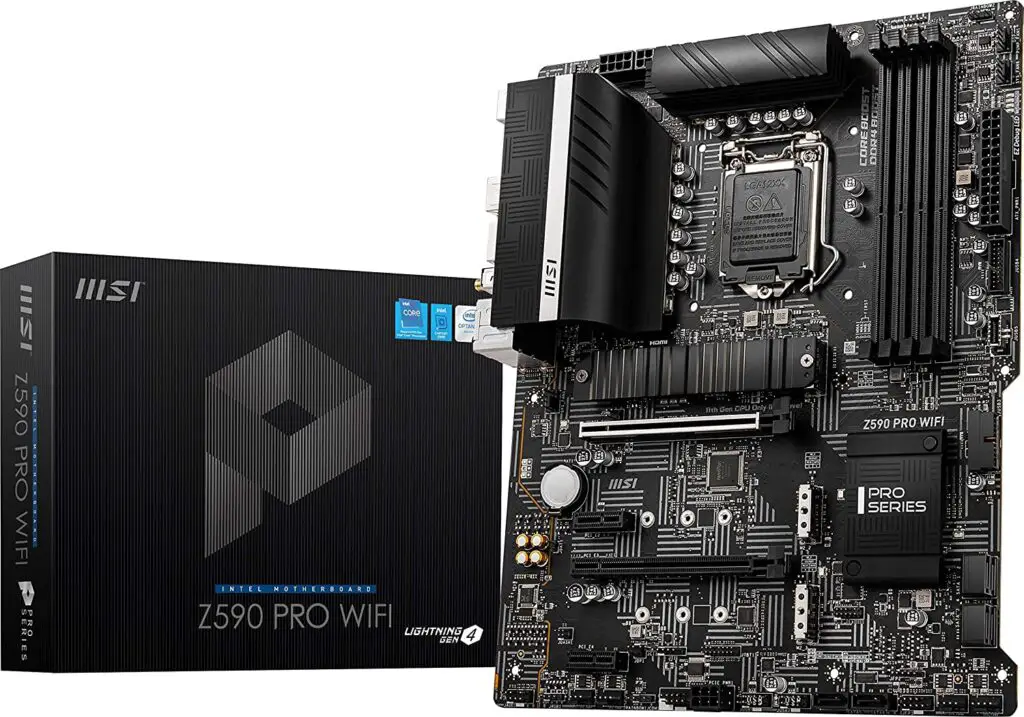 Design
As previously mentioned, if you are hoping to have a said "high-end" design with this board, you're going to be disappointed. It has a clean style, entirely in black with some white stripe patterns around the board.
However, its not quite enlarged heatsinks left it suspicious. In contrast, it seems to hold a rather good number of VRM phases at first glance, which we'll confirm further. And that's pretty much of it concerning design. Note that this is an ATX board with 12 x 9.6 x 2.5 inches and 3.00 lbs.
Socket and Chipset
Furthermore, the Z590 chipset on this board is one of the most strong on the Intel motherboard market right now. This chipset is known for supporting native PCIe 4.0 when using Intel Rocket Lake CPUs (11th gen), which have yet to be released, then making the Z590 a good futureproofed chipset choice. 
It also enhances the overclocking margins becoming an excellent choice for enthusiasts.  The MSI Z590 PRO WiFi, on the other hand, uses the LGA 1200 socket, which supports Intel's 10th and 11th generation processors. That means you won't have a lot of CPU options until the Rocket Lake CPUs are released.
Memory
In addition, the MSI Z590 PRO WiFi has four DDR4 memory slots with Dual-Channel support, each supporting up to 32 GB, for a total of 128 GB. Furthermore, when paired with a Rocket Lake CPU, this board can cross 5333 MHz thanks to the Z590 chipset.
Aside from that, it has XMP support to assist you with overclocking. Unfortunately, the memory slots on this board do not have a steel cover, which would improve durability.
Overclock and Recommended Processors
Recommended CPUs
As previously said, this board features the LGA 1200, which supports Intel's 10th and 11th generation processors. However, this isn't the only factor to consider when selecting the best CPU for this motherboard. Despite being considered a high-end motherboard, the MSI Z590 PRO WiFi does have some drawbacks due to its low price. 
If you need a board for hard overclocking, my recommendation is to go with a CPU that consumes less than 125W, which might be a little too much for this board's restricted VRM phases. If you don't need an overclocking motherboard, on the other hand, any Rocket lake or Comet lake CPU will suffice.
Overclock
Unfortunately, this board does not have the best cooling system available on high-end boards right now, so use caution when overclocking your CPUs on it.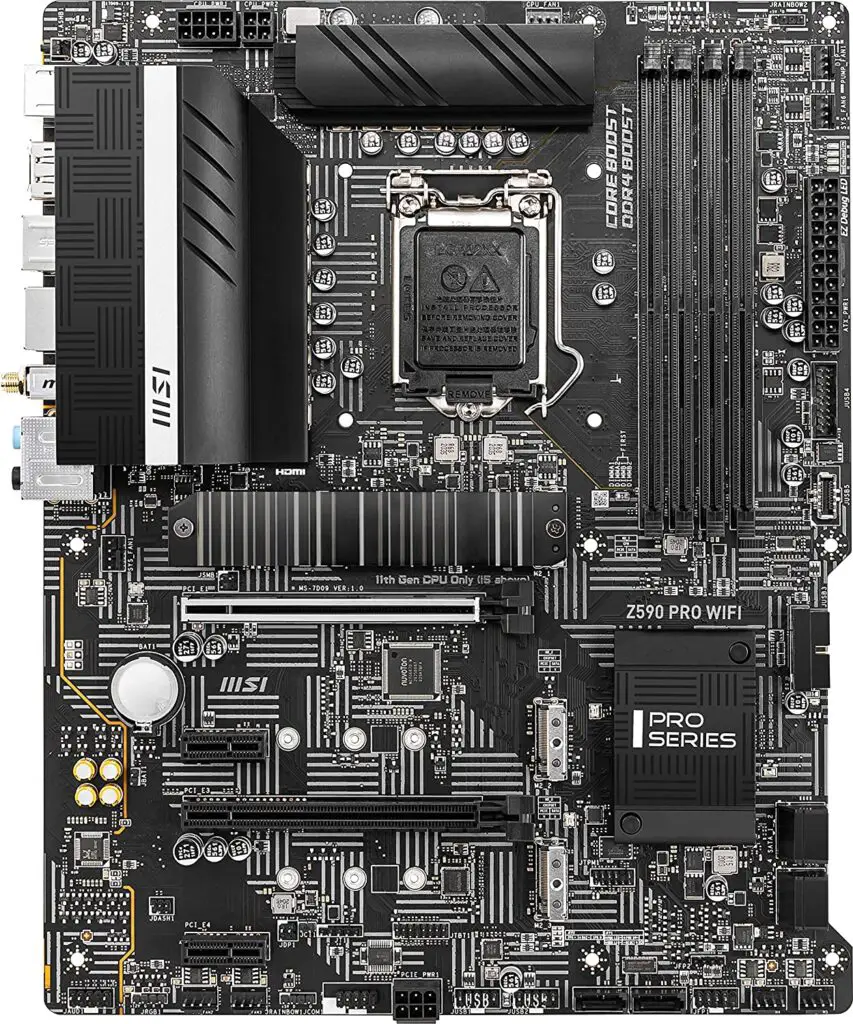 VRM and Connectors
In addition, this board also holds 12 + 2 +1 VRM phases delivering your CPU enough and filtred energy, which is a good number for this price range.
Connectors
Power connectors and SSD
You're going to need a 1x 24-pin ATX main power connector, 1x 8-pin ATX 12V power connector, and a 1x 4-pin ATX 12V power connector to give sufficient energy to your motherboard. Besides that, this board also needs you to connect the 6-pin ATX PCIe power connector to turn it on, which is a little odd thing to see and might be a downside for some.
Besides, you have 3x M.2 slots (M-Key), being only the first one close to the PCIe x16 slot, with a steel shield, in order to increase durability and avoid the heat coming from the graphics card.
Fan, RGB, SATA
Also, we have a 1x 4-pin CPU fan connector, 1x 4-pin water-pump fan connector, 6x 4-pin system fan connectors, which might not be a good number for some. Further, this board features 6x SATA 6Gb/s ports.
PCI connectors
Lastly, concerning PCI connectors, this board has 2x PCIe x16 slots from the CPU, being the first one covered in a steel shield and with support to PCIe 4.0. 2x PCIe 3.0 x1 slots from the chipset with support to PCIe 3.0.
Back panel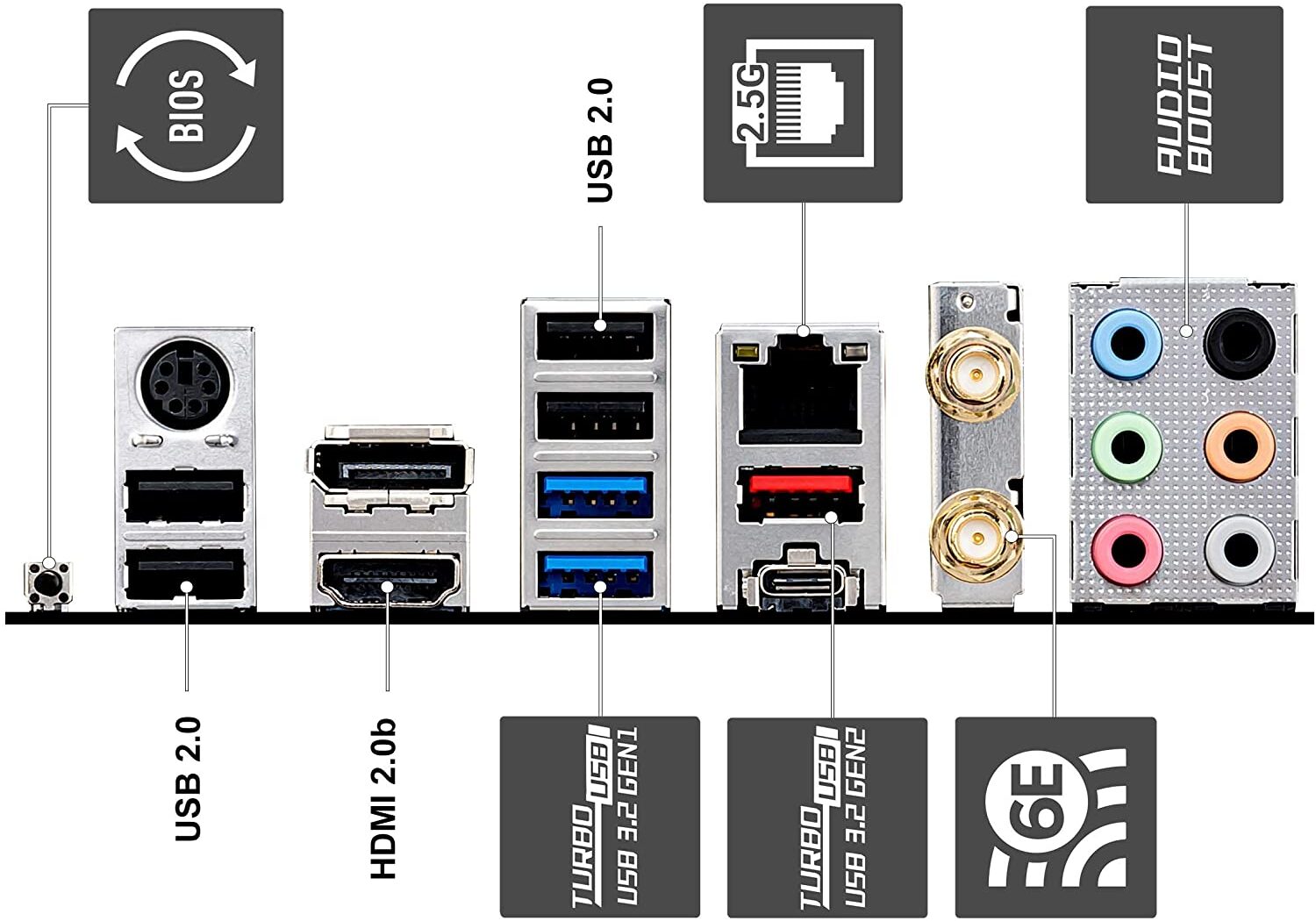 Unfortunately, in order to lower the final prices, the MSI opted to not build this board with the Pre-installed I/O plate. Moreover, looking at the back panel, we see:
Keyboard / Mouse
DisplayPort
USB 2.0
LAN port
WIFI / Bluetooth
Audio connector
Flash BIOS Button
USB 2.0
HDMI
USB 3.2 Gen 1 5Gbps Type-A
USB 3.2 Gen 2×2 20Gbps Type-C
USB 3.2 Gen 2 10Gbps Type-A
Note that this board has built-in wifi and comes with a 2x antenna if you need to increase signal reach. It also has the Q-flash button, which allows you to install the bios with only a flash drive (You can check further about how to do it here on this post). Besides, it features an HDMI port, which, in case you don't use a Graphics card, you can plug your monitor into it.
Final thoughts
When to buy it
If you don't need all of the features that this board lacks, you have in the MSI Z590 PRO WiFi model, one of the cheapest boards you can get with the Z590 chipset.
When not to
On the other hand, if you do need a better cooling system in a motherboard, you can check out the new MSI MPG Z590 Gaming Force board with its 16+1+1 VRM phases and a flashy design.
You may like