Our Conclusion
The MSI MAG Z590 Tomahawk WiFi has, without a doubt, one of the best cooling systems you can find on a board around this price range. Indeed this is another great 2021 MSI release. Even so, if you need more power than this, you can check out this recently reviewed motherboard: MSI MPG Z590 Gaming Force.
Pros
✓ Enlarged heatsink
✓ Budget
✓ RGB LED under the chipset
✓ All SSD slots shielded
✓ built-in wifi and bluetooth
Cons
✘ RAM slots witouth protection
✘ Only 1x PCIe with steel shield
The MSI manufacturer amazes everyone with those new 2021 motherboard releases. We've already reviewed the MSI Z590 PRO WiFi that may be one of the cheapest Z590 boards of this year.
And for today's post, we have this other brand new MSI Tomahawk board with some low prices that we'll review and see if it is another good option and who is its target buyers.
So, without further ado, check out today the MSI MAG Z590 Tomahawk WiFi Review and find out if this is a suitable option to consider affording currently.
Design
Already looking at the box, we can notice this rusted metal design that seems like they tried to refer to the board's style. By the way, when taking this board out of the box, we can notice that it has not a dark gray finish on the cooling system as presented in the digital images. Instead, it has more like a brushed light gray metallic texture, which tries to simulate rusted metal. 
Besides, it has pretty enlarged heatsinks fairing, which looks positive when it comes to cooling system reliability. It has only RGB LED under the chipset, which can be a drawback for some that want a flashy board. Lastly, the MSI MAG Z590 Tomahawk WiFi is an ATX motherboard, with 12 x 9.6 x 2.5 inches and 4.00 lbs.
Socket and Chipset
Further, this board features one of the strongest chipsets on the intel board market nowadays: the Z590. This chipset is usually chosen by enthusiasts due to its boost in the board's overclocking threshold.
Aside from that, it also supports native PCIe 4.0 when using a Rocket lake intel processor. However, in contrast to the good features, there is also an increase in the final board prices. 
Besides, the MSI MAG Z590 Tomahawk WiFi is built with the LGA 1200 chipset, which by itself supports intel 10th and 11th gen. So, as the Rocket lake CPUs are yet to be released, you don't have a wide variety of choices by now. Overall, by choosing both the Z590 chipset and the LGA 1200 socket, you have an extremely futureproof combination.
Memory
Also, the Z590 chipset allows the memory of this board to reach up to 5333MHz (with Rocket lake CPU) when overclocking. This board features 4x DDR4 memory slots, with dual-channel and XMP support, each supporting up to 32GB, being a 128GB total.
Besides that, unfortunately, this board doesn't have a steel shield commonly find in high-end motherboards to increase durability.
Overclock and Recommended Processors
Recommended CPUs
Luckily this board has a pretty good cooling system with plenty of VRM phases, meaning that you won't have limitations while choosing the right CPU for this board. Just remember picking one from the 10th and the 11th intel generation, and you'll be good.
As for a recommendation, you have the i9-10900F as a strong gaming dedicated processor and the i7-10700KF as a balanced choice between gaming performance and processing power.
Overclock
This board has not one of the coolest temperatures you can reach with a high-end motherboard, but still, it is not one of the worse. Like the previously reviewed was a high-end board with a mid-end VRM cooling, this one is more like a high-end board with a mid/high-end VRM circuit. 
However, if you need more performance than this one can provide, you have the MSI MPG Z590 Gaming Force with its 16+1+1 phases.
Speaking of which, this board has 14 + 2 +1 VRM phases, which is absolutely a high-end board number, but it is not one of the highest. Even so, if you keep an eye on the temperatures, you won't have any overheating issues.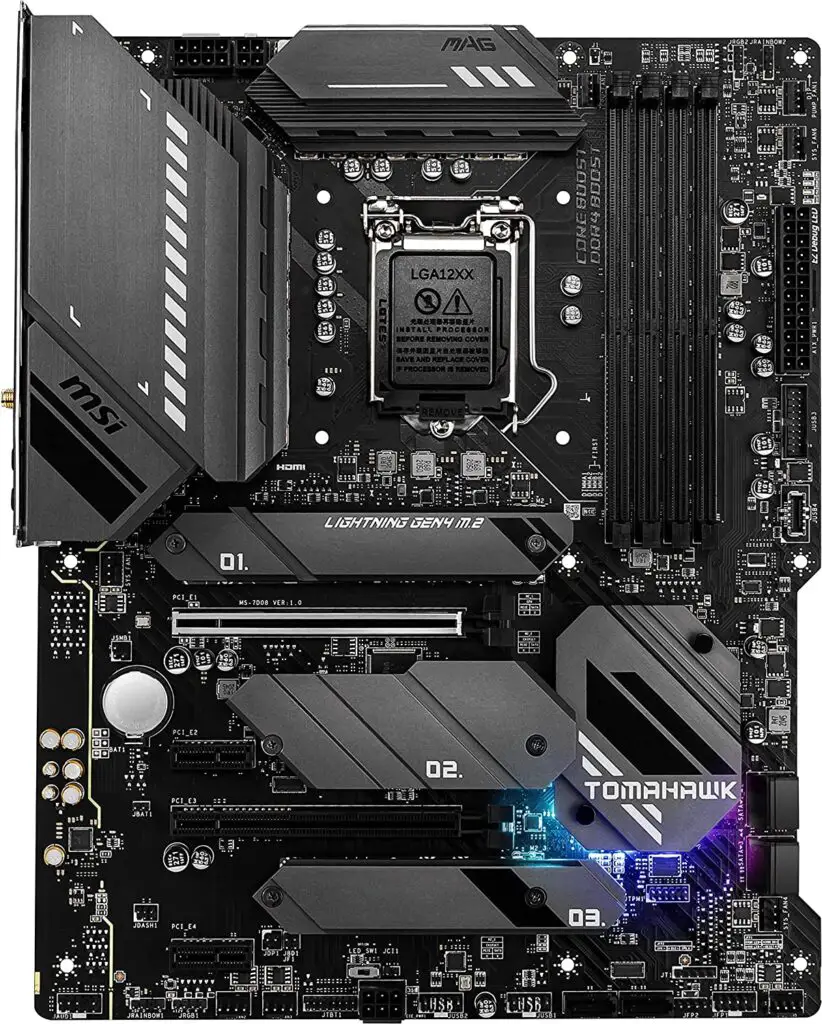 VRM and Connectors
Connectors
Power connectors and SSD
You're going to need a 1x 24-pin ATX main power connector, 1x 8-pin ATX 12V power connector, 1x 4-pin ATX 12V power connector, and a 1x 6-pin PCIe power connector in order to give enough energy to your motherboard.
Besides, the MSI MAG Z590 Tomahawk WiFi features 3x M.2 slots (M-Key), each with shield protection to maintain it at low temperatures. Note that it is only the 01 slot from the CPU that features the PCIe 4.0 support. While the other two, from the chipset, only have PCIe 3.0 support.
Fan, RGB, SATA
Further, this board has 1x 4-pin water-pump fan connector, 6x 4-pin system fan connectors, 1x Front panel audio connector, 2x System panel connectors, 1x Chassis Intrusion connector, 1x TPM module connector, 1x Clear CMOS jumper, 1x TBT connector (supports RTD3), 1x Tuning Controller connector.
PCI connectors
Lastly, this board features 2x PCIe x16 slots being the first one covered in steel in order to enhance durability and to hold the huge graphics cards. This specific slot is again the only one that supports the PCIe 4.0 feature. Moreover, this board also has 2x PCIe 3.0 x1 slots.
Back panel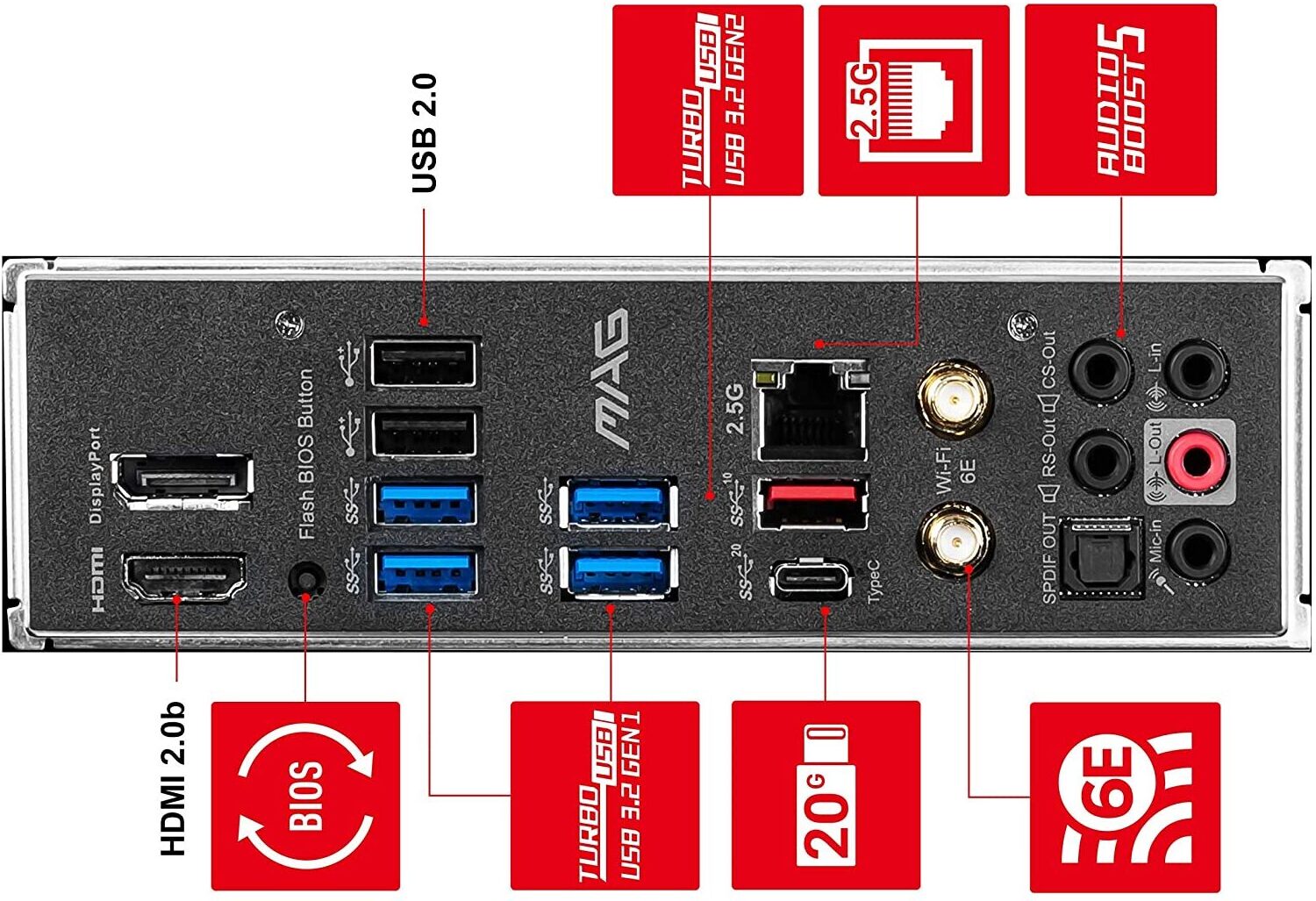 The MSI decided to add the Pre-installed I/O plate to the MSI MAG Z590 Tomahawk WiFi board, making the installation way easier. Besides that, looking at the back panel, we see:  
DisplayPort
USB 2.0
USB 3.2 Gen 1 5Gbps Type-A
2.5G LAN Port
Wi-Fi / Bluetooth Antenna
HD Audio Connectors
HDMI
Flash BIOS Button
USB 3.2 Gen 1 5Gbps Type-A
USB 3.2 Gen 2 10Gbps Type-A
USB 3.2 Gen 2×2 20Gbps Type-C
Optical S/PDIF OUT
Note that this board has the Q-flash button, which allows you to update your board bios with only a flash drive (You can see further details on how to do it here). Also, as with every other WIFI MSI motherboard, this one has built-in wifi, and you also have a 2x antenna in the box. By the way, this board also comes with a USB drive, 2x SATA cable, and M.2 screws.
Final thoughts
When to buy it
If you want a good cooling system on the $250 budget, the MSI MAG Z590 Tomahawk WiFi won't disappoint you for sure.
When not to
However, if you need a cheaper high-end option, you have the GIGABYTE Z590 UD AC Review and the MSI Z590 PRO WiFi as pretty good options.
You may like