Our Conclusion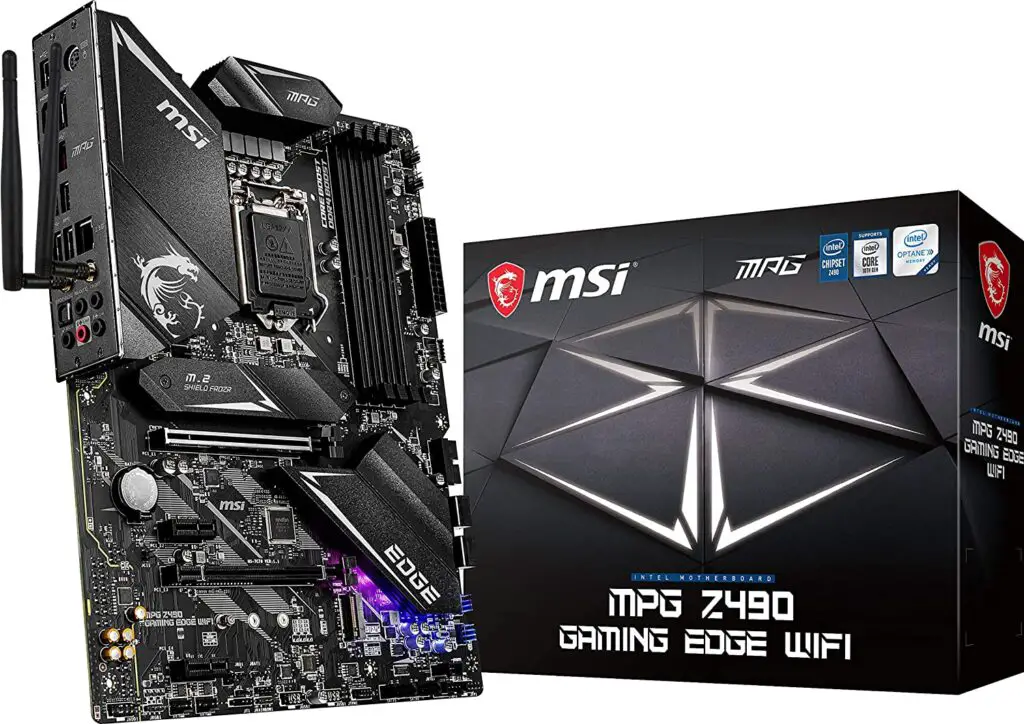 The MSI Z490 Gaming Edge Wifi has one of the best features currently available on the Z490 chipset market. However, its features do not compensate for its current prices, which are nearly identical to those of the MSI Z590 PRO WiFi. So, before you spend your money on this model, compare it to the MSI Z590 PRO WiFi to see which one is the better fit for you right now.
Pros
✓ Up to 5000Mhz Memory OC
✓ Built-in wifi
✓ RGB LED under the chipset
✓ Enlarged heatsinks
Cons
✘ Only 2x M.2 slots
✘ Priced for a Z490 board
Those who require a balanced Intel motherboard with good features at a low price usually opt for the Z490 chipset. One of the key reasons why people prefer the Z490 to the Z590 is its affordability. 
However, when it comes to transitioning from Z490 to Z590 costs, the board chosen for today's review has almost limit prices.
We can notice this in our previous MSI Z590 PRO WiFi review, which is a Z590 board costing about $200, turning into one of the most affordable Z590 boards on the market.
And for today's review, we'll look at the MSI Z490 Gaming Edge Wifi to see if it's a worthwhile purchase, even featuring the Z490 chipset. Follow below.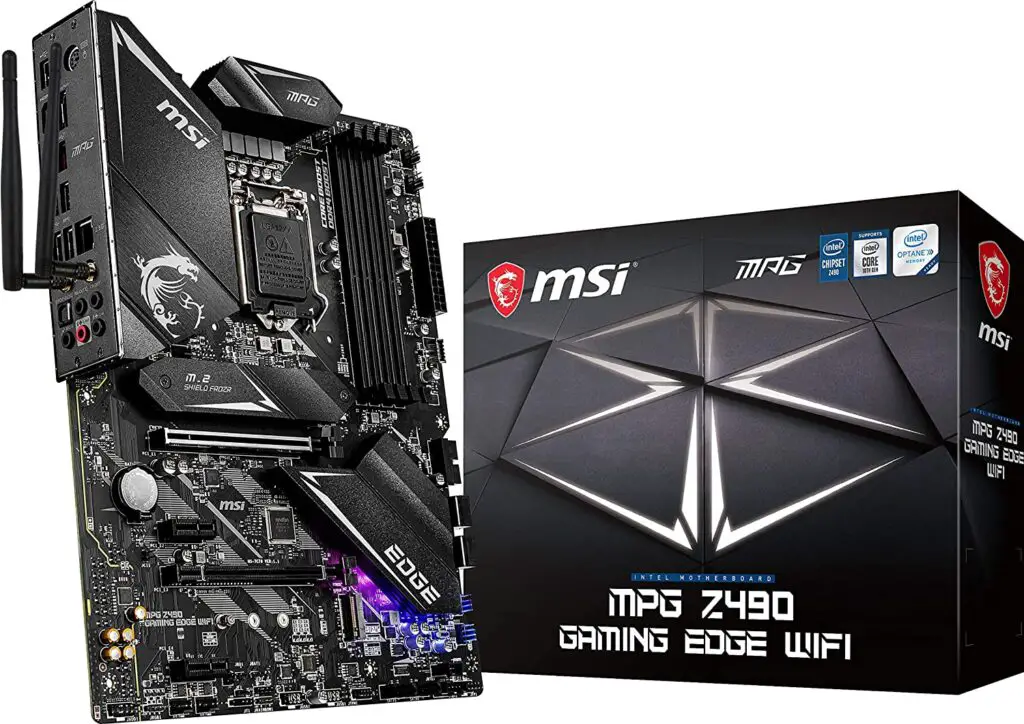 Design
Here we have another common and overused board aesthetics, this entirely in black style and only an RGB LED under the chipset. We can't blame MSI, though, as this usual board style is selling well, and most people usually prefer a solid layout like this.
Unfortunately, it looks like all of the innovative ideas from MSI with different colors and finishes are essentially dedicated to high-priced motherboards like the MSI MPG Z590 Gaming Force.
The MSI Z490 Gaming Edge Wifi has the ATX form with 12 x 9.6 x 2 inches and 4 pounds. Overall we can say that this board's architecture has nothing innovative, but you still have one RGB LED, so you won't be left empty-handed, at least.
Socket and Chipset
As previously mentioned, the Z490 chipset is a good compromise between cheap prices but fewer features than the Z590. Nonetheless, the Z490 chipset is still regarded as a high-end chipset, targeting enthusiasts.
This chipset improves overclocking margins as well as overall motherboard connector speeds. The only drawback is that it does not support PCIe 4.0, which is standard on Z590 boards.
Aside from that, this board has the LGA 1200 socket, which supports Intel processors from the 10th and 11th generations, making it a perfect long-term investment as the Rocket lake processors have yet to be released.
Memory
This board also includes 4x DIMM slots with a total capacity of 128GB, dual-channel support, and XMP (Extreme Memory Profile) support. Furthermore, the Z590 allows this board memory to be overclocked to 5000MHz, which is a fantastic number that will satisfy the needs of nearly all buyers. MSI, on the other hand, chose not to provide steel safety on the memory slots, presumably to keep the final costs down.
Overclock and Recommended Processors
Despite the fact that this is a high-end motherboard, the short VRM phases cause some concerns when selecting the best CPU option. If you don't want to overclock your CPU, it's not a good idea to spend this much money on a motherboard, as you may already know.
Some versions, such as the Gigabyte H470 AORUS PRO AX, and the Aorus B460 Pro AC, are better suited to casual users. 
However, due to the possibility of circuit overheating depending on the amount of overclocking, I would not suggest a processor with 125W for this board. If you need more power to use 125W CPUs and hard overclock them, you should look into the ASUS Prime Z590-A.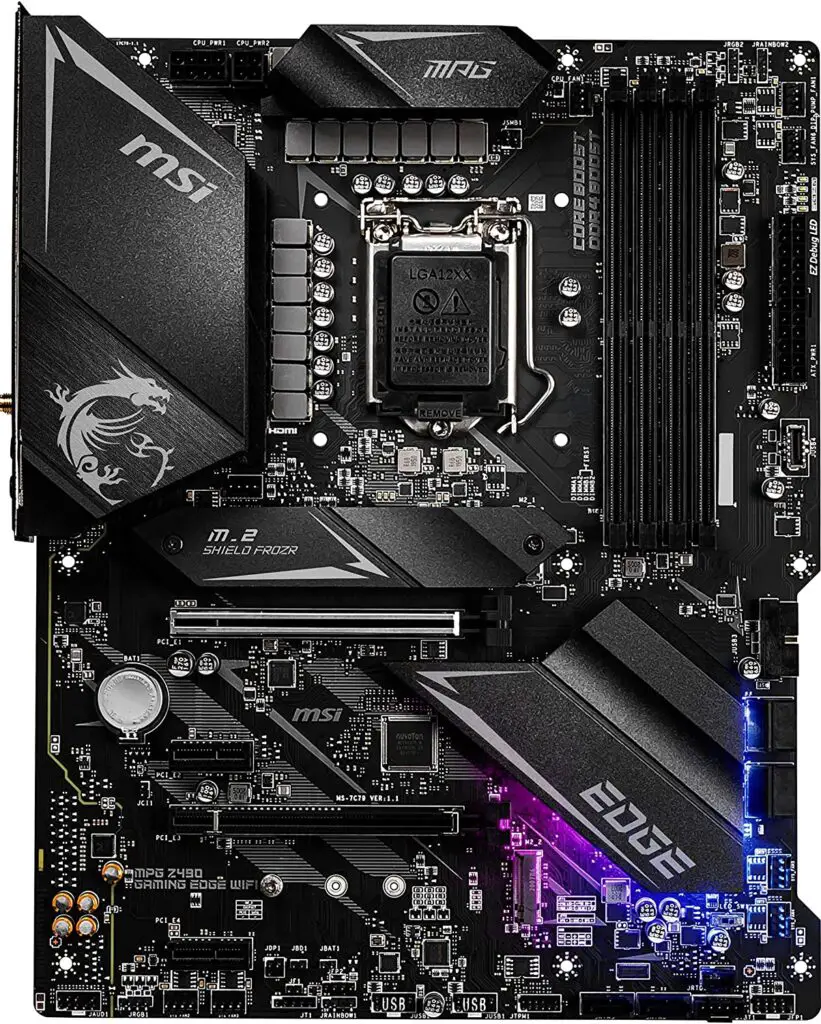 VRM and Connectors
By the way, as previously said, this board has a similar price to the MSI Z590 PRO WiFi board. Aside from that, both have 12+1+1 VRM phases, meaning that you can afford a Z590 board with the same prices like this one and have practically the same features. So, unfortunately, this is a huge drawback for this board.
Connectors
Power connectors and SSD
In order to give enough power to this board turn on, you're going to need a 24-pin ATX main power connector, 8-pin ATX 12V power connector, and a 4-pin ATX 12V power connector.
Besides that, you also have only 2x SSD M.2 slots, being the first one featured with a shield to maintain your SSD running at lower temperatures.
Fan, RGB, SATA
Besides that, this board also features a 4-pin CPU fan connector 1x 4-pin water pump connector, 6x 4-pin system fan connectors, 1x front panel audio connector, 2x system panel connectors, 1x chassis intrusion connector, 1x Clear CMOS jumper, 2x 4-pin RGB LED connectors, 2x 3-pin RAINBOW LED connectors. About SATA connectors, the MSI Z490 Gaming Edge Wifi's get 6x SATA 6Gb/s connectors.
PCI connectors
Lastly, this board holds 2x PCIe 3.0 (from CPU) x16 slots being only the first one covered in a steel shield and 2x PCIe (from chipset) x1 slots.
Back panel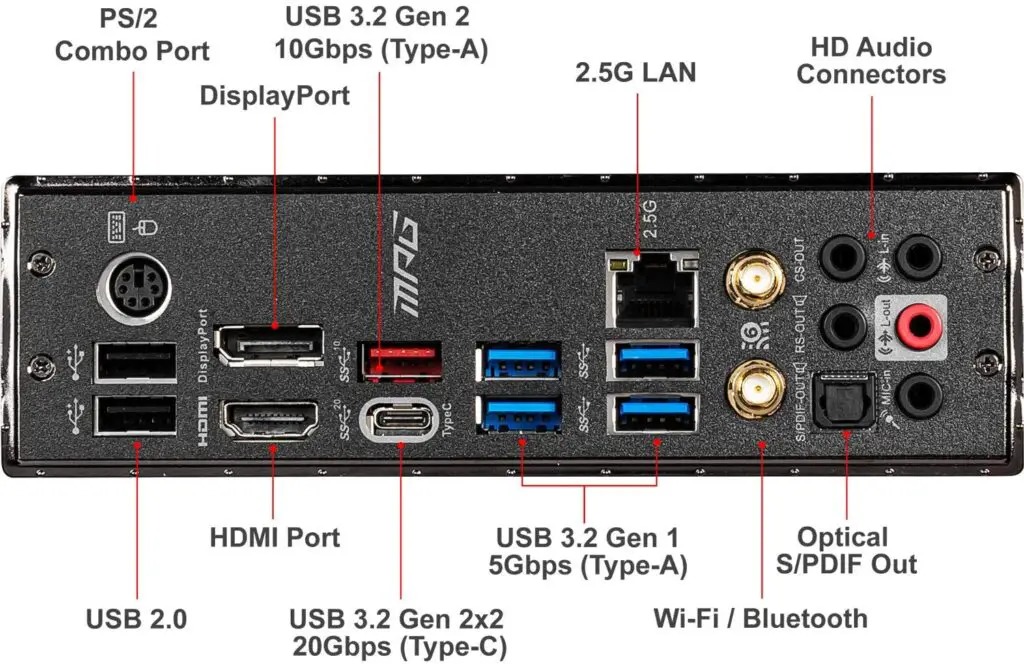 The MSI Z490 Gaming Edge Wifi has built-in wifi as every other MSI WIFI model. It also has a pre-installed I/O shield making your installation easier and giving a charm to the motherboard visual.
Unfortunately, it does not have the Q-flash button on the back panel, which is used to update the board with only a flash drive. That said, let's take a look at what we have here on the back panel.
PS/2 Combo Port
DisplayPort
USB 3.2 Gen 2 10Gbps (Type-A)
LAN Port
HD Audio Connectors
USB 2.0
HDMI Port
USB 3.2 Gen 2×2 20Gbps (Type-C)
USB 3.2 Gen 1 5Gbps (Type-A)
Wi-Fi / Bluetooth
Optical S/PDIF OUT
Final thoughts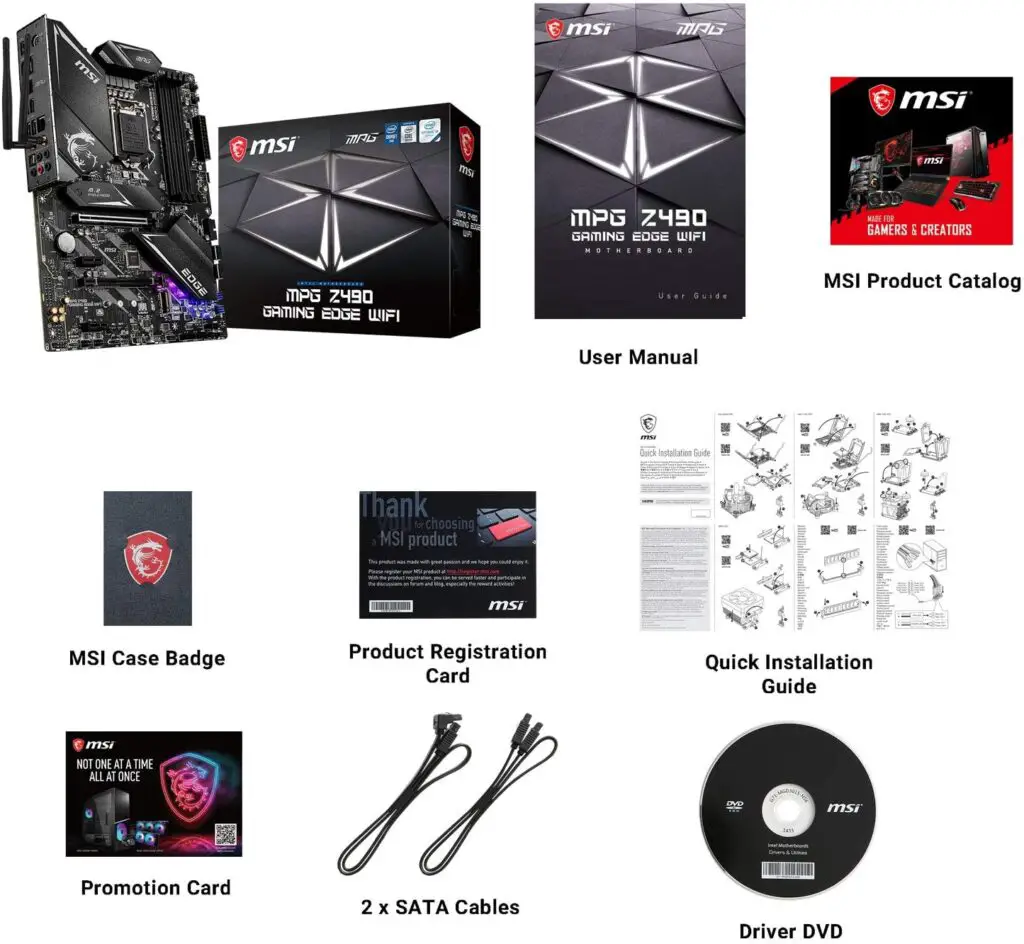 When to buy it
If you find an MSI Z490 Gaming Edge Wifi deal with this board costing fewer than $220 bucks, and you need a high-end budget choice, you won't go wrong with this one.
When not to
However, bear in mind that this board currently has almost the same prices and features as the MSI Z590 PRO WiFi. So it is not recommended affording it while its prices are similar to the board mentioned above.
You may like