Our Conclusion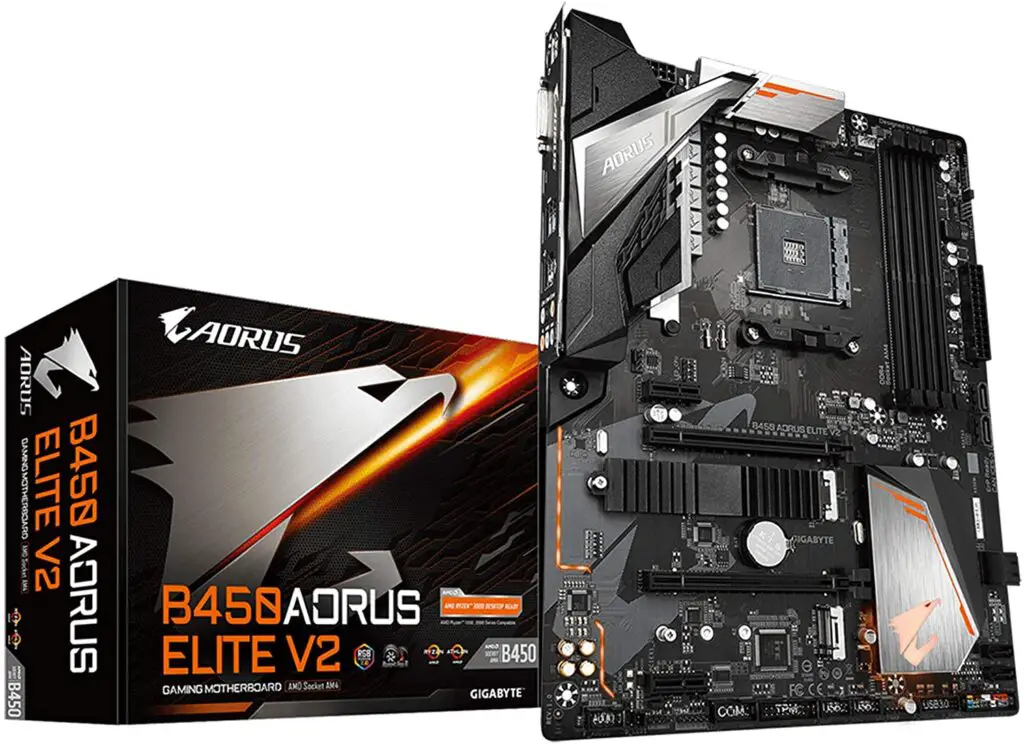 The Gigabyte B450 AORUS Elite V2 is currently the cheapest B450 of all motherboards ever reviewed here on Reatbyte. Besides, it has awesome features for this price range and pretty good aesthetics and style, with some RGB LEDs, thus fitting into the gaming pattern. But if you need a little more features, you can check out the other Elite model, its old brother Gigabyte B550 AORUS Elite V2.
Pros
✓ Good aesthetics
✓ 2x PCIe x16 slots
✓ Affordable
✓ SSD M.2 with shield
✓ Some RGB LEDs
Cons
✘ RAM slots witouth protection
✘ Only 1x M.2 with shield
With its latest AORUS motherboard launches, Gigabyte has pleasantly surprised us. The one for today's review, which was released last year (October 2020), caught our attention right away.
Then we decided to put it through its paces to see how it would do on the motherboard market. So, without further ado, let's take a look at the Gigabyte B450 AORUS Elite V2 review, complete with all of its advantages and disadvantages, to see if this is the right option for you. Follow below.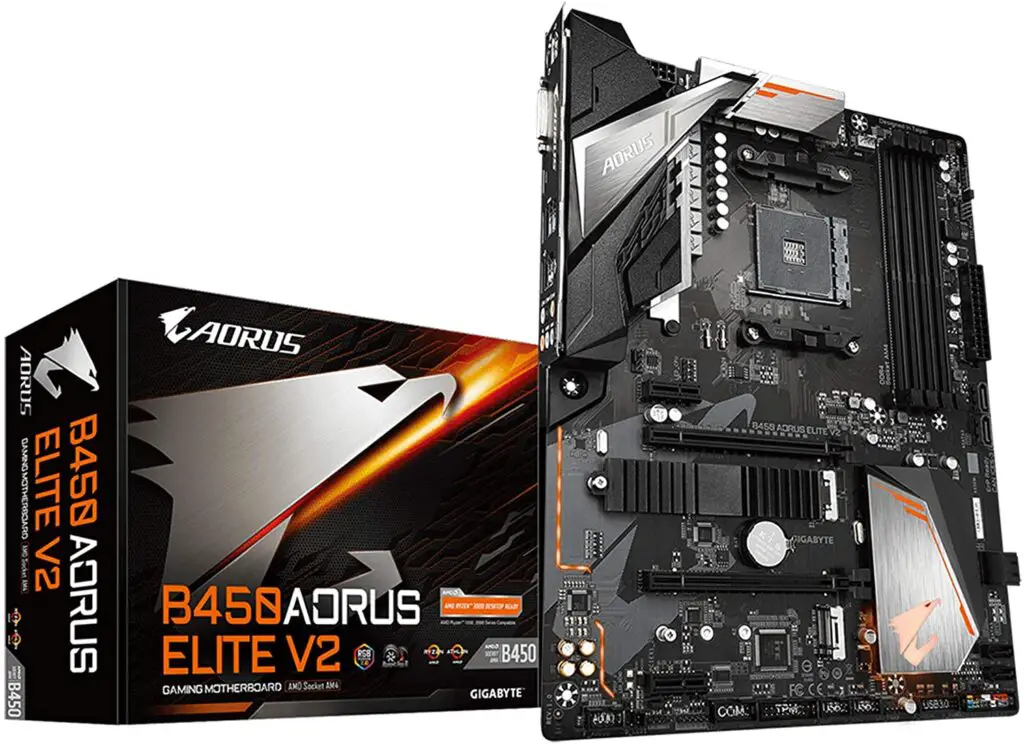 Design
The Gigabyte B450 AORUS Elite V2 aesthetics is, without a doubt, one of Gigabyte's most daring options from last year. Its chipset and heatsink fairing are stylized with brushed metal and some texturized plastic, which is a polarizing combination, but in my opinion, it looks pretty good. 
It also has some orange stripes that can be found on some other AORUS models, such as the Gigabyte H470 AORUS PRO AX. One RGB LED is located under the chipset, while the other is located on the chipset and illuminates the AORUS logo drawing. 
The heatsinks on this board aren't quite as enlarged as they should be, giving off an untrustworthy vibe, but that's to be expected at this price point. The ATX form factor is used on this board, measuring 13.18 x 10.62 x 3.14 inches.
Socket and Chipset
Furthermore, the B450 chipset is highlighted in the Gigabyte B450 AORUS Elite V2, which is considered a mid-range chipset by most users.
The B450 chipset is likely to be one of the most popular choices among those looking for a model that strikes a balance between price and feature availability. 
You'll have a nice connector speed number as well as decent overclocking margins with this chipset, allowing you to increase your CPU or Memory speed at ok edges.
This board, on the other hand, features the AM4 socket, which supports Ryzen processors from Zen+ to Zen 3 and is ready to support the 5000 CPU line right in. 
This is a huge move forward from Ryzen motherboards, which already offer a lot of choices. Unlike Intel boards, which you will almost certainly need to replace any time you want to upgrade your CPU. With that out of the way, let's look at the memory requirements for this module.
Memory
With 4 x DDR4 DIMM sockets, dual-channel, XMP support, and a total memory capacity of 128GB, this board still fits into the mid-range board trends.
Aside from that, the B450 chipset restricts this board's overclocking to DDR4 3600 MHz only (You can refer to the Memory Support List on the gigabyte website for more information). 
On the other hand, you won't find steel security on this board's memory slots, which is a fairly standard feature on high-end motherboards. Finally, we'll draw some conclusions in order to determine which processors are best suited for this board.
Overclock and Recommended Processors
Despite being a low-cost motherboard, it has one of the best cooling systems among the $100 budget boards. Even so, due to its short VRM circuit phases, you should not expect to use it with a +100W processor and overclock it without experiencing overheating issues.
If you want to overclock it, I suggest going with a CPU like the AMD Ryzen 7 3700X. You can also use an AMD Ryzen 7 3800X as an alternative if you're not going to overclock it and you're using a decent cooler.
Overall, as long as your processor choice is below 105W and supports the AM4 socket, you can use it with this motherboard without fear. However, you can still use a 100W CPU if you're willing to not overclock it.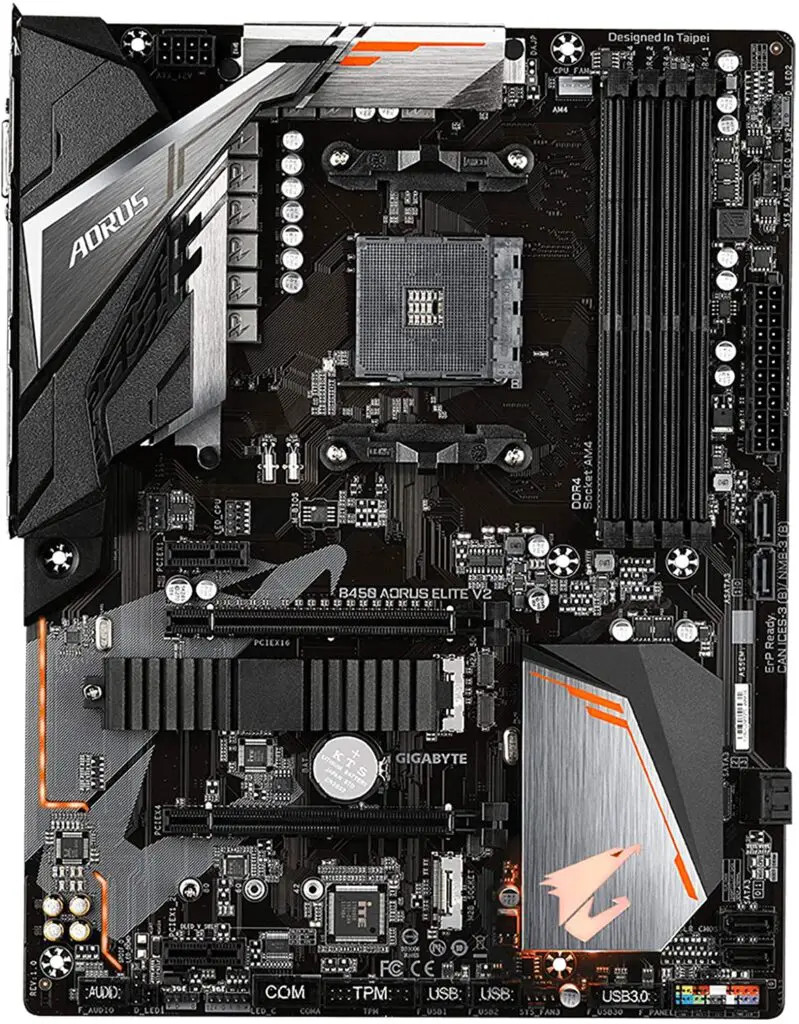 VRM and Connectors
Aside from that, this board has an 8+2 Phases Digital Twin Power Design with Low RDS(on) MOSFETs that provide enough filtred energy to your CPU. This number, along with the thin heatsinks, are two of the key reasons why this motherboard should not be used with a plus 100W processor. If that's the case, you may want to consider the Gigabyte X570 UD as an affordable high-end choice.
Connectors
Power connectors and SSD
You're going to need a 24-pin ATX main power cable and an 8-pin ATX 12V power cable to give power for this board starts to work. Besides that, you also have 2 x M.2 Socket 3 connectors, being the first one shielded, thus maintaining your SSD running at low temperatures.
Fan, RGB, SATA
Also, this board holds 1 x CPU fan header, 3 x system fan headers, 1 x CPU cooler LED strip/RGB LED strip extension cable header, 1 x RGB (RGBW) LED strip header, 2 x digital LED strip headers, 2 x digital LED strip power select jumpers, 1 x front panel header, 1 x front panel audio header, 1 x S/PDIF Out header, 1 x USB 3.1 Gen 1 header, 2 x USB 2.0/1.1 headers, 1 x Trusted Platform Module. About SATA slots, you have 6 x SATA 6Gb/s connectors.
PCI connectors
Lastly, we have 2x PCIe x16 being the first one running at x16 and the second one near the chipset, running at x4. Also, it counts with plus 2x PCIe x1 slots. Unfortunately, none of the slots have steel protection; be careful then when using a heavy graphics card.
Back panel
Like almost every AORUS board, this one also has the Pre-installed I/O shield, making your installation way easier. That aside lets now take a look at what we got here on the back panel:

1 x PS/2 keyboard/mouse port
1 x DVI-D port
1 x HDMI port
4 x USB 3.1 Gen 1 ports
4 x USB 2.0/1.1 ports
1 x RJ-45 port
6 x audio jacks
Final thoughts
When to buy it
The Gigabyte B450 AORUS Elite V2 is a great option for those who want to spare some money but even so, affording a motherboard that won't leave you empty-handed.
When not to
Bear in mind that this board is surely one of the cheapest B450 models currently. However, depending on the CPU you're planning to afford, you may need a little more reliability concerning the cooling system. In this case, you should check out the Gigabyte X570 UD.
You may like