Our Conclusion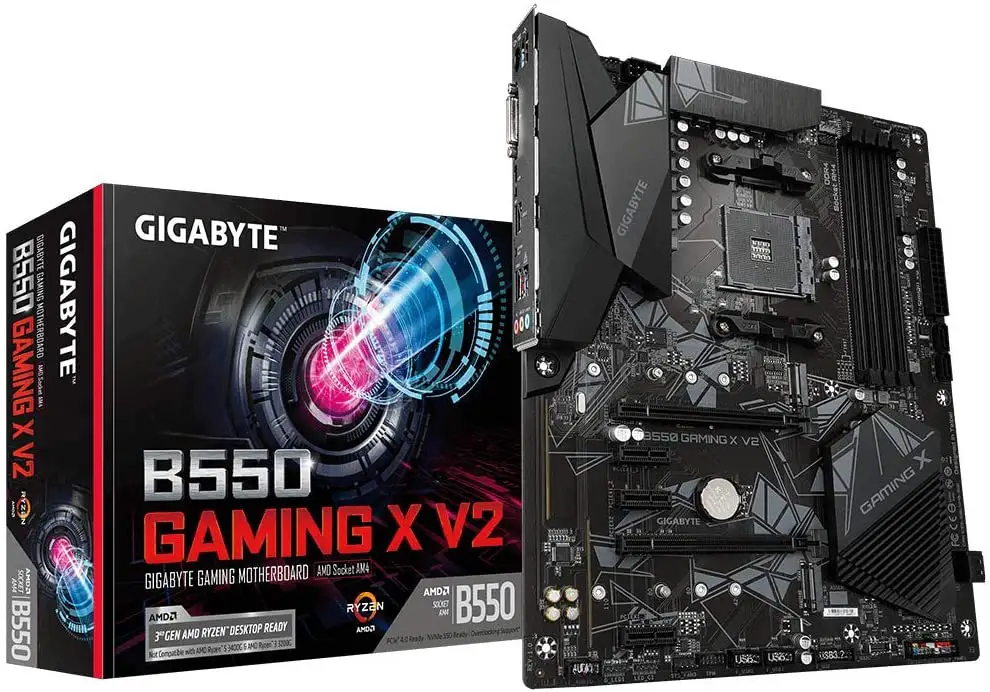 By the time I finish writing this post, the Gigabyte B550 Gaming X V2 is the most well-balanced gaming B550 motherboard on the market, as well as the cheapest B550-chipset board. Today, finding a $100 budget B550 motherboard of this quality is nearly impossible. However, some aesthetics components, such as RGB LEDs, are missing in order to enhance gaming features keeping low prices.
Pros
✓ Up to 4733 Mhz Memory OC
✓ 10+3 VRM phases
✓ PCIe 4.0 support
✓ Cheap for a B550 board
Cons
✘ Main connectors without protection
✘ Basic aesthetics
As we discovered in our previous review, the Gigabyte B450 AORUS Elite V2 is one of the most cost-effective B450 motherboards. And for today's post, we went looking for a new board to review, and we came across this very cheap B550-chipset-motherboard, which is even less expensive than the B450 AORUS Elite V2.
As a result, we aimed to analyze it further to see if it is a worthwhile purchase based on its features. So, without further ado, let's take a look at the Gigabyte B550 Gaming X V2 review, with all of this board's pros and cons.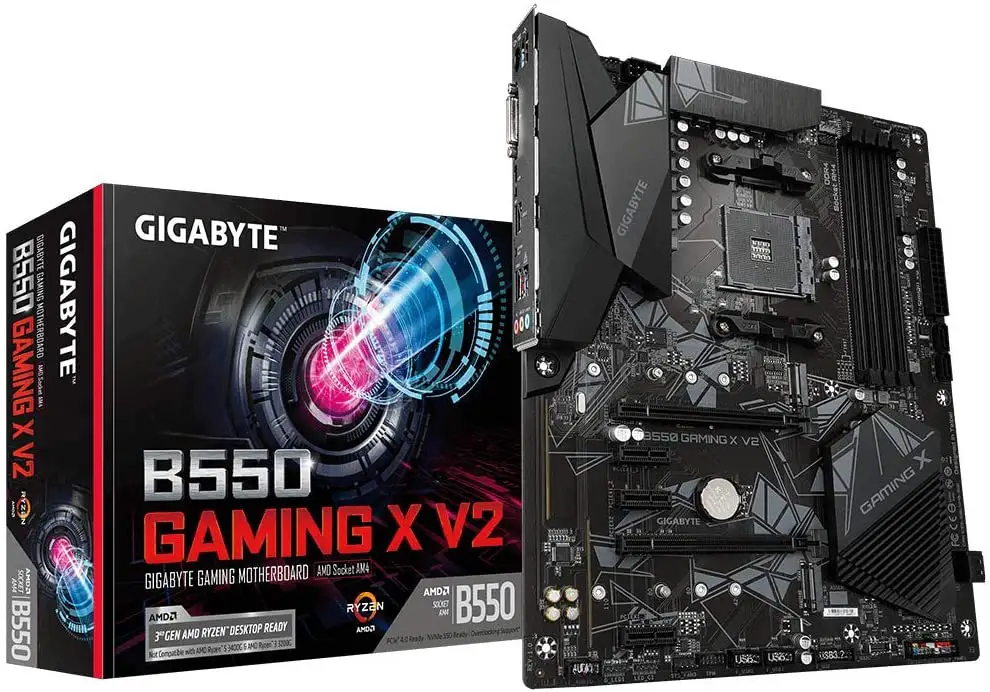 Design
As expected for a board in this price range, it keeps the basic solid, simple design, entirely in black with some gray drawing patterns and brushed black metal on the heatsink of integrated graphics.
Like any other Gaming X model, the Gigabyte focuses on removing a lot of, sometimes, unnecessary visual features from the motherboard aesthetics, thus, reducing the final prices and receiving room to improve some gaming features without impacting a lot on the motherboard costs.
Due to that, this board does not have an RGB LED, which is sometimes called a gaming visual feature. That aside, note that this board has the ATX form with 13.18 x 10.62 x 3.14 inches which is the pattern for support in all pc cases.
Socket and Chipset
The Gigabyte B550 Gaming X V2 board, which uses the B550 chipset, is still considered a mid/high-end model. This chipset outperforms the B450 in terms of connector speed and overclocking margin, making it a better long-term investment. 
Furthermore, the B550 is said to be the AMD chipset threshold for non-enthusiasts since something above that starts to get into advanced niched features that are best suited to certain users.
On the other hand, this board has the AM4 socket, which supports almost every Ryzen processor (any with the Zen microarchitecture) and will also support the 5000 line.
Memory
The B550 chipset limits this board's memory to a maximum of DDR4 4733 MHz, which is still a very good speed, and not far behind the 5100Mhz X570 total. 
There will also be 4 x DDR4 DIMM sockets with a total capacity of 128 GB, with 32 GB per slot. Aside from that, this board has the standard XMP and Dual channel support.
Overclock and Recommended Processors
The Gigabyte B550 Gaming X V2's cooling system is one of its true masterpieces. Remember they wanted to leave some aesthetics elements out? However, in order to compensate, they put a lot of emphasis on the cooling system, staying true to the Gaming X name.
Even so, keep in mind that this is a mid-range motherboard, so don't overextend the board's capabilities. That said, if you want to overclock, I wouldn't suggest using a processor with +100W, but if you're not overclocking at all, you can afford a 100W model without fear.
This board comfortably handled the Ryzen 9 3900X running at stock at low temperatures during our tests. Then we decided to overclock it; the results were a little concerning when we tried to push it a little too far. 
Due to the wide range of options offered by the AM4 socket, you can use this CPU as a limit point and choose any other below it. If you really need a powerful than the Ryzen 3900X CPU, you can look into the Gigabyte X570 UD board.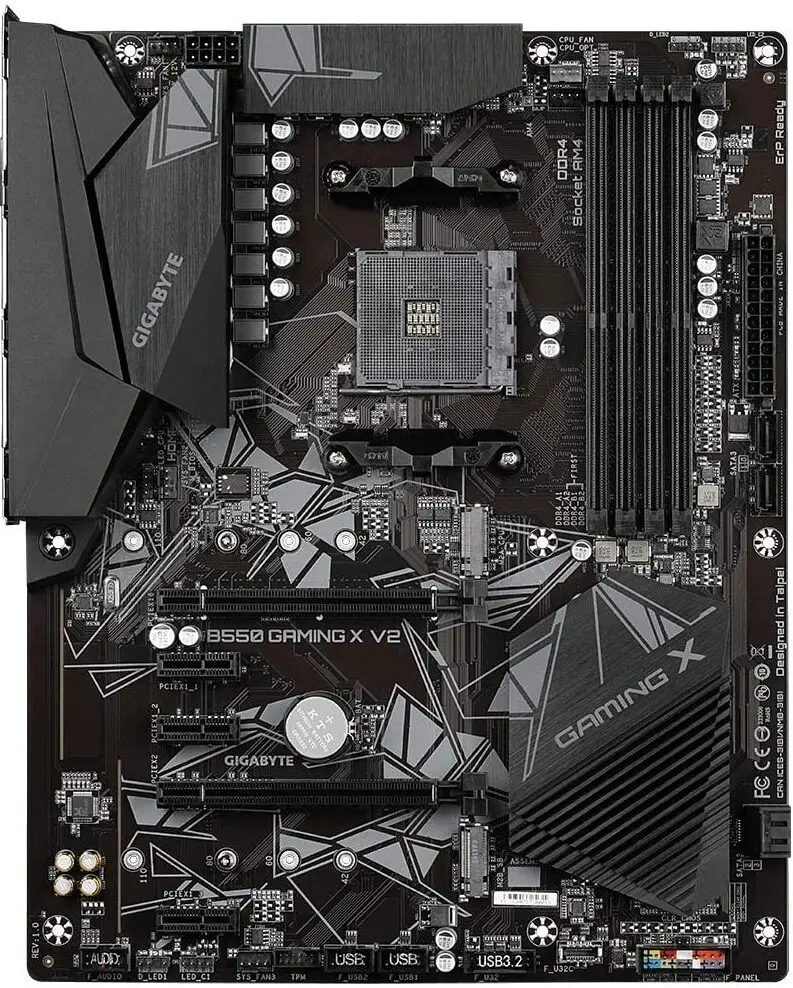 VRM and Connectors
This board really surprised us with its 10+3 Phases with Low RDS(on) MOSFETs, which is indeed an unusual number for a board in the current $110 budget.
Power connectors and SSD
The Gigabyte B550 Gaming X V2 needs a 24-pin ATX main power connector and an 8-pin ATX 12V power connector to start working properly. Also, you have 2x M.2 connectors, being the first one working in the CPU with support for PCIe 4.0 (depending on the CPU). Unfortunately, there is no shield in the M.2 connectors.
Fan, RGB, SATA
Besides that, this board also highlights: 1 x CPU fan header, 1 x water cooling CPU fan header, 3 x system fan headers, 2 x addressable LED strip headers, 2 x RGB LED strip headers, 1 x CPU cooler LED strip/RGB LED strip header, 1 x front panel header, 1 x front panel audio header. You have also only 4 x SATA 6Gb/s connectors.
PCI connectors
Lastly, this board holds 2x PCIe x16 slots being again the first integrated into the CPU one with support to PCIe 4.0 (depending on the CPU). And also, 3 x PCI Express x1 chipset integrated.
Back panel
Furthermore, this board also features the Pre-installed I/O shield, which helps to improve facility while installing the board on your case. Now, let's see what the back panel on this board has concerning connectors.

2 x USB 2.0/1.1 ports
1 x PS/2 keyboard/mouse port
1 x DVI-D port
1 x HDMI port
3 x USB 3.2 Gen 1 ports
1 x USB 3.2 Gen 2 Type-A port (red)
1 x Q-Flash Plus button
1 x RJ-45 port
3 x audio jacks
Note that this board also has the Q-flash plus button, which allows you to update your board bios with only a flash drive. You can check the details about the steps to use it here.
Final thoughts
When to buy it
If you are searching for a good and cheap B550 motherboard, the Gigabyte B550 Gaming X V2 is indeed one of your best budget choices currently.
When not to
However, if you do not like the basic design on this board and need something more flashy, you can check out the: ASRock B550M Steel Legend.
You may like