Our Conclusion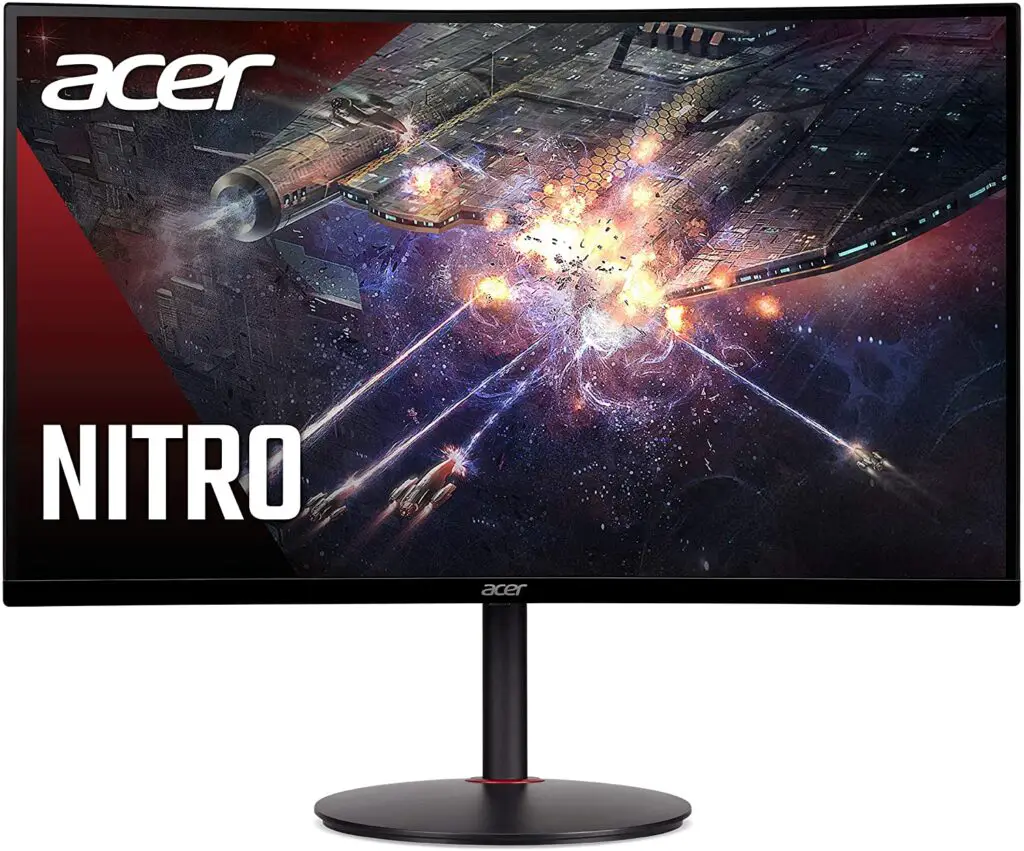 Seen all of the features and the prices of this display, we can conclude that the Acer Nitro XZ270 is a solid gaming choice with 240hz of refresh rate and with one of the best prices currently. Even so, it may be out of the budget for some, if this is your case, I recommend you go with a 144hz monitor, such as the Acer Nitro VG270.
Pros
✓ 240hz
✓ 1ms
✓ VESA support
✓ Adaptative Sync Technology
Cons
✘ Lack of USB ports
✘ Relatively low PPI
Surprisingly, Acer's 2021 launches have not disappointed us. Instead, they're putting out some excellent products, like the Acer Nitro KG252Q, which is the greatest Acer release of the year so far. 
And for today's article, we have a monitor that, unlike the Acer Nitro KG252Q, has some excellent gaming capabilities, most likely geared at competitive gaming.
So, without further ado, let's get into the Acer Nitro XZ270 review and see if this is a genuinely decent alternative for people looking for a budget gaming choice. Follow below.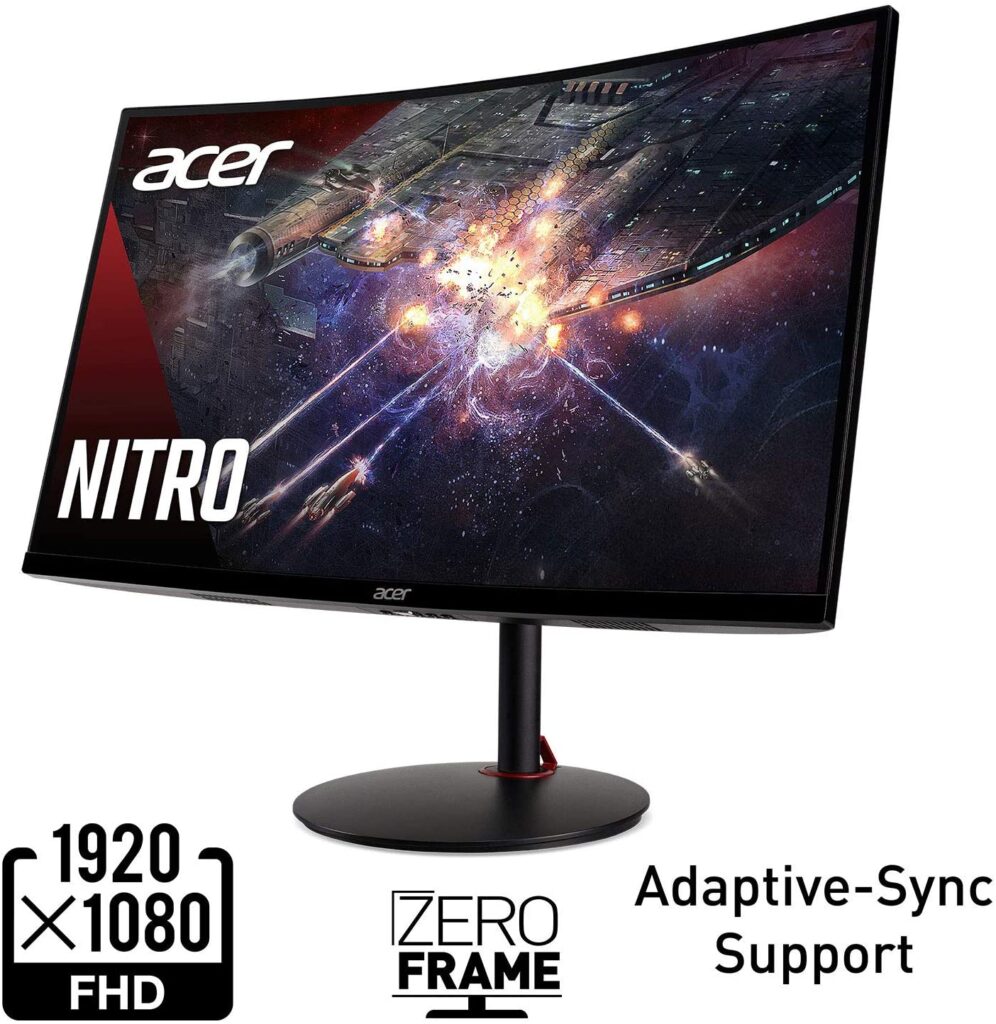 Design
The circular stand pattern of this year's nitro versions is repeated on this display. However, this model's stand support appears to be a little thinner than the others. Fortunately, the display's stand can be adjusted in a variety of ways, including swivel (+/-180°), tilt (-5° to 25°), and height (4.7″).
Aside from that, it has a borderless bezel design, with the bottom bezel being small enough to fit the Acer logo. Because they used the thinner on the upper side and thicker on the bottom side style design, this is an overall thin monitor. Its dimensions are 24 x 7.7 x 17 inches, and it weighs 14.32 pounds.
As you may have noticed, this is a curved monitor with a 1500R curved radius, which is an excellent viewing angle on average. It's also worth noting that this monitor comes with two 2W out speakers, which, depending on your demands, might be a significant advantage.
Looking at the rear, the first thing that stands out is the VESA support, which makes it simple to mount this monitor on the wall.
Connectors
Only one Display Port and two HDMI 2.0 ports are available on this monitor. Given its present costs, it could certainly benefit from more connectors like USB ports and audio out.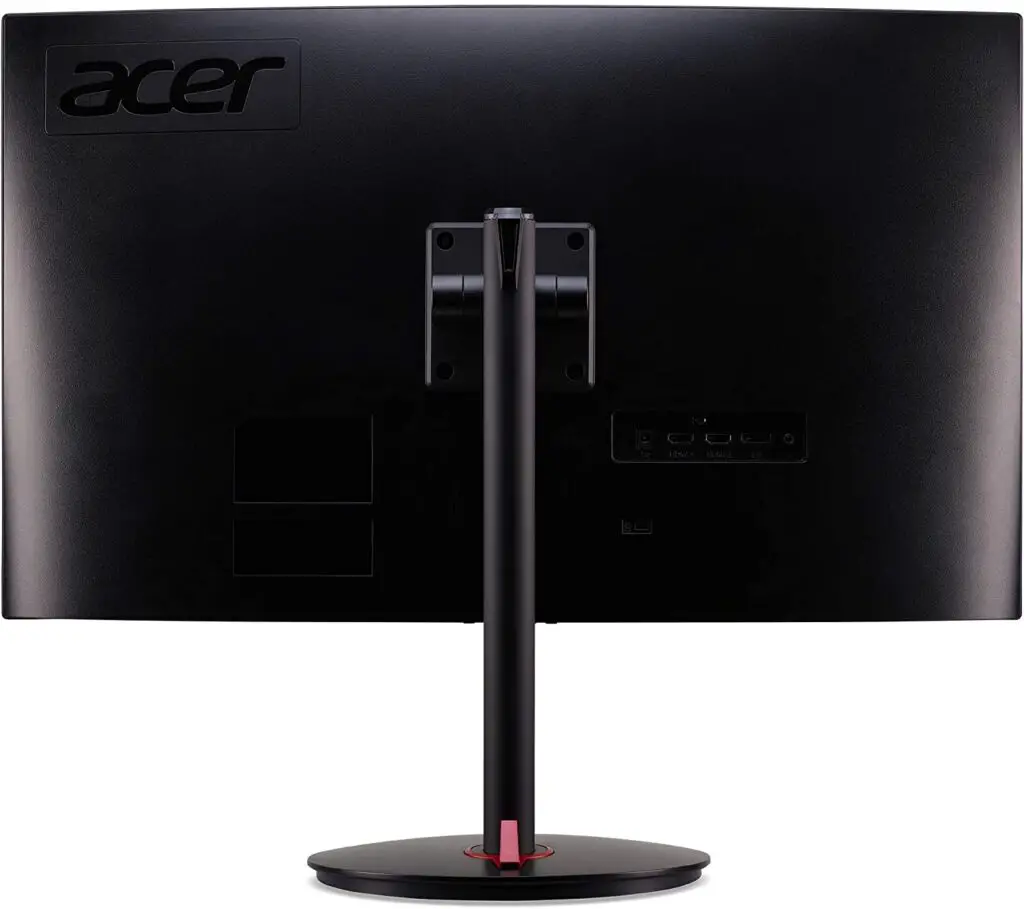 Design downsides
Overall, I can say that the one aspect of this model's design that I didn't like was its circular stand, which isn't my favorite type. However, in comparison to other versions, it is rather compact, saving a lot of space on your desk.
Features
Panel type
This monitor, as predicted given its price range, has a VA panel, which I believe is dispensable because a TN panel would be far less expensive. This one, on the other hand, is the appropriate pick if you're willing to spend a little more and obtain a high image quality for a gaming monitor. 
In terms of color fidelity, the VA panel still behind the IPS; nevertheless, it offers a higher contrast ratio and a better price-performance ratio. This monitor has an average color gamut of 8 bit 72 percent NTSC, which is somewhat better than sRGB 99 percent, and 16.7 million colors, which is typical of VA panels.
Another advantage of the VA panel over the TN is the viewing angles, being too close to the IPS ones. This monitor has precisely 178°(H), 178°(V).
Brightness
In addition, they opted to keep the brightness average, adding 250 total nits to the Acer Nitro XZ270. This is a nice ratio, but depending on where your monitor is set up, you may have problems if sunlight is shining on it. 
Unfortunately, finding an inexpensive gaming monitor with an overall brightness of more than 300 nits is difficult. However, there are always exceptions, such as the Acer Nitro VG270, which comes in at roughly $250 and has 400 total nits.
Refresh rate and Response time
Now, let's get on the gaming features which this monitor has mastery. Starting with refresh rate, here we have the answer to why this monitor is a little more expensive than other gaming models.
Although some say that 144hz is enough to play competitive gaming, there are also the ones needing the higher the refresh rate possible. 
Thinking of those guys, LG decided to implement 240hz for this display, which will deliver you absolute smoothness during your gameplays as well as during daily tasks.
On the other hand, if this display went out of the budget for you, I suggest checking out a 144hz model, such as the LG 24GL650-B. 
Besides, to complement the 240hz they also added 1ms of response time for this display, which is another competitive gaming number, substantially shortening the delay between the screen and your commands.
Finally, this display features Adaptive-Sync Technology, which will aid gameplay by decreasing screen tearing. With all of this in mind, we can safely infer that this is a display geared toward competitive gaming.
Image Overall Quality
The Acer Nitro XZ270 is a 27-inch monitor with just a 1080p resolution, resulting in a PPI (Pixel per inch) that is slightly lower than typical. As a result, when compared to a 24-inch monitor, it may appear a bit blurry.
A 27-inch display, on the other hand, is ideal for certain gamers since it makes it much easier to see the opponents in a first-person shooter game. 
Furthermore, they attempted and succeeded in obfuscating the low PPI by lowering the Pixel pitch number to 0.3114mm, which isn't the ideal number but does assist to sharpen the image. 
To recap, because this is a gaming-focused display, you shouldn't expect outstanding image quality. However, it still has a solid overall color accuracy and color gamut.
Final thoughts
When to buy it
The Acer Nitro XZ270 is a good option if you have plans to join the competitive gaming and need a budget 240hz gaming-focused monitor with solid current prices and features.
When not to
However, since it has a high refresh rate and the VA panel, it turns out to be a little expensive than other gaming monitors. That said, if you need a cheaper monitor, I suggest you check out the LG 24GL650-B, which is currently one of the most affordable gaming monitors.
You may like