Our Conclusion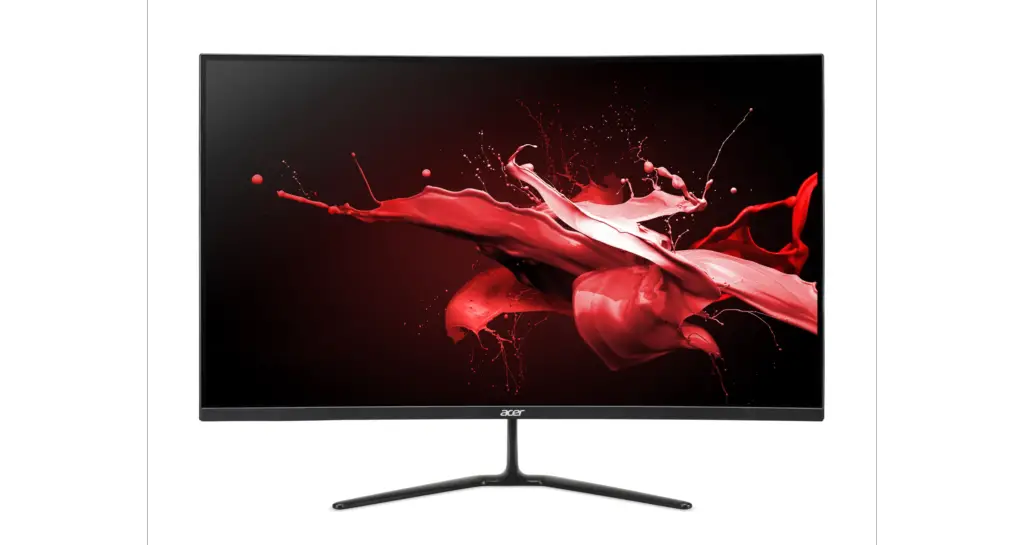 Even with its 165hz, the Acer ED320QR is definitely not a monitor I would recommend. It has a significant amount of black smearing, as well as a low PPI due to its resolution and size. The only good thing about that is that it's one of the cheapest 165hz 32″ monitors currently. Regardless, I would still go with the HP X32 or the Acer ED273UR if I needed something budget-friendly.
Pros
✓ Very Affordable
✓ 32″
✓ Deep blacks
✓ 165hz of Refresh Rate
Cons
✘ Low PPI
✘ Black smearing
From the Acer ED273U to the Acer ED273UR, we can see how Acer places its bets on budget-friendly monitors. The latter is not only one of the best VA monitors in its price range but also one of the most inexpensive with that panel. So, at least when it comes down to manufacturing high-quality budget monitors, Acer is firmly holding its flag.
With that in mind, today, we'll check out one of their first releases for this category: the Acer Ed320qr. That monitor is one of the oldest we've reviewed currently, and due to the same thing, its prices are very affordable today. Do its possibly "old" features lag it behind the competition, or is it still a good choice today? That's what we'll find out in today's Acer ed320qr Review.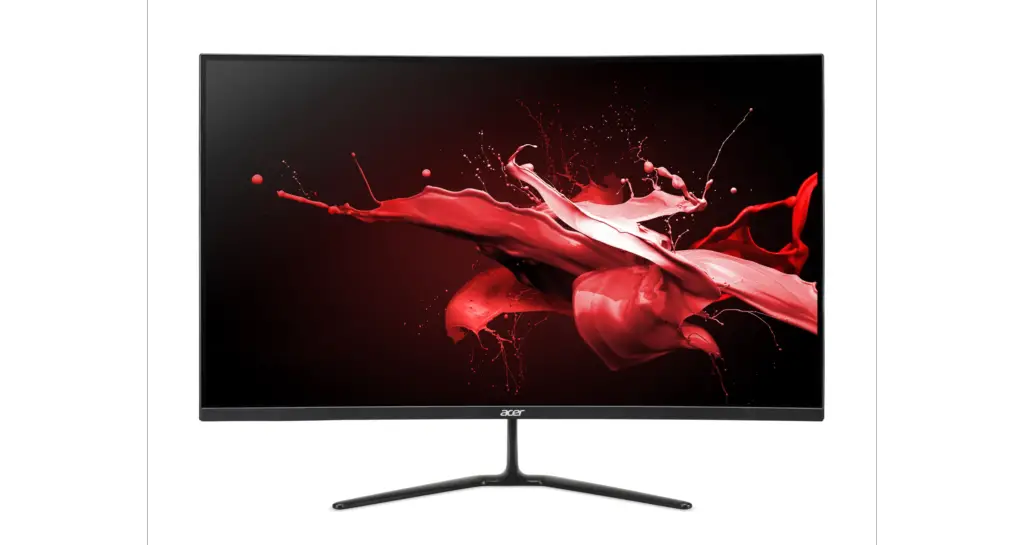 Design
Surprisingly for a relatively old screen, this monitor has a fairly decent overall design.
First of all, its materials are definitely on the cheap side, though that is something you'd expect from a $150 monitor.
In any case, it has a distinct stand and lacks the full-size bezels we usually find on this type of screen. In fact, its 3-sided borderless bezels are on par with the thinnest we've seen for 32-inch monitors in a while.
Unfortunately, it's a curved screen, which is far from being the most loved feature you can get in 32-inch monitors. On the bright side, the curvature is moderate, and while it may not blend seamlessly with a flat second monitor, it didn't negatively affect our experience when using it as the sole monitor on the desk.
If you value aesthetic consistency, make sure your secondary monitor is also curved.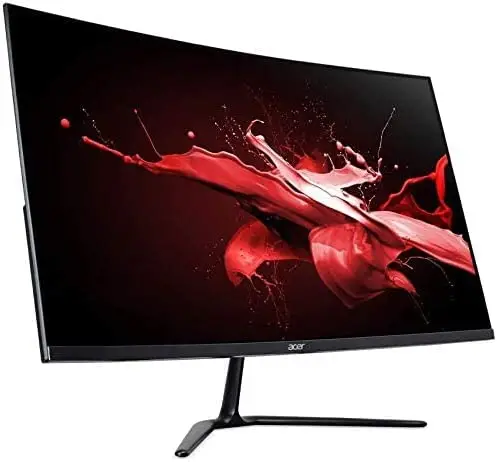 As expected, it doesn't have a joystick to easily access its menu, and you have to do it the old way: with buttons. Not that it is really a relevant downside, but it is still bad for those who are used to the joystick.
By the way, the Acer ED320QR doesn't have those standout features and details like high-end models, looking rather plain and simple. To me, the fact that its design has no frills only makes it even more appealing since it'll be easier to match it and its colors with the entire setup.
Unfortunately, its stand doesn't have an ergonomy that would make the competition envious, but it is rather slim nonetheless. It's a metallic stand, and because of that, they had the leeway to make it as slim as it could be.
In my opinion, this thin design only makes it look worse and more fragile from a distance, but your mileage may vary.
The point is, having only tilt as an adjustment, this monitor makes everyone who needs further ergonomy buy a proper stand separately.
All in all, we were expecting this to turn out very badly, as we didn't expect to see that even though it is one of the oldest Acer monitors, it still keeps up with today's trends in terms of aesthetics.
Connectors
And of course, it doesn't have a wide range of connectors for you to choose from, with only: 1x HDMI, 1x Display port, and 1x Headphone out. Looking at it from another perspective, it at least has DP instead of D-sub, which was usual for those monitors back then.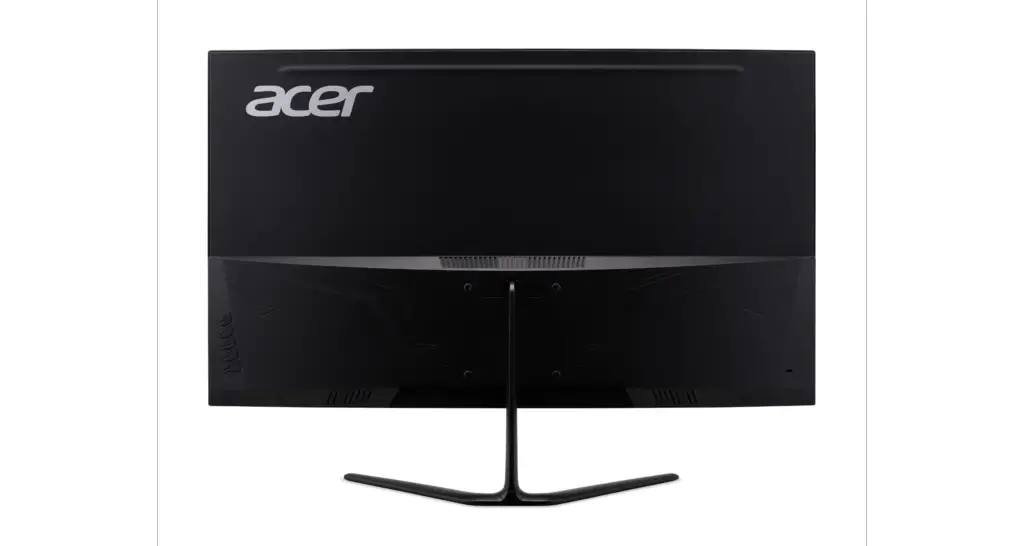 Features
Panel type
As if 32-inch monitors with such a low price tag weren't rare enough, this monitor also has a VA panel – another feature you usually don't find for very affordable screens. This is because the VA panel is currently one of the most expensive to implement, second only to IPS.
Of course, it does have its benefits over that one, even though it is slightly cheaper.
First, it is the finest among the three in terms of contrast ratio. If we take high-end monitors with VA, TN, and IPS panels and compare them all, the VA will always offer the highest performance in that regard.
Yet, its usually poor viewing angles balance things out, and that's why some may lean towards the IPS panels instead.
In any case, as with every other panel, this one has different levels of performance depending on its quality and price.
Naturally, top-of-the-line VA panels are found in considerably pricey screens. While the low-end ones with the most basic functionalities are reserved for budget monitors like this one.
The Acer ED320QR has decent color accuracy out of the box, but don't expect those colors to be on a professional level. They are good enough if you calibrate them correctly, and decently usable for casual use, but they're still miles apart from what you have with a top-of-the-line IPS monitor. We'll get further into that during the image quality section
For now, though, we can say that this monitor is definitively on par with the other budget VAs we've checked out currently. Even so, if we ranked those monitors based on each one's color accuracy, this is definitively not at the very first spot. It is hard to compete with the: Acer ED273UR but this is still in the top 5 at least.
Brightness
Brightness is one of those monitor features that, the customer is the one to define if a specific ratio is enough for their needs.
If you give a 250 nits screen to a person who'll use the monitor during the day and in a well-lit room with ample sunlight – it'll most likely not be enough. 
However, if the same person works during the night and doesn't use the monitor in a very bright room, 250 nits could easily be more than enough. 
This one has 300 nits.
As expected, glare from the skylight was negatively affecting the viewing experience during the day. It didn't help since this monitor is also not one of the finest while handling reflections. On the contrary, it is regarded as one of the worst in terms of reflection handling.
The black consistency was very decent to compensate for that, as expected from a VA panel. 
Due to that, if you want to use the monitor in a dark room, this is one of the best 32″ affordable choices. In any case, although this monitor has 300 nits on paper, in comparison to other most recent 250 nits monitors, they performed surprisingly comparably.
Here, we can see that Acer had to make compromises on certain features in order to keep the prices affordable. Whether they wanted to or not, implementing more premium brightness features would have inevitably increased the final prices. Nevertheless, considering its usability in various lighting conditions, the $150 price easily compensates for the lack of advanced brightness features.
Refresh rate and Response time
Indeed, the Acer ED320QR monitor has a 165hz refresh rate, but calling it a gaming monitor is a bit of a stretch.
First off, 32″ is obviously not the perfect screen size for competitive gaming. 
Some may argue that its curvature may help to compensate for its massive size, but there is no beating 24-inch and 27-inch flat monitors for that specific scenario. 
Besides that, even though it is not that noticeable or even an issue for casual games, its 5ms GTG motion blur will definitively be a tall hurdle to overcome for the competitive scene.
In fast-paced games, motion blur was marking its presence more than we can find manageable. Yet, its VA panel made every black image rather stunning and deep. 
This reinforces again why this is a monitor for those who want to play casual or story-focused games, instead of competitive shooters. 
Motion blur and size aside, the fast and smooth refresh rate of 165hz combined with the deep blacks of VA panels, as well as the tear-free images from the Freesync technology, are all great features you don't usually find in this price range. 
Surely, "gaming" doesn't necessarily mean it's professional gaming. 
And if we talk about casual gaming only, this monitor is one of the best in the affordable class, even though there are some caveats to be considered. 
So, to summarize, even though its motion blur reduction isn't on par with the best, the fluid 165hz images were definitely making up for that downside during our tests. 
However, having said that, we surely shouldn't overlook a huge caveat: the black smearing. 
Usually, every VA monitor has black smearing, which consists of black trailing behind black or dark objects that are moving fast on the screen. However, the higher the monitor is in the pecking order, the lower the chances of a big black smearing amount.
As you can guess, at the bottom of the totem pole, things are the worst. 
And this monitor is the best model to back that. 
It has one of the worst and most annoying doses of black smearing we've seen for VA monitors, and that is probably due to its old age. Back then, there wasn't a wide range of technologies available to reduce this issue. That is why old VA monitors are often the ones with the worst black smearing, they surely haven't aged well. 
As always, you can get used to it over time, but if you don't want to get through that, maybe an IPS monitor in this price range like the HP X32 is your best bet.
Image Overall Quality
Starting with the best points, we must mention its striking contrast.
There is literally no better budget choice today than VA monitors if you want deep blacks and contrasting colors.
If budget OLED monitors were a thing nowadays, maybe that crown would be in danger, but right now, there is no competition on that front.
Another benefit of the VA panel as we mentioned, is that you can crank up the brightness to its maximum, and black will remain black rather than the mess it is with IPS panels.
However, if the VA panel were better in every way than its competitor, the IPS panel wouldn't be the favorite by the majority nowadays.
Naturally, the colors of this monitor fall short of that of an IPS in the same price range.
The IPS is usually more vibrant and accurate, while VA tends to have cool colors out of the box. After calibration, the Acer ED320QR's colors became slightly better, but still not as good as those of an IPS.
Other than that, the poor viewing angles are another one of the famous setbacks VA panels have.
Of course, neither of those minor downsides is considerable to overshadow the lower-than-average price range this monitor has.
However, there is a second caveat that will probably be a game changer for some: the resolution.
This monitor is a 1080p screen, with 1920x1080p. This resolution by itself is not a downside, however, when used on a 32″ screen, it could potentially be.
With the 32-inch 1080p combination, this monitor only has around 82 PPI, which is way below the recommended for a normal distance. This means it is way easier to spot the pixels than it would with a 24-inch 1080p.
With that, the images become considerably less sharp and crisp, which is a major problem if you want your gameplay to be immersive. Fortunately, you can get 1440p 32-inch monitors like the Asus VG32VQ1B nowadays at very affordable price tags.
In the end, while 32-inch monitors tend to be expensive by themselves, and this one blatantly defies that rule – downsides or not, it is still considered a hidden gem among all affordable monitors we've reviewed.
Final thoughts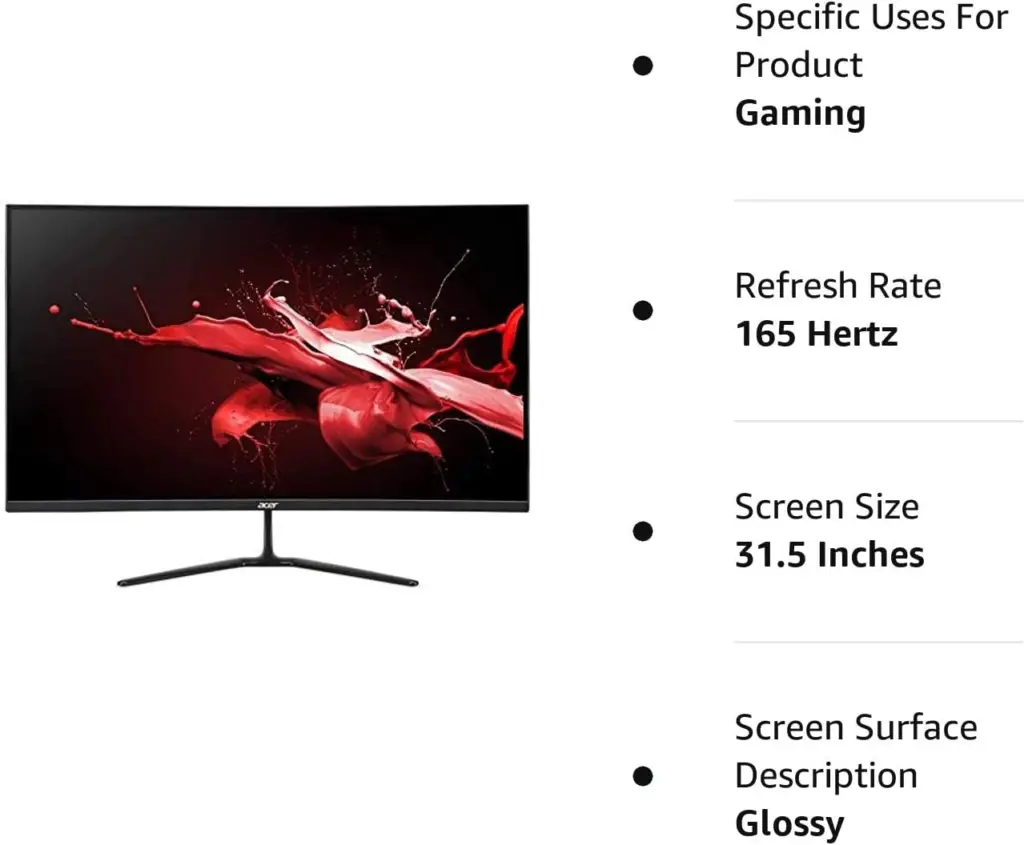 When to buy it
While the Acer ED320QR is one of the cheapest monitors with 165hz and 32 inches, we can't overlook its downsides, such as low PPI and black smearing. If you really need a 32-inch VA monitor, maybe the Asus VG32VQ1B is going to be a better choice for you since it has less black smearing.
However, even that one has a low PPI due to the 1080p resolution. In my opinion, if stretching the budget to around 250 is feasible, maybe the HP X32 can give you a better overall experience. In the end, while the Acer ED320QR is indeed a cheap monitor, there is a huge price to pay due to its downsides.
You may like