Our Conclusion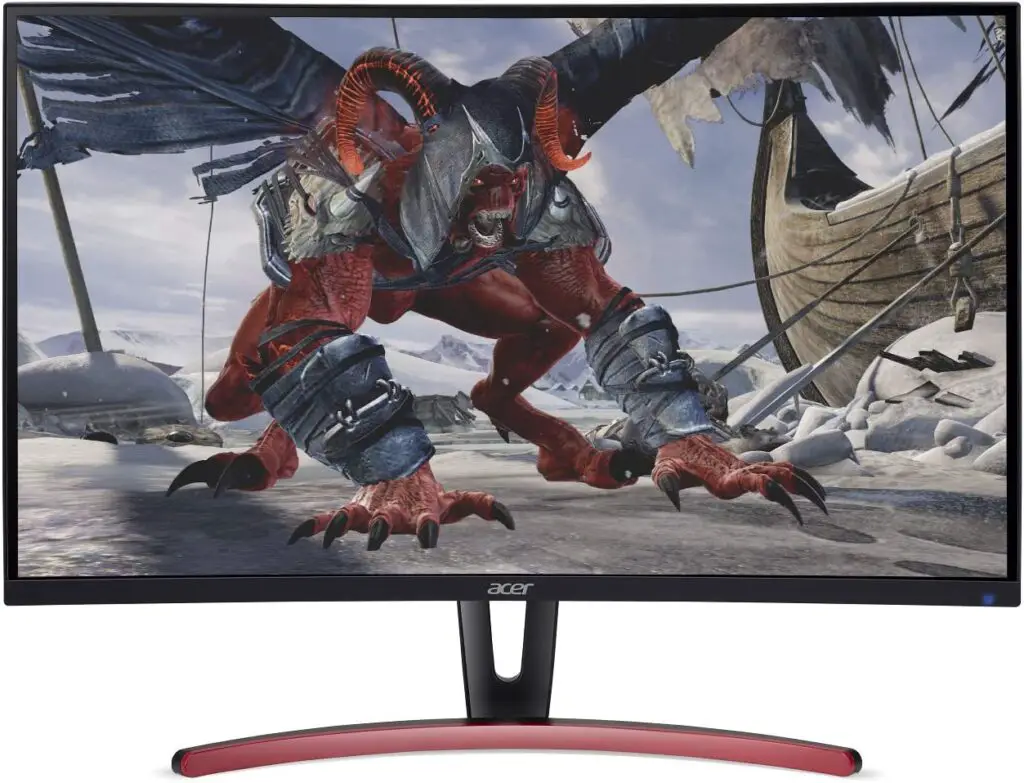 The Acer ED273UR is unquestionably one of the top VA monitors in terms of price to performance, despite its divisive and outdated stand design. It currently has fantastic prices as well as amazing colors, a smooth refresh rate, and a good resolution. Acer did a really nice job with this one. If you want an IPS panel instead, you can go for the: HP x27q in around the same price range.
Pros
✓ High contrast ratio
✓ Good sharpness
✓ Smooth Refresh Rate
✓ Affordable
✓ Vivid colors
Cons
✘ Polarizing stand colors
✘ Low Peak brightness
When 1440p resolution for gaming and casual monitors first started to gain popularity a few years ago, the cost of such displays was astronomically high. In fact, for the same price of a 1440p 144Hz screen back then, you could currently purchase a 4k 120hz monitor.
The good thing is, the 1440p 144hz combination is still really solid today. And the prices of top-of-the-line monitors at that time are currently quite accessible right now. That said, we have just the monitor for this category today.
Being one of the cheapest in its class, this one is also one of the oldest gaming monitors from Acer, but it does have a solid set of features that are worth mentioning. Of course, it also has some con features, but we'll check that all out in today's Acer ED273UR Review.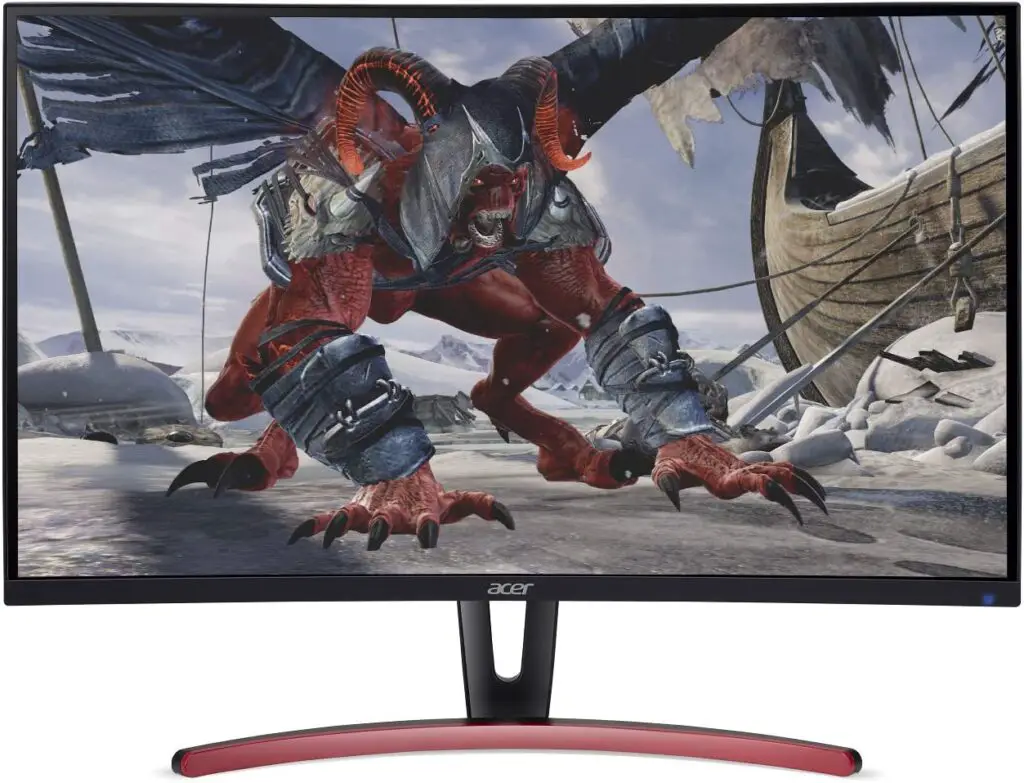 Design
The typical dated overall design is the only drawback that unites (nearly) all relatively old monitors. However, despite a few minor quibbles and personal preferences on my part, this one is actually solid.
The large bezels are typically one of the worst aspects of three years old or older screens. Those bezels make it challenging to use a multiple monitor arrangement and are generally ugly by today's standards.
Even so, certain manufacturers still use large bezels on some of their budget modern monitors.
In fact, the reasonable costs of those screens can often make up for their subpar aesthetics. But the point here is, this is a cheap and old screen, and it already has borderless bezels.
They are slightly thicker than the usual for today's standards, but it's still better than the full-sized ones. It simply demonstrates how Acer was ahead of the curve at the time.
To reinforce that, they also decided to use a slim stand, which gets the job done without too much of your desk space. The one slight downside that we should mention about this stand, though, is the red color it has on the front part.
It's not that this color is bad or anything; it's just that, assuming you won't build a custom red rig, it ends up being difficult to match with the colors of the other pieces in the setup.
The only thing this stand has for ergonomics is tilt support, which is something to be expected for a cheap monitor like this one. If you find that to be a significant issue, you can use the VESA support in conjunction with a better stand that you'll separately purchase to suit your needs.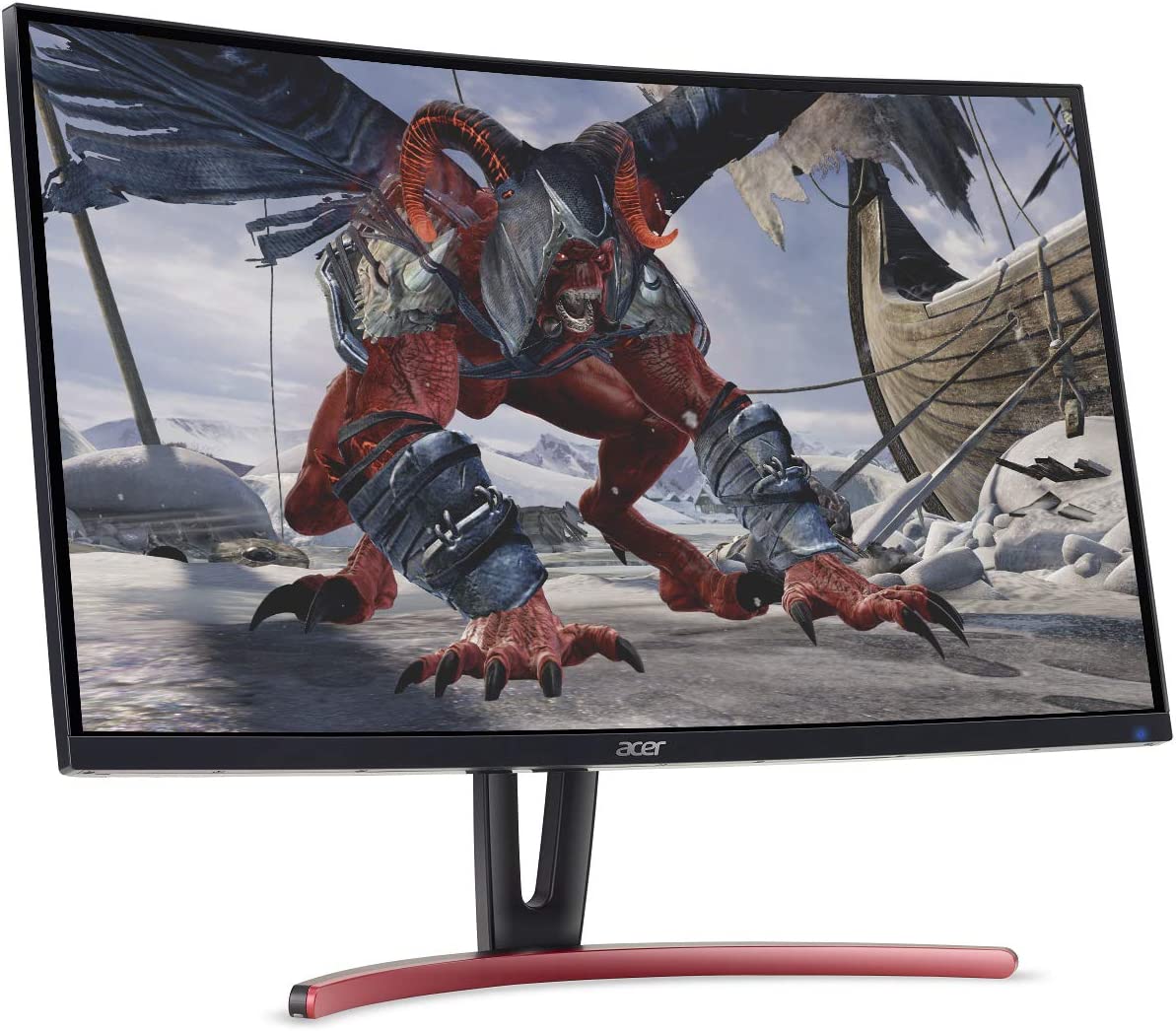 Before we go further with the review, we can't forget to mention this is a curved screen.
If you ask me, I wouldn't say it's really that much useful, especially with a screen this size (27 inches).
You could find it more beneficial depending on your needs, but for me, it won't be of much use.
With the exception of the red stand, this screen is entirely matte black.
The surface of the back is slightly glossy and can easily leave a fingerprint mark. Finally, it's important to note that this monitor is made out of quite subpar materials, as evidenced by the fact that it only weighs around 10 lbs.
Overall, we can say that despite its old age, the Acer ED273UR does its job well and even goes above and above thanks to its tiny bezels and incredible prices.
When all of this is taken into account, we can conclude that this is likely one of the greatest monitors we have evaluated on this website in terms of design, but will it have enough useful features to keep up? We'll check that out.
Connectors
For connectors, they decided to keep with the usual: 1x DVI, 1x Display port 1.2, 1x HDMI 1.4, 1x Headphone-out, so don't expect USB or USB-C ports, but as this is a cheap monitor, we can't complain that much.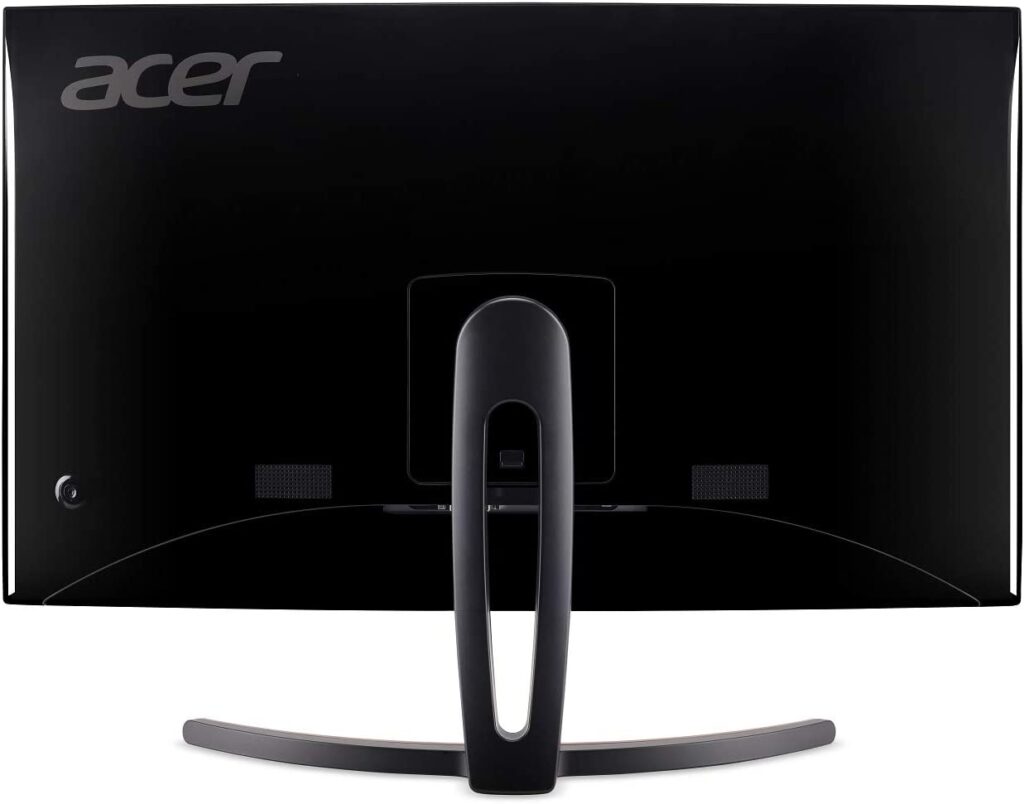 Features
Panel type
And since this monitor never stops defying our expectations, it features a distinguished panel that outperforms the bulk of displays in the same price range currently. Even though it still has a few small drawbacks typical of VA panels, when it comes to colors, it is on par with the best.
The contrast is excellent as usual, nothing particularly remarkable, but the deep colors on this monitor truly stand out. Just the green tones can be a touch off-target depending on the scene, but the blues and reds are great. It is possible to get better performance with some calibrating, though.
The fact is, even though the colors are not as precise as the ones of IPS panels, they are great if you don't need to work with media edition.
With a higher gamut than usual for VA monitors, the colors end up being way more vibrant as well. Of course, it is not great for professionals, but good enough for casual use. We'll get further into details about this in the Image quality section.
The truth is that you can't go wrong with this display if you enjoy vivid colors with a higher color gamut, some deep blacks and contrasting whites, a reasonable contrast ratio, and no IPS glow for use at night.
Of course, an IPS monitor like the: HP X27q is still the best option for you if you desire realistic and accurate colors.
Brightness
As not everything is flowers, this monitor does have a subpar brightness peak. Although 99% of buyers won't even need to use this monitor with a higher than 80% set – it's always good to have extra room for possible outcomes.
During our daytime tests, we faced some glare issues when using this monitor next to a window. During the night, on the other hand, 70% of maximum brightness was enough for normal use.
The bad news is, even if you crank the brightness all the way up to its maximum, you won't even get close to the edge you would need for competitive games.
On the other hand, with the peak brightness this monitor boasts, playing games in a dark room gives you an experience that is just awesome.
Coming from an IPS panel to a VA and finally being able to play some games in a dark room without all of those greyish blacks caused by the IPS glow is just great.
That, combined with the deep blacks and high contrast makes it a twice as better experience as the one you'd have with an IPS panel in this price range. Indeed the colors aren't as accurate, but for gaming, it doesn't even matter that much.
Refresh rate and Response time
Speaking of gaming, let's get into the responsiveness features of the Acer ED273UR.
One of the best masterpieces of gaming monitors with VA panels is that the responsiveness is usually a bit higher than standard IPS when you compare both.
Still, it doesn't have that big of a difference when we talk about low or mid-end monitors.
This one falls under the mid-range category, with only the minimum required for smooth images during gameplay.
If professional gaming is not your goal, and you only play some casual games, the 144hz this monitor provides is probably enough.
It is even better when we take into account the 1440p resolution of this monitor, which, although not the most demanding one for current graphics cards, it still gives a basic graphics card a run for its money.
Motion blur was immediately noticeable in tests with first-person shooter games, and it can undoubtedly hurt your performance in competitive games. In fact, if you are nitpicky enough, it can be a hassle even for casual games, considering how it is slightly more present than the: HP X27q which we used in the comparison.
Another thing to mention is that it doesn't support the usual refresh rate overclocking feature that we easily find in modern 1440p gaming monitors currently, such as the: ASUS VG27AQ1A with 165hz or 170hz.
However, the difference between 144 Hz and 170 Hz is so negligible that it doesn't really qualify as a drawback in and of itself.
In order to add up to the smoothness, they thankfully decided to implement the premium version of FreeSync which helps to prevent screen tearing.
In the end, if we add together all the aspects mentioned above, we can say that this monitor's responsiveness is actually a little worse than is typical by today's standards.
But let's not forget that this is a $250 monitor, and if you need a real gaming screen for work, you'll likely have to pay more than twice as much.

Image Quality
After discussing a few subpar features, it's time to examine one of this monitor's finest masterpieces: its colors.
As was already mentioned, this monitor's colors are actually far more vibrant than what you typically see at this price point. The matter of liking it or not, of course, depends on your tastes – while vibrant colors are not everyone's cup of tea.
However, it is undeniable that having a higher color gamut is preferable because it provides more potential for calibration improvement. Compared to the typical sRGB of VA panels in this price range, which is 99%, this monitor's 88% NTSC content is significantly higher.
Although you can significantly cool the colors on your own, a colorimeter is needed to get precise results. That is to say, high-end IPS monitors are ideal to add to your list if you truly require a monitor with accurate colors to work with media.
The price is slightly higher than usual, but if you don't want to spend money on calibration gear, that's the price you'll have to pay. Despite the fact that the: ASUS VP32AQ has a fantastic calibration, some decent pre-calibration colors, and is less expensive than typical, this is an exception.
The one minor downside you'll probably get with this monitor is that sometimes the gradients aren't as smooth due to the 6-bit colors, with simulated 8-bit, which helps but isn't perfect.
Of course, a high-quality image is achieved by more than simply good colors.
The Acer ED273UR stands out among its contemporary counterparts due to its unique combination of beautiful colors for a VA panel, a strong contrast ratio, and a high PPI of 1440p resolution.
Some claim that 1440p is the ideal resolution for a 27-inch monitor, while others assert that 24-inch is preferable. In actuality, this resolution is almost always acceptable if the screen size is less than 32 inches.
Although not quite as sharp as 4k, it still produces sharper images than 1080p. This resolution alone already gives this monitor the title of one of the cheapest 1440p screens today. And if we add everything together, we have an awesome pack of features that could make this display cost exorbitantly higher than what it costs today.
We were blown away by this monitor. Undoubtedly, we did not anticipate seeing a monitor this old with such an amazing performance by today's standards. This is undoubtedly one of the greatest VA screens in this price range, although it does have some minor drawbacks to take into account.
Final thoughts
When to buy it
The advantages of the Acer ED273UR certainly outweigh the drawbacks, even by a wide margin if we scale everything. Considering that it is a 2019 screen, its stand might not be to everyone's liking, but it has thin bezels and decent looks overall.
The nicest thing is that a VA monitor with such rich colors and high resolution is hard to get in this price range. You can, of course, purchase an IPS monitor like the: HP X27 for around the same money if you don't really like the VA panel's downsides.
And it is all of those good points that make this monitor nothing more than one of the best VA monitors you can get today.
You may like