Our Conclusion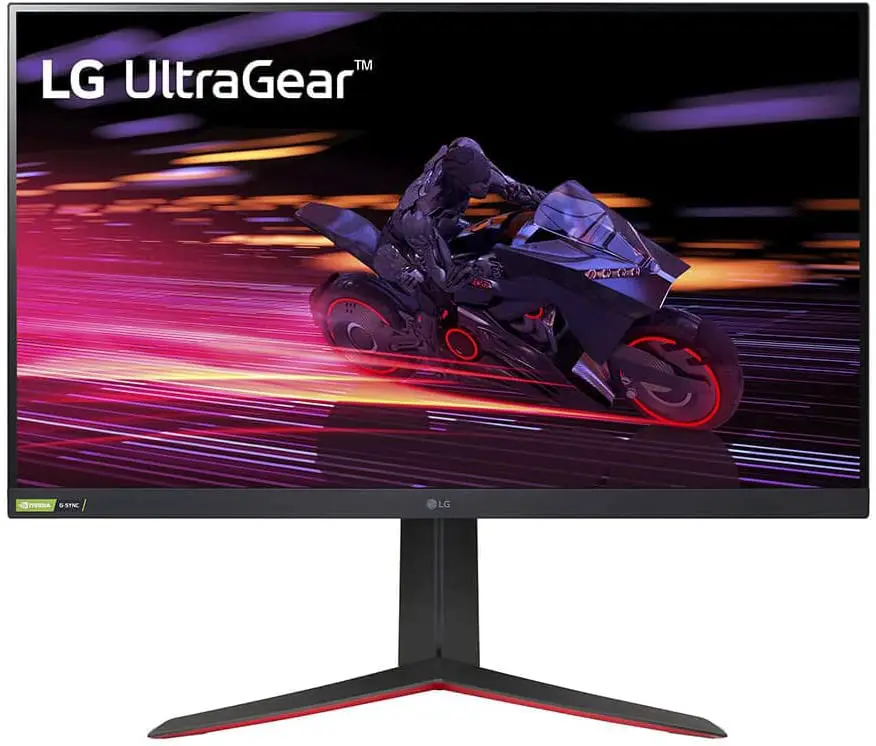 The LG 32GP750-B has seen a significant drop in price, going from $400 last year to around $300 now. As a result, it's now competing closely with the HP X32 monitor for the title of the best budget-friendly 32-inch monitor. While the HP x32 still holds the edge in terms of affordability, the LG 32GP750-B is putting up a tough fight for the crown. If you prioritize better colors in your display, you might consider investing an additional $70 for an even more vibrant experience with the LG monitor, or save around $50 and opt for the HP x32.
Pros
✓ Smooth Refresh rate
✓ Accurate colors
✓ "Gaming" design
Cons
✘ Bulky stand
✘ Pricey
When we talk about gaming monitor lineups from each main manufacturer, there's no denying that the LG UltraGear is definitively one of the most expensive in its class.
In truth, the Nano IPS (of high-end models) or the gaming-like design frequently gives UG displays a slight, sometimes large, advantage over the competition. But when it comes down to pure responsiveness, the price-to-performance ratio isn't that amazing.
On the other hand, the top-notch models they have in store are amongst the best ones for the gaming scene, but not everyone wants to go bankrupt to afford a gaming display nowadays.
With that in mind, today we're going to check a slightly cheaper monitor in this category with high hopes it will have some great features for the prices it's being sold. Let's check out in today's LG 32GP750-B review if this is a monitor worth putting on your list.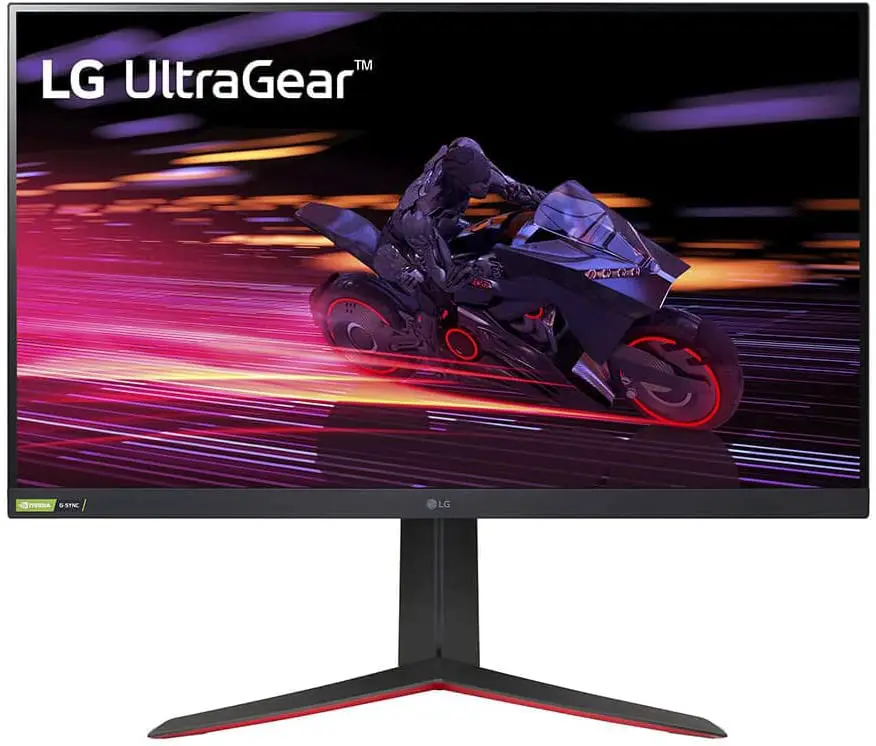 Design
When someone brings up gaming monitors, what type of screen comes to your mind? Probably some fancy models from the MSI gaming category or one of LG's UltraGear series, right? That's proof of how the UG series's style is really popular among gaming screens. And it also explains why they kept this same design over the years so far. 
If you'd ask me though, I have to admit, the red patterns of this monitor make it so much more difficult to match with other components in my setup that I tend to prefer something with more "dull" colors in comparison.
Fortunately, other than on the back part of the display, the only other portion of the LG 32GP750-B with a red finish that you can actually spot when normally using the screen is the below part of the stand. And if you don't like it, you can use the VESA support to place the monitor on the wall or get another stand that won't stand out too much. 
By the way, the stand that comes with this display is leaning towards the bulky side, in fact, you probably have to double-check the depth of your desk to see if it'll fit well.
At least it isn't as overly wide as some of the MSI gaming monitors, given how both share a V-shaped style. 
Although design sizes aren't really this stand's masterpiece, when things come down to adjustments, this is where it can shine. 
It has barely all you need on an ergonomic stand, with height, pivot, and tilt support, only lacking the swivel, which is sometimes one of the main adjustments the customers will use after the height and tilt. 
We should also mention it has a gap to improve cable management.
Other than that, this monitor pretty much has barely the same overall style as every other UG monitor, except for some minor changes here and there.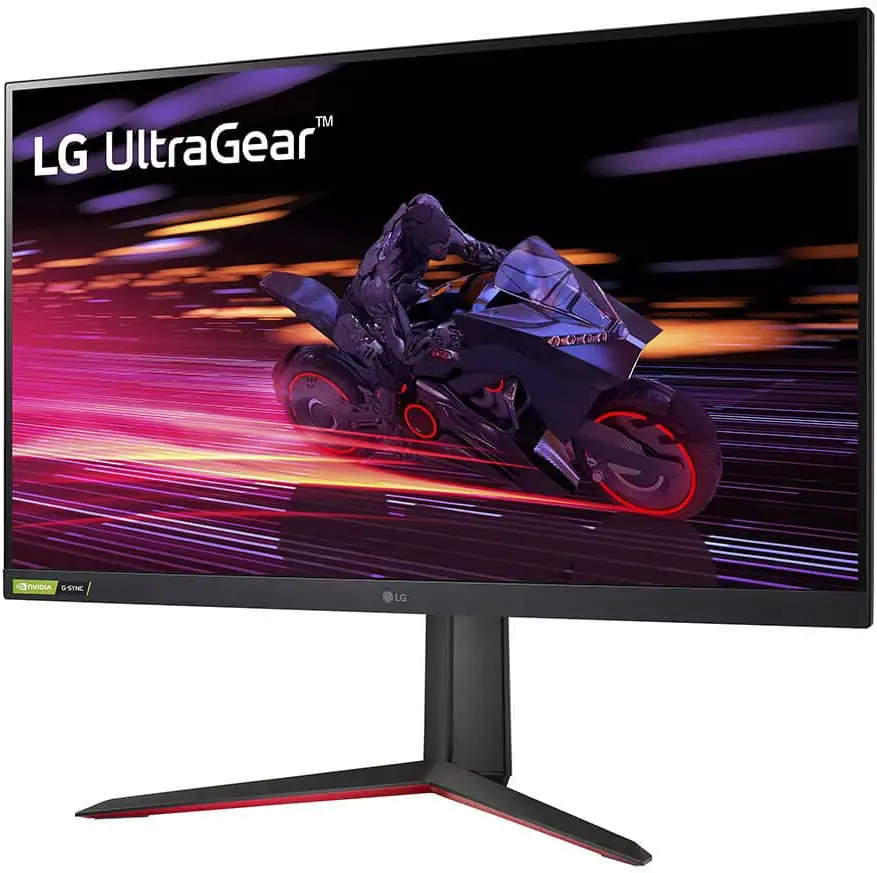 Although it has a couple of red patterns all around, this monitor's main color is matte black, included on the front bezels and on a good part of its rear. 
The connectors are placed on the VESA's right side, and the UG logo sticks out just above the stand and in the red circle on the back part of the display – a well-known combination that is just the same for almost every other UG monitor. 
For being a 2022 release, we were expecting to see some changes in the style, but apparently, they decided to keep the same thing. 
Well, as long as it works, I don't see why they would make major changes anyway so we can cut them some slack.
Connectors
As expected for a budget display, it doesn't have some USB and USB-C ports, but at the $400 price range, we can easily find some monitors with such connectors, so that's a considerable downside we shouldn't overlook. That aside, it has 2x HDMI, 1x Display port, and 1x Headphone out.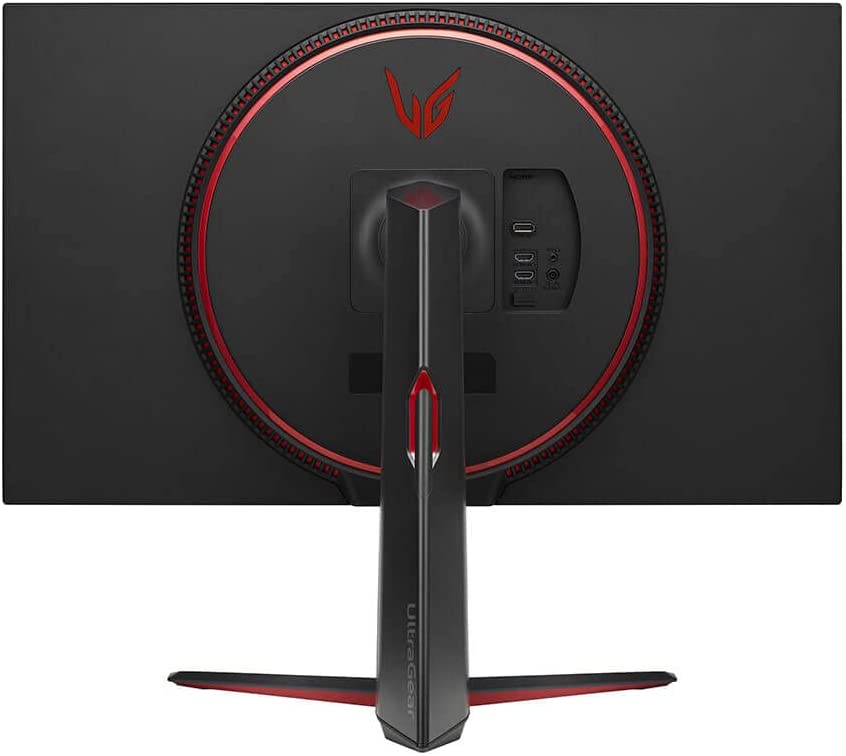 Features
Panel type
The Nano IPS is surely one of the most well-known panel types out there. And I really wished they used it here. These panels are strong competitors to the Fast IPS technology, but the latter is usually found in much more expensive gaming screens.
Anyway, although this panel has a couple of benefits over the IPS, it doesn't mean it lacks all the inherited downsides of its younger sibling.
Although being an enhanced IPS panel per se, it is still an IPS panel, and some issues like IPS glowing and low contrast ratios are as present as ever.
Either way, both the fast IPS and the nano IPS are features that only the higher-end gaming LG screens have, and this one bears the standard IPS.
That said, if you intend on using the display in a dark room and don't actually need professional-level accurate colors, a VA monitor like the: LG 32GN550-B may be a better choice for you.
In any case, the out-of-the-box color accuracy of this panel is better than those of the Nano IPS. But in contrast, it has less room for improvement with calibration. We'll comment on that further in the image quality section. For now, we can say that if you like vibrant colors, this is not the panel for you, and you'd prefer something with a higher color gamut.
Brightness
In terms of max brightness, this monitor leaves nothing to be desired. It has good reflection handling, and even with 60% of the peak brightness, the glaring wasn't an issue with sunlight hitting the screen directly.
While this brightness was well above expectations during the day, we didn't even need to mention that it has more than enough for a good experience in a dark room during the night.
The only downside for use in a dark room, however, is caused by the IPS glowing, which is an issue of the panel itself. In this case, reducing the brightness helped a little with the glowing lights. Those are mainly visible in a black image, so it didn't majorly affect the experience.
Still, the brightness we have here is only the bare minimum to meet the HDR requirement, so we can say in advance that the HDR experience with this monitor won't be that great. But in the end, you're probably going to find yourself using way less than 100% of max brightness, especially during everyday casual use.
Refresh rate and Response time
As long as you play within the FreeSync premium feature's FPS range, the screen tearing won't be an issue, resulting in smooth pictures when combined with this monitor's fast refresh rate.
On the other hand, if professional gaming is your aim, you must know that this monitor has quite lacking responsiveness for the job.
Not that its response time and refresh rate features are subpar. On the contrary, they are awesome for casual use. But when we talk about professional gaming, this monitor just struggles to keep up, unfortunately.
With a 165hz refresh rate, it boasts more than enough smoothness to be suitable for casual gaming. But as we all know, if you really want to have an advantage over or be on par with the other competitive players, 240hz is presently the bare minimum.
Even though 240hz doesn't significantly differ from 165hz in terms of smoothness, we can't ignore the improved accuracy it offers due to the enhanced response time ratio.
Speaking of which, this monitor has 1ms GTG, which, once again: good for casual but not for professional use. The motion blur is showing its face all over the place during FPS gameplay. Fortunately, It doesn't significantly affect the overall experience, and the smooth refresh rate can probably make up for that minor drawback.
It could've been a little bit better if this screen had the MBR feature, but that's not the case here. Besides all that, 32 inches is clearly too big for professional gaming and assuming you play very near to the screen, a 24-inch or 27 is a much better deal.
In any case, having all those "bad" features for professional gaming doesn't necessarily put this monitor in the unworthy category.
It is just a matter of needs, and while this monitor is clearly not the one for you if you want to join the competitive scene and get the best of the best for that, it is probably really good if you just want to play some games here and there for fun.
Besides that, professional gaming screens are currently too expensive for anyone who won't make money off of them to afford. There are some cheap ones with lower resolutions such as the: LG 27GP750-B, but don't expect it to have a good image quality like the LG 32GP750-B.
Image Quality
While the 2560 x 1440 resolution we have here is excellent in and of itself, things start to fall short when it's used with a 32-inch screen.
If you are coming from a 24-inch 1080p screen to a 32-inch 1440p like this one, be sure to set your expectations as low as possible for the image sharpness, because both have roughly the same PPI (Pixel Per Inch).
In essence, you won't get a good resolution improvement from 1080p because both displays have about the same number of pixels per inch. Something like a 27-inch screen with 108 PPI is your best bet if you want to take full advantage of what the 1440p resolution has to offer, and believe me when I say that it makes a tremendous difference.
Some say the 4k resolution is best suited for 32 inches, but such monitors with a high refresh rate like this one are costing the earth currently. In either case, with a 32-inch monitor like this one you're probably using the PC within a reasonable distance, so the clarity won't be that big of an issue for normal use.
Of course, 4k is the most suggested if your business calls for larger screen space.
Moving ahead, we should discuss this monitor's lackluster HDR. It wasn't unexpected for it to be that horrible, honestly. We are all aware that it is best to avoid having high expectations for the HDR 10 feature. The brightness just won't get there in order to deliver an acceptable HDR experience, and on top of that, the colors aren't as vibrant if you don't calibrate them.
The LG 32GP750-B, incidentally, has the standard sRGB 99% feature found in low-end IPS panels, and its colors are somewhat dull right out of the box. However, at least this monitor supports simulated 10-bit colors, which helps a little with gradients when you turn it on but isn't as good as the real thing of professional displays. The colors leaning to the cooler side are more of something of mid/low-end IPS panels rather than the color gamut per se.
Such colors are fairly accurate for casual standards, although they aren't quite as vivid as some people would like them to be right out of the box.
In fact, the limited gamut stops it midway from being an actual good professional screen, but I can see it sporting some accurate colors with a suitable calibration.
In any case, from what we've seen so far, this monitor is actually outstanding for a casual gaming screen, even though it has the UG branding and looks like a professional gaming monitor.
But the question is, is it truly the best available at this price point, or can we find anything better? We'll get into that in the next section.
Final thoughts
When to buy it
While this monitor has a good set of features, there's no denying that it lacks a little bit when it comes to motion blur and gamut extension and it is just slightly cheaper than its predecessor.
Right now, the price difference between the LG 32GP750-B and the LG 32GP850-B is minimal, with barely $10 more for the latter. That makes it really hard to recommend the LG 32GP750-B currently, especially when we consider the LG 32GP850-B is better in every way and costs almost the same.
Besides that, if you don't care too much about the gaming design of your monitor, for around $270 you can get the HP X32 which performs the same as this one, has even better colors, but lacks all the flashy details of a "gaming" monitor.
LG 32GP850-B Review | Is It The Best LG Hybrid Monitor?
HP X32 Review | Budget 32-Inch Gaming Monitor
You may like