Our Conclusion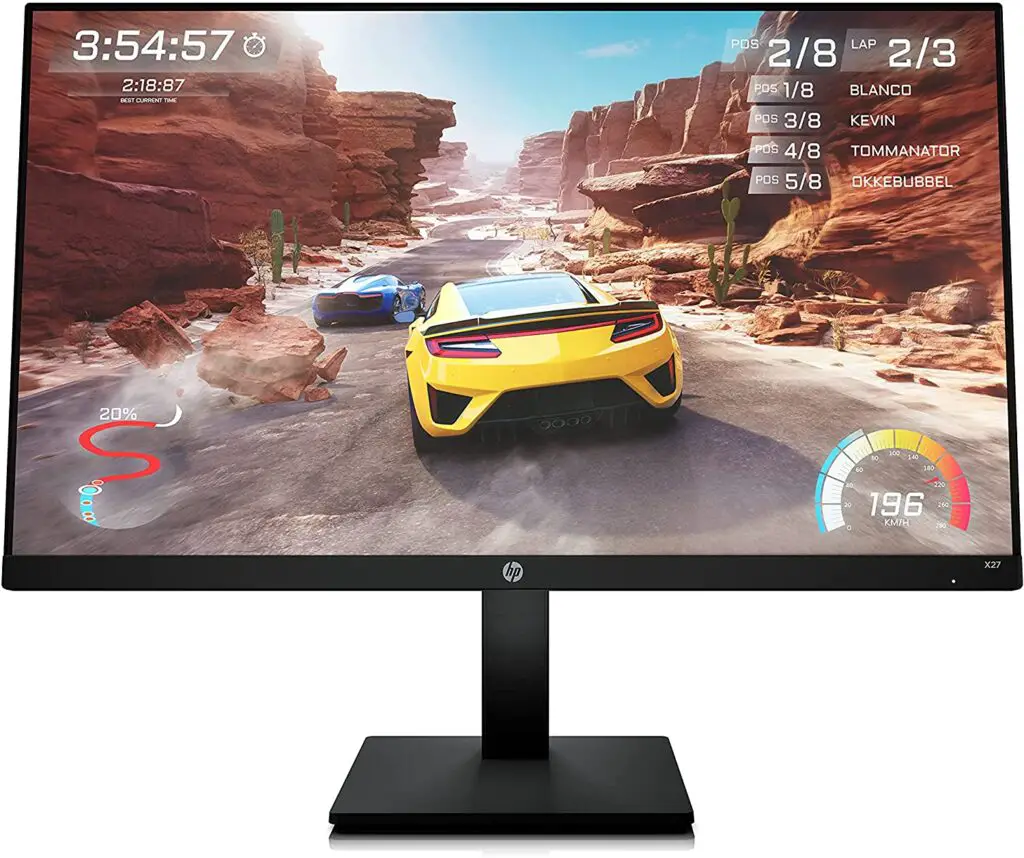 The HP X27 monitor would undoubtedly be one of the top HP monitors of the previous year if it had been built in a 24-inch form. Unfortunately, it has a 27-inch size, which stretches the pixels of the 1080p resolution and results in blurry images. Even so, if you don't mind that all, you'll get a solid monitor with good peak brightness, smoothness, and ergonomy. All for a reasonable price.
Pros
✓ Great peak brightness
✓ Budget prices
✓ Ergonomic stand
✓ Solid colors
✓ Awesome gaming features
As we continue to review the displays in this "X" HP lineup, we're beginning to wonder why it doesn't get the acclaim it deserves.
Of course, as with every manufacturer's portfolio, there are a few unworthy models here and there, but in this instance, the decent monitors easily compensate for the duds. The first one I can't suggest from this line is the HP X32c, which I explain why in my review of its non-curved variant. 
And last, for one of the final assessments of the "X" line, we have this one, for which we have great hopes after seeing how its siblings performed. So, without further ado, let's check out the HP X27 Review and find out if this is a good choice for you.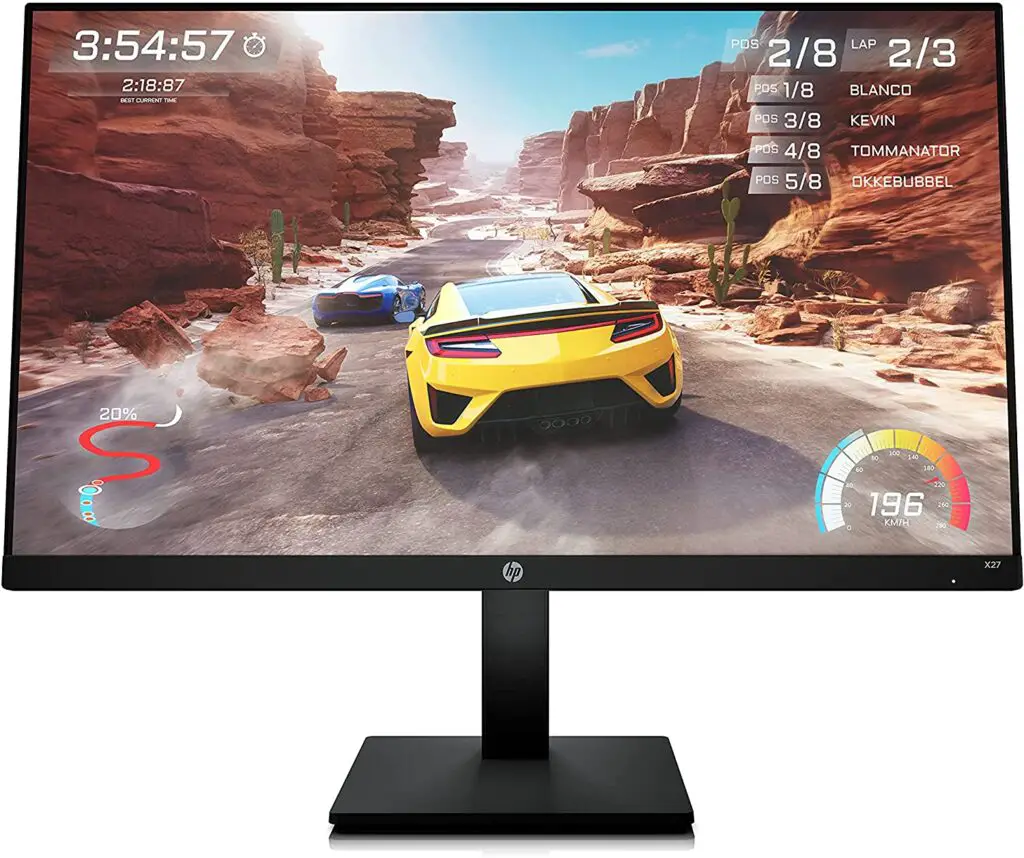 Design
This monitor has the same overall aesthetics as its 32-inch older brother, but it is smaller, measuring 24.15 x 20.17 x 8.33 inches and weighing 15.20 lbs. Because of its average size and lower weight, this one appeals to a wider audience, and it surely has the necessary to be mainstream.
Furthermore, the lack of significant distinctions from the other monitor is not a disadvantage in and of itself, as both display a robust and clean design. 
Fortunately, this monitor has the same above-average quality materials as its 32-inch counterpart. Those do convey a high level of durability, which is noteworthy given the monitor's low price point. They also opted to utilize an ergonomic stand for this model, as if quality materials weren't enough for such a "budget" screen. 
This stand allows you to tilt, swivel and adjust the height to what makes it more comfortable for your use. Also, if you wish to mount the monitor on the wall, you won't be having good use for those adjustments, and this monitor has you covered with its VESA support, which allows you to do so without any further hassles. 
In general, this display does not have a traditional gaming appearance. The HP X32 surprised us with its gaming features, but casual look. And this one will most likely cause the same. 
As a result, this monitor won't appeal that much to those who want the gaming features to be resembled in the monitor's design, with a lot of eye-catchy details, since this one leans towards a more down-to-earth style. 
This, on the other hand, is an excellent choice for individuals who want a gaming monitor but prefer a more unobtrusive setup with a display that is aesthetically solid but lacks showy elements. 
The thinness of this monitor for a 27-inch panel is very nice (albeit not the thinnest ever seen around here, so the HP M27FW still maintains its well-deserved crowd), and the borderless bezels give it a very contemporary look. 
One thing is certain: if you have expectations based on typical displays in this category and price point, the HP X27 will undoubtedly exceed them in terms of overall quality.
Its materials are pretty great, its design is clean, and it has an ergonomic stand, all of which you won't be finding pretty easy for the prices this monitor is costing right now.
Connectors
As not everything is flowers, to keep the prices solid, they had to remove some connectors that might be important to some public, implementing only the considered "necessary": 1x HDMI and 1x Display Port, 1x Audio input.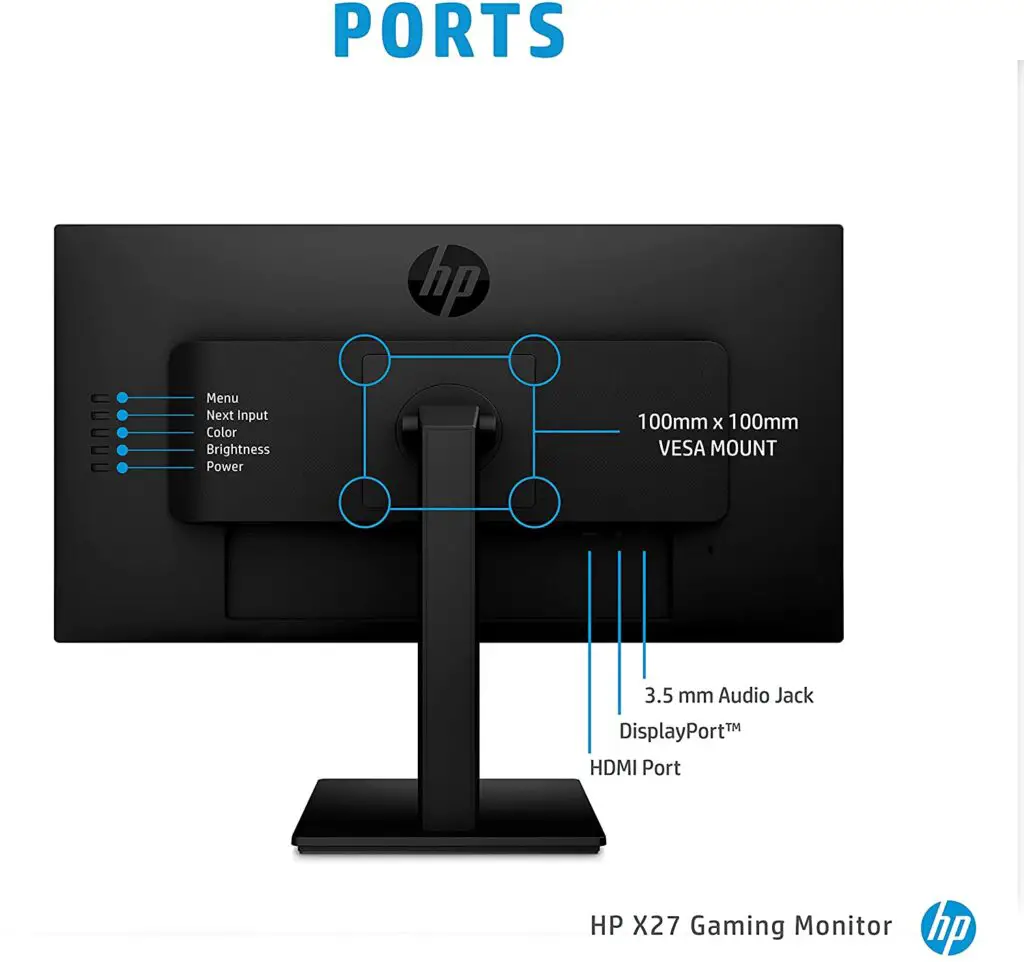 Features
Panel type
Because it uses an IPS panel rather than a VA panel, this monitor has a significant edge over its curved counterpart, which was unlucky to include the VA. On the plus side, this panel enabled a faster response time on the other display, but that's a topic for another piece.
When it comes to color reproduction, this monitor outperforms the competition. One of the most important aspects of this quality is the IPS that was designed for it. Indeed, out of all the monitors we tested in this price range, this one is unquestionably one of the finest IPS displays.
Of course, because this is an IPS panel, there will be some IPS glowing, but it isn't excessive and won't interfere with your regular activities. It comes with cold colors out of the box, but you may tweak them to your liking by calibrating them or tweaking the monitor's settings, to make things more vivid.
Brightness
The HP X27 high peak brightness also aids the IPS in maintaining accurate colors. However, the higher this ratio is set, the more you'll notice IPS shining, especially in a dark room, so keep that in mind.
They managed to adopt one of the highest brightness ratios for this monitor while keeping the pricing relatively stable, resulting in an improved price-performance ratio. With 400 nits, you'll be able to get an edge during games by seeing your opponent easier in a dark place.
Besides, even if sunlight hits the screen, which is a bad thing for a lower brightness ratio, this one can manage it effectively and without struggle.
Even yet, when compared to high-end panels, this monitor struggles to manage the high brightness ratio, which is a frequent problem with budget displays to be fair.
Refresh rate and Response time
Remember how I mentioned the curved version of this monitor had superior gaming features? Even with that, both have a similar response time. But, while this one can achieve 1ms GTG, the HP x27c can reach 1ms with MPRT. 
When compared to the standard GTG, the MPRT is preferable for competitive games. However, it does compromise a huge portion of the screen brightness, making the screen dimmer, and sometimes too much for normal use. So, unless you are really into competitive games and want the monitor to perform the best, I don't recommend you keep this on. 
Of course, if you only use one of those displays, the difference during use will be minimal, but if you compare both, the motion blur of the HP x27c during the use of MPRT will be much more visible. 
Still, I understand why things are the way they are. They saved money by using the VA panel, which allowed them to increase the monitor's gaming qualities and keep the monitor within a pre-determined price range. 
In any case, even if you simply need the monitor to play, I don't advocate VA panels at all. If you're that competitive, I recommend looking for an inexpensive Fast IPS monitor that provides all of the benefits of an IPS screen while having better or similar response times as VA monitors.
Returning to this model, it has a refresh rate of up to 165hz, making things much more fluid. You'll have a nice smooth experience with this feature, whether you're playing games or using it in everyday usage.
To top it off, this display wouldn't be complete without a solid tearing-reduction function, which the AMD FreeSync Premium provided. The premium version of FreeSync has a wider operating range, which means you'll get even better results with tear-free visuals and better smoothness. 
Overall, this monitor does not offer the most premium features available for gaming displays, but for its present costs, it is more than adequate to provide you with a superb and seamless gaming experience.
Image Overall Quality
Still, not everything is perfect, and all monitors have flaws, so it's time to address them and see if the balance is favorable to the benefits. During our time with the HP X27, we were frequently distracted by visible pixels on the screen. 
I'm not sure whether it has anything to do with the fact that I was previously using a monitor with a higher PPI, but one thing is certain: a 27-inch display with a 1080p resolution isn't a fantastic combo.
As we've said in earlier posts, the best screen size for this resolution is a 24-inch minimum; anything larger than that stretches the pixels a little, resulting in blurrier pictures. 
Note that depending on how close you are watching the screen, this may be easier or more difficult to see. If you use your monitor at a high distance, the low PPI is less likely to bother you than if you use it up close.
Apart from that, the IPS screen shines with its vibrant colors (after calibration), so if you want to get the most of this model, I recommend you calibrate it. 
Even if you calibrate, keep in mind that the average color gamut and coverage of this panel will prevent you from achieving professional visual quality. Hp says this monitor has sRGB 99 percent and 16M colors, however, the results pre-calibration wasn't that standard. Obviously, this is not a monitor for media professionals.
Overall, the low PPI of this monitor might ruin the image quality of the screen, so if you care about resolution and image sharpness, I recommend skipping this one and instead opting for a better option like the Dell U2722D.
Final thoughts
When to buy it
Given its other qualities as well as its affordable costs at the time of writing, the HP X27 monitor will not disappoint anyone who can live with the low PPI of the 27-inch + 1080p combination.
On the other hand, similar 24-inch monitors with similar pricing and better features may be easily found, such as the: Dell S2522HG. Also, if you're prepared to pay a little extra money for better quality, I recommend 27-inch monitors with higher resolution like the Asus XG27AQM.
You may like