Our Conclusion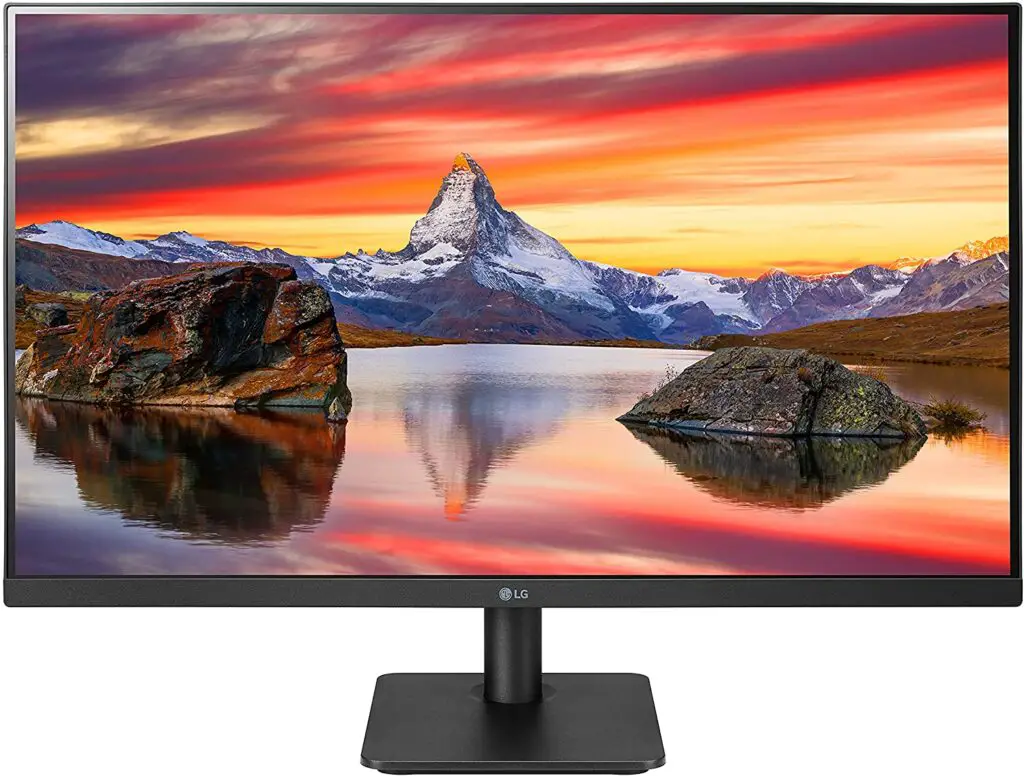 Being recently released, the prices of the LG 27MP400-B aren't that attractive right now. At this price point, you can find the: LG 27QN600-B, which has the same size, features, and even better resolution (1440p). So, while the prices of this monitor are really similar to the other mentioned, I surely do not recommend you afford it. It is better to wait for its prices to drop, or choose another screen.
Pros
✓ 75hz
✓ Vibrant colors
✓ VESA support
✓ Solid materials
Cons
✘ Limited stand adjustments
✘ Low PPI
LG is now trying to maintain consistency in their monitor launches, as highlighted in earlier reatbyte posts. Some come out with fantastic features and rates, while others immediately fall into the non-recommend category. In fact, this happens with almost every manufacturer at some point, so it's not just LG.
That said, we've acquired this new monitor to look into and see if it has the required features for whoever is buying it, in the hopes that it won't be another of LG's duds. So, without further ado, let's have a look at the LG 27MP400-B Review, including all of the monitor's advantages and disadvantages.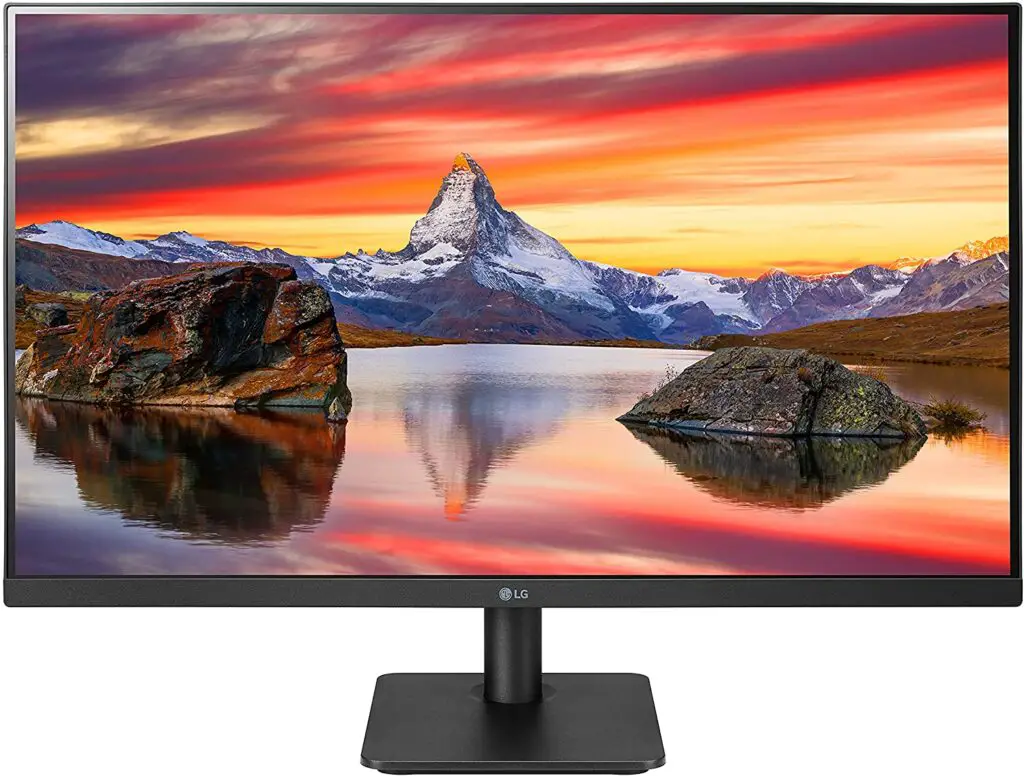 Design
Despite the fact that this LG budget line was made to appeal to the masses, it is not one of my personal favorites in terms of design. 
When compared to similar models from other companies, this one appears to be somewhat rustic, despite the borderless bezels, which serve to give it a more modern feel. 
Apart from that, the monitor does not differ significantly from previous LG monitors from the past, such as the LG 24MK400H-B. Fortunately, some of their recent releases, such as those from the UltraGear and the professional line, are rather stylish and out of the grain. 
Putting personal preferences aside, the monitor's design style has no noticeable flaws, since it is averagely thin and has decent weight and materials. 
Speaking of materials, these monitor's are excellent, but they're average for this range, so although they're not horrible, they don't feel as solid as a premium LG monitor would. 
The LG 27MP400-B is the "enhanced" version of the LG 24MP400-B. Both have the same basic design, but the former is a 27-inch variant for people who want a larger display. It is slightly larger and heavier than its smaller sibling. 
Unfortunately, they both have the same flaw: a tilt-only stand. Of course, this is to be expected from a low-cost monitor, so if you're looking for a more ergonomic LG screen, look at this one instead. 
This monitor has VESA support, which compensates for the absence of height adjustment. This feature allows you to mount the screen on the wall without any additional bothers. 
With all of this in mind, we can confidently assert that LG understands how to make its monitors appealing to a broad audience while remaining relatively unchanged. 
It meets all of the requirements for a budget or office monitor, however, my personal preference is towards HP displays of the casual category when it comes down to overall style.
Connectors
On the connectors part, they once again kept with the expected for a budget monitor like this one, implementing the usual: 1x HDMI, 1x D-Sub, 1x Headphone-out.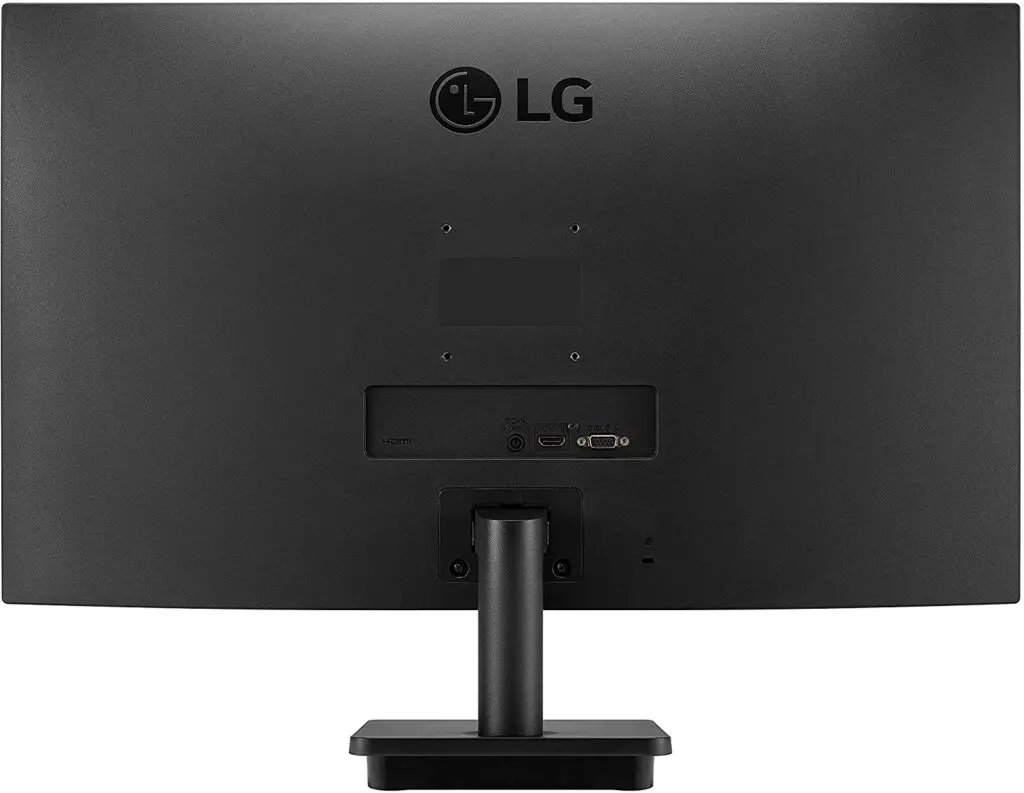 Features
Panel type
To be honest, the colors aren't the monitor's worst flaw. Fortunately, as time has passed, IPS panels have grown increasingly ubiquitous, even in low-cost displays, which is fantastic.
We can't ignore the distinctions between a professional IPS panel and the one found in most cheap monitors, though. Some individuals still believe that the fact that a monitor has an IPS panel qualifies it as a professional display.
In reality, the cheap IPS already provides enough vividness and beautiful colors for the average user, but it is mathematically insufficient for people who want accurate colors for work.
The IPS panel can give exceptional viewing angles in addition to vibrant colors, making the LG 27MP400-B an even better alternative for affordable displays due to its frequent low brightness ratio. And that makes the colors of this display one of its better advantages.
Brightness
Some manufacturers leverage the IPS' better viewing angles to keep display prices low while lowering the brightness ratio somewhat. 
Budget IPS displays with modest brightness, such as 250 and 300 nits, are very widespread right now. In reality, when it comes down to it, either of these ratios will most likely be sufficient for the user in 99% of the cases. 
I recently used a 250 nits IPS LG monitor that didn't even have the maximum brightness turned on, and it was plenty bright enough to use at night. 
They utilized 250 nits for this display as well. The performance of this ratio when used in well-lit spaces by sunshine is one of its significant drawbacks. 
Although it is more than adequate for usage at night, it may struggle a little bit during the day, especially if sunlight hits the screen directly, so keep that in mind when deciding on the appropriate rate for your requirements.
If you use your display mostly during the day, I recommend going with 300 nits rather than 250 nits; it'll spare you the headaches.
Refresh rate and Response time
Another important feature that has become increasingly popular for monitors in this category is the 75 Hz refresh rate. This setting offers the screen enough smoothness for everyday tasks like navigating across a webpage or playing games.
Of course, this isn't enough for competitive gaming, but it's a significant improvement over 60hz in terms of smoothness. 
It's worth noting that this monitor can only achieve these ratios when connected via HDMI, as it can only reach 60hz when connected by D-sub. 
Aside from that, the response speed is another nice and crucial characteristic for gaming. They added 5 ms to this monitor (GTG at faster), which isn't fantastic for motion blur, but because gaming isn't the major focus of this model, we can live with it. 
Last but not least, the Freesync technology, which is commonly utilized in LG monitors, was employed in this one as well. This is a very vital feature to turn on if you plan on playing games on this monitor. It will eliminate screen tearing when the frame rate is within the specified range, giving you a better gaming experience and fluidity.
To summarize, the LG 27MP400-B monitor lacks competitive gaming characteristics but, thanks to its 75 Hz and FreeSync technology, it can still be utilized to play. Still, we have to enforce that it's evident this isn't the screen's major emphasis.
Image Overall Quality
Unfortunately, it is in this section that we will identify the screen's most serious flaw.
As previously said, this monitor has 27 inches – a popular and solid size. When combined with a 1080p resolution, however, the effect is larger and more visible pixels on screen and lower pixel density than 24-inch models.
Although you may not notice the difference when you initially use it, when you compare a 24-inch and a 27-inch with 1080p, you'll realize that the 24-inch has significantly cleaner and crisper images. 
In fact, 1080p displays are often less expensive than 1440p monitors for this category. However, when the same LG offers a monitor with 2k resolution and the same size for the same price (LG 27QN600-B), the whole argument falls apart. 
So, while this monitor has great colors (NTSC 72 percent (CIE1931)), a nice refresh rate, and a solid design, it is clearly not worth it when the LG 27QN600-B is available for the same price. 
The only reason you should buy this monitor is because: A) you don't mind the low pixel density, and B) you can get it for around $200 and get a significant upgrade over the LG 27QN600-B prices. Aside from that, this is a monitor you should ignore and look for anything better.
Final thoughts
When to buy it
Overall, the LG 27MP400-B is a pretty good monitor, especially when the costs come down a little during sales. On the other hand, for the features it provides, it now costs far more than it should. 
For $250, this monitor is clearly not worth it. At this price range, you can buy even better options like the: LG 27QN600-B, or save some money and purchase the: LG 27GN800-B, with even better features and a better price-performance.
You may like