Our Conclusion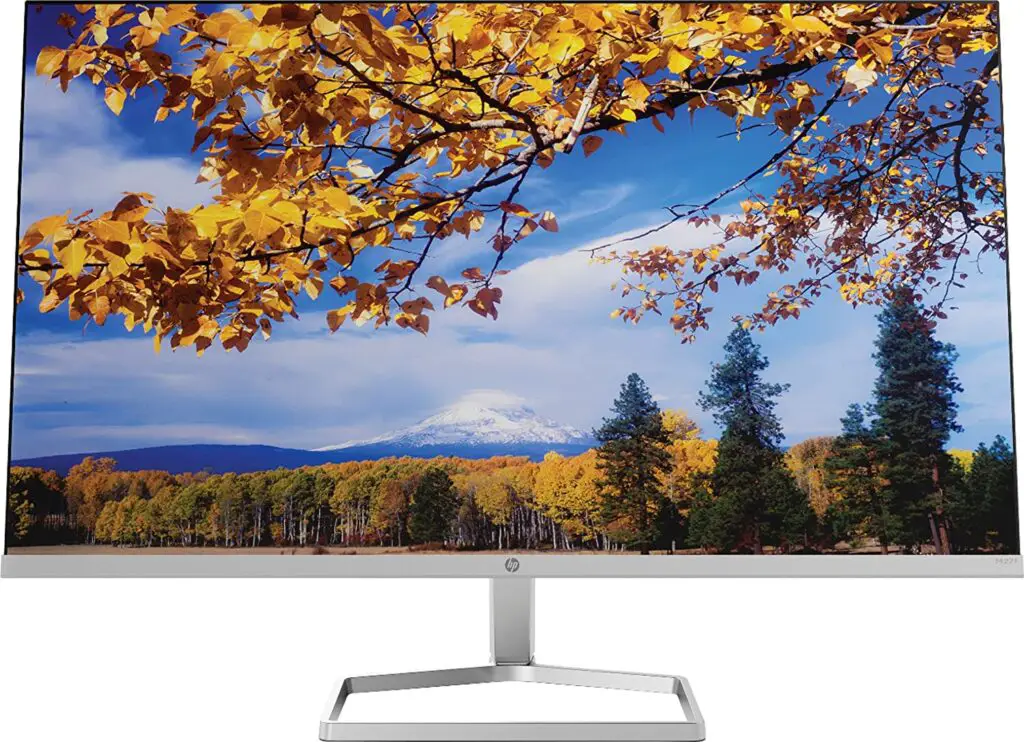 The HP M27F has almost everything you might want in a screen for casual use. It does not, however, support VESA and has no out speakers. We do not recommend purchasing it at this time due to this, as well as the fact that you can get cheaper 27-inch screens. However, depending on your needs, it may be a good pick if you can find it at cheap prices.
Pros
✓ 75hz
✓ Good image quality
✓ IPS panel
✓ 300 nits of peak brightness
Cons
✘ Lacks VESA support
✘ Lacks out speakers
We reviewed a display considered to be the highest price-performance 24-inch casual choice these days in the previous evaluation for HP's thin monitors' line. 
We also have a 27-inch version for today's post for those who need a bit extra screen space. 
So, without further ado, let's have a look at the hp m27f review to see if this display can truly match the cost-benefit ratio of the HP M24FW, and so determine if it is now a worthwhile purchase.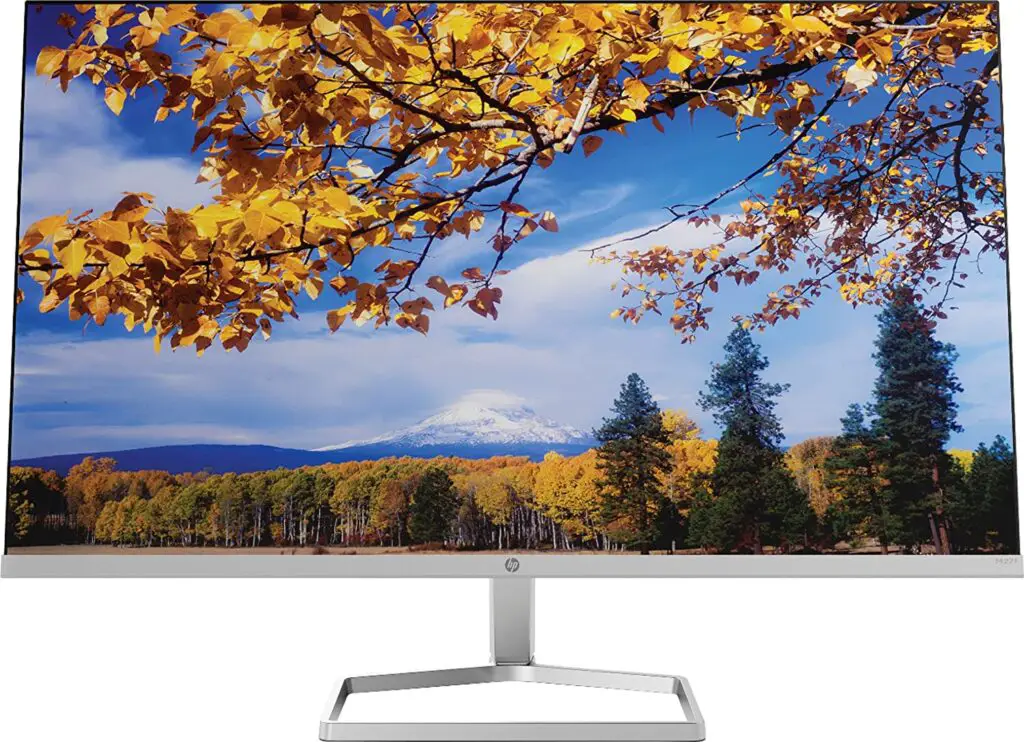 Design
At first sight, this monitor appears to be similar to the prior reviewed monitor, but it does have its own unique features. 
However, it seems to be even thinner than that one, which might be owing to its larger size of 27 inches. It has awesome dimensions of: 23.93 x 17.21 x 7.4 inches.
The 3-color overall design, which features various hues in different areas of the display, is the first thing that draws attention to it. 
This motif may also be seen in various other manufacturers' models, such as the LG 32UN550-W.
The most frequent pattern, however, is to utilize matte black on the front bezels and white on the rear. 
But for this one, they chose to maintain the front part of the display, including the bottom bezel, in white, while the rear of the panel was finished in matte black. 
When glancing at the rear of this monitor, one thing we note straight away is that it does not support VESA, which might be a major drawback depending on your demands. 
It also lacks external speakers, so if you want them, you should avoid this model. 
The stand for this display has sleek aesthetics and a unique overall design, but it lacks a wide range of adjustments, enabling you to simply tilt forward and backward.
Due to its slimmest and solid looks, this series of monitors is an excellent choice for an office setting.
Connectors
When it comes to connectors, however, things get a little disappointing, given the fact that this monitor will only include a few ports: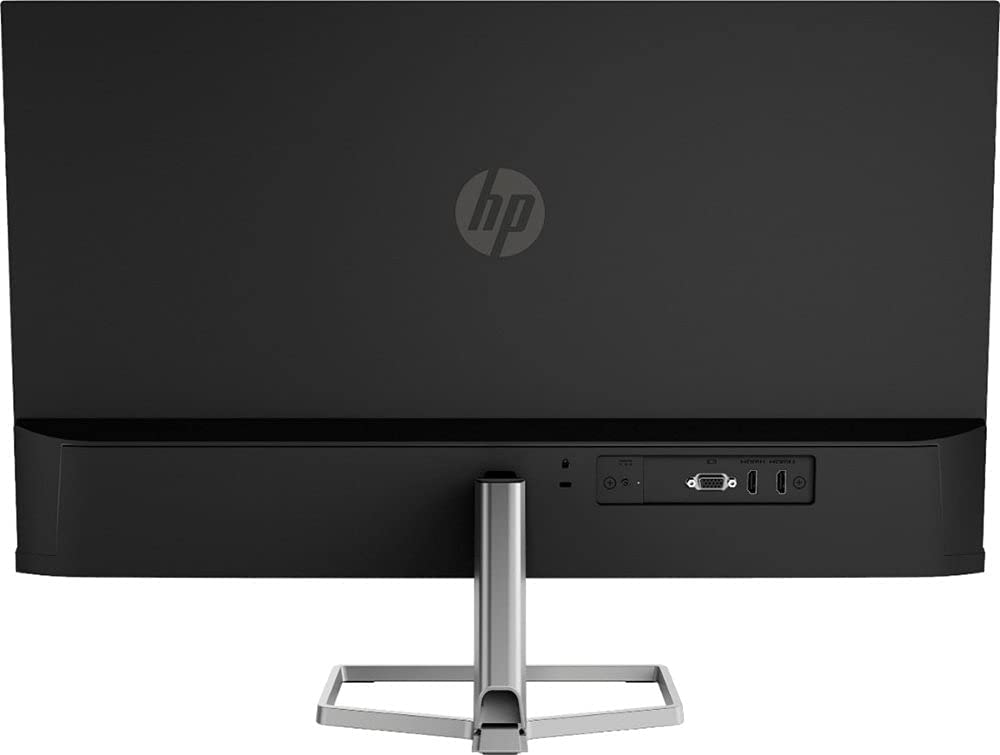 Features
Panel type
Now, let's have a look at the characteristics of this display to see whether it's truly worth it. 
First and foremost, we must note that this monitor costs about $70 more than the HP M24FW, as a result, we expect to observe some significant improvements in image quality. 
This monitor, like its 24-inch counterpart, has an IPS display. Despite the fact that this panel is the most costly of the three (IPS, VA, TN), it is quickly becoming a favorite among casual low-cost displays. 
This panel also offers the greatest image quality of the three, greatly increasing color accuracy, becoming a must-have for media professionals. 
This panel also provides excellent viewing angles for the display, allowing you to see accurate colors regardless of your point of view. 
The IPS panel is, in fact, a crucial prerequisite for the screen to replicate professional levels of accuracy. 
Still, other characteristics, like color gamut and coverage, are more vital when determining whether or not a monitor is professional.
Brightness
Depending on the IPS panel's quality, the viewing angles can sometimes compensate for a low brightness ratio. 
This isn't necessary with the HP M27F because it has an overall brightness of 300 nits.
Of course, 300 nits isn't the best brightness ratio for a display, but it's a fantastic thing to see for a casual display, as this sort of monitor often has the lowest brightness ratio available. 
With this many nits, you may use the display in a bright room without any problems. 
However, as I usually say, if your display will be positioned where it will be exposed to sunlight, it may be preferable to invest in a brighter one.
Refresh rate and Response time
We're most likely to see excellent "gaming" features in this section, given that they've maintained employing trendy features for casual displays in recent years. 
By excellent, we mean something on the casual side of things, such as a refresh rate of 75hz.
And, thankfully, they did not make the error of choosing 60hz for the display, instead opting for 75hz, which is a huge benefit.
In most situations, the smoothness of this ratio differs significantly from that of 60hz, and it has little influence on final pricing. 
All of this combines to make it one of the greatest features for a casual display right now. 
Even so, if you require a bit more smoothness than that for casual usage, you can purchase a 144hz monitor, but keep in mind that it will add a few dollars to the final price of the display. 
Apart from that, this monitor features a 5ms average response time, which is the standard for this sort of screen these days. 
If you're not getting a gaming display, this number isn't a big deal because it only improves the speed at which your command is displayed on the screen.
Aside from that, this monitor is equipped with AMD FreeSync technology, which enhances the smoothness of your gaming experience by eliminating screen tearing.
Image Overall Quality
So far, we can conclude that the HP M27F display offers all we need in a nice casual-focused panel, and its pricing is beginning to match.
And now, let's determine once and for all whether or not it is currently a worthwhile option. 
This monitor features a 27-inch screen with a 1080p resolution. This combination produces images with an average PPI, ensuring that image sharpness is maintained at acceptable levels.
Despite this, when comparing the same resolution on a 24-inch screen, there are some variances to be found. 
If you do so, you'll notice a little variation in sharpness favoriting the 24-inch screen for improved clarity. 
Still, because it's only a little difference, it's probably nothing to be concerned about. 
When it comes to color fidelity, this monitor is once again able to set the bar high for casual displays. 
It features an 8-bit color pattern that allows for up to 16 million colors, which isn't enough for professional use but plenty for everyday use.
Aside from that, this monitor features an sRGB 99 percent color gamut, which is a fantastic ratio but also a typical characteristic for casual displays.
So, in the end, this monitor provides just what you need for a casual-focused screen, and what will determine whether you buy it or not is its current pricing, which varies a lot between on-sale deals and somewhat higher costs.
Final thoughts
When to buy it
If you need a casual 27-inch monitor with good prices and great image quality, the HP M27F is indeed a solid choice. 
Bear in mind that this model lacks out speakers and VESA support, and it is more expensive than some other displays like the HP M24FW and the ASUS VL249HE, which have the same features.
Even so, regardless of which one you choose, every mentioned monitor will surely not disappoint you, that's for sure. 
You may like