Our Conclusion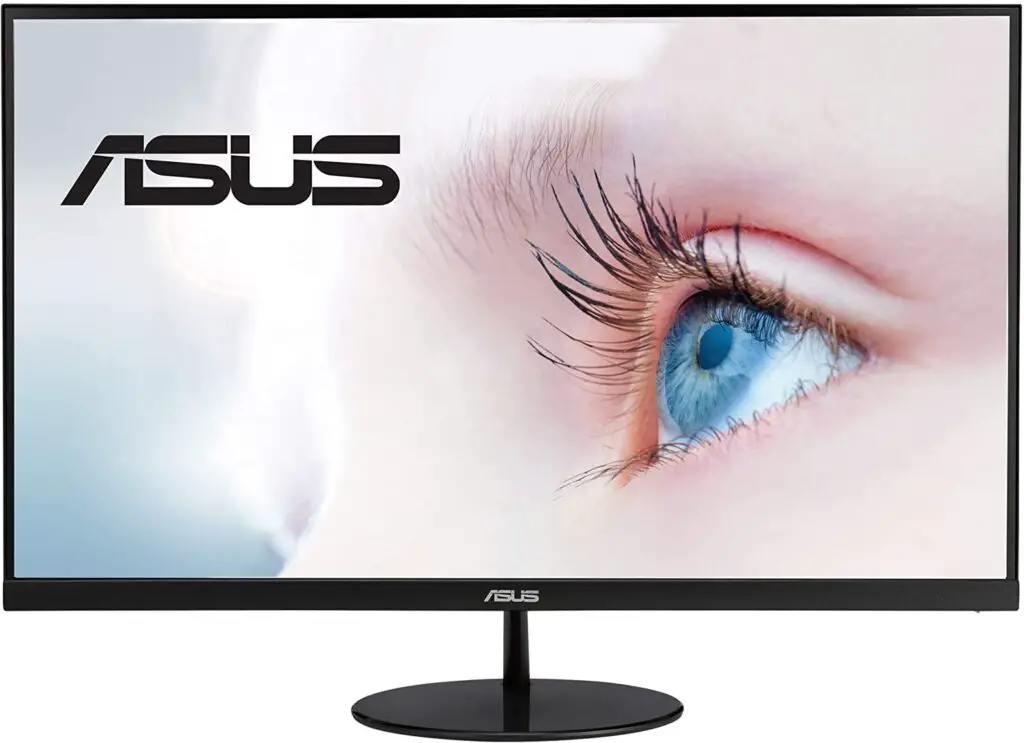 This display is unquestionably a fantastic choice if you require a low-cost casual monitor with good build quality and functionality. At this budget point, the ASUS VL249HE can give you nearly everything you'd expect from a casual monitor. Still, it is devoid of speakers, and the stand can only be tilted, lacking further ergonomy.
Pros
✓ IPS panel
✓ 75hz
✓ Good image crispness
✓ Affordable
Cons
✘ Limited stand adjustments
✘ No out speakers
After reviewing a few gaming and high-end monitors this week, it's time to return to basics and look at a decent casual-focused display for people looking for a monitor that won't break the bank.
When it comes to launching such screens, Asus excels, as evidenced by the fact that some of their casual models have some of the greatest price-performance ratios.
And for today's post, we have a last-year model to look at that is presently an excellent value for anyone looking to save money while still getting a nice display. So without further ado, let's jump into the ASUS VL249HE Review for a complete list of the display's advantages and disadvantages.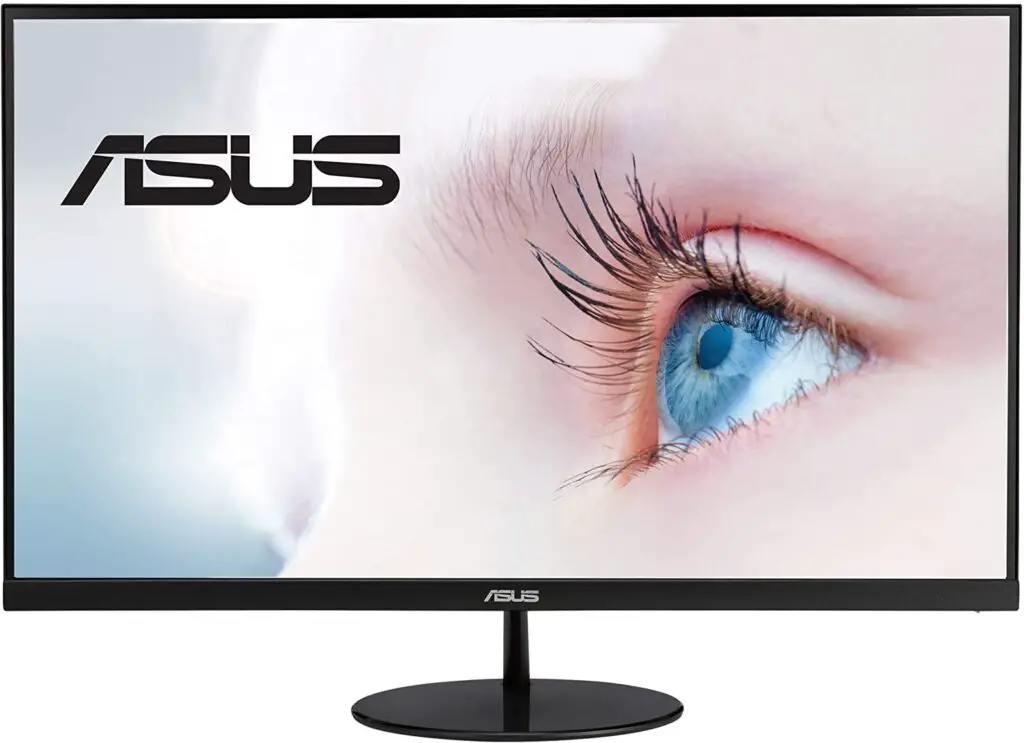 Design
We can't dispute that the looks of nearly every Asus casual display released recently have been very similar. 
There are minor variances, such as the form of the stand, but essentially, they're all rather similar.
They appear to place a premium on the overall appearance of the ROG STRIX series of monitors, but even so, they maintain the simplicity that we saw in our previous review of a monitor in this line.
Aside from that, as previously said, this monitor follows the same design pattern as other casual Asus screens, being totally matte black with 3-sided borderless bezels for a modern look. 
Furthermore, with incredible dimensions of 21.33 x 15.55 x 8.2 inches, this monitor is undoubtedly one of the slimmest of all the Casual Asus models.
To match with the slimmest, they made the stand as thin as possible, giving it a circular shape, which is a common pattern among casual Asus screens.
Expect limited adjustments from this stand, since it only allows for tilting, putting this monitor outside of the ergonomic category. 
Looking at the rear of the display, we can see that it supports VESA, which is great news for people who intend to mount this monitor on the wall. 
It's also worth noting that this monitor lacks external speakers, which is to be anticipated for a display in this price bracket.
Connectors
As for connectors, this display won't deliver anything out of the usual for its price range, so, you can expect it to have a 1x HDMI port, 1x Display Port, 1x Headphone-out.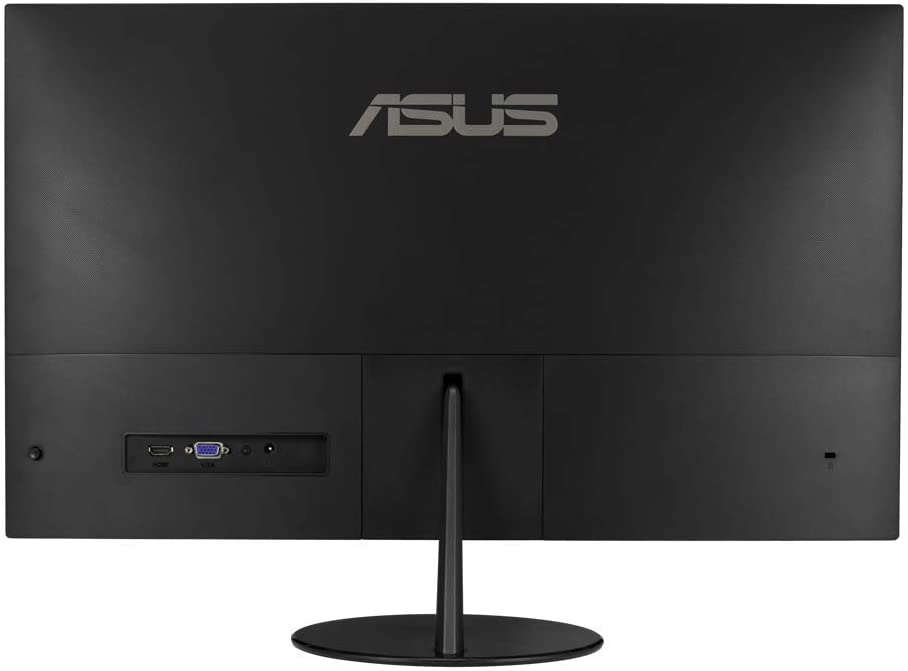 Features
Panel type
The panel is unquestionably one of the most essential aspects of the display, as it will separate the monitor's target customers as well as the overall image quality.
The panel also has a significant influence on the monitor's ultimate pricing, which is a critical consideration for casual-focused screens, as the costs of displays in this category are often fairly comparable.
The IPS panel was chosen for the ASUS VL249HE because it is the best of the three (IPS, VA, and TN) in terms of color accuracy and viewing angles.
Despite the fact that the VA panel has similar viewing angles to an IPS panel's when it comes to color fidelity, things are quite the opposite. 
The TN is regarded to be the worst of the three, with the poorest color fidelity and viewing angles, but it is also the most affordable and has the greatest response time ratios. 
That's why, despite the fact that it compromises color accuracy, some professional gaming displays use the TN panel instead of the others. 
IPS and VA panels are now the finest alternatives for casual-focused screens. If I want color accuracy over high contrast, I'd opt with the IPS, and if I like contrasting colors over accurate ones, I'd go with the VA.
Brightness
The brightness ratio, in contrast to the panel, is a feature that does not alter significantly for casual screens in this price range. 
As can be seen, this monitor has the same 250 nits as almost every other $170 budget casual display now on the market.
Of course, there are some fluctuations with 300 nits, but it never gets much higher than that. Although 250 nits is one of the lowest levels of brightness and the most common, it is sufficient for the majority of users.
This display's brightness is more than enough to display precise images with no distortions even when used during the day. 
Even yet, if sunshine is always shining on the screen, this number may be too low, obstructing accurate visuals. If that's the case, higher-brightness monitors are the way to go.
Refresh rate and Response time
Fortunately, they made the right decision by using a 75hz refresh rate and a 5ms response time for this panel, since these are excellent characteristics at the casual level.
These are also very standard characteristics in this type of monitor, however, newer 60hz screens, such as the, are often available, which is indeed a huge downside currently.
The major advantage of 75hz is that it may significantly enhance overall smoothness while having no influence on display cost. As a result, it's becoming increasingly common in recently launched casual-focused choices. 
I currently don't recommend anyone to afford 60hz monitors because you can get better results with the same prices. 
Also, if you truly want a flawless experience, I recommend investing in a 144hz monitor, which is somewhat more expensive than this one. 
Aside from that, the response time ratio isn't a crucial characteristic to consider for casual displays because it simply improves the command to screen speed, which is more significant for gaming monitors. 
In terms of gaming features, I would say this monitor offers what is expected for its price range. 
Last, we'll look at the monitor's general quality to see whether it can stand out from the crowd or if it's pretty much the same as the others.
Image Overall Quality
The ASUS VL249HE is a 24-inch monitor with a 1920×1080 resolution, which is typical. This combination results in an average PPI ratio (pixels per inch) for the display, resulting in clear pictures.
They chose to retain the pixel pitch at the recommended 0.2745mm to maintain a consistent degree of sharpness. Because it uses an IPS screen rather than a VA panel, this monitor produces very exact colors, but not as excellent contrast, with just a 1000:1 contrast ratio.
Furthermore, this monitor features an 8-bit color pattern with a range of up to 16.7M, firmly placing it in the casual category.
In general, the IPS panel on its own can give excellent color accuracy, but when it comes to professional levels of accuracy, it is unquestionably not the greatest option.
Of course, 10-bit displays are 2x or even 3x more expensive than this one, so if you truly need a decent and precise display, you'll have to save up.
In the end, this monitor can give all of the functions anticipated of a casual display, so in the end, what counts most is its style and affordability.
Final thoughts
When to buy it
Because casual-focused displays have a lot in common in terms of features, I recommend looking at other casual models like the Acer K243Y and the Dell P2421D to determine which one has the best aesthetics and pricing for your needs. 
If you chose to afford the ASUS VL249HE, you may rest confident that it will provide just what you require.
You may like