Our Conclusion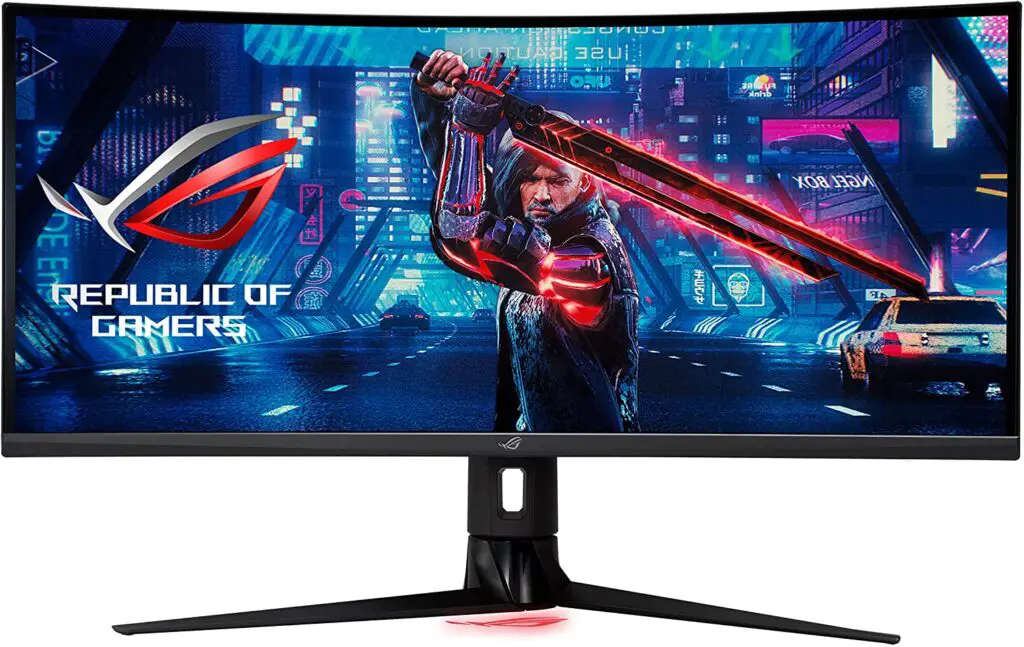 The ASUS XG349C is a curved ultrawide gaming monitor with a high resolution and several high-end features that can significantly raise the display's final price. On the other hand, it's now well worth the money because it includes nearly everything you'll need for an ultrawide monitor, vibrant colors, wide inputs variety, HDR support, and a high resolution.
Pros
✓ 1440p
✓ 34-inch ultrawide
✓ 1900R of curvature
✓ Fast IPS technology
✓ HDR 400
✓ USB-C port
Cons
✘ Salty prices
✘ Out speakers with AVG quality
Thankfully, Asus hasn't let us down with its latest ultrawide display launches. One of the finest Asus releases of the year is the previously reviewed in this category.
And now we aim to analyze this new edition of the ROG Strix series, which comes with somewhat higher-than-average pricing but, perhaps, some high-end features that will compensate for the higher costs? On today's ASUS XG349C Review, we'll look at it and other factors, so keep reading to see whether this is a decent option for you.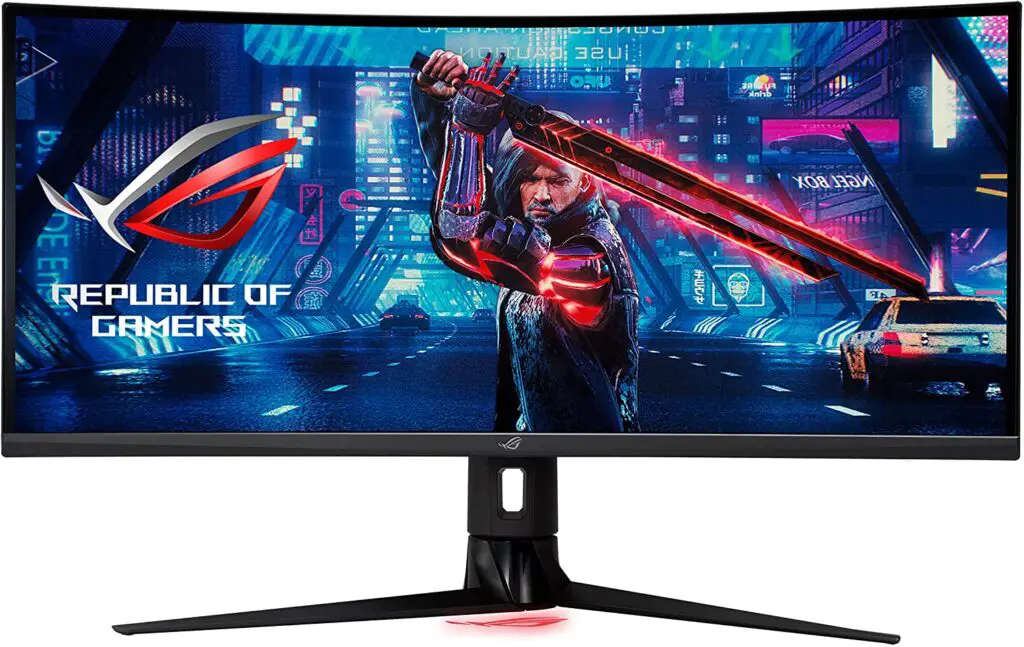 Design
We can't claim it's visually similar to other reviewed monitors because this is the first of the ROG Strix line we'll review on the website. However, one thing we can say about this display is that it succeeded in making a nice first impression. 
It has a sturdy design, which is likely due to the fact that it is a 34-inch monitor with dimensions of 32.09 x 16.18 x 10.98 inches and a weight of 20.28 pounds.
This display, like the vast majority of monitors, is totally matte black, a color that is getting increasingly overdone. On the other hand, while this is the most popular color among purchasers, we can't really complain. 
The 3-sided borderless bezels, which give it a current feel, were implemented to make this monitor acceptable for the modern category. It also features a very thin bottom bezel with the ROG STRIX logo on it.
This monitor features a V-shaped stand that allows for tilt, swivel, and height adjustments, making it a good ergonomic option. The general style of this stand is broad, and it is indeed visually divisive. 
It's worth noting that this monitor has a very nice curvature of 1900R, which really improves the environment during your gaming sessions. 
Looking at the rear of the display, we can see that they chose to keep it basic, with no logos, drawings, or other eye-catching elements to enhance the gaming vibe. 
We can also see that this monitor has VESA support (100×100), which means you can mount it on the wall with ease. It also has 2x 2W out speakers that offer acceptable sound, nothing out of the ordinary, but they can get the job done.
In conclusion, we can say that this monitor manages to blend gaming aesthetics with solid style, making it an attractive option for anybody.
Connectors
The one thing that caught us off guard about this monitor was the bundle of wires that came in the package, which included an HDMI cable, DP cable, USB-C cable, and 1x USB-A to USB-B cable. 
You'll also notice that this monitor provides you with a variety of inputs, including 1x DisplayPort 1.4, 1x HDMI (v2.0), 1x Headphone-out, 2x USB 3.0 ports, 1x USB-C.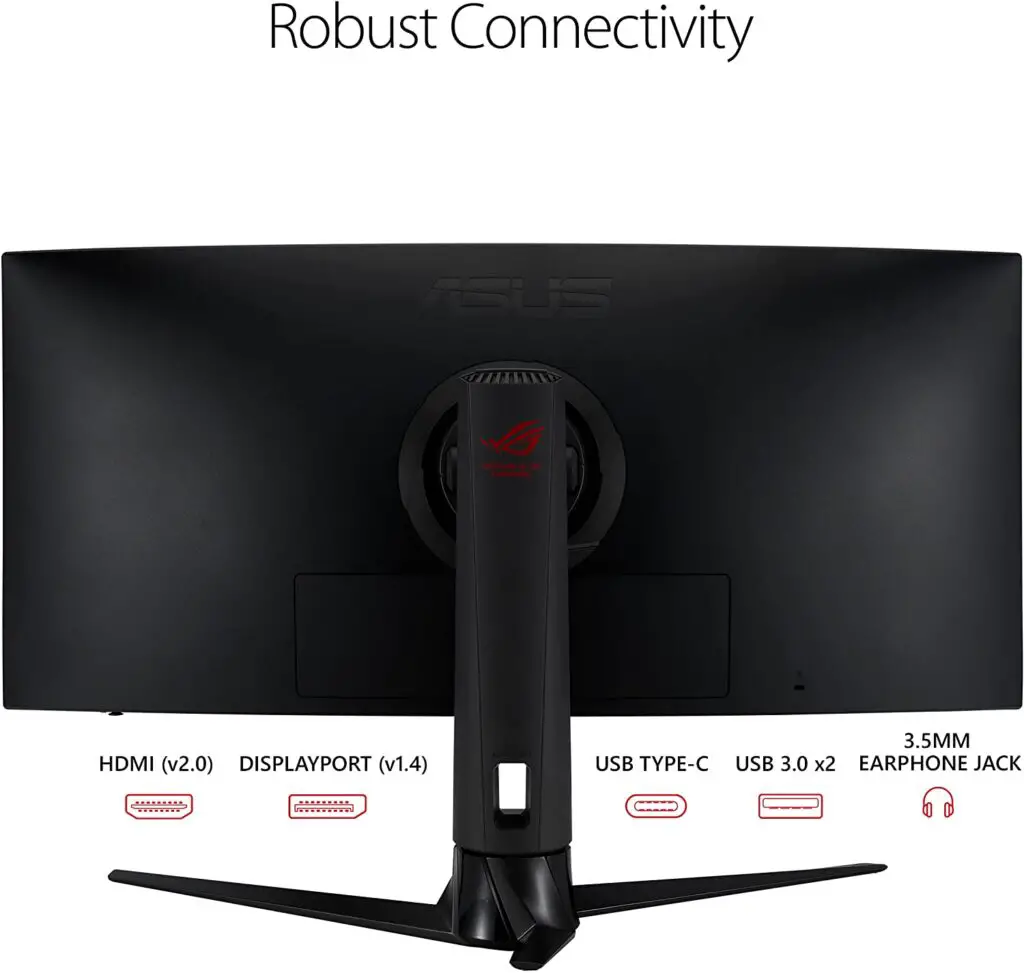 Features
Panel type
When it comes to a high-priced gaming display like this one, picking the finest panel becomes much more challenging. 
We all know that the basic IPS panel is the best of the three in terms of color fidelity, but it still falls short of the VA and TN's quick response times. 
On the other hand, neither of both panels are suitable for use in a high-end display, as they will offer poor color accuracy.
Fortunately, thanks to the Fast IPS panel technology in this display, they were able to include a quick response time without sacrificing color fidelity. 
The Fast IPS panel is essentially a regular IPS panel with faster response times, which is an excellent feature for gaming monitors since it allows manufacturers to maintain image quality at nice levels. 
This, on the other hand, is not a frequent feature in low-cost gaming displays, therefore it costs a little more to build than the others.
So, overall, we can conclude that this panel is good news for people who wish to join the competitive scene with this monitor.
Brightness
They chose to incorporate another top-level function for the total display brightness, which came as no surprise to everyone. When it comes to higher-priced screens, such as this one, we should anticipate a high brightness ratio. 
So it is with this display since they have incorporated nothing more than the maximum ratio currently available for modern monitors, putting this display in the high-end category. 
The ASUS XG349C has an overall brightness of 400 nits, which ensures that whether you're using the monitor throughout the day or if sunlight hits it, it won't let you down, allowing you to see all the displayed pictures clearly.
Refresh rate and Response time
The fast IPS technology enables a response time of 1ms (GTG) with little blurriness on this panel. This figure is fantastic for gaming, but it doesn't make much of a difference in everyday use, which is why manufacturers frequently choose higher numbers for casual displays.
By the way, the command to screen speed is determined by the response time number; the lower the number, the better.
Furthermore, this monitor has a normal 144hz refresh rate that can be overclocked to 180hz, which is not the greatest for this price range, but it may be the best depending on the display's resolution, which we'll discuss further in the image quality section.
A 144hz refresh rate is a well-known number that is used even in cheap gaming models since it delivers the bare minimum of smoothness necessary to compete in the gaming scene. 
Finally, this display features G-SYNC technology, which helps to decrease screen tearing and improve overall smoothness during games. 
Given all that, we can say that the gaming capabilities of this display did not exceed our expectations, but they are still above average for what it already offers.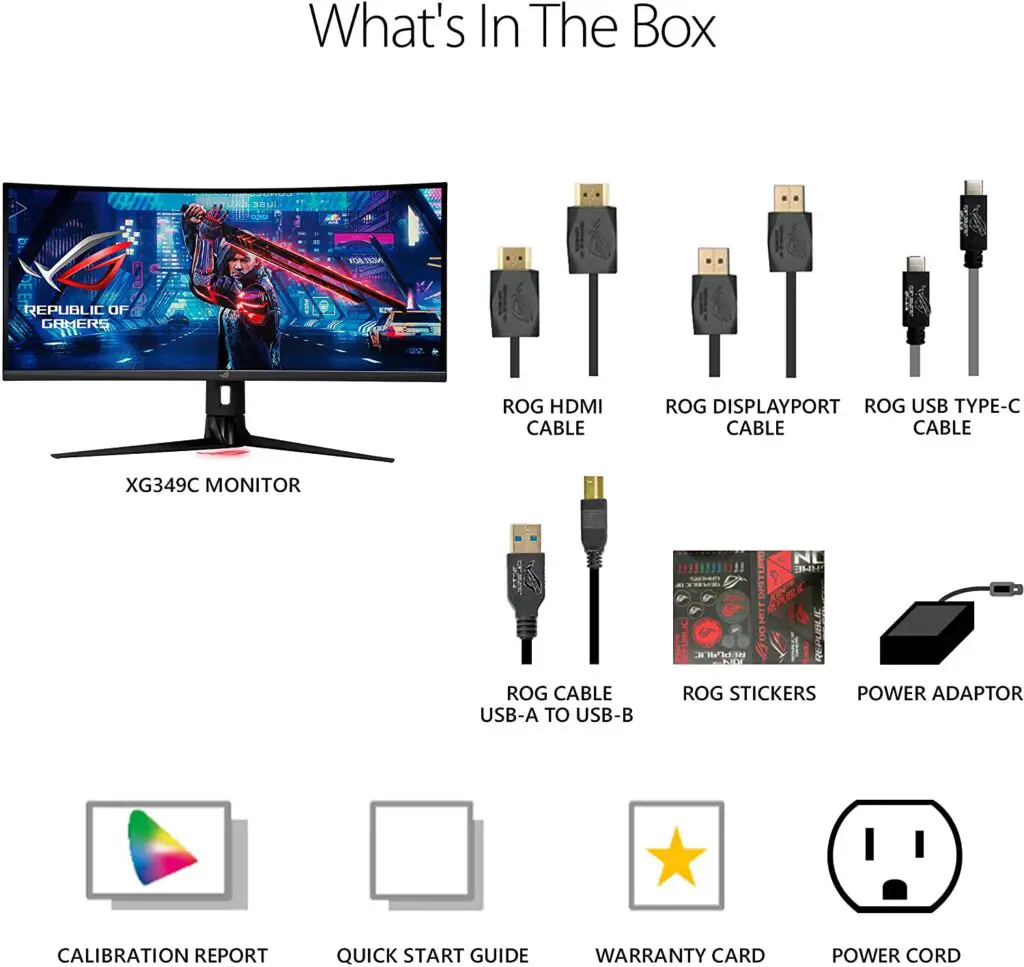 Image Overall Quality
The ASUS XG349C is a 34-inch ultrawide monitor with a 2K resolution (3440×1440), which is ideal for this screen size and keeps the PPI (Pixel Per Inch) at a decent level, ensuring visual sharpness. 
They were also able to lower the pixel pitch to 0.2325mm with this resolution, which is an incredible amount for a large panel like this one, enhancing image clarity even more. 
When it comes to color fidelity, this display still performs admirably. It has a 10-bit color pattern that can offer up to 1.06 billion colors, significantly improving color accuracy.
However, it appears that they chose to maintain the image more vibrant than precise, and as a result, they chose DCI-P3 98 percent, which is not only not a feature you'll find on a cheap display, but it's also not the greatest for color accuracy. 
This function, on the other hand, boosts color vibrancy to incredible levels, which, when paired with the monitor's HDR 400, results in high-end deep darks and contrasting colors. Of course, this monitor's HDR might be greater, but it can still offer the essentials.
However, if you want a monitor that is only focused on HDR, this display is not for you, as the HDR 400 is the most basic one. Instead, you can go with something like the LG 32UL750-W.
So, in summary, we can conclude that this display has brilliant and vibrant colors, all in extremely clear pictures, which is great for a large panel like this one, but it definitely lacks professional levels of color accuracy.
Final thoughts
When to buy it
The ASUS XG349C is an ultrawide display for those who want to avail of a good smoothness for everyday use as well as a high resolution and good color vibrancy.
Still, it is not the best if you want a professional level of color accuracy, as well as high-level competitive gaming features.
You may like