Our Conclusion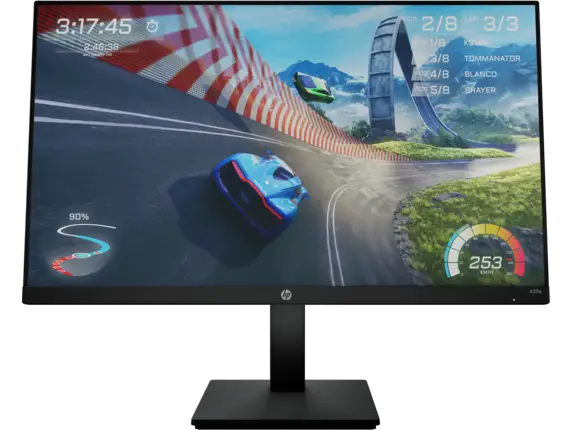 The HP X27Q is a fantastic gaming release from HP for 2021 gaming monitors. It's almost a hybrid display, with excellent picture quality characteristics coupled with gaming capabilities, giving fluid graphics for people who need to compete but don't want to sacrifice image quality. All with budget prices currently.
Pros
✓ 165hz, 1ms
✓ IPS panel
✓ 1440p
✓ HDR 400
✓ Budget prices
Cons
✘ Lacks out speakers
✘ No USB ports
HP, which is recognized for its aesthetically simple and clear monitors, has just released a slew of new gaming monitor options.
The one we chose for today's review is the X27q, which drew our attention owing to its extremely budget pricing and potentially excellent features? That's what we'll see in today's review.
So, without further ado, read on for our HP X27q Review to see whether this is a suitable choice for you if you want a high-quality gaming monitor but don't want to spend a lot of money on it.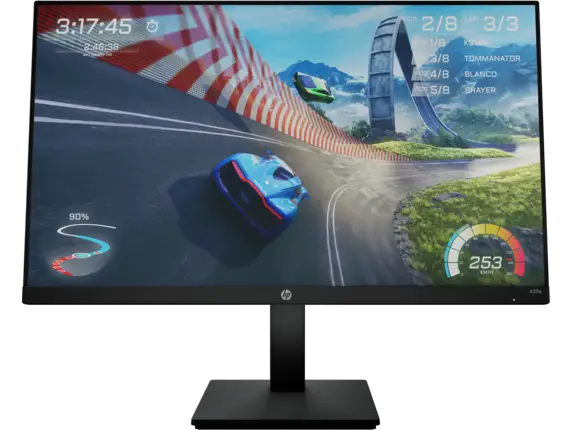 Simple But Modern Aesthetics
For the advantage of those who like a monitor to look like that, the latest HP releases have been finished with solid and basic aesthetics. 
Of course, some visually unusual or even divisive HD displays have gone through this site, but simple-looking screens still make up a large portion of their inventory. 
This one is part of the tradition, which may be a good thing in some aspects, but it lacks the contemporary feel that some people are looking for in a display.
One thing we can say is that when it comes to being a slim model, it does not disappoint. It has astounding dimensions of 24.15 x 20.17 x 8.33 inches, making it one of HP's thinnest displays. 
It boasts the must-have 3-sided borderless bezels that every modern monitor should have, giving it a modern feel. On the other hand, they stuck to the trend by adopting the overused matte black color and used it to cover the whole monitor. 
This monitor features a square-shaped stand that can be adjusted for tilt, pivot, and height, making it a good ergonomic choice. You may also rely on VESA support to easily mount this monitor on the wall.
However, if you require external speakers, this is not the monitor for you, as they have been removed from this model.
In summary, the overall aesthetics of this monitor appear to be built for individuals who desire a gaming display with a basic and solid design.
Connectors
As for connectors, you won't find anything out of the usual, but you will still get enough for this price range. This display includes only one HDMI port and one DP.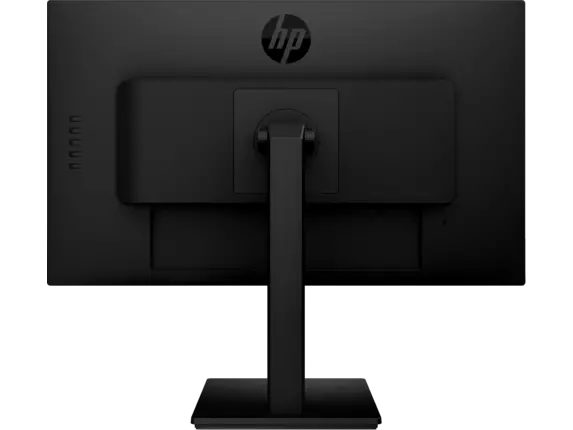 Features
Great Panel Type Choice
Because each panel has a varied average response time, the panel the manufacturer picks for a gaming display will have a significant influence on the gaming features. 
When it comes to color accuracy and viewing angles, the IPS is presently the finest option available. However, because it has the slowest response time of the three, it is believed to be the worst for gaming displays. 
Or so it was a few years ago, because manufacturers may still lower the refresh rate of an IPS screen to faster values, better fitting competitive scenes. 
Even so, the VA and TN panels have somewhat superior response time ratios than the other panels, although the differences are scarcely noticeable at this stage.
One of the most significant disadvantages of this panel is that it is one of the most costly of the three, resulting in significant increases in the display's final pricing. 
Fortunately, although having an IPS panel, this monitor is relatively affordable.
Top-level Brightness
They also opted not to skimp on the display's overall brightness ratio, adding just the best figure available for each monitor category at the time.
Regardless of whether you use the display throughout the day or if sunlight will be hitting it continuously, 400nits of overall brightness is more than enough for the vast majority of users.
The good news is that they managed to retain the steady pricing even after introducing this function, which is a huge bonus, making this feature one of the greatest masterpieces of the HP X27q.
Above-Average Gaming Features
Now it's time to examine the primary characteristics of a gaming display, the refresh rate, and response time. 
This display has FreeSync technology, which helps to decrease tearing during gaming sections, resulting in more fluid visuals. 
Another factor that contributes to the overall smoothness is the 165hz refresh rate of this monitor. 
165hz is becoming a popular frequency for newly launched gaming screens. The rationale for this is because it provides a little smoother experience than the well-known 144hz without significantly increasing the price. 
However, for some, this amount is still insufficient, making a 240hz monitor a preferable alternative. 
Although you may find some decent 240hz monitors in the same price range as this one, I can assure you that you will not find a 240hz display with the same color accuracy and in the same price range as this one currently. 
The HP X27Q also has a 1ms response time, which is a gaming feature that reduces command-to-screen delay to barely undetectable levels. 
So, all things considered, we can confidently state that this display met or exceeded our expectations, at least in terms of gaming features.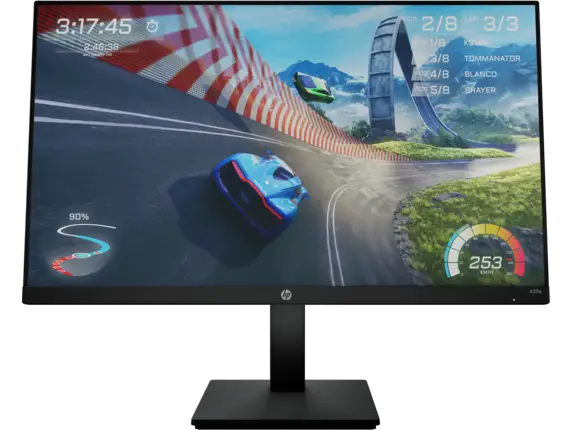 Image Quality
Unfortunately, HP did not disclose all of the information regarding the display's image quality attributes, such as the color gamut and supported colors number, on their website. 
That's terrible since we have no way of knowing how much color accuracy this monitor features. 
The one thing we can say is that the IPS has greater color fidelity than the other panels on its own. And this monitor still has some great qualities when it comes to image quality. 
The HP X27Q is a 27-inch model with a 2k resolution (2560 x 1440), which might be beneficial and disadvantageous for a gaming display. 
On the bright side, this resolution at this screen size produces an incredible PPI figure, resulting in extremely crisp visuals. 
They also kept the Pixel pitch at a respectable level of 0.233 mm, which helps to improve image sharpness even more.
However, because it is highly graphics card demanding to reproduce high frame ratios at this resolution, the 2K resolution isn't particularly widespread among gaming screens.
So, before you invest in a 2K gaming display, be sure your graphics card is capable of reproducing the game at the necessary frame rates. 
To help a little with the image contrast, they decided to implement HDR 400 support, which is a great feature for a monitor in this price range, even though this HDR pattern isn't the best one. 
Still, it'll be able to improve the overall color contrast and deepen the darks. 
In general, we can say that the image quality of this display was able to even surpass expectations, especially for being a gaming display at budget prices.
Final thoughts
When to buy it
If you need a good hybrid display, featuring great image quality but also some good gaming features, the HP X27Q is indeed one of the cheapest choices for what it delivers.
Among the HP portfolio, you can find some other hybrid displays such as the HP X27I, so considering comparing both in prices and features before affording this one, in order to confirm which one better meets your needs.
You may like