Our Conclusion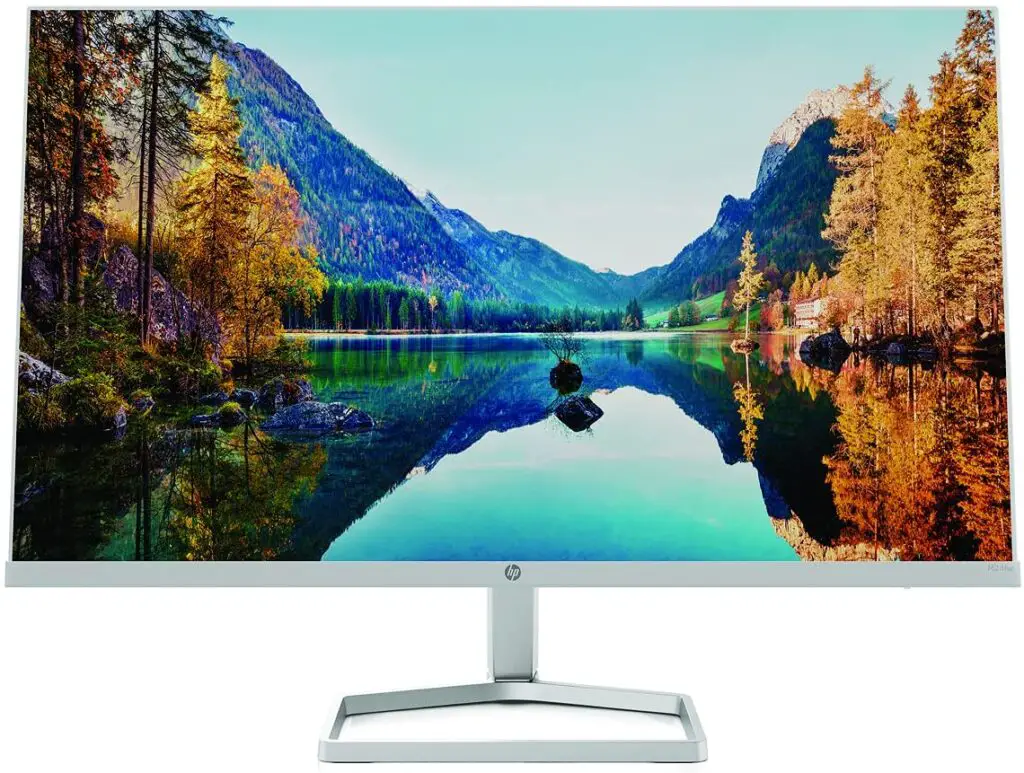 With its overall slimmest design, the HP M24FW is an excellent display for an office environment. Aside from that, with 300 nits of peak brightness and an IPS screen, it's one of the most affordable monitors on the market, making it a great contender for the best casual displays of the year category.
Pros
✓ Awesome Brightness Ratio
✓ Affordable
✓ IPS panel
✓ Slim aesthetics
✓ 75hz
Cons
✘ Limited ports
✘ Lacks out speakers
As we've said in previous reviews, now is the perfect time to purchase a casual budget display because costs have been steadily dropping this year. 
The LG 24MP400-B and the ASUS VL249HE stand out among the top options we examined on our page owing to their pricing and features, resulting in a particularly good price-performance ratio. 
And in today's post, we'll look at a rival to see whether it can match their cost-benefit ratio. So, without further ado, let's have a look at the hp m24fw review and see if it qualifies for the best casual monitors of the year category.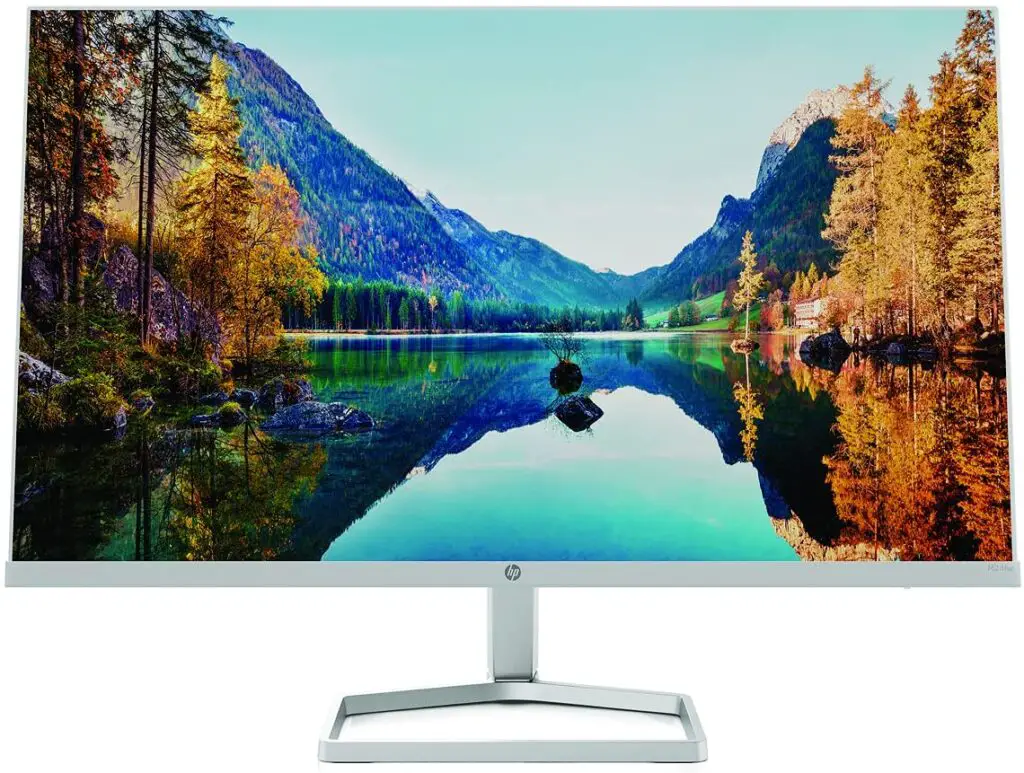 Design
At first glance, we can see that this is one of those monitors that feature fantastic thin and sturdy aesthetics, which is ideal for office setups.
It boasts a very small bottom bezel, as well as the traditional 3-sided borderless bezels, which helps to convey a contemporary vibe.
The entire display was completed in a white design, with the exception of the stand, which was metalized in a clear pattern.
This stand, too, has a compact form and a restricted range of adjustability, offering simply tilting forward and backward support.
They chose to build this monitor with a slim design, measuring only 21.09 x 15.62 x 6.97 inches and weighing only 5.50 pounds, making it one of the lightest in the range.
When we look at the back of the display, we can see that they opted to remove the VESA support, making it an undesirable option for people who wish to mount the monitor on the wall.
Connectors
Note also that this monitor won't deliver you anything out of the usual when it comes to connectors, which is expected for its current price range. It includes only 1x HDMI, 1x VGA.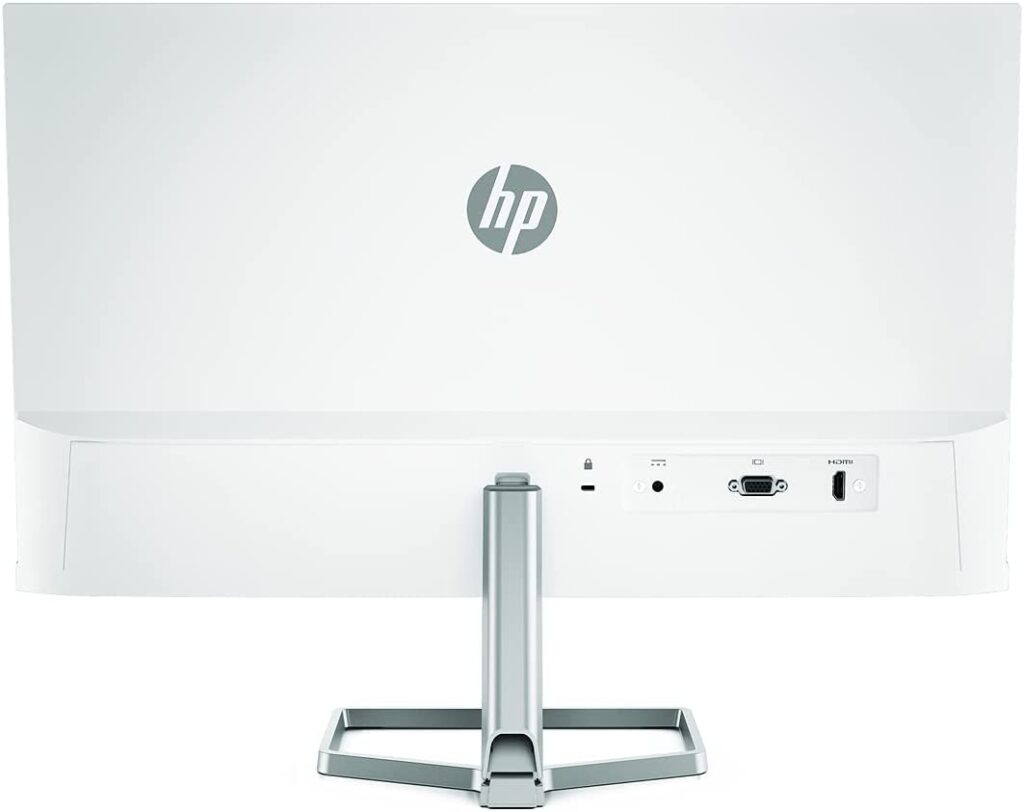 Features
Panel type
Although this monitor is presently available at a low price, it was nonetheless manufactured with an IPS panel, which is unexpected given the VA's popularity in this price bracket.
In case you didn't know, the IPS panel outperforms the other two (VA and TN) in terms of image quality.
It has the foundation to offer the finest color accuracy possible, as well as incredible viewing angles, making it a must-have for media professionals.
On the other side, it is the most costly of the three, which is why it is uncommon to find a panel like this in a low-cost display like this one.
When an IPS panel is used in a low-cost display, the manufacturer almost always has to sacrifice some other characteristics in order to keep the price stable.
Due to that, the absence of VESA compatibility, out speakers, and even certain connectors may all be justified in the case of this monitor.
Brightness
Due to the increased viewing angles of IPS panels, manufacturers typically decrease the brightness ratio to a minimum peak of 250 for casual displays in order to save money, depending only on the outstanding viewing angles to perform the job.
Fortunately, they were still able to utilize a decent peak ratio of 300 nits for this monitor while keeping the costs steady, which becomes a significant positive factor for this monitor, distinguishing it from others in the same category.
If you utilize the display during the day in a well-lit environment, 300 nits should be plenty. However, if the screen is exposed to direct sunlight, you may have trouble viewing the presented graphics properly.
Keep in mind, however, that higher-brightness screens are generally accompanied by higher-priced displays. So, even with its average brightness, a cheap display like this one may be a little less painful to your wallet in the end.
Refresh rate and Response time
This monitor features a 75hz refresh rate, which is in line with the current trend for modern casual displays. This ratio is already a must-have for casual displays, in my view.
This is owing to its smoothness and minimal influence on final pricing, which has resulted in it becoming a very frequent rate to see nowadays, as well as one of the finest to pick for this sort of screen.
Of course, it doesn't have the same level of smoothness as a 144hz screen, but there is still a noticeable improvement when compared to a 60hz screen. 
Apart from that, this monitor has a 5ms response time, which is another common value for this sort of monitor. 
For casual users, the changes in response time numbers aren't significant because it just slows down the command to screen pace.
Of course, for a competitive gaming display, 1ms or less is preferred, since some gamers desire a gaming monitor that can offer the fastest possible performance in order to compete effectively. 
Aside from that, they employ AMD FreeSync technology on this monitor to maintain smoothness, which eliminates screen tearing and provides a high level of softness to the screen. 
So, in general, we can conclude that this monitor offers excellent gaming features for its budget, but now it's time to look at its overall image quality and see if it meets at least the minimum requirements.
Image Quality
The HP M24FW features a 1080p resolution on a 24-inch screen, which results in a good PPI ratio and, as a result, sharp and clean images. 
When it comes to color fidelity, this monitor continues to wow us, catching up to the old and decent average characteristics. 
It features an 8-bit color pattern and an sRGB color space of 99 percent, giving it a high level of color accuracy. 
However, the 8-bit pattern isn't ideal for professional usage, so if you want a 10-bit professional display, the HP M24fw isn't the right choice; instead, consider the Dell U2722D. 
When compared to its competition, this monitor can deliver somewhat more brilliant colors because of its high brightness.
So, in the end, the decision to slightly increase the display's total brightness made all the difference in the display's image quality and price-performance ratio, making it one of your best casual choices of the year.
Final thoughts
When to buy it
If you're searching for a cheap casual display, with good and vibrant colors, the HP M24FW, along with the ASUS VL249HE and the LG 24MP400-B, are currently your best choices, being all for sure the best of the year.
On the other hand, this one does not have a wide range of ports, lacks out speakers and VESA support, so if those are essential to you, you can check out the LG 27UN880-B.
You may like