Our Conclusion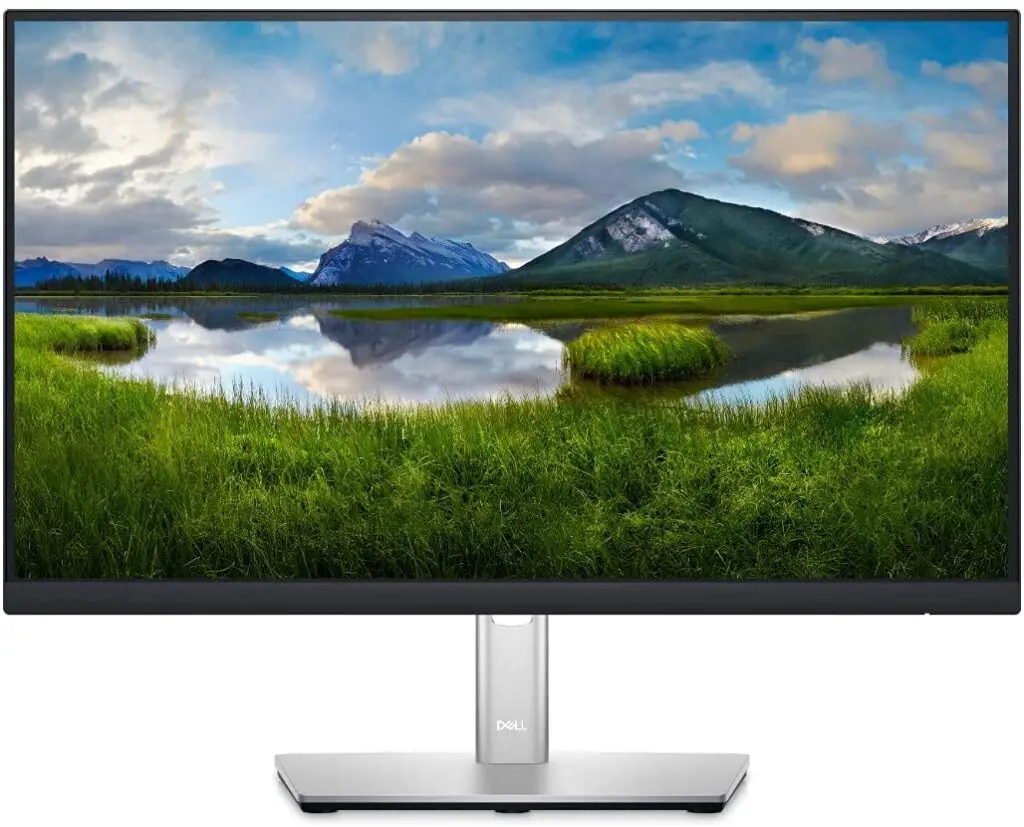 As it is a casual monitor with wide stand adjustments and some great ports, the DELL P2222H will cost a little more than usual for this type of display. Due to that, I only recommend you affording it if you need a 22-inch monitor with the above-mentioned features. If you don't, you can surely find better options such as the ASUS VL249HE and the LG 24MP400-B, with the same features and cheaper prices.
Pros
✓ USB ports
✓ Ergonomic stand
✓ IPS panel
✓ Budget prices
Cons
✘ Average image quality
✘ No USB-C ports
When it comes to screen sizes, a frequent thing to observe on a certain casual line from a renowned manufacturer like Dell is that they will most likely follow the current trend for such a category.
The variety of usual size options for casual displays is modest, ranging from 22 to 27 inches. Nonetheless, you'll note that the majority of this category's portfolio is dominated by 24-inch and 27-inch screens for some reason.
One advantage of the 22-inch screen is that it has the potential to be less expensive than larger displays with similar capabilities. And for today's test, we've received a Dell 22-inch monitor with slightly higher-than-average pricing.
So, without further ado, let's have a look at the Dell P2222H Review to see if it is a worth it choice, including its pros and downsides.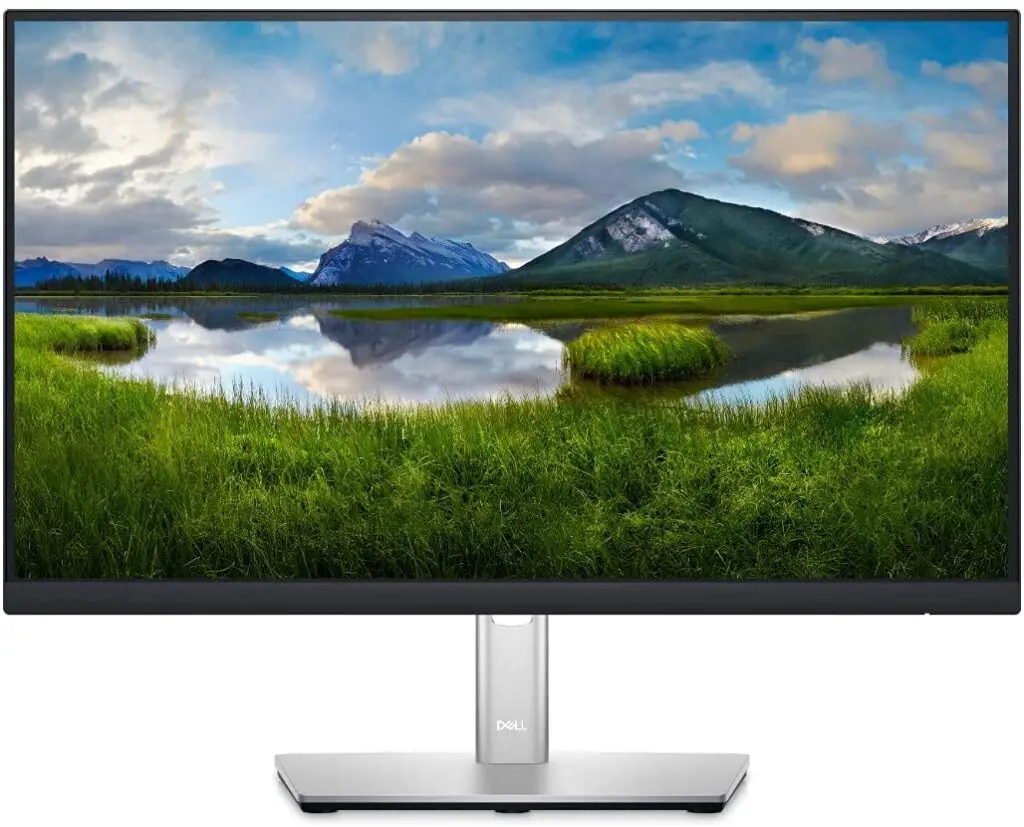 Design
At first look, this screen does not appear to be out of the ordinary in terms of aesthetics. There are a handful of models visually similar, such as the Dell P3221D and the Dell U2722D.
It features the same empty bottom bezel design, placing the logo on the stand, which adds to the monitor's overall appeal. 
Speaking of which, this monitor includes the 3-sided borderless bezels that are essential for the contemporary trend. 
The display itself has the standard matte-black design, which is indeed a trendy option, although it is becoming a touch stale these days. The good news is that this pattern appears just on the display, while the stand is metallic gray.
By the way, this stand truly shines with its wide range of adjustments, enabling you to change the height, pivot, swivel, and tilt, making it almost completely ergonomic. 
Looking at the rear of the display, we can see that they kept the casual-like design, with a solid and broad style and no eye-catching features. We can also see straight away that it supports VESA, so if you need to mount it on the wall, you can rest easy. 
It should be noted, however, that it will not supply you with speakers, so if you require them, you should already be aware. 
In summary, this monitor has a modern look to it, with some nice stand adjustments and a really solid overall design – it's a wonderful casual candidate.
Connectors
As for connectors, this monitor shines once again, delivering some great ports for its category. It includes : 
1 x HDMI 1.4 (HDCP 1.4)
1 x DisplayPort 1.2 (HDCP 1.4)
1 x VGA
1 x SuperSpeed USB 5 Gbps (USB3.2 Gen 1) upstream
4 x SuperSpeed USB 5 Gbps (USB3.2 Gen 1)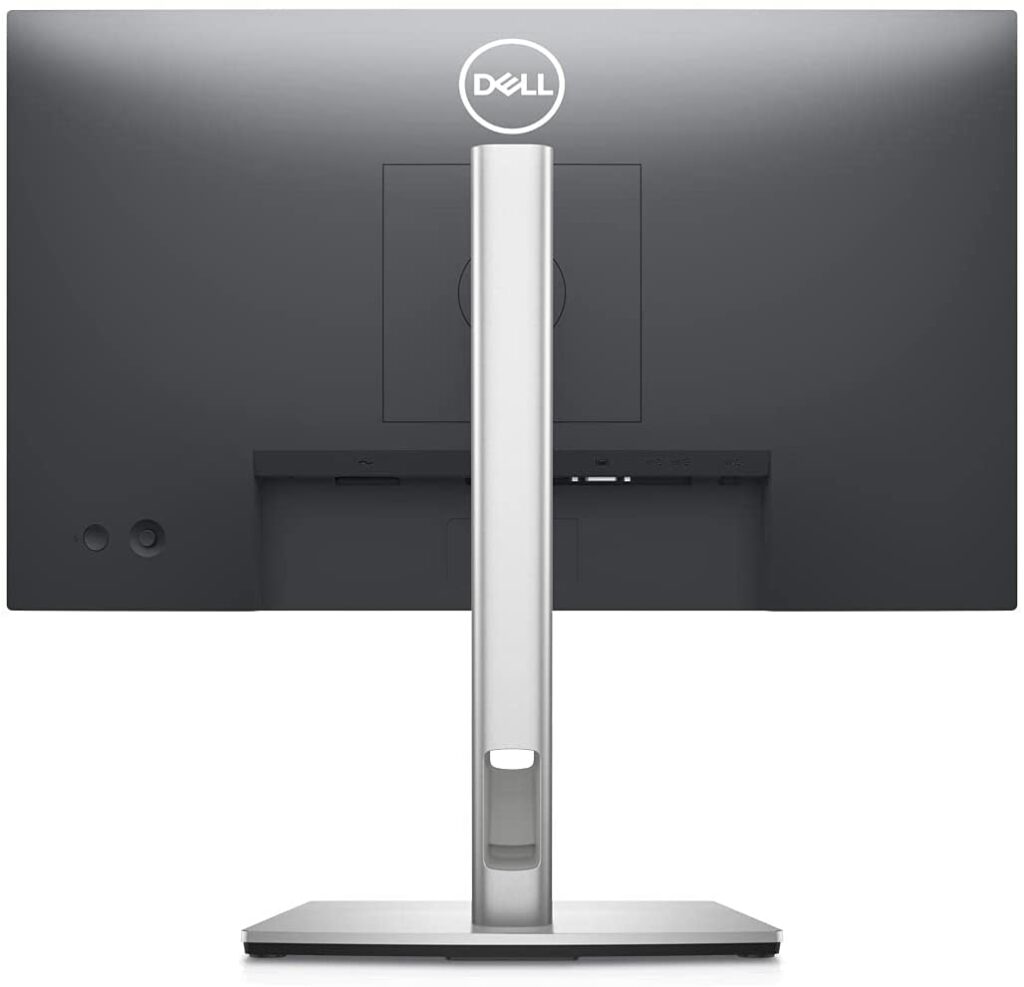 Features
Panel type
When we see the prices of this display, we think that we can surely expect some nice features for the image quality of such. 
Well, with the IPS it was built in, it has at least the base to meet our expectations. 
The IPS panel has a great impact on the overall image quality of the display. 
As you may already know, this panel is one of the best for those requiring high image quality and color accuracy, being the best of the three in this regard.
However, when you see this panel on a display, you can already expect it not to be a gaming one. The reason for that is that this panel has a low response time number, which is a really important feature for competitive gaming screens.
Fortunately, there is the Fast IPS feature, commonly found in high-end gaming displays, this feature amenities the low response time of a standard IPS panel, all without reducing color accuracy, which makes it one of the best panels you can have currently.
Brightness
The IPS panel is also known for its high viewing angles, which sometimes allows the manufacturer to cut some costs on the display brightness, and use a low brightness ratio with no high impacts on usability.
And they did just that for the DELL P2222H. It has only 250 nits of peak brightness ratio, which is the lowest number you can get for modern displays currently.
This low ratio can be on the way if you need to use the display during the day in a room with a great amount of sunlight. On the other hand, if it is not such a case for you, you can rest assured that this display will provide just enough brightness for your daily use.
Of course, this ratio would be pretty much of a con point if this monitor had a TN panel, which has worse viewing angles than the IPS.
Refresh rate and Response time
Things have been pretty good so far, but now I'm afraid it won't remain like that after a glance at the display's "gaming" features figures. To begin, it has a 60 Hz of Refresh rate.
This number is acceptable for low-end displays with really cheap prices, but for a monitor like this one with a little higher than average prices, it becomes a little over. 
Of course, we already know that this monitor does not have focus on gaming features, but even so, a number like 75hz would be way better. 
This ratio has been day after day more implemented for modern casual displays. The reason for that is cause it improves a little the overall image smoothness, with little impact on prices. 
And the worse part is that you can afford cheaper than this one 75hz monitor with basically the same features. Aside from that, this monitor also features 5ms on GTG fast and 8ms on GTG normal, which are indeed common numbers for this type of display. 
If you're a casual user, there is not much to concern regarding the response time number, as it will have little to no influence on your daily use, being a real "gaming" feature.
Image Overall Quality
Well, after seeing that this monitor had already disappointed us with its "gaming" features, now it is time to check its overall image quality (with little expectations, of course). 
The good part of being a 22-inch monitor is that it will deliver you a higher PPI due to the 1080p resolution, increasing a little the sharpness. 
It also boasts a good pixel pitch number of 0.248 mm, which helps even more with the image's crispness. Due to all that, at least when it comes to image crispness, this display won't disappoint you at all.
However, they decided to hold it to the standard when it comes to color accuracy. 
It has the 8-bit color pattern, which places it already as a non-professional display, since this pattern of colors supports only 16M of colors, while the 10-bit, which is recommended for media professionals, supports up to 1.06B colors.
However, the IPS already makes the work of delivering accurate colors, with sRGB 99% coverage. So, in the end, if you don't work with something like a media edition and need a casual display, this one can surely deliver you a good level of accuracy and crispness. 
Final thoughts
When to buy it
The DELL P2222H is indeed standing with higher than average prices currently, but still, if you find it on sale with prices like $250, it becomes then a great choice for a 22-inch display.
Bear in mind though, that you can find cheaper displays with the same features as this one but a little higher overall size of 24-inch, such as the ASUS VL249HE and the LG 24MP400-B.
You may like