Our Conclusion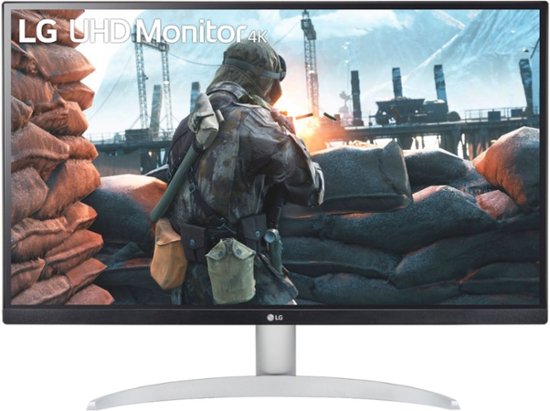 The LG 27UP600 is one of those professional monitors you should definitely get if it fits into your budget. It's a monitor with excellent color accuracy, even better image sharpness, and an equivalently good brightness ratio. It is indeed one of the best 4k LG monitors, but if you need a less demanding resolution or a higher size, you should go for the Dell U2722D or the ASUS PA329CV.
Pros
✓ Good image quality
✓ Competitive prices
✓ Awesome image clarity
Cons
✘ Tilt-limited stand
✘ No USB-c ports
In earlier postings, we discussed how LG's repeated monitor designs are causing concern at this point in the game. Of course, there are significant differences across model lines, and LG does occasionally modify small things, but overall, you can see how each new model lacks a distinct style.
And now it's time for LG to redeem itself with its freshly unveiled display, which my writers claimed to be significantly different from the ones we examined previously. So let's not waste any more time, since, throughout the LG 27UP600 Review, we'll find out whether this is true.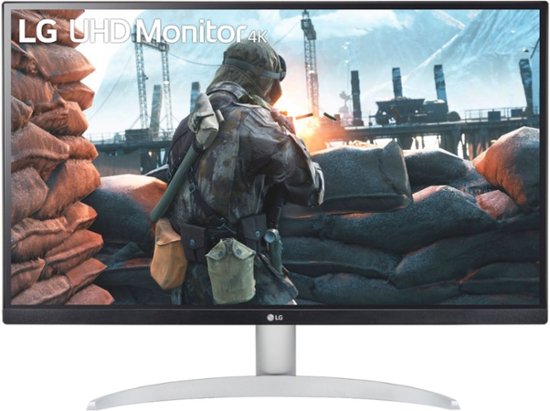 Design
It's fantastic, in my opinion, that LG has stuck with the three-color design for their newer displays. It's been a while since they've produced a monitor with such design, and I was worried they'd forgotten about it as it was one of our favorites. 
This monitor uses the LG's standard three-color scheme of black on the bezels, light/metallic gray on the stand, and white on the back. 
It's worth noting that this monitor is distinguished from others of the same category by two actual factors. 1 – its three-color design: if it weren't for this detail, we'd be talking about how it reminds us of other LG monitors like the: LG 27UP850-W, and we'd be once again complaining about how repetitive the design is. 
And two, its dimensions and stand modifications. Unlike the previously stated monitor, this one isn't particularly ergonomic, with merely tilt adjustments on the stand. Furthermore, it is 24-inch, appealing to a wider audience than the mentioned 27-inch version.
Because it belongs to the barely premium displays category, we can see that its materials are not of the same high grade as those used in the, say, LG 27UN880-B.
Still, this isn't a fair comparison, and they're excellent, at least better than average for current LG monitors, so this is unquestionably a positive for the screen. 
When we look at the rear of the display, we can notice one of the recent design changes LG has made for its current releases: the connectors are now vertically situated on the right side of the VESA support. 
Although some may argue that this alteration does not contribute much to the overall design of the monitor, which is, in my opinion, a personal taste, it does, without a doubt, improve user-friendliness by making it much simpler to organize the cables.
So it's encouraging to see that, despite the lack of significant aesthetic changes, they are considering the issues that actually matter in the end.
Overall, we can state that the design of this monitor does not disappoint. Although it has some similarities with our prior LG monitors, it is not nearly as possibly bothersome.
Connectors
It's worth noting that they're not utilizing the traditional D-sub connection for this model. Believe it or not, some people still use this cable, so if you're one of them, be sure you don't use this connector for video before purchasing this model.
In the unlikely event that you still require this connector, I suggest that you check out the: LG 27MK430H-B. Aside from that, this display features all of the standard connections for a monitor in this price range, including: 2x HDMI, 1x DP, 1x Headphone out.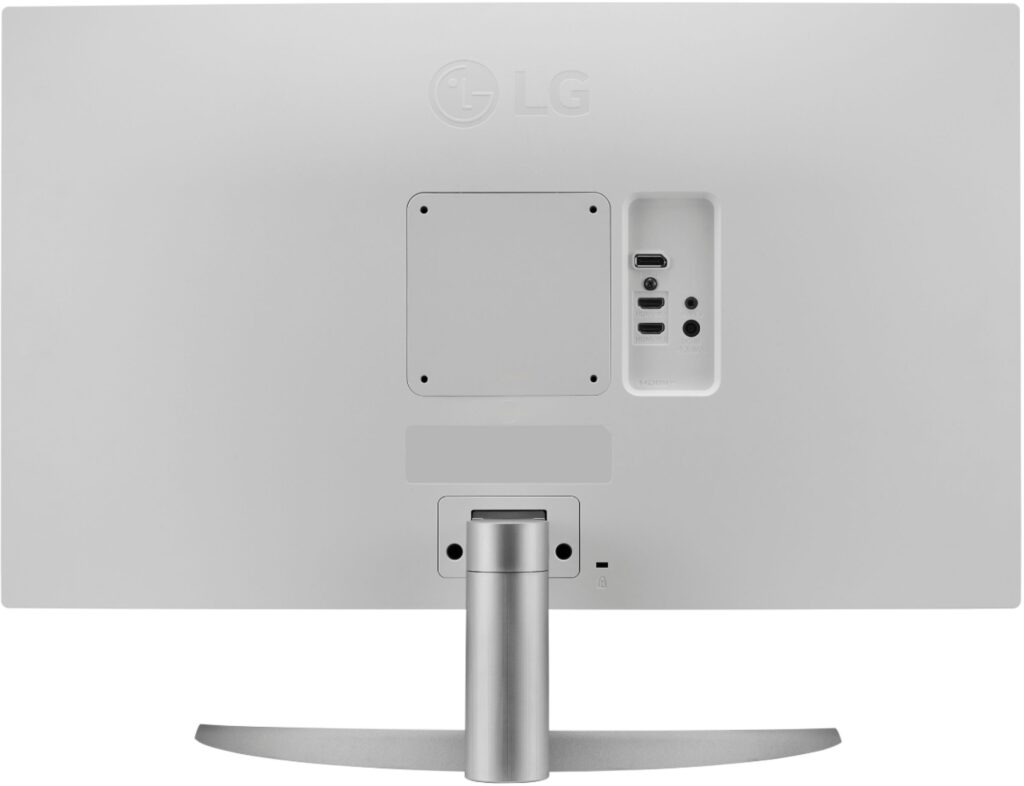 Features
Panel type
The IPS panel is practically a must for a display to be part of the professional monitors' range. The VA and TN are becoming more outdated as technology advances, and Fast IPS and standard IPS screens become even better for gaming scenarios.
A couple of years ago, the VA and TN panels were the most popular for gaming displays, while the IPS was reserved for professional screens with superior accuracy.
Fortunately, things have changed recently, and the IPS can now fulfill both requirements; in fact, even the standard IPS now has a higher degree of response time than in the past.
Putting the narrative aside, when it comes to this particular monitor, we noticed that it has a fair degree of accuracy straight out of the box, but it has an even greater calibration margin.
When it comes to IPS glowing, this one was unquestionably 3 to 4 times better than our prior LG monitor, which is to be anticipated from a professional panel.
Brightness
Although it is not required, a decent and reliable professional monitor should have a comparable peak brightness ratio.
The LG 27UP600 has a brightness of 400 nits. Even if you are unlikely to use it at its highest setting all of the time, it is comforting to know that the monitor will be able to show the images accurately, even if there is a lot of light streaming on the screen.
Aside from its amazing true colors, the IPS is also recognized for its high viewing angles, and a decent brightness ratio is an excellent complement to this characteristic.
The more you boost the maximum brightness, the more apparent the IPS glow will become, so make sure you set it to a comfortable level.
Refresh rate and Response time
With all of those advantages, it's time to balance things out and see what features they had to forego in order to keep the monitor's price consistent. 
To begin, it uses the industry-standard FreeSync technology, which has a limited range. This narrow range is due to the screen's low refresh rate of only 60hz, which is the first drawback we can see. 
The low refresh rate is no longer common for any sort of screen, just as the IPS panel is no longer a specific characteristic for professional monitors. 
Even if the whole problem is about costs, this can't really be used as an argument at this moment, because at least 75hz isn't that expensive to implement right now. 
So, when you buy this one, keep in mind that it has little to no gaming-friendly features, so you'll need a second monitor for competitive or/and smooth gaming. 
It also boasts a 5ms average response time, which isn't awful given how much of an influence it has on everyday use rather than gaming, which is clearly not the focus of this display.
Image Overall Quality
On the other hand, we should add that this monitor has a high resolution, which, for certain users, is sufficient to compensate for the low refresh rate. 
The 27-inch screen with 3840 x 2160 resolution produces very crisp visuals, to the point that it's nearly impossible to see any pixels on this screen from a regular distance. 
This massive clarity, along with the vibrant colors of the IPS screen, makes using a display like that a delight, and one you could never have with a 1080p monitor, for sure. 
With 1.07B of supported colors and DCI-P3 95 percent (CIE1976), the LG 27UP600 thankfully satisfies professional criteria, providing you with a wide range of colors. 
It's worth noting that, depending on the apps you use to edit or create media, the normal sRGB pattern may work better, so double-check compatibility before choosing this ratio. 
As previously said, this monitor comes with a reasonable calibration out of the box, but if you truly want the lowest delta number, you need take the time to calibrate it yourself. 
The contrast would probably surprise you as well, given that it boasts a little higher than average for IPS screens. Finally, this monitor contains a pointless hdr 400 feature, which you will most likely not use throughout your job sections, so don't bother about it. 
If you really want to enjoy HDR, I recommend going with higher ratios like 600 or 1000. Overall, the sharpness of this monitor will, for sure, surprise you, even if you've already used one with 4k resolution. 
Those who want to make the most of this massive resolution, and need the highest space on the screen, should go for a display that is at least 32 inches in size, which is standard for a 4k monitor.
Final thoughts
When to buy it
The LG 27UP600 is one of the best LG releases for the last year and one you should surely put on your list if you are searching for a monitor with a professional level of color accuracy.
Still, bear in mind that it does not have gaming capabilities as good as its other features, so be sure to have a secondary monitor if you want to have a good gaming experience during your free time. 
For that scenario, you can check the: Dell S2522HG, which is on sale right now, and the: LG 24GN600-B, which is a little bit cheaper if you want to save more money.
You may like