Our Conclusion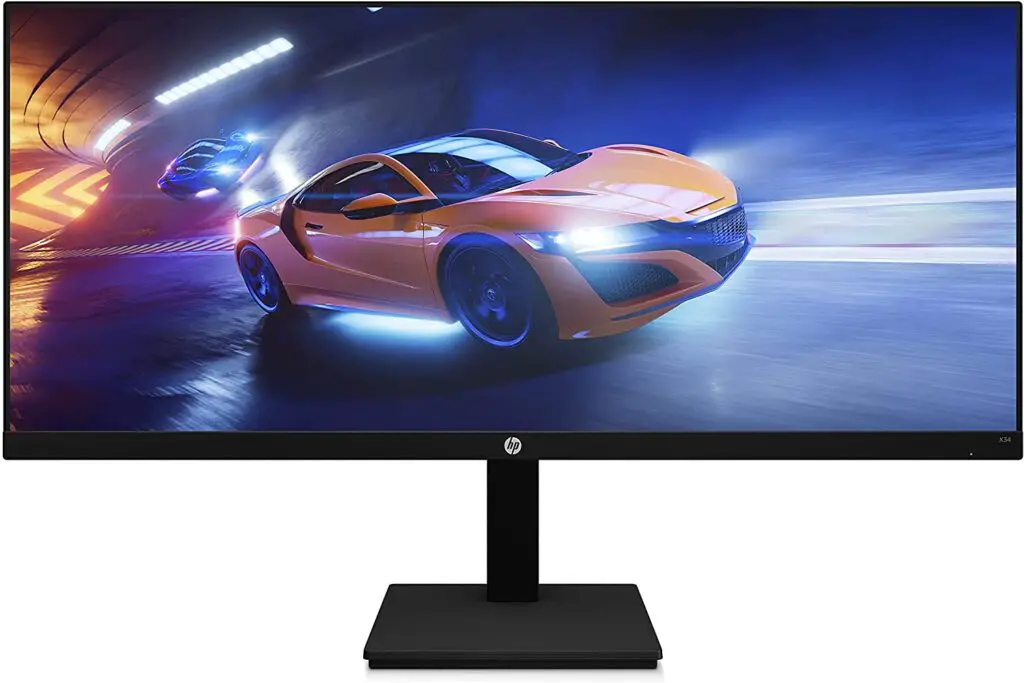 With great features and low costs, the HP X34 is now one of the finest gaming budget ultrawide screens. It is, along with the HP X27, one of the greatest displays in HP's latest "X" series. It has balanced features for those seeking to have a good and budget ultrawide monitor, but don't need top-tier gaming or/and professional features.
Pros
✓ Crisp images
✓ High price-performance
✓ Vivid colors
✓ Solid aesthetics
✓ Ergonomic stand
Cons
✘ Lacks usb and usb-c connectors
This year, we reviewed almost all of HP's "X" series screens with the best price-performance ratio. With the monitor we'll be evaluating today, we chose to save the best for last. 
To round off this string, we have the first position in the rankings from this line, as well as a wonderful monitor option and a strong conclusion to this series. 
The HP X27, along with the HP X32, are part of the best choices from this new line, so be sure to check those as well. And, without further ado, let's get into the HP X34 Review to see if this monitor is actually the finest of the bunch.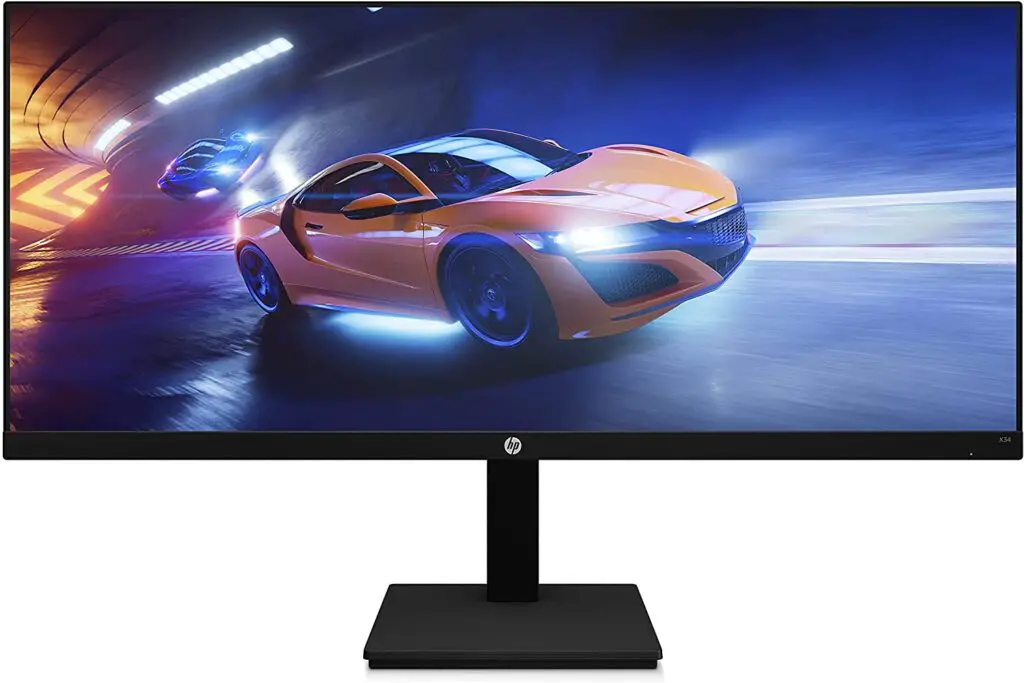 Design
Except for the height and color of the logo at the front bezel, these X brothers' designs are nearly identical.
By the way, the logo color on the curved versions of each monitor in this range is gray rather than white, which might help you distinguish between them when looking from the front. 
This is a massive and hefty monitor, so make sure you have enough work space before purchasing it. Even yet, the 34-inch isn't the largest of the ultrawide options, so although you should still make some room for it, it won't be hard to fit something else on your desk when you install it. 
Speaking of desk space, the HP X34 includes built-in VESA support, which means you can mount it on the wall or utilize an ergonomic stand, depending on your needs. 
On the other hand, this monitor already comes with a nice stand that allows for height and tilt adjustments, which should be sufficient for most people. 
The X34 is 32.15 x 9.25 x 20.25 inches and weighs 17.6 pounds, which puts it in the middle of the pack when it comes to ultrawide displays: not the heaviest, but not the lightest. Although it is quite thin, one of the thinnest we've ever examined, it has a large stand, which is understandable given the monitor's substantial weight. 
Even though the materials used for this monitor are a little more expensive, there is no discernible difference between it and the others in the same line. Even for the cheapest "X" display, HP utilized rather robust materials, so that shouldn't be an issue.
This is a totally matte black finished screen, which is a great color option – if a little overdone – but it's the color that works best for monitors right now.
With its borderless bezels – the viewable portion of the screen does not fill the full frame, but is part of a substantial amount of it – it has a fairly current feel, with nothing particularly eye-catching and a great overall aesthetic.
The construction is straightforward, but slightly more difficult than prior versions owing to weight and proportions, but nothing to be concerned about. Overall, this monitor's aesthetic is similar to that of its siblings; it is basic, thinner than usual, and rather modern at the same time.
Connectors
Unfortunately, they had to let lacking on the connectors part to keep prices as low as possible. It has only: 1x HDMI and 1x Display port, so if you do really need a monitor with a wide range of connectors, bear in mind that you'd have to save a little more money (sometimes a lot) and get a monitor like the ASUS XG349C.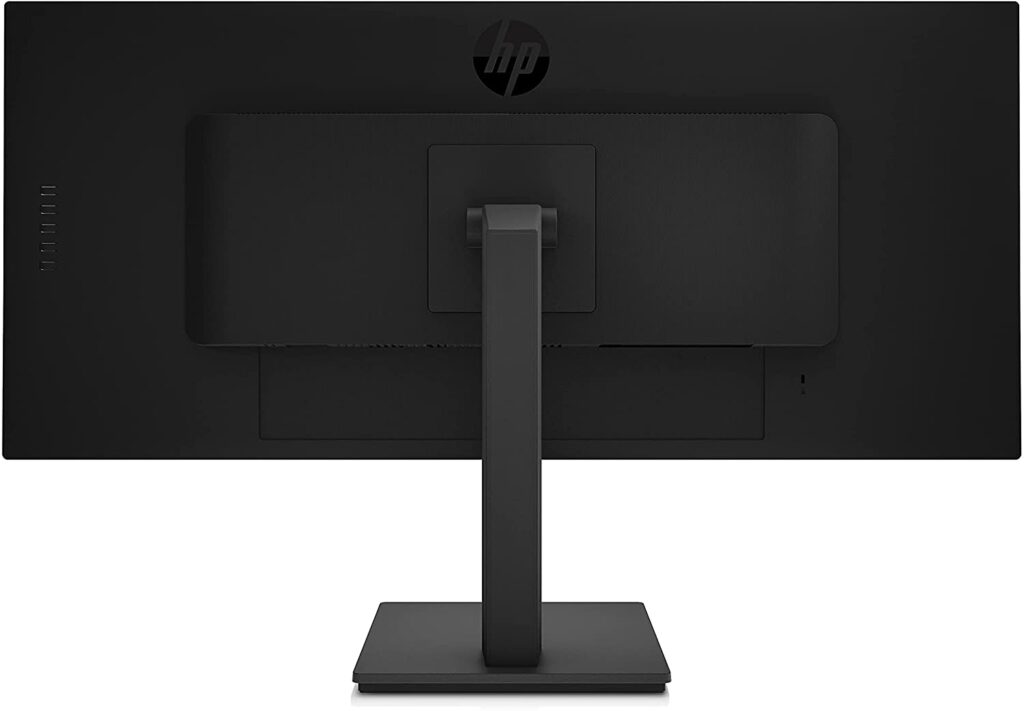 Features
Panel type
It's fantastic that these X series monitors have the same IPS panel. These are among the best we've ever seen in this price bracket, with excellent dark and gray calibration and minimal backlight strobing.
Of course, if it displays a black picture in a black room, you'll see some IPS shining, but with an IPS panel at this price, you can't escape it. 
Aside from that, the HP X34 will deliver accurate and vibrant colors right out of the box; however, for professional usage, I recommend calibrating it beforehand.
Still, If you are a casual user and do not calibrate this screen, you will not lose anything at all because it already has amazing colors out of the box. 
Last but not least, the viewing angles catch up with the vibrant colors and are as excellent as, if not better than, what you'd expect from an IPS screen. Because this monitor's reflection barring system isn't the finest, make sure you set it somewhere where it won't be exposed to the sun. 
Brightness
This monitor will provide you with more than 400 nits of SDR peak brightness. This number of nits is enough for everyday usage, as well as for gamers who wish to get an advantage over their opponents in low-light situations. 
Despite the fact that having that level of brightness is safe, I do not advocate using it at its peak 100 percent of the time, since this may easily cause eye strain. 
Furthermore, the higher you place this, the more visible the IPS shining will be. During our experiments, we discovered that 60 percent was a safe bet for nighttime usage and 80 percent for daytime use. However, this varies greatly from person to person, so be sure to experiment and figure out what works best for you.

Refresh rate and Response time
Although gaming does not appear to be the primary focus of this screen, it does include several features that aid with response speeds and smoothness. 
Of course, because this is a low-cost ultrawide display, you can't expect it to have the best of both worlds. It has a refresh rate of 165hz, which is fantastic and more than enough for most casual gamers. While not being the best of the best, this ratio is excellent for smoothness in casual gaming and everyday use. 
This screen's response times are mediocre, with a reasonable amount of motion blur but not the finest amount. It has a 1ms GTG, which means you won't be able to use the MPRT function to overdrive the screen and obtain better results.
However, if you aren't particularly competitive, this isn't a characteristic to be concerned about, as better motion blur and response times can only have a slight advantage on competitive games. 
With all of this in mind, we can confidently state that this monitor does not disappoint when it comes to gaming characteristics, boasting a fast response time and a high refresh rate. All of this, paired with the excellent colors and viewing angles, makes gaming sessions a delight.
Image Overall Quality
The 165hz is clearly plenty for this screen's 1440p resolution, as triple-A games often feature demanding visuals that require the graphics card to have enough power to push high frame rates. 
This ratio is sometimes even more than adequate, at least with the present costs of the top-tier cards. Of course, things might change with AMD and Nvidia's forthcoming Q3 graphics cards, which will have increased performance and power efficiency.
Returning to this screen, make sure you have a powerful enough graphics card to operate it with, since the resolution may be a hindrance rather than a benefit depending on the games you want to play. 
The good news is that when the resolution rises, it will be easier to play with low frame rates since the graphics will be sharp enough to compensate for the loss of smoothness. 
This screen has a fantastic size for its resolution of 3440 x 1440p, which is a large number of pixels, increasing the PPI and visual clarity.
As previously said, the colors on this screen are rather vibrant right out of the box, so if you prefer it that way, stick with it. However, if the colors and precision are important to you, I recommend calibrating it to get better results.
The HP X34 will not provide you with professional-level accuracy, but that isn't a problem if all you want to do is play with it. If you need a 34-inch monitor for work, I recommend the: MSI Optix MAG342CQR or the: LG 38WN75C-B, but keep in mind that you'll have to spend significantly more money.
Finally, this gaming ultrawide monitor has one of the greatest values for what it offers right now. It boasts good vibrant visuals, a decent brightness ratio, superb aesthetics, and, best of all, low costs. If you plan on using it for gaming or media consumption, this is currently one of the best options to put on the list.
Final thoughts
When to buy it
The HP X34 has a lot of wonderful features, but none of them are top-of-the-line. It provides a solid blend of gaming features, including a good response time and refresh rate, as well as strong vibrant colors from the IPS screen. 
So, if you want to spend $400 on a monitor with balanced features like this one, this is the finest value for money monitor available right now for you. 
You may also check out the MSI Optix MAG342CQR or the ASUS XG349C if you want to pay a little more money to acquire extra features.
You may like