Our Conclusion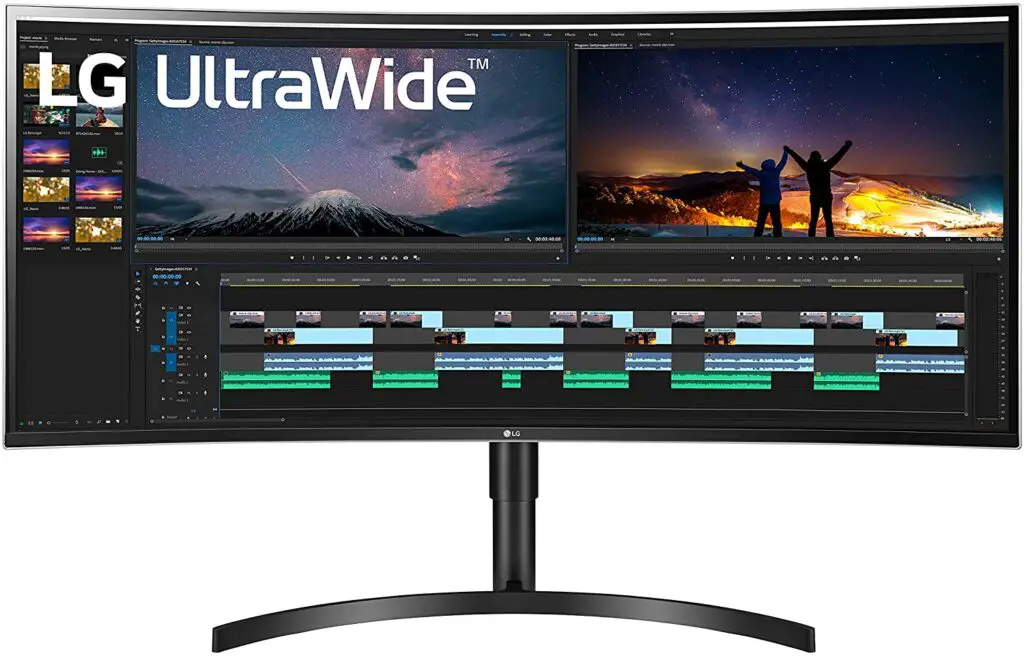 Although it is not THE cheapest ultrawide monitor you can buy this year, the LG 38WN75C-B is one of the most affordable 38-inch LG ultrawide screens. It is ideal for people who want crisp, sharp images with excellent color fidelity. Due to its 10-bit color support providing awesome color accuracy, it is currently one of the best professional ultrawide monitors you can afford.
Pros
✓ 38-inch
✓ IPS panel
✓ High PPI images
✓ 1.07B of supported colors
✓ HDR 10
Cons
✘ No USB or USB-C ports
✘ Lack of out speakers
Ultrawide displays aren't new on the market, but they're becoming increasingly popular nowadays. Its use is generally suited to either gamer who need some strong gaming-focused features in a wide display or those who want the largest amount of screen area possible to work with media editing and open a large number of tabs.
However, one of the primary disadvantages of this display is the customary high-priced offers, which are often so costly that investing in a standard 32-inch panel becomes far more affordable.
Of course, there are exceptions to this rule, such as the one selected for today's review. So, without further ado, let's check out the LG 38WN75C-B Review and find out if this is a reasonable ultrawide monitor choice.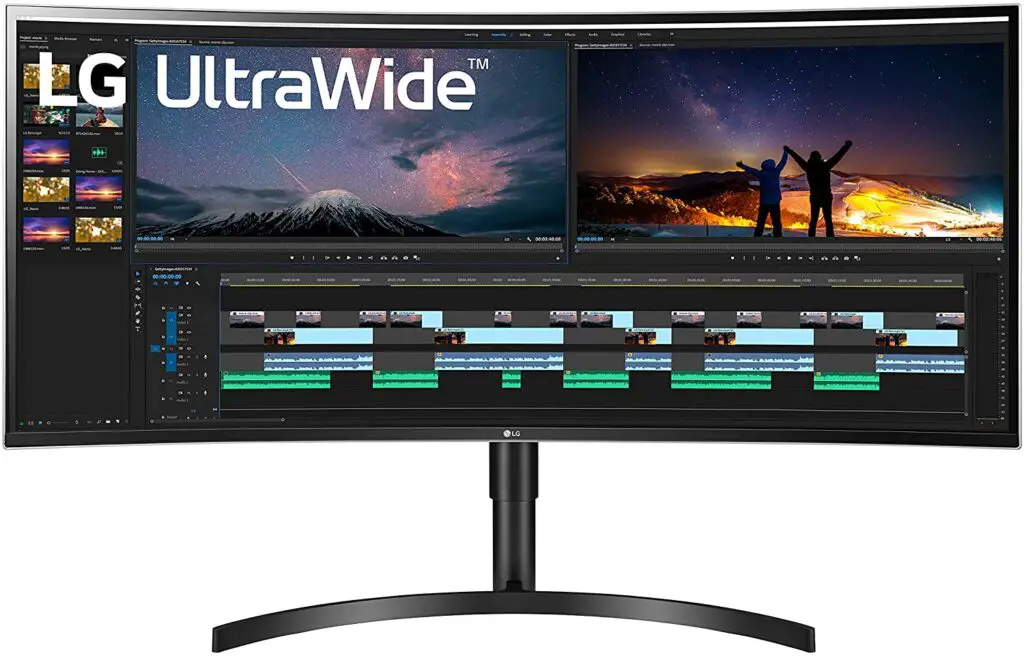 Design
The first thing we notice about this monitor that sets it apart from other LG ultrawide models is the color of the bezels. With this matte black pattern, each bezel on the front side looks like the monitor's average colors.
However, they chose to add this subtle gray metalized color detail to the sides of the bezels and below the bottom bezel, which, in my opinion, is what truly makes this display design stand out. 
Apart from that, it has the same design as the bulk of LG ultrawide monitors, which comprises a half-circular stand with just height and tilt adjustments. 
We can see that this display has a little larger overall size than the ultrawide pattern due to the 38-inch design, but this is something to take into consideration for a discreet setup.
Looking at the back of the monitor, you can see that it supports VESA, which would be a nice match for some out speakers, but there aren't any on this panel. 
Connectors
Furthermore, this monitor's connections left a little to be desired, with just 2x HDMI, 1x Headphone Out, 1x DisplayPort, and a lack of USB and USB-C ports. After that, let's have a look at the monitor's key characteristics.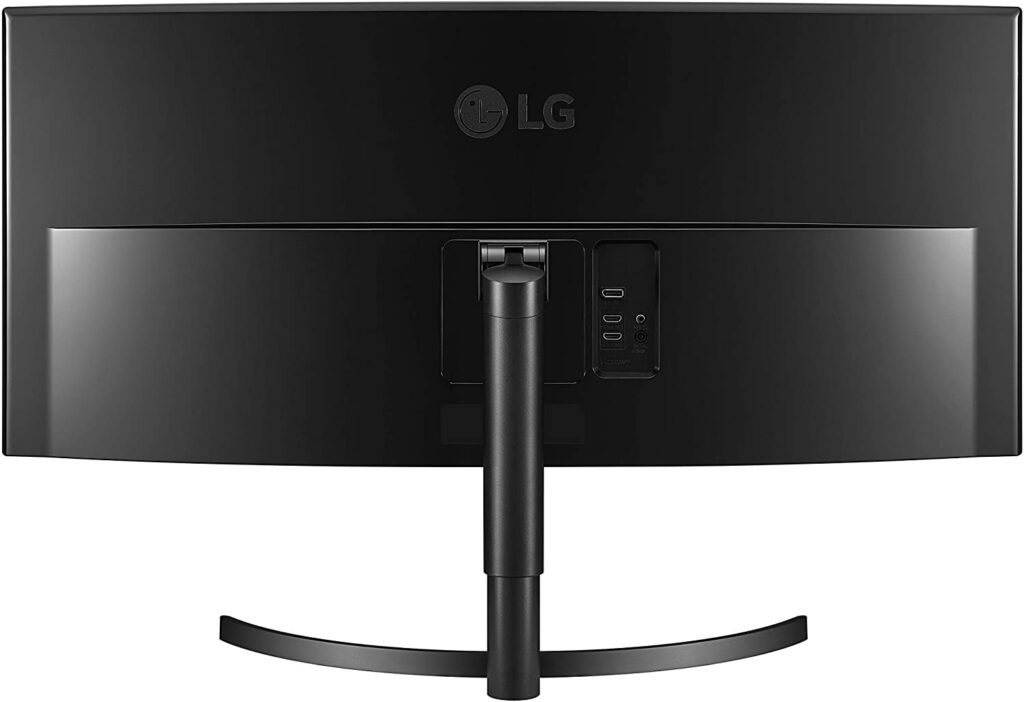 Features
Panel type
This monitor offers almost everything you need for excellent visual quality, including an IPS panel. The sRGB 99 percent average gamut, on the other hand, limits the model's clear potential.
In contrast, it has a color coverage of 1.07B, which is one of the greater numbers of colors a display can attain and the optimum number for current monitors if you require the most accurate images possible. 
The IPS panel itself, on the other hand, suffers from the IPS glowing issue, which refers to glowing lights on the display's corner that vary in intensity depending on the panel's quality. 
But fortunately, they didn't cut corners, which is to be expected at this price point, and managed to decrease the IPS glowing to lesser shines. Another disadvantage of IPS panels is their poor contrast ratio, which is why this monitor only has a 1000:1 overall contrast.
This is a problem that VA panels, commonly available in less expensive ultrawide monitors like the LG 35WN65C-B, may solve due to their typical higher contrast ratio. The IPS panel is nearly entirely reliant on the display's brightness to reproduce the most realistic colors possible.
Brightness
Although the brightness of the LG 38WN75C-B is not the greatest in this price range, it is enough for the majority of applications. Despite 300 nits are not the norm, they do an excellent job at bending towards the average for a good ratio.
However, if sunlight will be shining on your display, you may have trouble distinguishing some colors at this level of brightness. And if there will not, this will undoubtedly suffice.
Finally, while we don't have great expectations for a good gaming feature on this display, we anticipate it to perform decently due to its current prices.
Refresh rate and Response time
So this is where we can finally figure out who the display's target consumers are. If you require a monitor for competitive gaming, it is not the best choice due to its gaming capabilities. 
To begin with, its refresh rate is just 60hz, which, in my view, should be at least 75 for this price range. Furthermore, they chose to go back to the basics, with only 5ms of response time, which is much below the suggested for gaming.
Keep in mind that this does not rule out the possibility of using it for other sorts of games; in fact, if you don't mind lower framerates, you may use it to play casual games.
Image Overall Quality
Another factor to consider when purchasing an ultrawide display for gaming is whether or not your graphics card will be able to handle higher framerates.
It would have to render 3840 x 1600 pixels, which is the resolution of this display, for this monitor. And, depending on the graphics quality and graphics card, exceeding the 60hz margin would be difficult.
Furthermore, they were able to decrease the pixel pitch to premium levels, with this display pixel distance measuring only 0.2291 x 0.2291 mm, resulting in much-improved image sharpness.
So, even on this 38-inch panel, all of these elements together provide a rather clear image. Aside from that, they chose to use just HDR 10 for this display, which for some may not be bright enough to make use of the improved contrast ratio and better darks.
Some believe that the HDR 600 capability, which is generally available in this monitor's price range, is the best for realistic HDR images. As a result, LG disappointed us with just HDR 10 at this point. 
If you don't actually need HDR, on the other hand, but want accurate colors, crisp visuals due to the high PPI, and superb viewing angles thanks to the IPS screen, the LG 38WN75C-B certainly will not disappoint.
Final thoughts
When to buy it
The LG 38WN75C-B is one of the best options of 38-inch monitors currently due to its sharp 3840 x 1600 visuals. However, if it is out of your budget, you can save some money affording a 34-inch ultrawide model such as the ASUS VP348QGL.
You may like