Our Conclusion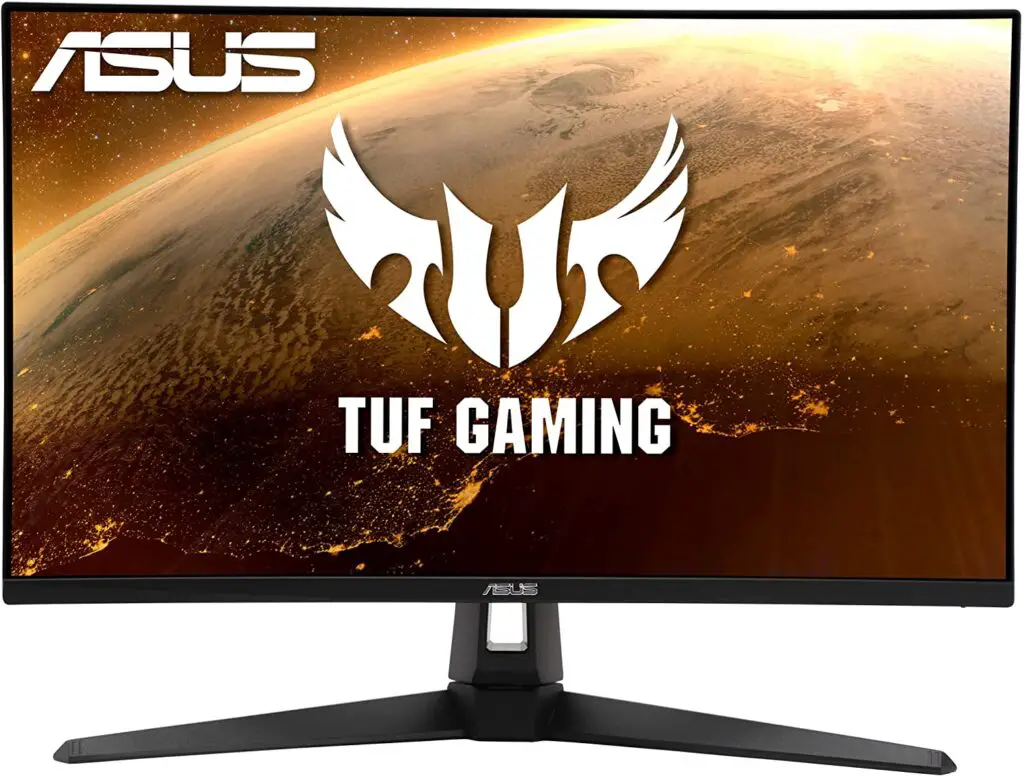 The ASUS TUF VG27AQ1A is one of the cheapest hybrid monitors with HDR 10 support and a 10-bit color pattern, all with a 1440p resolution and some vibrant colors. Besides that, it can also boast some gaming features while maintaining budget prices. On the other hand, if you want to save money and require a less expensive choice than this, I recommend the MSI Optix MAG274R2.
Pros
✓ 1440p
✓ 1ms MPRT
✓ 10-bit vibrant colors
✓ HDR 10
✓ Budget prices
Cons
✘ Limited range of connectors
✘ Divisive aesthetics
Gaming monitors are getting increasingly popular in recent years. As a result, manufacturers are concentrating more on low-cost, high-performance launches in this area. As a result, you'll notice several low-cost and budget gaming monitor options such as the MSI Optix G273QPF and the MSI Optix G24C6P. 
To commemorate the event, we got a new ASUS gaming monitor today, which has some impressive features at a reasonable price. Continue reading the ASUS TUF VG27AQ1A Review to find out if this monitor is a suitable fit for you or not.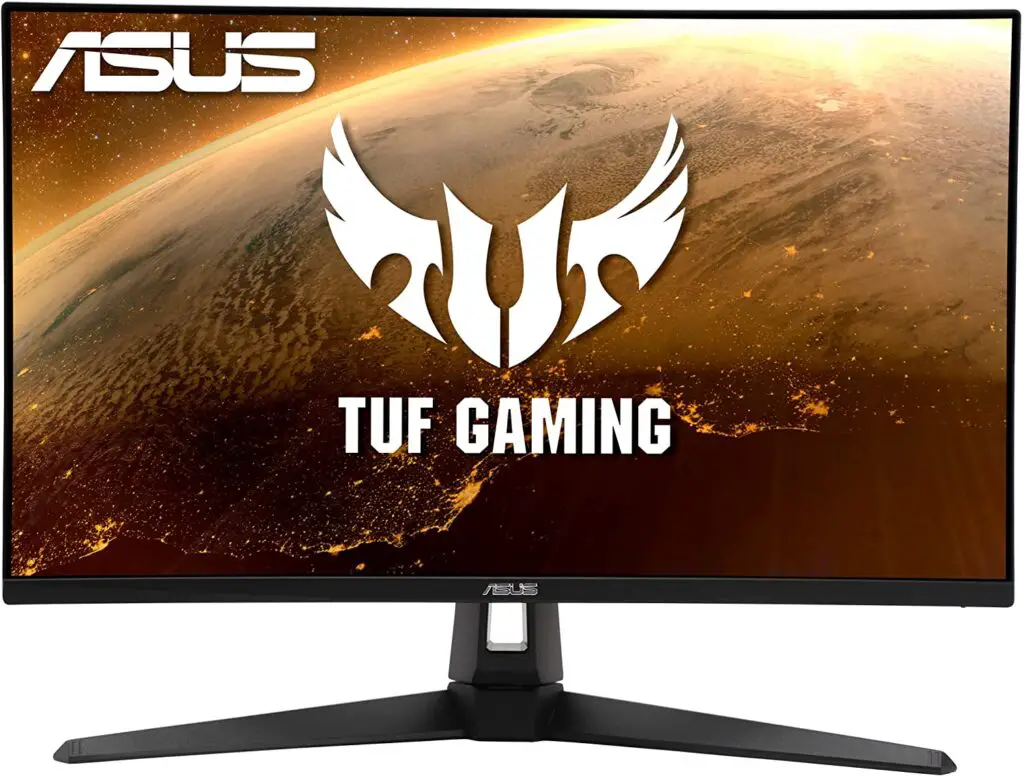 Design
The monitor's slim bottom bezel was the first item that caught our notice. This is a very significant feature that gives the monitor a premium feel. Aside from that, the 3-sided borderless bezels complement this luxury aesthetic, ensuring that this monitor fits in with the current trend. 
Unfortunately, because of its bulkiness, the display stand does not appeal to me a lot. Still, this is a very personal matter. 
The absence of other adjustments, allowing you to merely tilt it forward and backward and swivel, is the one drawback of this stand. 
Although the materials used in this display appear to be of acceptable quality, it fails to convey a high degree of quality, which is to be anticipated for a monitor in this price range. 
The rear of the monitor is, without a doubt, our favorite part. They put a lot of effort into this, including some eye-catching elements that every mid/high-end gaming monitor should have.
It also has 2x 2W out speakers and VESA support, which are both important fea1tures in a monitor for some people. 
It's unusual to find out speakers in a monitor with cheap prices and gaming characteristics, therefore this feature may be regarded as a significant positive for this monitor.
Connectors
On the other hand, to make up for the budget prices, they have to let lacking a little bit on the connectors matter, including only HDMI (v2.0) x2, DisplayPort 1.2 ports, 1x Headphone-out.
Features
Panel type
The panel type is an important consideration when determining whether or not a monitor is suited for competitive gaming. If the panel type, response time, and refresh rate attributes are all inadequate, the display immediately falls into the professional or casual-focused displays group.
When we mention a bad combination, we must keep in mind that each panel has its own set of advantages and disadvantages.
One of the disadvantages of the IPS panel, which they chose for this monitor, is that it has a lower response time ratio than VA panels, which isn't an issue with the Fast IPS one.
However, depending on the response time ratio, this monitor can be used in a competitive scene. The IPS panels, on the other hand, offer a superior image quality than the others, making them the best option if you want to combine gaming capabilities with acceptable color accuracy and low pricing.
Brightness
The IPS panels all have fantastic viewing angles in common, which can indeed be a drawback for inexpensive displays like this one. 
Monitors with an IPS display but a low brightness ratio are rather common. The 250 nits ratio is the most popular among those, and it is the one that they used for this screen. 
This monitor may still give acceptable clarity throughout the day with this ratio, but if sunlight hits the screen, you'll have serious problems viewing the graphics properly. 
If sunlight will be hitting this monitor frequently, you might consider investing in a monitor with a brightness of 300 nits or more. But if that's not the case, you can rest assured that this monitor will have just enough brightness for your use. 
Refresh rate and Response time
This monitor comes with a 144hz refresh rate as standard, but it can be overclocked to 170hz, which may make a substantial difference in daily use.
Aside from that, this monitor has a 1ms MPRT response time, which is excellent given its IPS panel, giving you fast command over to screen pace and little motion blur. 
To assist with this, the ASUS TUF VG27AQ1A includes the ELMB (Extreme Low Motion Blur) function, which decreases motion blur significantly but has an influence on image quality. 
It also comes with AMD FreeSync premium technology, which increases the image's smoothness even more by decreasing screen tearing – (this monitor is also compatible with Gsync). 
So, the features listed above are practically all premium features seen in high-end screens, and they managed to include them for a low-cost, high-performance screen like this one. 
Depending on the screen's other qualities, it might be a strong contender for the greatest screens of the year.
Image Overall Quality
The ASUS TUF VG27AQ1A features a 1440p resolution, which may be both a benefit and a drawback based on a variety of variables.
The most common resolution for a gaming display is 1080p, which is less demanding on the graphics card, so you won't need a powerful graphics card to play your favorite games at high frame rates. 
If you have a strong graphics card and can run your games at 1440p, on the other hand, you'll have a wonderful time with this resolution. 
This monitor features a 27-inch display, which is ideal for 1440p resolution, as it provides a balanced pixel number and a high PPI, resulting in sharp and clear images. 
Apart from that, you'll note that this monitor offers vibrant colors, thanks to its DCI-P3 96 percent color gamut. This function is fantastic for brilliant colors, but not so much for color accuracy. 
As a result, I will not suggest this screen for professional work with media edition; instead, you should consider the Dell U2722D. 
Surprisingly, this monitor also has a 10-bit color pattern, but its color gamut prevents it from reaching professional levels of accuracy. 
Finally, if you want to view movies with vibrant colors or play games with more contrasting colors, you may turn on the HDR 10 function, which boosts color contrast and darkens the shadows.
However, this is not the finest HDR ratio available; if you want a true HDR experience, I recommend the HDR 600, which is available for budget displays such as the LG 32UL750-W.
In conclusion, this monitor exceeded expectations once again, offering some high-end features while maintaining reasonable costs.
Final thoughts
When to buy it
If you need a screen that can combine good gaming features and awesome image quality, the ASUS TUF VG27AQ1A is currently one of your best budget choices for the prices it is being sold at currently.
On the other hand, if you just need a gaming monitor with cheap prices, you can check out the Acer Nitro XZ270, which is one of the best in its category.
You may like