Our Conclusion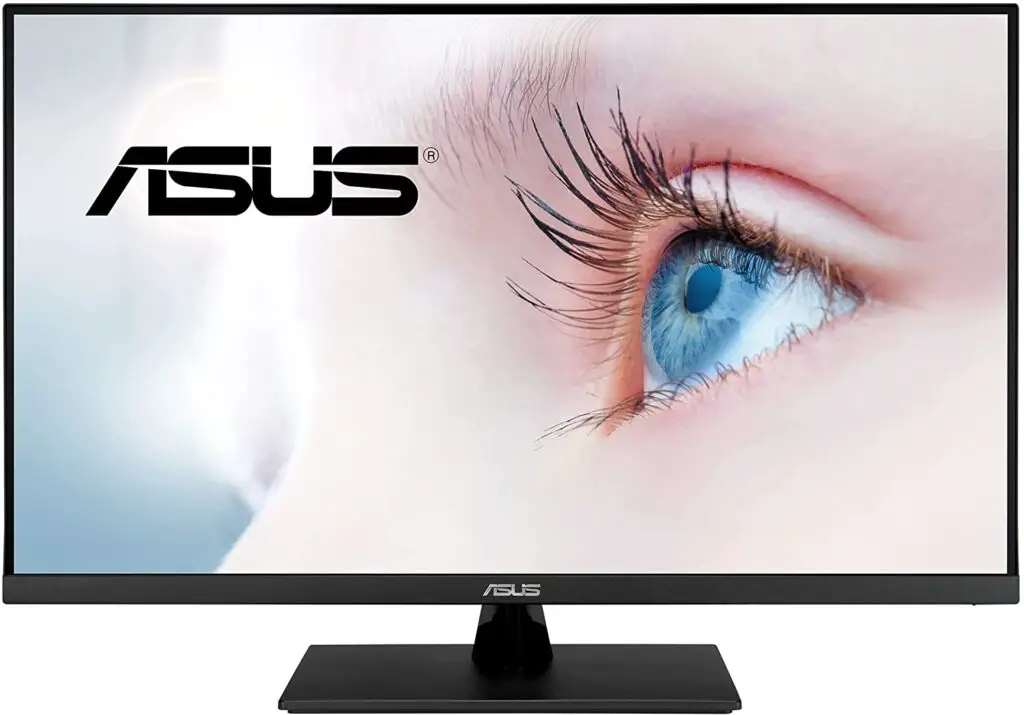 If you're looking for your first professional monitor and want to save money, the ASUS VP32AQ is now your best and cheapest alternative. It provides color fidelity equivalent to $800+ displays and it cost less than half as much. For media professionals, this is unquestionably a budget-friendly worthy option.
Pros
✓ Awesome color accuracy
✓ 1440p resolution
✓ 2x Speakers and VESA support
✓ Budget prices
✓ 32-inch
Cons
✘ Lacks USB and USB-C ports
✘ Bad HDR quality
The high-resolution displays are without a doubt one of the most key highlights of the Asus brand when it comes to professional monitors. Every item in this category that we looked into on our website had fantastic prices and features, placing them among the top compared to other brands' models. The ASUS PA329CV and the ASUS VA32UQ are here to demonstrate this.
And for today's review, we'll look at a monitor that, based on its pricing and characteristics, might easily be one of their top choices for 32-inch monitors. So, without further ado, let's have a look at the ASUS VP32AQ Review and discover what this monitor has to offer.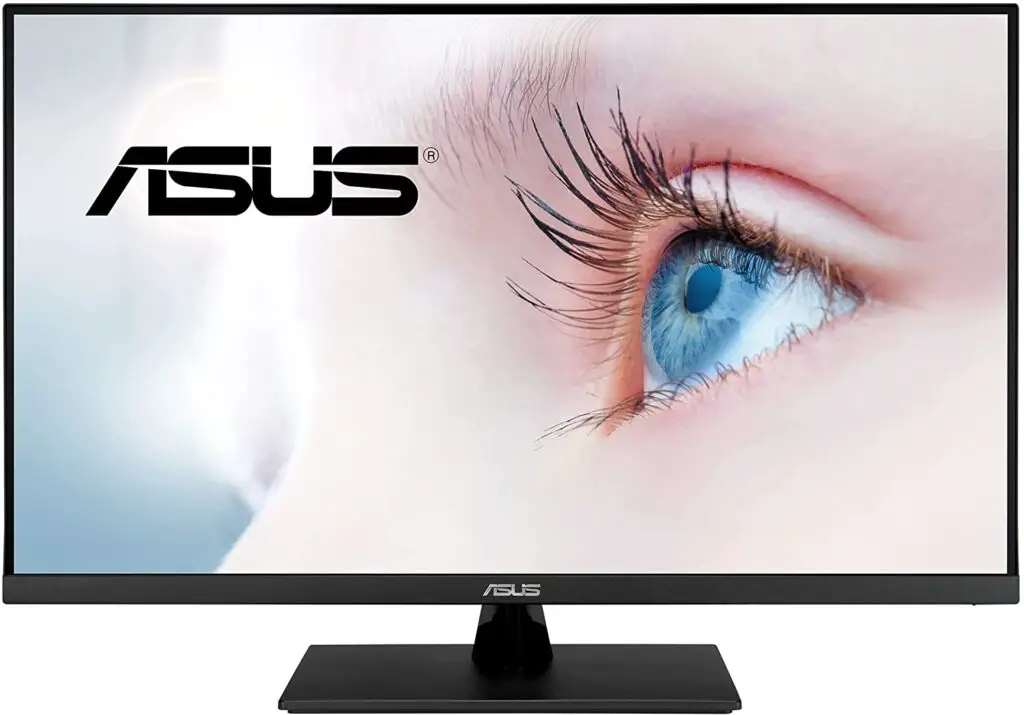 Design
When compared to our previously reviewed Asus monitor, we can observe that this one has a somewhat more rustic look, which is more in line with current fashion trends. Not that this is a terrible thing; if it works, you won't be doing anything wrong if you use it on your displays. 
What is truly horrible is when some manufacturers cling to a style for the rest of their lives and do not even consider trying to innovate and step outside of their comfort zone. 
As previously said, this is a 32-inch monitor, thus it will take up a significant amount of room on your desk. Be sure to preserve this space before purchasing this monitor. You may, however, mount it on the wall thanks to its VESA compatibility.
With borderless bezels and a very thin bottom bezel, this monitor features the infinite screen look. It features a square-shaped stand with limited adjustments, enabling you to just tilt it forward and backward, so you already know this isn't the display for you if you require an ergonomic one.
In terms of material quality, it's clear that they sought to keep it as low-cost as possible. It's not that the materials are awful, but they don't have a lot of sturdiness to them. 
This isn't one of the thinnest Asus monitors, but it's also not one of the thickest – it's somewhere in the middle measuring. Surprisingly, this monitor features 2x 2W out speakers, which is unusual for a monitor in this price range. 
However, if you're looking for great quality in them, you'll be disappointed, since they'll work just good as a backup option owing to their poor overall quality.
Overall, we can conclude that this Asus model is rather straightforward and solid in terms of design, not straying too far from the norm, which may or may not be a disadvantage.
Connectors
As expected, they didn't decide to implement a wide variety of ports for this monitor, which in fact reflects on its budget prices. This monitor features only 1x HDMI port, 1x Display port, 1x Headphone-out.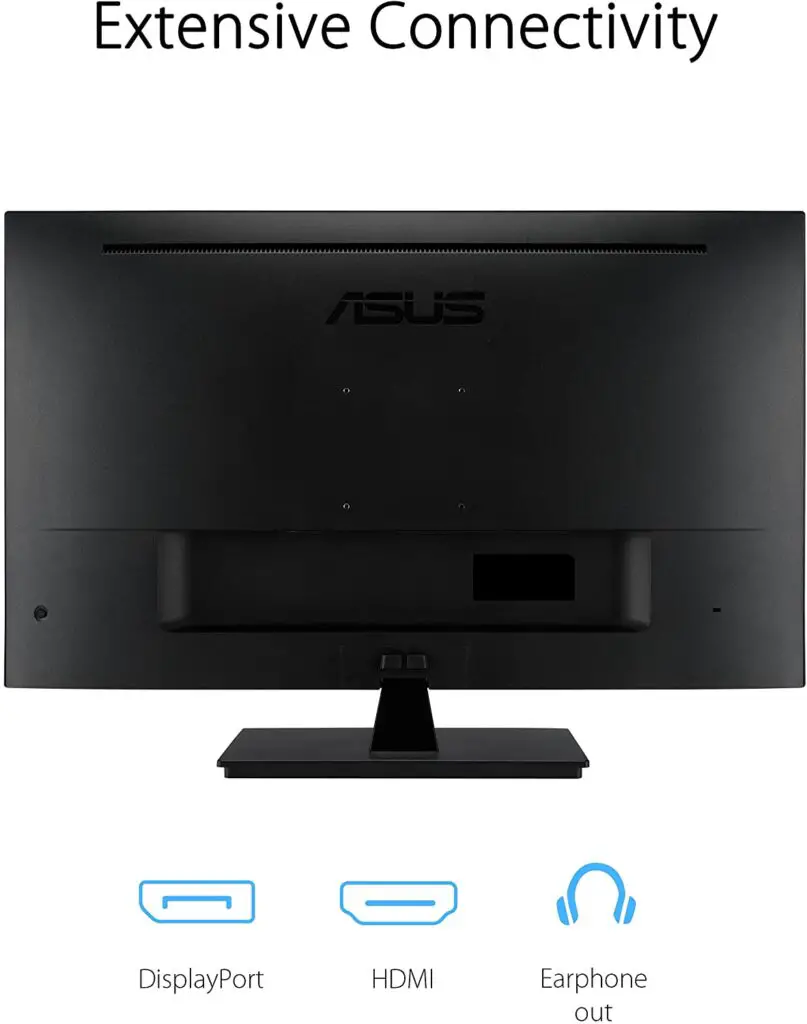 Features
Panel type
One of the nicest characteristics of this display is the IPS panel. The reason for this is that the VA panel was used in practically every other Asus monitor in this price range and this line. 
Not that the VA panel is a horrible choice; it offers advantages such as fast response time and good contrast ratio, as well as low pricing. 
The IPS panel, on the other hand, is considered one of the finest for budget monitors since it has the highest color accuracy of the three average panels, making it the recommended and essential for media professionals.
However, refined and exact colors are not limited to experts, which is why this display is often used for casual and gaming screens as well. 
Keep in mind that there is no such thing as a perfect panel; each one has its own set of drawbacks and advantages, and it is up to you to determine which one better meets your needs. In this review, I go through the advantages of the IPS panel in greater depth. 
Brightness
Aside from outstanding color fidelity, IPS provides great viewing angles to the monitor, which may frequently be used as an excuse for the manufacturer to employ the lowest brightness ratio.
In reality, an IPS's wide viewing angles can make a considerable difference in whether or not you can see the precise pictures shown.
Thankfully, they stuck to the Asus standard of excellence and chose a high brightness ratio of 350 nits. 
During our testing, we observed that this display could effortlessly handle crisp pictures even when exposed to direct sunlight.
And during our daytime testing, with 70 percent brightness, this display showed an acceptable and less obstructive level for the eyes, so I propose that you change it to what is most comfortable for you.
Refresh rate and Response time
The ASUS VP32AQ monitor is intended for both casual and professional use. Because of this, we anticipate a low refresh rate or response time ratio; otherwise, it would be a hybrid one isntead. 
Although the 75hz refresh rate is regarded as low for competitive gaming, it is more than adequate to improve the smoothness of scrolling on the web and even certain causal games when compared to 60hz. 
On paper, these ratios may appear to be similar, however, when comparing the two, the 75hz screen has far greater smoothness. 
This ratio, along with a response time of 5ms(GTG), makes this monitor a poor choice for gamers looking for a competitive screen. So, if you're looking for a 32-inch gaming monitor, I may recommend the MSI Optix AG321CR as one of the finest choices for the 2021 year.
Finally, this display supports Adaptive-Sync, which allows you to utilize any graphics card you choose to remove screen tearing. 
Overall, this monitor can still be utilized to play games thanks to its 75hz refresh rate, which provides a reasonable degree of smoothness, but competitive gamers will find its 5ms to be a hindrance.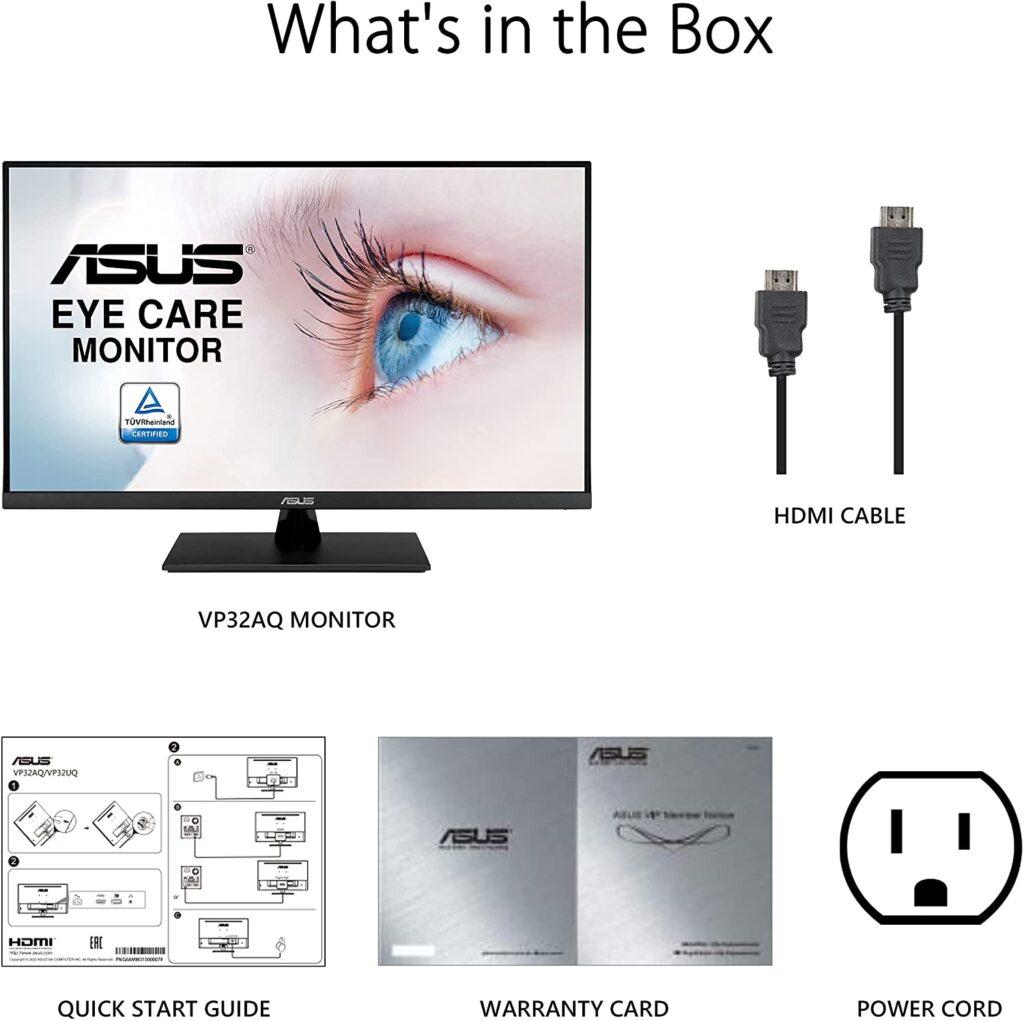 Image Overall Quality
We immediately observed that, because of its 1440p resolution, the ASUS VP32AQ offers excellent sharpness when we first turned it on. It would be much crisper if it had a 4k resolution, which some think is the best for 32-inch panels. 
Nonetheless, because it has an average PPI, you won't see pixels or identify blurry images, so you may be confident that this resolution is suitable for this display's size. 
Another factor to consider is the monitor's low pricing, which would be significantly more if it had a 4k resolution, reducing overall sales significantly. 
Aside from that, the screen's major selling point is its 10-bit color pattern, which can hold up to 1073.7 million colors. It comes with a nice calibration out of the box, but if you're a professional and need the higher accuracy possible, I recommend calibrating it to get even better results and a smaller delta number.
It also has sRGB 100 percent, which is the color gamut that professionals should look for in a monitor since it will mathematically boost color accuracy to the best degree monitors can currently attain. 
Finally, we must emphasize its pointless HDR 10, which just serves to make the images less exact and unpleasant to look at, so don't bother with it. 
In general, this monitor can undoubtedly be considered professional-focused – and it is one of the most affordable options for people looking to save money while still getting a professional monitor with plenty of screen area and high color accuracy.
Final thoughts
When to buy it
The ASUS VP32AQ is unquestionably one of the best in the ASUS lineup. It boasts one of the best price-to-performance ratios of any 32-inch panel on the market.
Its great color accuracy and affordable costs, along with good visual fluidity, make it one of the best ASUS alternatives of the year for professionals looking to save money without sacrificing image quality. 
On the other hand, if you want to dive into the most high-end side of things, the ASUS PA329CV with its 4k resolution and superb construction quality may be the ideal pick.
You may like