Our Conclusion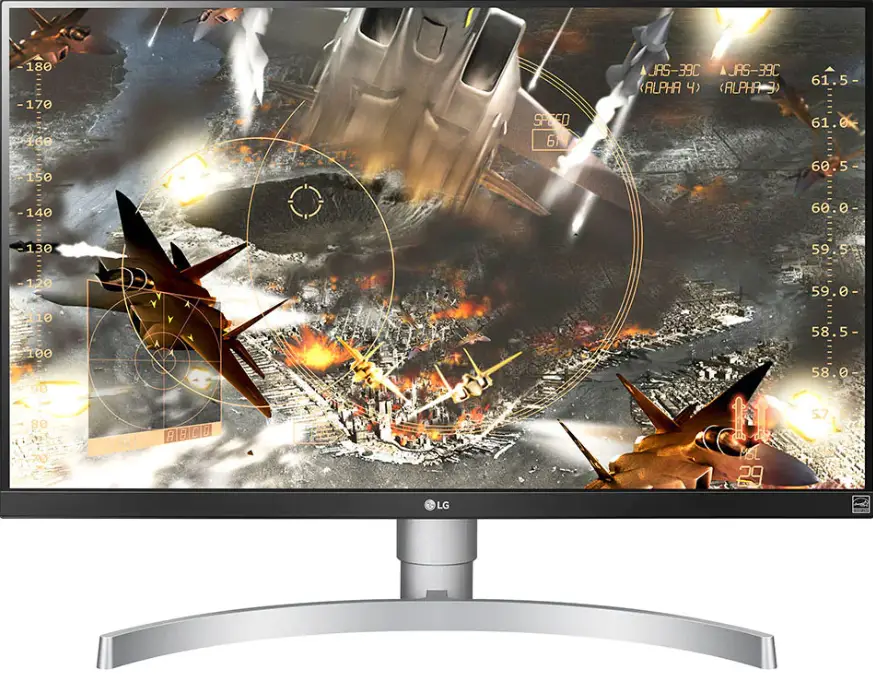 Given all of the qualities of this monitor, we can confidently state that it is one of LG's launches with the best pixel pitch number, giving amazing sharp images. The LG 27UL650-W is a solid option for people looking for a decent price-performance 4k professional monitor with HDR compatibility. However, owing to all of its high-end features, it may be out of reach for some; in this case, consider the AOC U2790VQ, which is one of the most affordable 4K monitors.
Pros
✓ HDR 400 support
✓ IPS panel with 1.07 B of supported colors
✓ Extremely low pixel pitch
✓ 350 cd/m² of brightness
Cons
✘ Polarizing aesthetics
✘ 60hz of response time
LG, along with Dell, is most likely the manufacturer with the best 2021 monitor releases. They broke through expectations with the LG 24QP500-B, which is likely one of LG's first budget-friendly 1440p professional monitors in that price range.
However, because they haven't released any new models this week, we decided to check out some other budget monitors that seemed to have a fair price-performance ratio.
So, without further ado, let's take a look at the LG 27UL650-W review and see who this monitor's target buyers are. Continue reading below.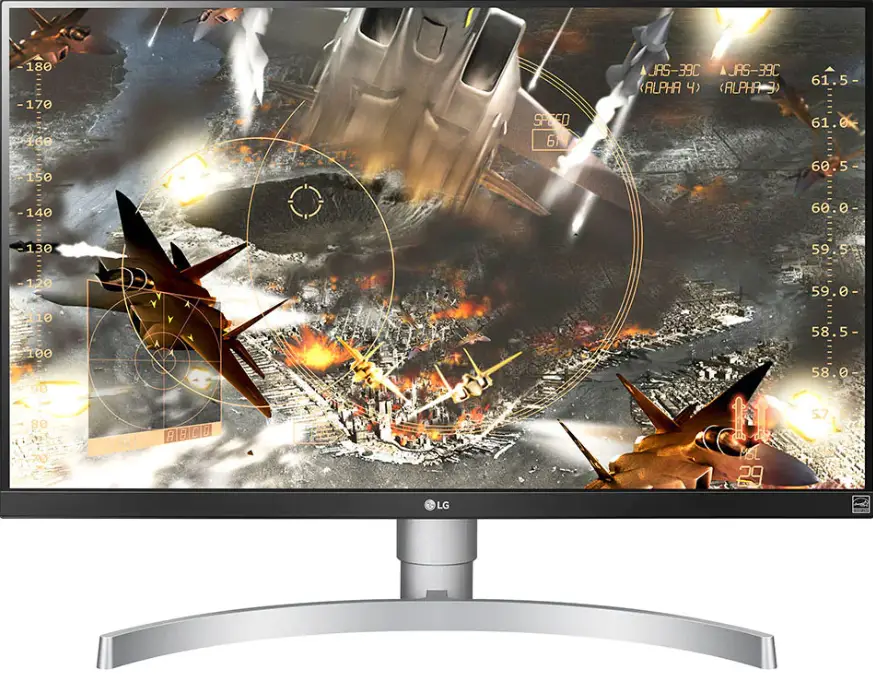 Design
At first glance, we can notice that this monitor line follows the base of some other models like the LG 27GL83A-B and the LG 32QN600-B, or the contrary since this one was released first.
It kind of looks like a mix of both, presenting the half-circular stand of the LG 32QN600-B and the stand support aesthetics of the LG 27GL83A-B. Still, it has its own charm as well, with this three-color style, gray on the stand, white on the back, and black on the front bezels.
Building a monitor with three different colors is indeed a bold decision by LG since the tastes are polarizing when it comes to a non-full-black display. 
Fortunately, the stand of this monitor allows you to tilt, pivot and swivel. Also, this is a 27-inch monitor, with 24.1 x 9.1 x 22.3 inches and 13.70 lbs. On the rear, we can see the VESA support, which allows you to mount this monitor to a wall, but we don't see any speakers, which is a bit disappointing given the price of this monitor.
Connectors
Continuing on the back, for connectors, this monitor features 2x HDMI, 1x Display port, 1x Headphone-out. Note that it also has AMD FreeSync support for those who want to play without screen tearing.
Features
Panel type
Aside from that, this monitor has the greatest panel in terms of picture quality and viewing angles, the IPS panel. This panel, which is commonly preferred by media professionals, will provide you wide viewing angles as well as increased color accuracy. In contrast, it ends up being the most expensive among the three (IPS, VA, TN).
This panel has a higher risk of being released with light bleeding, depending on the quality of the construction. However, LG  performed an excellent job of keeping the monitor's build quality so that it arrives in perfect condition.
Besides that, this display's IPS panel stands out from the crowd since it offers one of the highest color gamut ratings among IPS panels. This display will give significantly more colors than the human eye can see, with sRGB 99 percent coverage and 1,07 Billion supported colors.
As a result, people who work with media manipulation will gain greatly from this, as more precision will be available. However, as is typical of IPS panels, the overall contrast is just 1000:1, which may be insufficient for some users. If you want a higher contrast ratio, you will need to afford a VA monitor such as the LG 35WN65C-B.
Brightness
Still, what can a good image quality be of use if it is displayed with a dim brightness? Fortunately, this isn't the case for this monitor since it has a really good total brightness of 350 cd/m², which is pretty much sufficient for the majority of users. For me, a number between 250 and 300 is already enough since I can easily face eye strain with high brightness.
Refresh rate and Response time
That said, let's look at the gaming features of this display. Starting with the refresh rate, we can detect another trend of relatively old high-priced monitors aimed at media professionals, featuring a refresh rate of only 60Hz.
Although high refresh rates are often advised for gaming, it is still a good idea for everyone to have at least 75hz in order to get plus smoothness in everyday use. However, we can't blame LG because the 75hz standard for professional displays was introduced last year, and this monitor was released in 2018. 
Aside from that, this monitor has a response time of 5ms, which isn't ideal for gamers but isn't significant for media professionals in this case.
Image Overall Quality
To recap, the LG 27UL650-W is a 27-inch 4k monitor aimed towards media workers owing to its IPS screen and poor gaming capabilities. 
The frequently high pixel density overall is one of the key advantages of buying a relatively small monitor with a high resolution. When we combine a small display with a high resolution, such as 4K, we get a very low pixel pitch and a very high pixel density, which improves image clarity making it nearly impossible to discern any pixel on the screen. 
The LG 27UL650-W has a pixel pitch of 0.1554 x 0.1554 mm, which is the basically distance between the center of one pixel and the center of the nearest to it. This is unquestionably one of the greatest numbers available in this price range.
Aside from that, this monitor has HDR 400 support, which is indeed the basic and common HDR pattern, yet it still has improved contrast and deep darks for you to avail.
This all, paired with the IPS panel's capabilities for up to 1,07 Billion colors, elevates this monitor's image quality and sharpness to a new level.
Final thoughts
When to buy it
The LG 27UL650-W is an absolute gold choice for those who need image quality and sharpness due to its higher than average pixel density. It is also recommended for those who need a good 4k monitor with support to HDR.
Also, for being a 4k monitor, you'll have a lot of space on the screen as well as the increased image quality provided by the IPS panel, all delivering the adequate for a media professional.
When not to
However, its current prices may be a little out of the budget for some. If that's your case, you should check out the AOC U2790VQ with its 4k screen followed by affordable prices.
You may like