Our Conclusion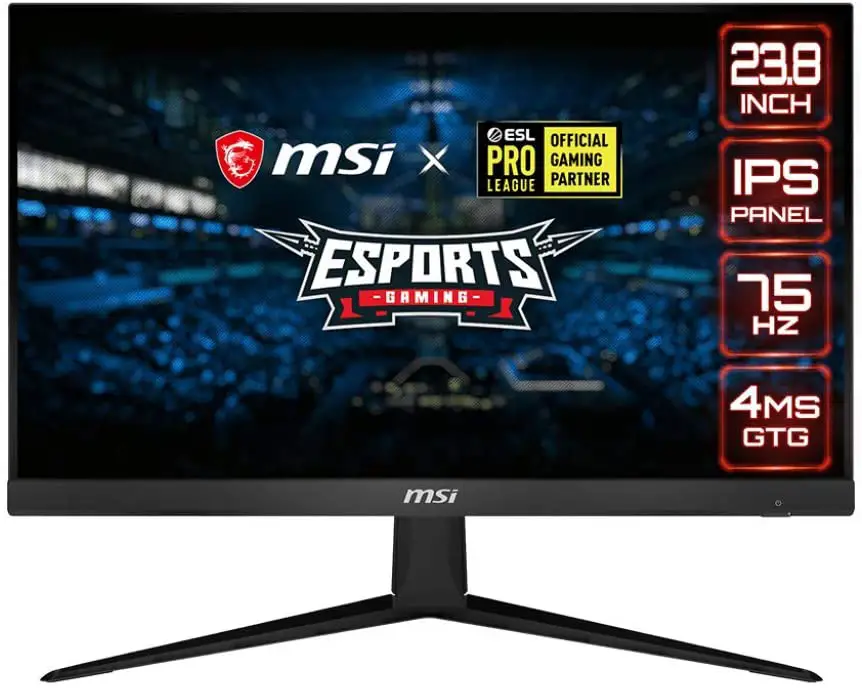 The MSI OPTIX G241V is a poor gaming monitor, but it is one of the best in its price range for a casual display. If you need a cheap casual monitor, this is one of the most affordable you can get. It has a refresh rate of 75hz, which is not recommended for competitive gaming but is a good ratio for casual use. Still, if you're looking for a real gaming monitor at a low price, I recommend the Acer Nitro VG270.
Pros
✓ 75hz, 4ms
✓ IPS panel
✓ Great overall aesthetics
✓ Affordable
It's been a while since we looked at an excellent 24-inch Full HD monitor with casual features for people looking to save money and get a low-cost display. The Acer Nitro KG252Q and the Acer Nitro QG241Y are strong candidates for the best casual monitor of the year, with excellent price-performance ratios.
And today, to mix things up a little, we decided to acquire an MSI casual display and see how well it will perform. So, without further ado, let's have a look at the MSI OPTIX G241V Review to see if this monitor is a suitable fit for you, or if you should avoid it.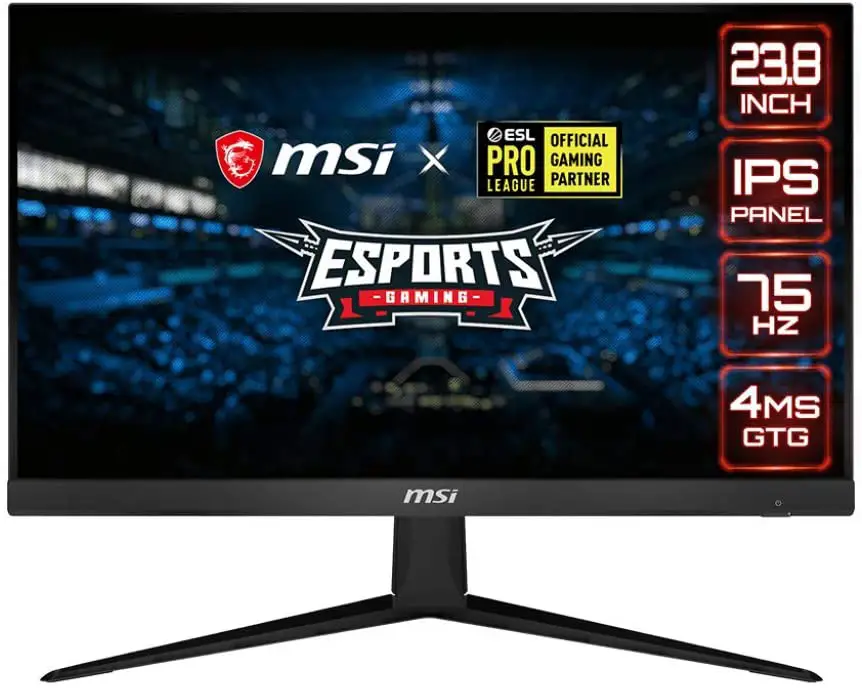 Design
Despite the fact that it is a casual display, this monitor has an overall gaming style, which is the MSI pattern for all monitors. It includes a matte black design on the front and two brushed black parts on the back, giving it a unique look and feel.
It also has slim 3-sided bezels with borderless aesthetics and a not-so-thin bottom bezel, but still within acceptable limits, in keeping with current trends.
It features a half-triangular stand with the same matte black pattern and just tilts support as an adjustment. Looking at the rear of the monitor, we can see that it supports VESA, which is a big benefit if you want to mount it on the wall.
When you look at the rear of this display, you can't tell it's a casual one just by looking at it; instead, you notice the game-like appearance and immediately identify it with gaming features.
It's also worth noting that the MSI OPTIX G241V lacks out speakers, so if that's a must-have feature for you, you might want to pass this monitor.
In summary, because it has a lot of out-of-the-grain aesthetics for a casual model, this is one of my favorite monitor aesthetics we reviewed in 2021.
Connectors
As for the connectors, it is still on the standard for its price range, including 1x Display Port (1.2a) 1x HDMI (1.4), and 1x headphone out.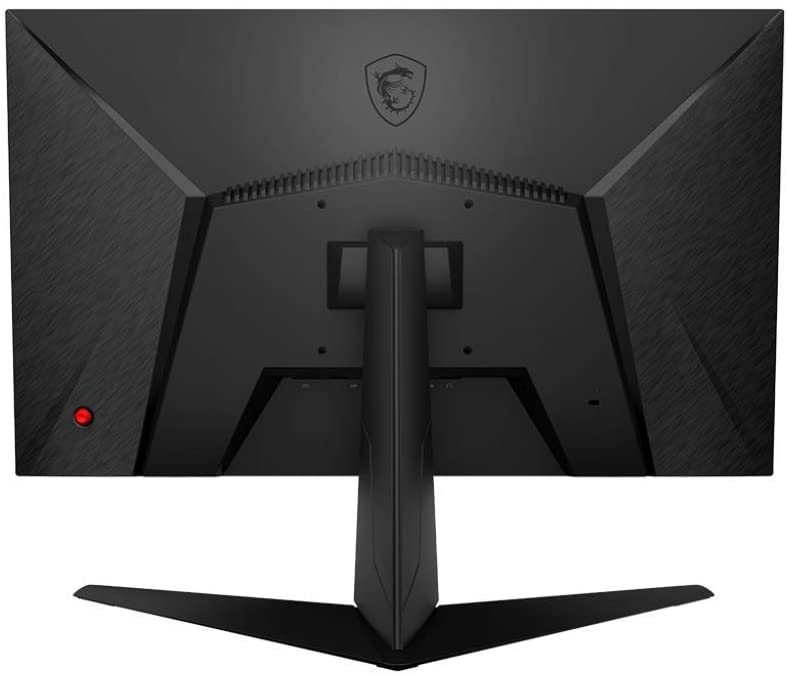 Features
Panel type
It's a really rare decision to utilize an IPS panel for a monitor in this price range that's classified as a gaming-focused one by some. The IPS panel will deliver better color accuracy and viewing angles, but it will also cost more and have a longer response time than other panels.
Because of the increased color accuracy it delivers, this panel is a must-have for individuals who work with media editions. However, due to the previously mentioned flaws, this panel is not the best choice for a gaming display at an affordable price like this one.
When the manufacturer chooses to use fast IPS technology, as seen in the Dell S2522HG, the high response time issue of this panel is solved, but in contrast, it costs a little more than usual.
I have a bad feeling that they had to remove an important feature of this display in order to use this panel without a huge increase in prices. So, let's move on to see whether or not this happened.
Brightness
Because of the IPS panel, the manufacturer can utilize a low brightness ratio without worry. On VA or TN panels, the changes in brightness ratios are far more noticeable than on an IPS screen.
As a result, they went with the tried-and-true method of using 250 nits of total brightness for the MSI OPTIX G241V, which is the most basic ratio available presently.
This ratio will undoubtedly be sufficient for use at night, but if sunlight strikes your screen during the day, you may have difficulty viewing the displayed contents. 
If you mostly use your computer during the day, it may be worthwhile to invest a little extra in a high-brightness monitor, such as the Acer Nitro VG272.
Refresh rate and Response time
We had high expectations for the gaming features of this display because it is categorized as a gaming monitor. Advising that, sadly, these were not met. 
Remember how I said they'd probably have to sacrifice a feature to make room for the IPS panel? Well, this is proven by the Refresh rate of this display.
This monitor has a refresh rate of 75hz, which is definitely not suitable for competitive gaming. However, 75hz is more common for casual displays since it provides a little more smoothness than 60hz. Even so, it falls short of the 144hz suggested for competitive gameplays. 
Bear in mind that you can find cheap monitors with 144hz of refresh rate, so, consider checking the VIOTEK GFV24CB or the LG 24GL650-B if you need plus smoothness. 
Furthermore, it has a response time of 4ms, which is less important than a high refresh rate when it comes to competitive gaming. 4ms increases the command to screen speed, but it is still not recommended for competitive gaming.
This monitor has FreeSync with an activation range of 48 to 75Hz, allowing you to play without screen tearing.
In general, we were underwhelmed by this monitor's performance as a gaming monitor, owing to its low overall refresh rate.
Image Overall Quality
The MSI OPTIX G241V is a 24-inch full HD monitor with an average PPI ratio that maintains image sharpness at a high level for this resolution. 
Furthermore, this monitor has a good pixel pitch (0.2745 x 0.2745), which contributes to the overall image's crispness.
As a result, you can be confident that this monitor does not have washed images like some other low-cost full-HD screens.
When it comes to color accuracy, we were impressed by this monitor's 102.4 percent sRGB color gamut, which delivered vivid and contrasting colors.
In addition, as an IPS monitor, it will have low contrast ratios, such as 1000:1, as is typical for low-end monitors. 
So, if you prefer more contrast for the images, you can afford a VA monitor such as the Lenovo L24e-30. This monitor also lacks the HDR feature, so if you need it, you'll have to spend a little more on a monitor like the Acer Nitro QG241Y. 
In general, this monitor will really provide you a good image quality, but nothing out of the usual for this price range.
Final thoughts
When to buy it
I do not recommend the MSI OPTIX G241V if you need to join the competitive gaming scenario due to its low Refresh rate number. However, it is a good choice for a casual display, providing you a good image sharpness, color accuracy due to the IPS panel. Still, if you need a gaming display at affordable prices, you can check out the Acer Nitro VG270.
You may like